Digital Marketing Dashboard For Agencies
Our digital marketing dashboard automatically pulls data from multiple marketing channels. Try Whatagraph and present your clients with a dashboard that beautifully displays the performance and ROI they get from your services.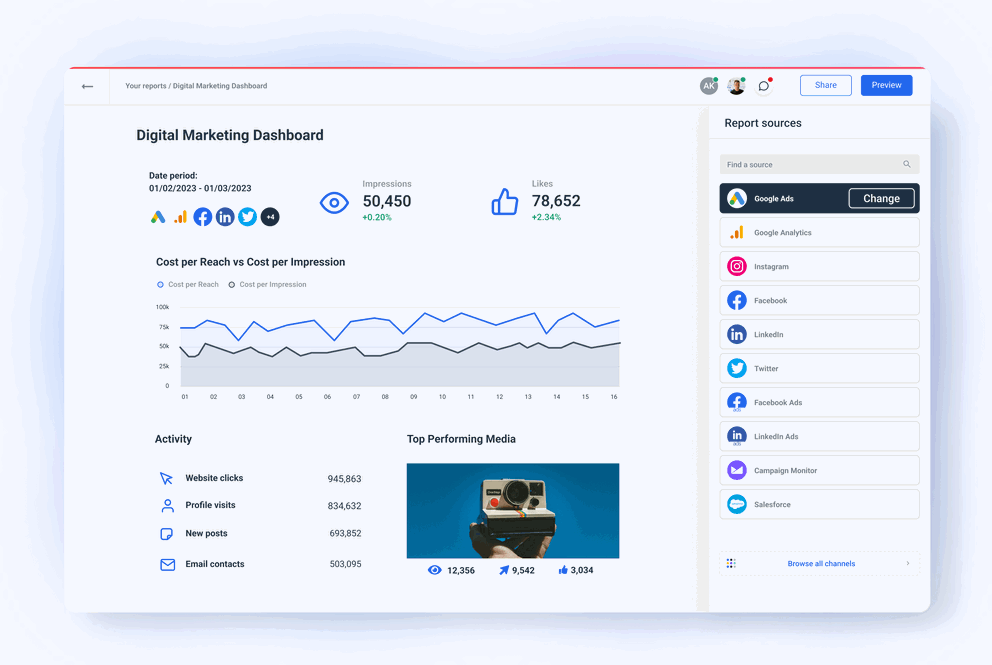 Join marketing agencies and teams worldwide who use Whatagraph to work with marketing data!








What Is a Digital Marketing Dashboard?
A digital marketing dashboard is a type of report agencies use to display their progress to clients. These dashboards can be created for one source or even one campaign, or for multiple channels. Whatagraph, for example, allows you to do both. You can easily create a single-channel dashboard and combine data from multiple channels into one marketing dashboard to see how each channel performs in relation to others. Whatagraph digital marketing dashboards provide key results to your clients in a way they can understand.
Why build your digital marketing dashboard in Whatagraph?
Easy cross-channel insights
Embark on a smooth data journey through cross-channel metrics. Create your own digital marketing reporting dashboard with all the marketing KPIs in one place. Combine insights from multiple sources in one table, graph, or chart. Automatically pull data from more than 45 native integrations. No integration for your tool yet? Connect your data with a Custom API, BigQuery or Google Sheets.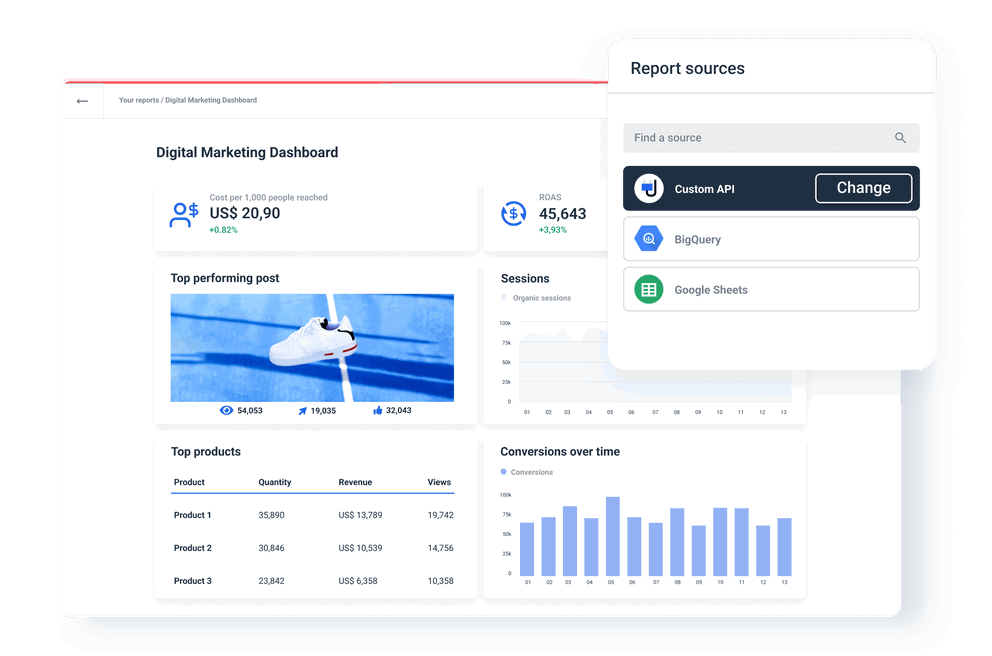 Intuitive dashboard builder
If you've spent hours building a multi-channel marketing dashboard in another reporting tool only to hit a wall, you've come to the right place. In Whatagraph, you can build a marketing dashboard in three ways, each intuitive and easy to follow. 
- Pick a dashboard template from our gallery, 
- Use the smart builder and create your dashboard step by step, 
- Start from a blank page and drag and drop everything you need from the toolbar. 
Whether you're building a single-channel or cross-channel dashboard, it makes little difference in Whatagraph. A couple of minutes, and you're done! Remember, if a dashboard isn't easy to build, it's not worth your time.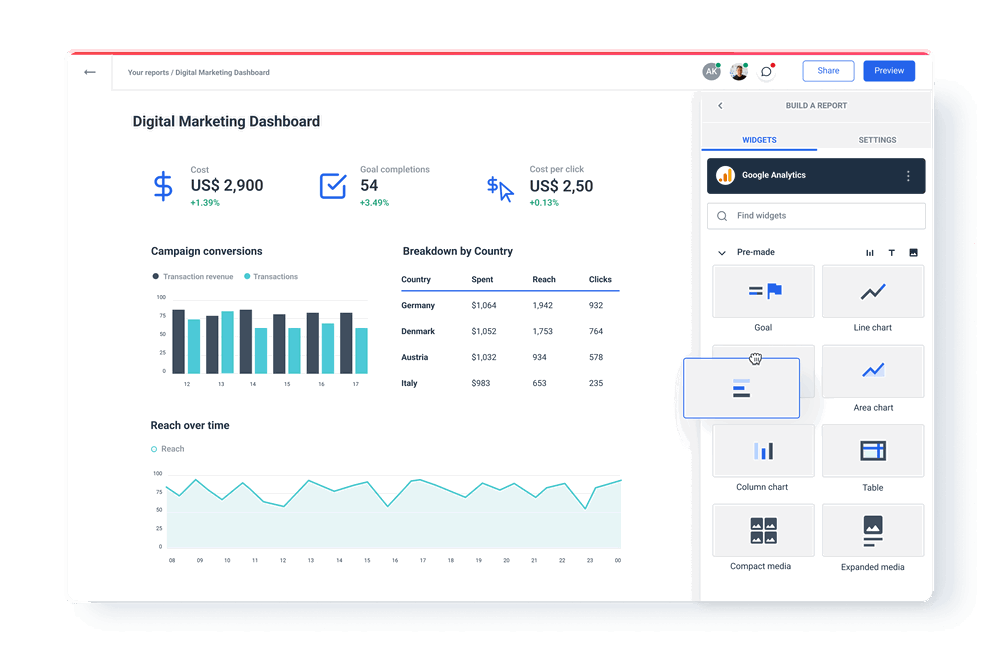 Live links for on-demand access
Reporting goes a long way to building trust with your client. A dynamic digital marketing dashboard connects all the essential KPIs and data sources to quickly show how your marketing strategy impacts the bottom line. In Whatagraph, you can share a live link for direct on-demand access. This way, your client can check their marketing metrics in near real-time whenever they want.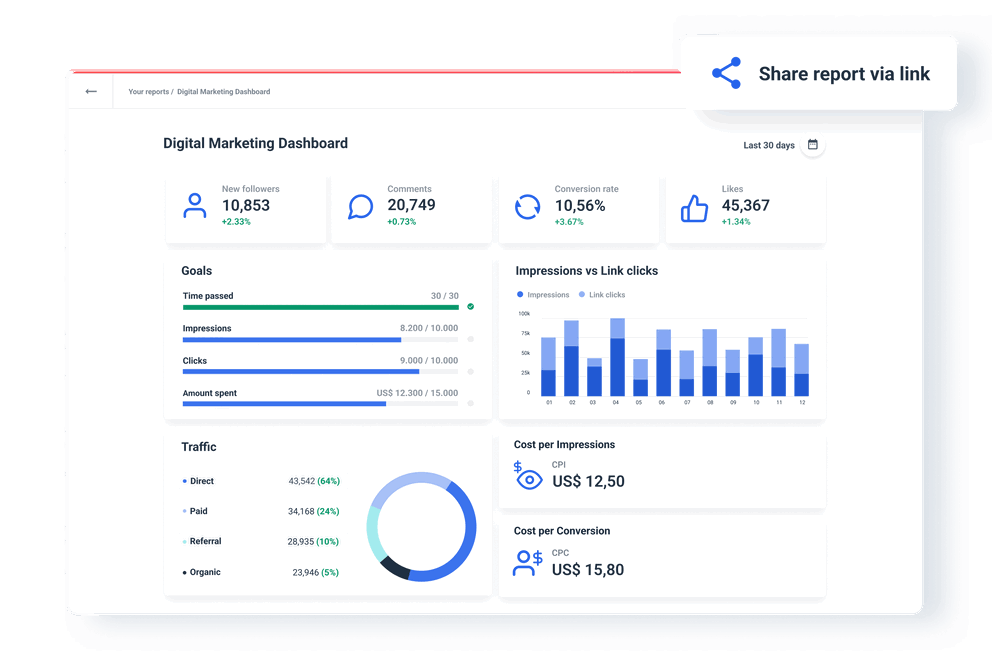 All reporting features your agency needs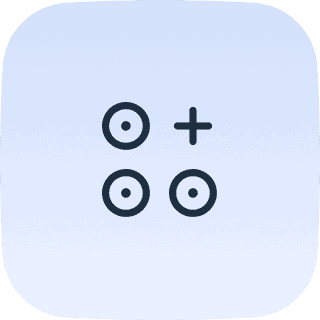 45+ data sources
Create a true cross-channel digital marketing dashboard in Whatagraph. Over 45 integrations for your cross-channel marketing campaigns.
Cross-channel reports
Combining cross-channel data is intuitive and takes a few clicks. Create a single client report for all channels instead of one report for each.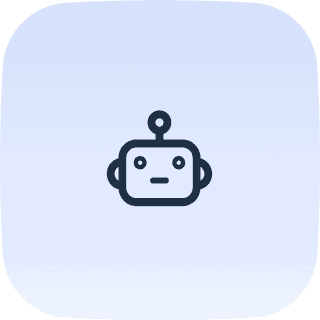 Full report automation
Schedule your reports at desired intervals or share a live link to a report so your clients can check for updates at any moment.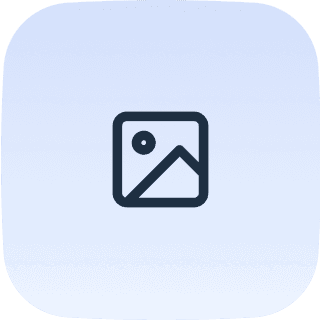 Media widgets
Showcase ad creatives, social posts, and other custom visuals by adding a media widget to your report.
FAQs
All your questions answered. And if you can't find it here, chat to our friendly team.
Why use a marketing dashboard?
You use a marketing dashboard to gain better insights into customer buying patterns and improve your decision-making. By tracking your marketing performance and consumer data, you can more accurately plan future goals and deliverables. A marketing dashboard lets you measure those goals in real-time so you can readjust or validate your marketing efforts. 
What are the most useful marketing dashboard examples?
There are many different types of dashboards, but the most useful are the marketing performance dashboard, KPI dashboard, e-commerce dashboard, online marketing dashboard, social media dashboard, search engine optimization dashboard, and lead generation dashboard.
What makes the best marketing dashboard?
The best marketing dashboard needs to be user-friendly, allow your marketing team to easily connect cross-channel data, and create custom data visualizations with minimum hassle.  
What should I include in a digital marketing dashboard?
It depends on whether you're presenting the dashboard to your clients or your manager and what channels you wish to cover. However, our general recommendation is:
- Include the channels you use to market the business, product, or service.  E.g. No need to add a TikTok widget if you don't create content on this platform, for example.
- Cover the activities you are executing. This includes all the experiments you are running, the channels you use to build brand awareness, or the places to find potential customers. 
- Include the most important metrics.Decide on your client's most important metrics that drive revenue and track them.
What key performance indicators and metrics should I put into a marketing dashboard?
The KPIs and metrics you put into a marketing dashboard depend on the type of dashboard and the marketing activities you want to monitor. Still, most marketing analytics dashboards track the overall traffic, conversion rate, bounce rate, page views, organic search performance of your landing pages, referrals, goal completion rates.
What sources can I report on with a Whatagraph dashboard?
Whatagraph allows you to natively integrate and report data from over 45 digital marketing sources. These include social media platforms like LinkedIn and Facebook, Google Analytics 4 for web analytics, PPC tools like Google Ads (Adwords) and Facebook Ads, SEO apps like Ahrefs and Semrush, email campaign tools like Mailchimp and Klaviyo, and CRMs like HubSpot and Salesforce. In addition, you can connect any unsupported source via a Custom API, BigQuery, or Google Sheets.
Can I create a custom widget for my dashboard in Whatagraph?
Yes, you can create a custom widget in Whatagraph. 
Open the report builder,
Select a source, 
Switch the widget toolbar from Pre-made to Build your own, 
Drag and drop the widget type you want to your dashboard, 
Adjust the widget size, customize dimensions and metrics, numbering format, currency, colors, etc. 
Save the new widget as a template for your new dashboards. 
Can I create a marketing dashboard in Excel?
Yes, you can create a marketing dashboard and track key metrics in Excel spreadsheets, but this method has serious disadvantages. First, you need to import data into Excel manually. Then, you need to clean and prepare data, with a massive chance of error. Also, there are no real-time updates, as with dynamic dashboard software. Finally, the data you import isn't secure, as it's open to anyone with access to the dashboard. 
It's good to be loved! Our clients are not shy about expressing it.
Need more help with getting started?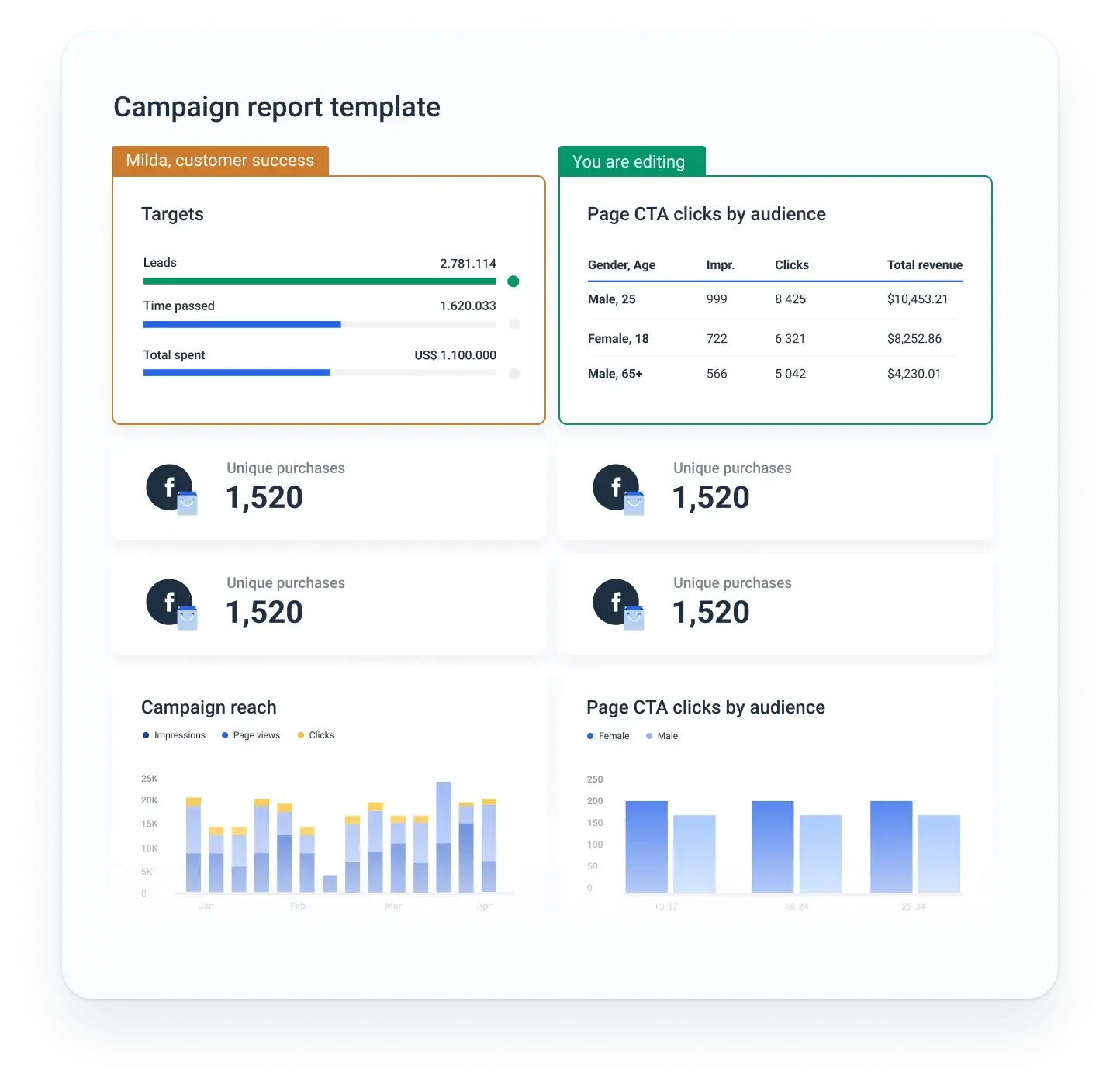 We can set up your report campaign for you!
If you need help with setting up Whatagraph - our team can create your campaign reports!
Ready for insights?
It's time to focus your time on the tasks that really matter, and let us worry about your marketing analytics. Start your free 7-day trial.
Free for 7 days

No credit card required

Live chat support

Cancel anytime