PPC Dashboard for Marketing Agencies
Modern PPC dashboard for marketing agencies. Track your clients' performance metrics, build white-label dashboards, and automate them within a single platform - Whatagraph. Access real-time data and aggregate your PPC campaign results into one interactive dashboard.
Join marketing agencies and teams worldwide who use Whatagraph to work with marketing data!








What Is a PPC Dashboard?
A PPC dashboard is a document that marketing agencies use to present their PPC campaigns in real-time. It allows clients to learn about the effectiveness of the agency's marketing initiatives, so they can make educated decisions about what works and what doesn't.
A Comprehensive All-in-One PPC Dashboard to Monitor All Your paid media KPIs
Easily Track Paid Campaign Results in a Single PPC Dashboard
Integrate all your paid channels' results into one PPC dashboard. Curious to know how your Facebook, Bing, or Google Ads are performing? Connect all of these platforms to Whatagraph, and in less than 5 minutes, show all of your paid campaign results in one dashboard.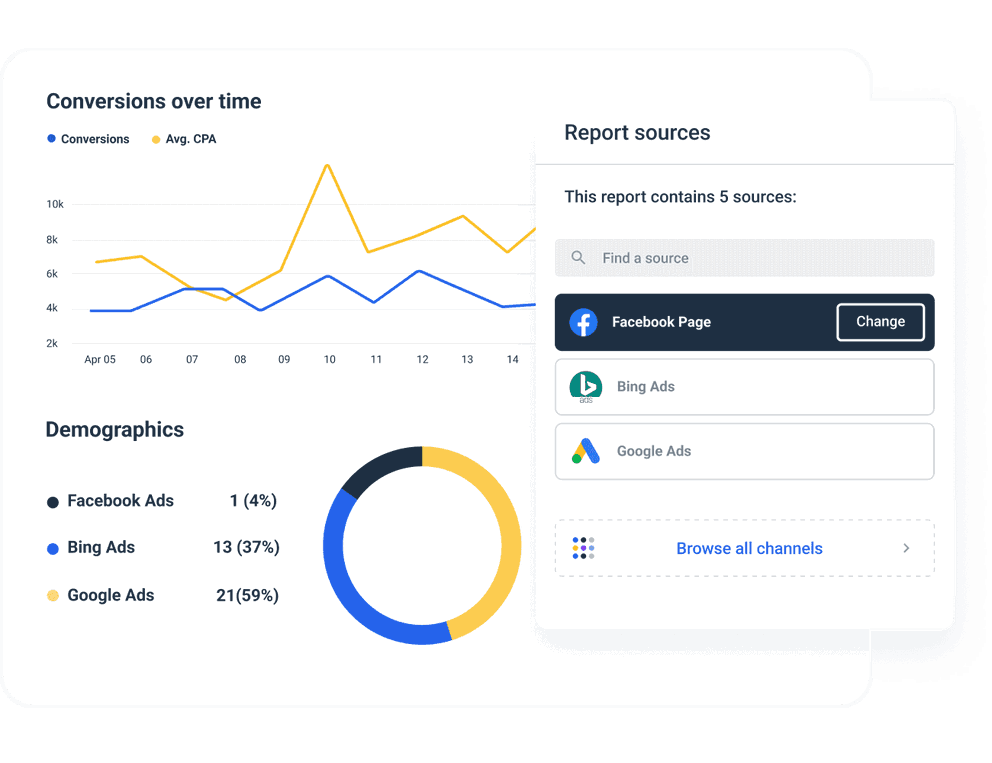 Create an Insightful PPC Dashboard Using Our Pre-made Templates
You can start from a blank page to create a PPC dashboard, but what if you don't have time? Our extensive pre-made PPC dashboard library has everything you might need. Try Whatagraph, and you'll have more time to research ways to increase conversion or optimize your landing pages.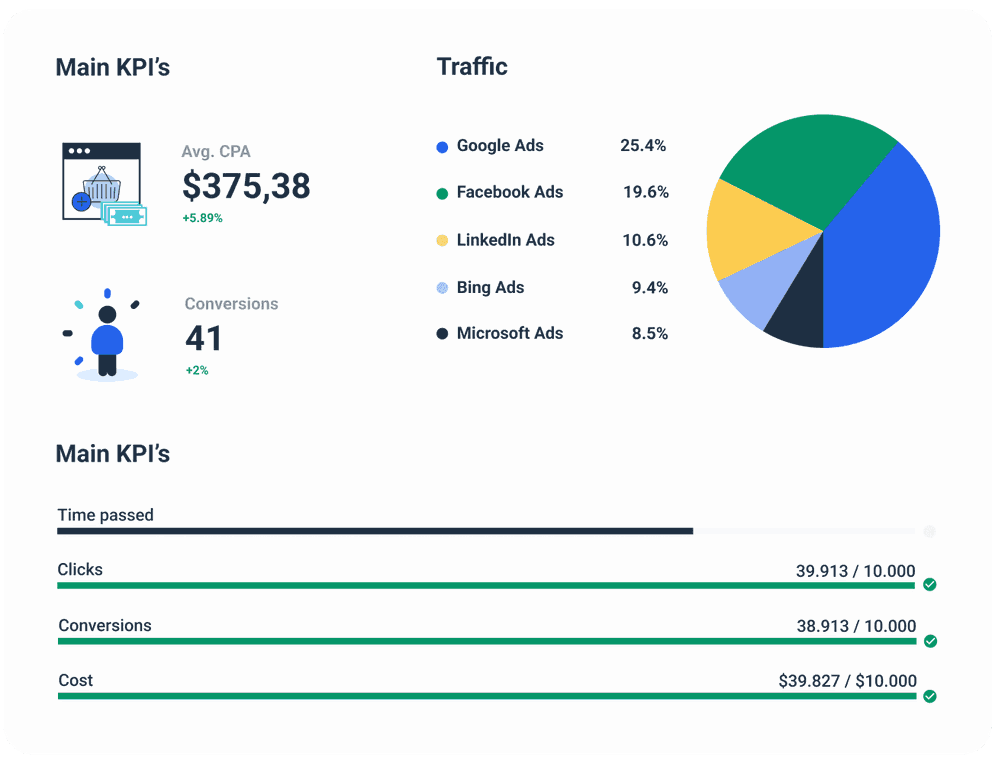 White-Labeling & Customization In Our PPC Reporting Tool
Our dashboards are created with utmost care and expertise. But even that can be altered. Whatagraph's flexibility allows you to change all aspects of the dashboard design and appearance. Impress your clients with a personalized PPC dashboard and appear as the professional that you are.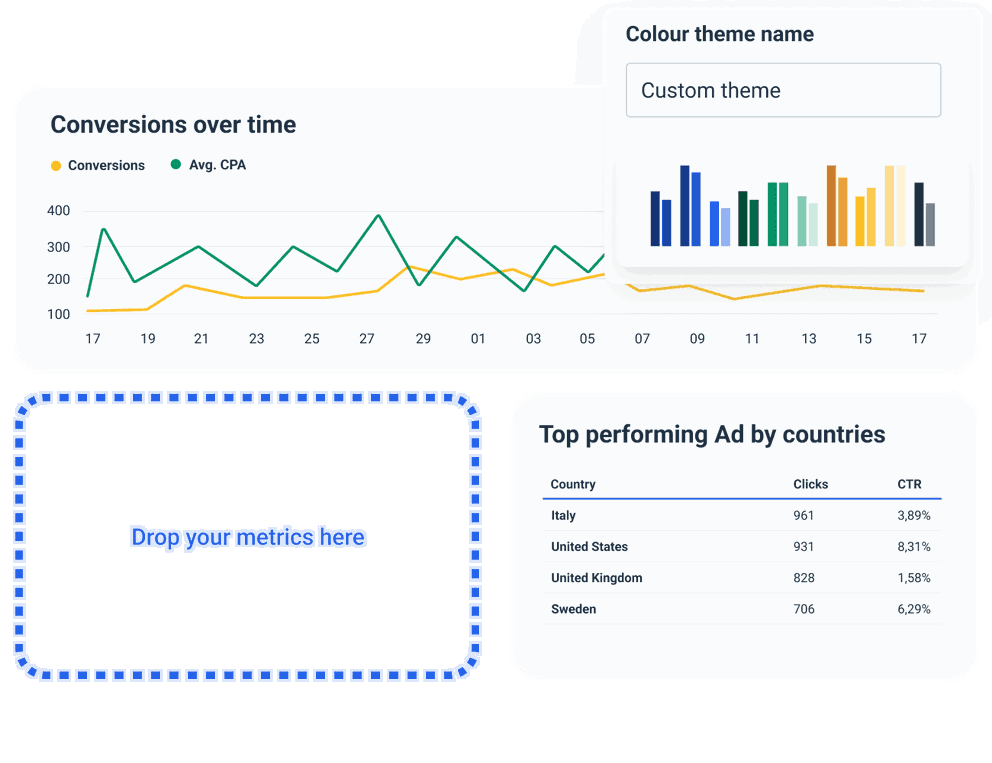 All reporting features your agency needs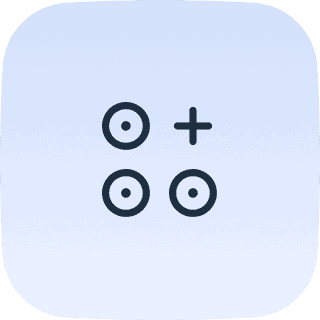 45+ data sources
Create a true cross-channel digital marketing dashboard in Whatagraph. Over 45 integrations for your cross-channel marketing campaigns.
Cross-channel reports
Combining cross-channel data is intuitive and takes a few clicks. Create a single client report for all channels instead of one report for each.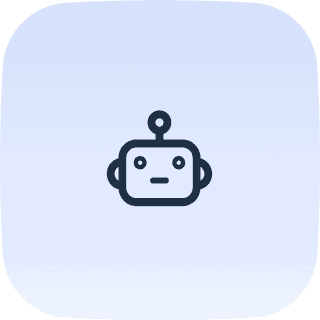 Full report automation
Schedule your reports at desired intervals or share a live link to a report so your clients can check for updates at any moment.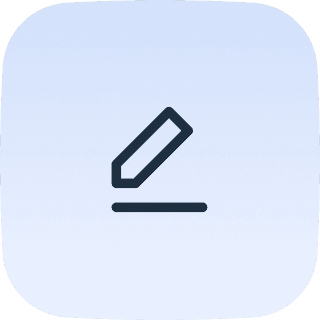 White-label reports
Customize colors and logos in each report to align it with your agency's or clients' branding and style.
FAQs
All your questions answered. And if you can't find it here, chat to our friendly team.
What is the purpose of a PPC dashboard?
The goal of a PPC dashboard is twofold. First, it informs marketing agencies of the results the ad campaigns generate. It gives them a live overview of the current stage and progress achieved by bidding on certain keywords. Second, it shows agency clients how their PPC campaigns are performing in real-time.
How do I monitor PPC campaigns?
To monitor PPC campaigns, you need a tool to do that. Shameless promo - try Whatagraph! In less than 5 minutes, you can start monitoring the PPC campaigns you created and optimize according to the results. All you need to do is follow these 3 steps:
1. Create an account 
No credit card is needed, and you can try it for free for 7 days! 
2. Connect your tools 
Connect the tools your client is already using to Whatagraph. 
3. Use our pre-made PPC dashboard
You do have an option here. You can start from a blank page or utilize our PPC dashboard template. 
What are the top PPC dashboard metrics?
Impressions;
Average position;
Return on Ad Spend (ROAS);
The average cost per visit.
What are the best PPC KPIs to track?
It depends on the goals you agreed to achieve with your client. Here's a list of the most common ones to keep in mind:
Cost Per Click (CPC);
Conversion Rate (CVR); 
Average Click-Through Rate (CTR); 
Number of Clicks;
Cost Per Acquisition (CPA);
Google Quality Score. 
It's good to be loved! Our clients are not shy about expressing it.
Need more help with getting started?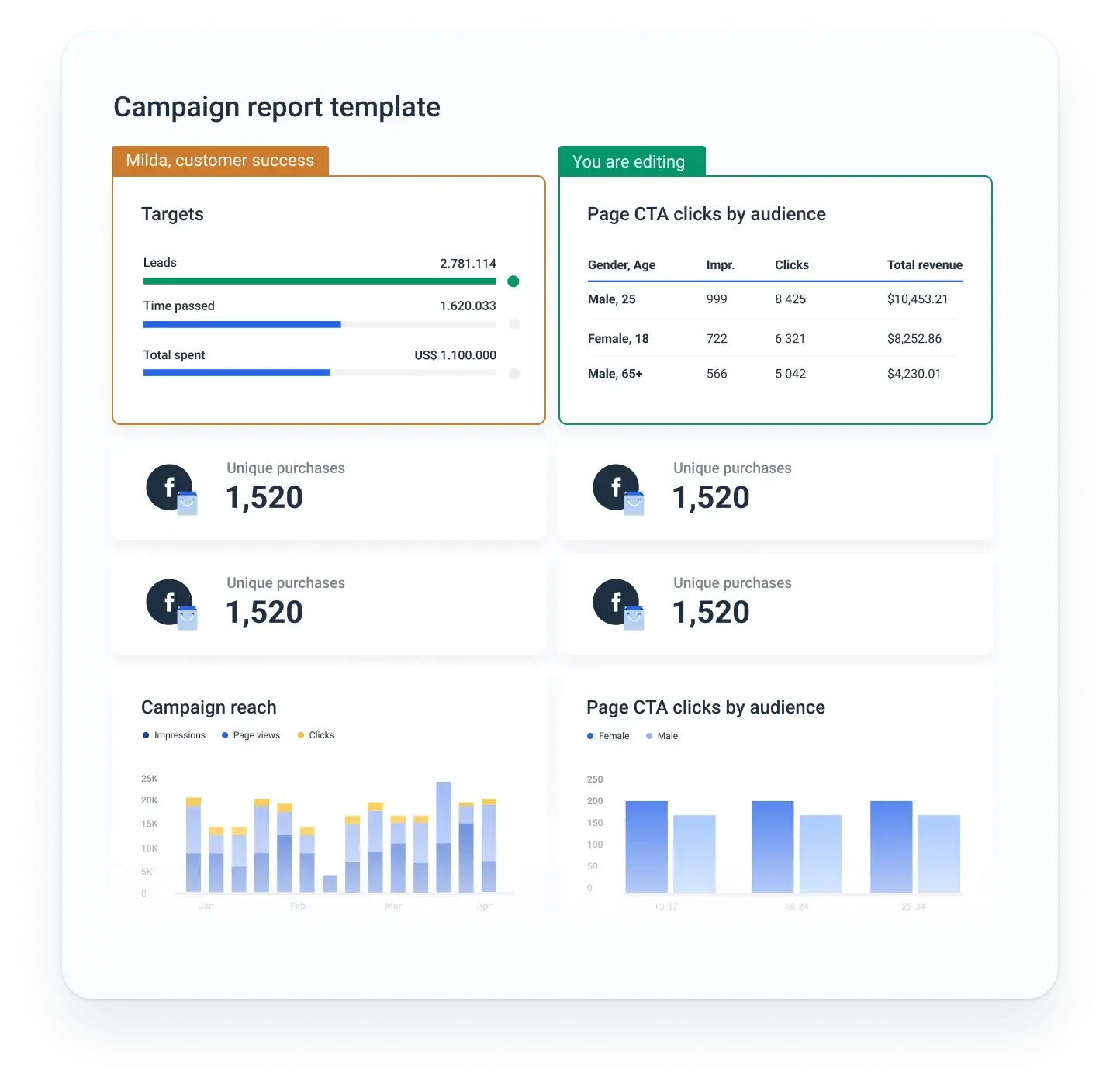 We can set up your report campaign for you!
If you need help with setting up Whatagraph - our team can create your campaign reports!
Ready for insights?
It's time to focus your time on the tasks that really matter, and let us worry about your marketing analytics. Start your free 7-day trial.
Free for 7 days

No credit card required

Live chat support

Cancel anytime