E-commerce PPC Management
Ecommerce PPC management can be streamlined with visual Whatagraph reports. Pull data from multiple platforms and all your PPC campaigns automatically and measure: ROMI, number of clicks, impressions, campaign costs, and sales generated by the platform.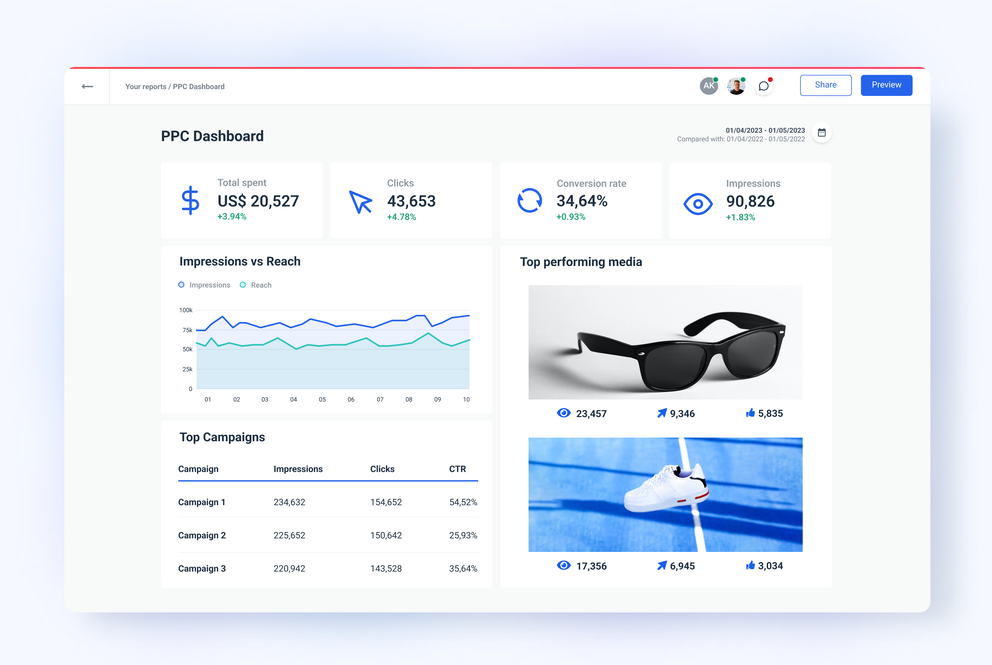 Join marketing agencies and teams worldwide who use Whatagraph to work with marketing data!








Take your eCommerce PPC management to a new level
Determine ROI of your PPC campaigns
Understand the impact of PPC advertising on your eCommerce store. Set your PPC strategies based on relevant KPIs from multiple PPC channels. Combine performance data from Google Ads, Facebook Ads, and other channels to further enhance your eCommerce PPC management.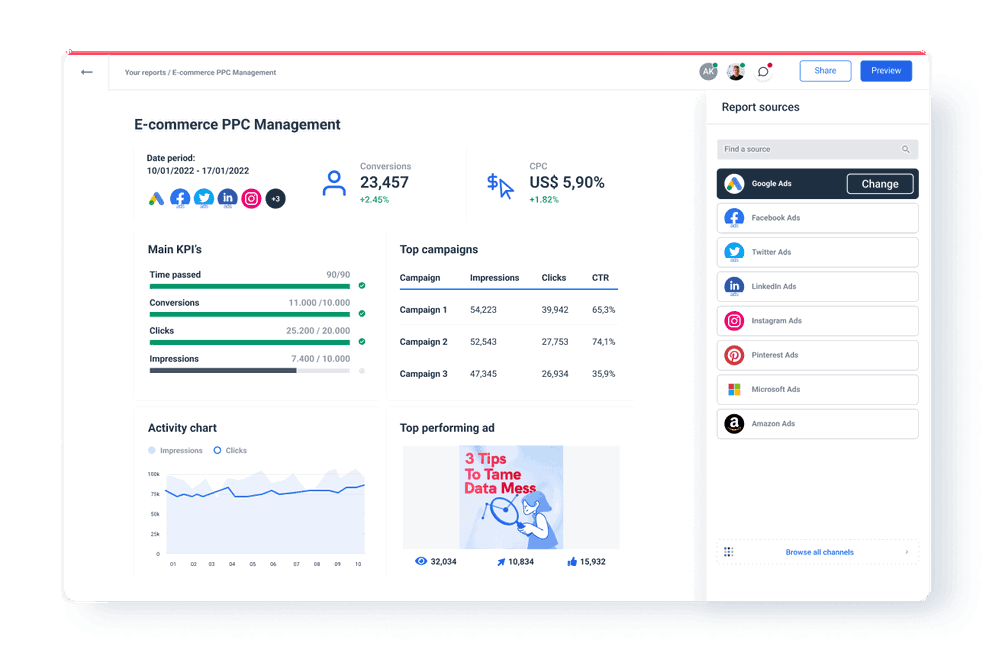 Streamline your eCommerce PPC campaigns management
Ecommerce PPC management can be simplified by aggregating data in one place. Whatagraph is the one solution to help PPC campaign managers and online store owners analyze data more effectively. Keep track of your ad spend by integrating all PPC ads channels: Google Ads (former Google Adwords). Facebook Ads, Bing Ads and more.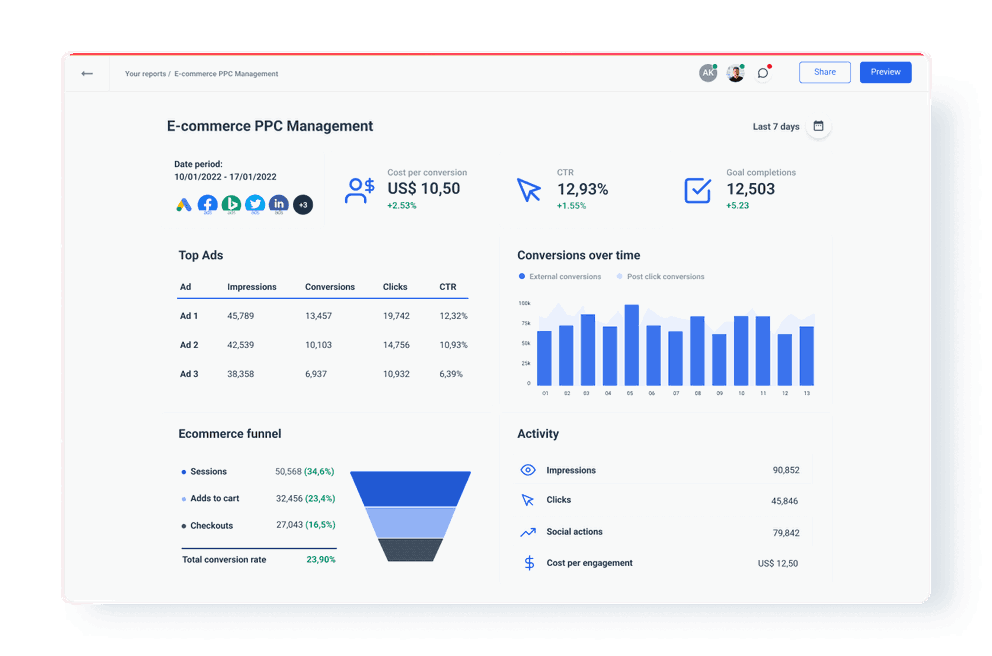 Report on your PPC campaigns regularly and automatically
Whatagraph provides much more value than native PPC marketing dashboards. Build a custom report with our ecommerce reporting software that suits the needs of your eCommerce business clients. If you're a PPC agency, provide professional PPC management services by sending highly visual, insightful reports on your paid media performance.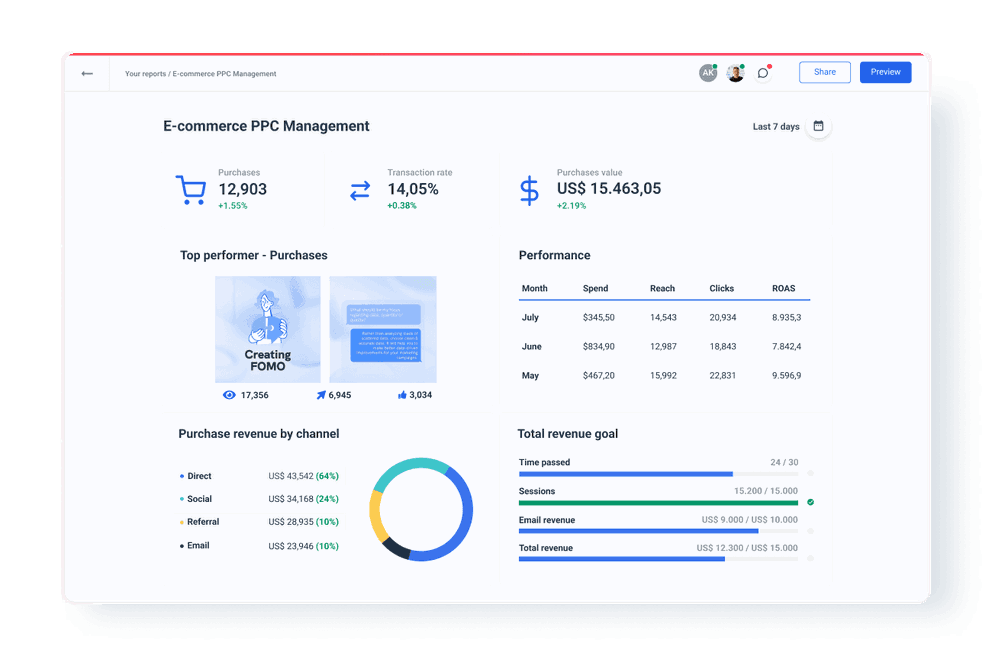 FAQs
All your questions answered. And if you can't find it here, chat to our friendly team.
What is PPC in e-commerce?
Pay-per-Click (PPC) is a digital advertising pricing model where a business pays an ad hosting platform on a per-click basis. Ad placement is usually not counted into the price and is - in theory - free. If CPC (cost-per-click) is, for example, 10 cents, then you pay 10 cents on each click of the ad. Just showing the ad - impression - does not increase the costs.
What is PPC in management?
Pay-Per-Click (PPC) management is the process of setting up ad visuals, ad copy, and allocating PPC ad budgets. This involves creating an ad strategy and procuring ad placements at a reasonable price - maximizing conversions while minimizing the cost.
How much should I pay for PPC management?
Costs can range widely. This all depends on the region in which you operate, where your PPC manager is, and on the type of services you are looking to procure. Shop around and ask for price quotes to see what they can offer and if those PPC managers are within your budget - with the right job experience.
It's good to be loved! Our clients are not shy about expressing it.
Need more help with getting started?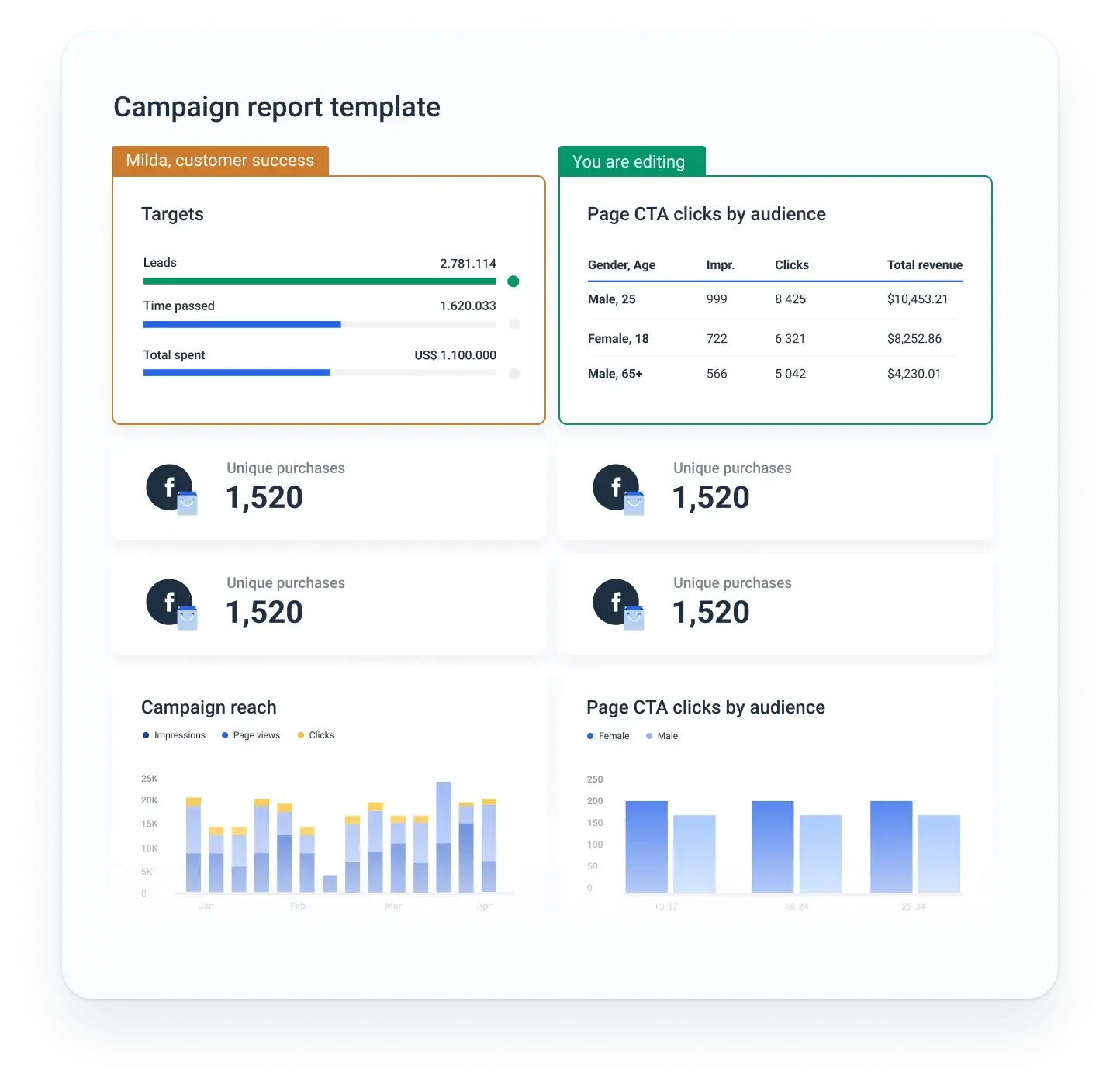 We can set up your report campaign for you!
If you need help with setting up Whatagraph - our team can create your campaign reports!
Ready for insights?
It's time to focus your time on the tasks that really matter, and let us worry about your marketing analytics. Start your free 7-day trial.
Free for 7 days

No credit card required

Live chat support

Cancel anytime