PPC Reporting Tool for Marketing Agencies
Our PPC Reporting Tool helps agencies build easy-to-read performance reports. Automatically pull data from multiple platforms to measure ROAS, the number of clicks, impressions, and overall campaign costs. Browse the list of pre-made templates and build a report in minutes.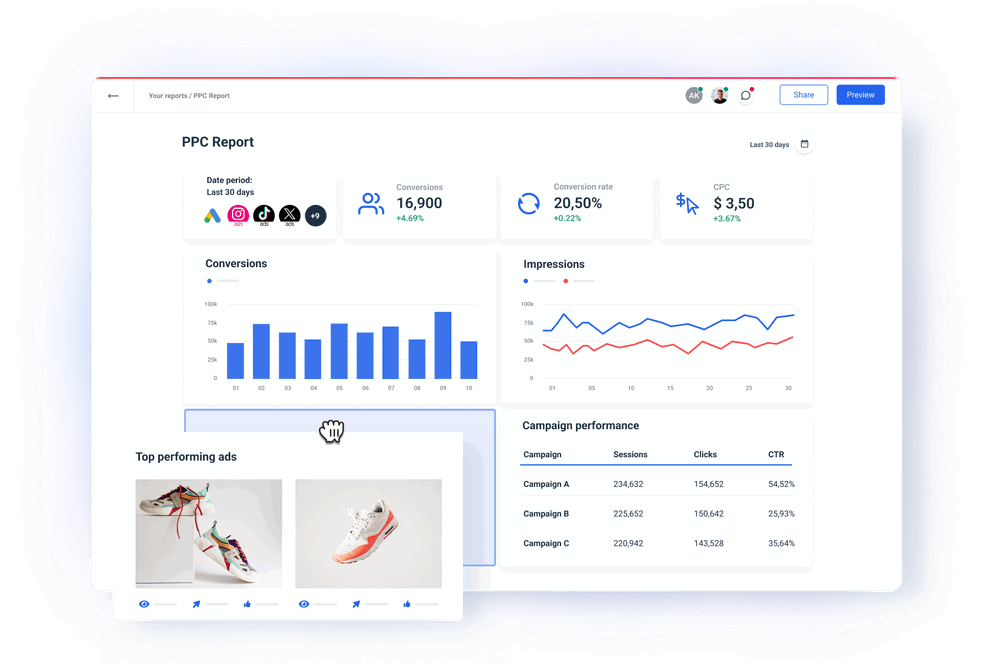 Join marketing agencies and teams worldwide who use Whatagraph to work with marketing data!








Here's how using our PPC reporting tool helps
Automatically collect data from multiple channels at once
Generate top-level data insights in just a few clicks. Keep track of vital PPC KPIs and present them in a single report. Visualize the data based on your own preference with lists, tables, charts, images, and comments. Whatagraph PPC reporting software is a must-have marketing data aggregator for an agency.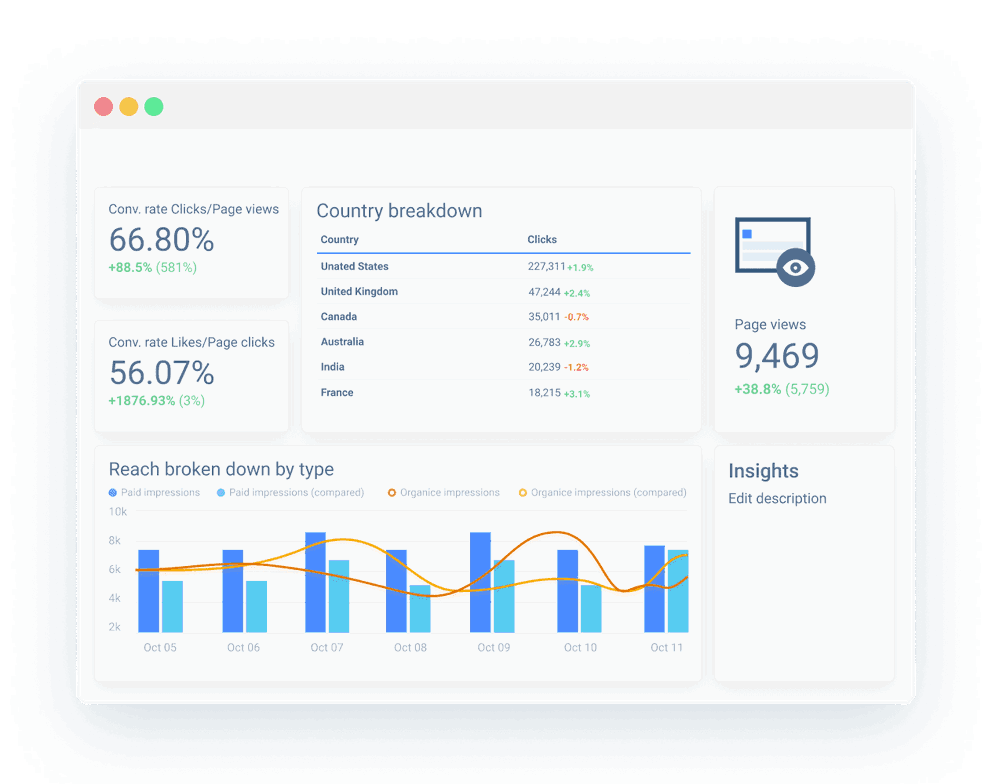 Easily customize your PPC reports
Show your client you put extra effort into building their report. Upload their company logo, add a custom domain, and build custom color schemes. Create reports from scratch or use our pre-made templates. Include the vital SEO metrics and present them in a visually appealing, personalized format.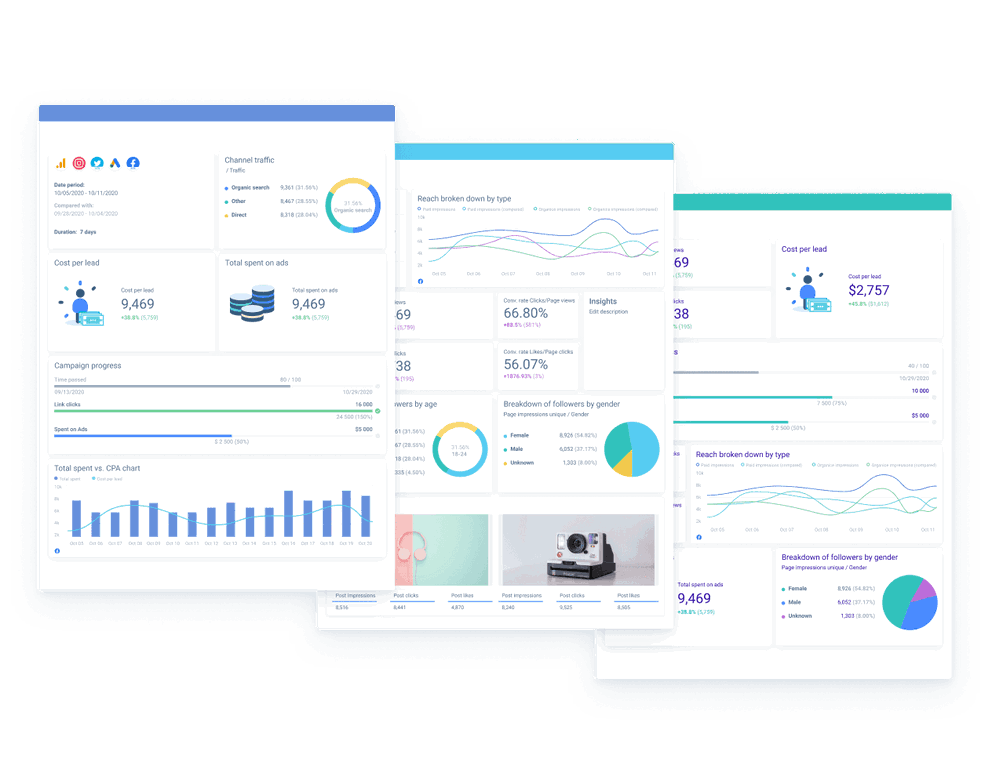 Keep all your paid-channel KPIs under one roof
Keep KPIs from multiple channels in one place. Whatagraph PPC reporting software collects performance metrics from all channels automatically. Combine performance data from Google Ads, Facebook Ads, Pinterest Ads and any other PPC platform you use to see full channel performance data. Use Google Sheets and Public API integrations to include custom data from any source.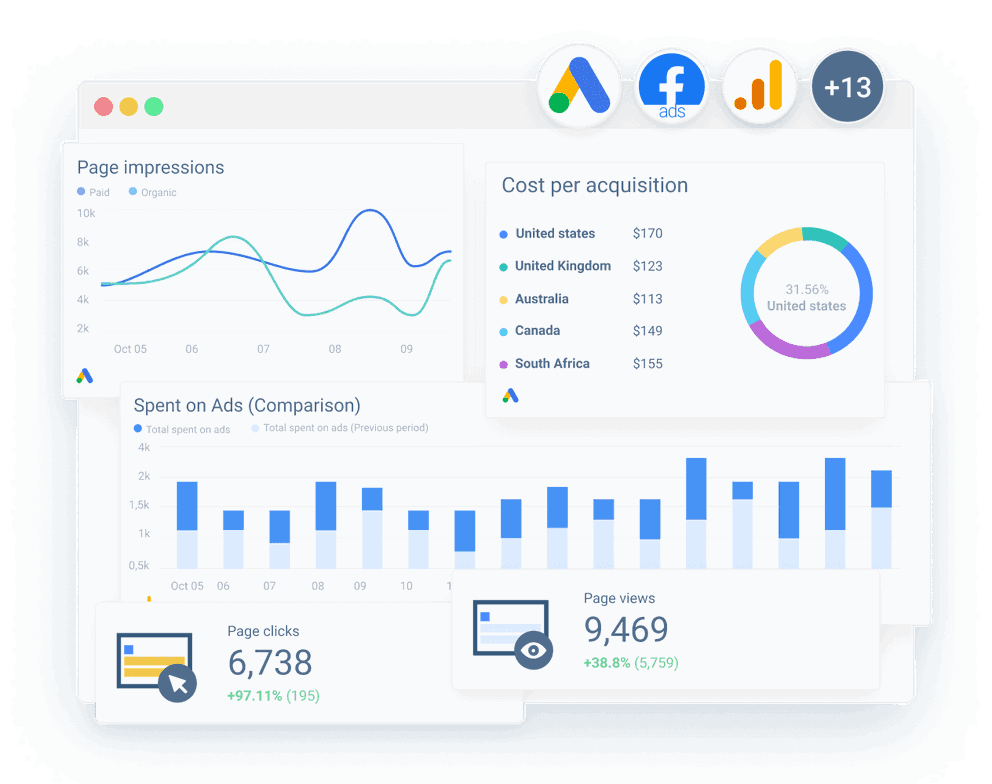 FAQs
All your questions answered. And if you can't find it here, chat to our friendly team.
What is a PPC report?
A PPC report is used to showcase the results of a PPC campaign. This is done by aggregating key metrics from various PPC marketing platforms that you may use to help you and your clients assess the effectiveness of PPC campaigns. 

 
Analytics from all of your PPC platforms, such as Google Ads, Facebook Ads, Amazon Ads should be included in a single PPC report. This makes analysis of all channels much easier - this is called a cross-channel performance report.
What makes a good PPC report?
A good PPC report gives you a great overview of all PPC channels and their performance. This means that whether you choose to use Facebook Ads, Adwords, or other PPC platforms, performance metrics will be within your or your client's reach.

The things you should include in a comprehensive PPC report:
CPC metrics across all channels;
Keyword performance, for Google Ads or Bing Ads;
Best performing audience segments;
Ad spend and ROAS; 
Conversion rate and cost per conversion.

One thing to take note of is that you must understand what the objectives of your clients are. By understanding what the objectives are, you will be able to create custom reports with the right data sources that showcase KPIs that actually matter. 

If you are an agency with a variety of clients, you may wish to look into white label PPC reporting to have each custom report reflect your brand. 
Which is the best tool for reporting?
The best PPC reporting software - especially when it comes to comprehensive marketing reports - is Whatagraph. 

Whatagraph offers over 40 integrations with must-have marketing tools. Whether you're looking for specific PPC reporting tools or are looking for an all-inclusive tool that offers cross-platform reporting, Whatagraph covers all the bases. 

Use a PPC reporting template to aggregate social media marketing analytics, Google Adwords campaign metrics, and any other marketing tool you may use. All of the data is shown to you in real-time. Whatagraph makes the time-consuming report creation process really easy, no matter how many clients you report to.
What should be included in a Google ad report?
For Google Ads reporting - or for any PPC data you may track - you need to include metrics that turn the needle for your client. Don't overthink your client reports - focus on the PPC data that is driving REVENUE for your clients - that's the basis of campaign performance tracking.

 
Track keywords that generate conversions;
ROAS - how much revenue you generate in relation to your ad spend; 

Whether you're creating a Google Ad report or making a cross-channel client report, a great PPC report simplifies campaign management. Look for the right PPC reporting tools to help you manage PPC data and metrics in one place - Whatagraph can help you do just that
It's good to be loved! Our clients are not shy about expressing it.
Need more help with getting started?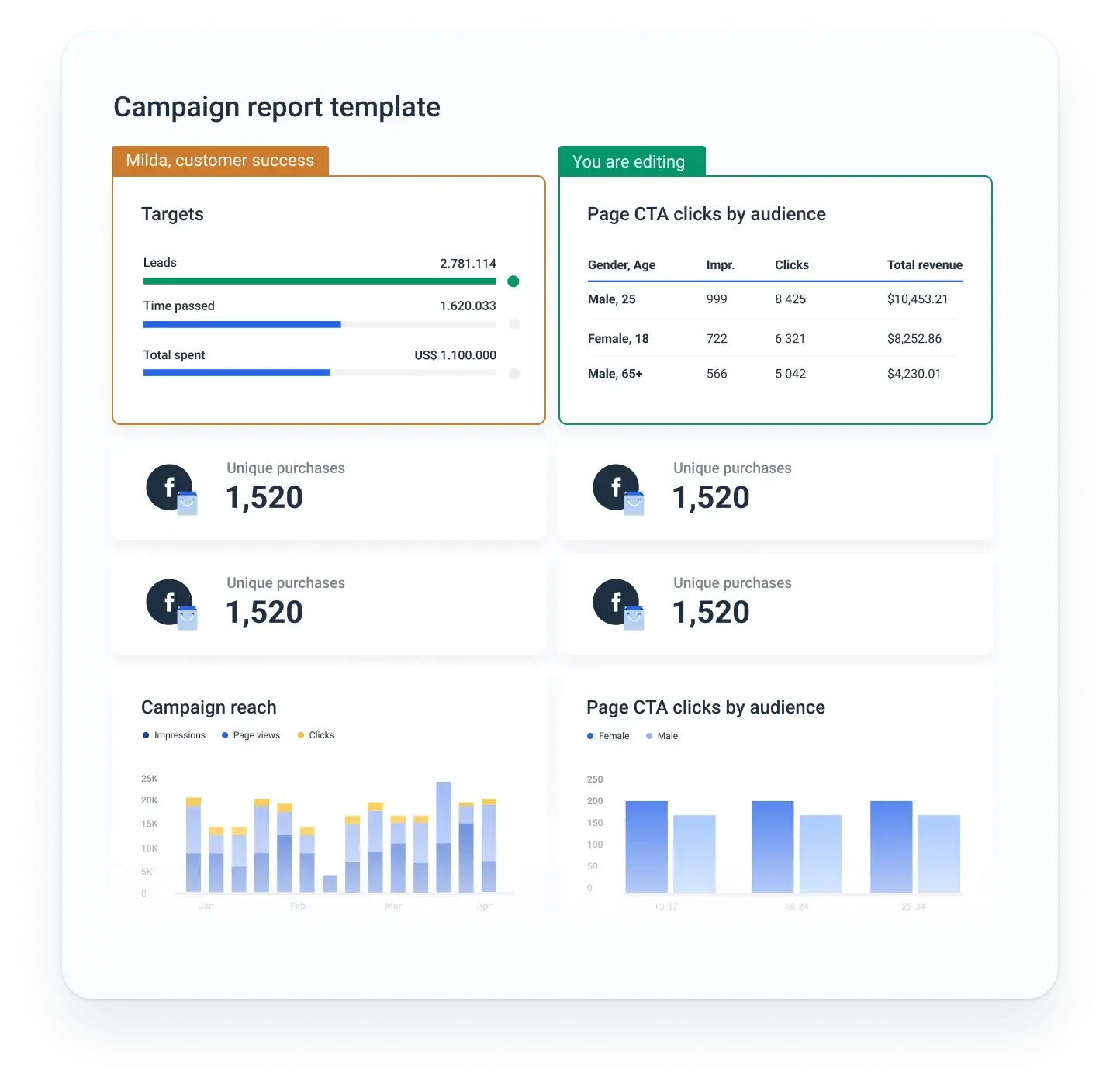 We can set up your report campaign for you!
If you need help with setting up Whatagraph - our team can create your campaign reports!
Ready for insights?
It's time to focus your time on the tasks that really matter, and let us worry about your marketing analytics. Start your free 7-day trial.
Free for 7 days

No credit card required

Live chat support

Cancel anytime