The Best Facebook Ads Report Template for Agencies
Running Facebook ads campaigns and want to keep an eye on CTR, CPC, or any other key metrics? This template will meet your agency's and clients' needs. Combine multiple data sources and monitor each channel's performance in one report! Just connect your clients' accounts and watch your Facebook ads report template get auto-populated with the most recent data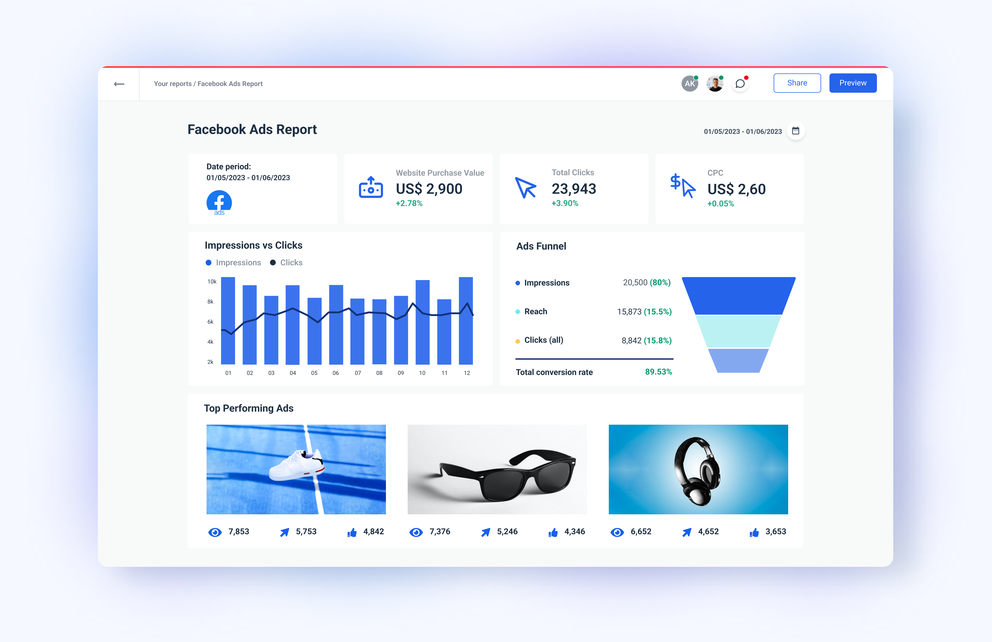 Join marketing agencies and teams worldwide who use Whatagraph to work with marketing data!








Easily Customizable Facebook Ads Report Template for Marketing Agencies to Simplify Reporting
Save Time With Our Fully Automated Facebook Ads Reporting Tool
You heard us right! You can send automated Facebook advertising reports without pressing the 'send' button. You need to select the sending frequency, decide on the time period you want to report, and the number of recipients. Easily keep your team and clients updated on the most important Facebook ads data.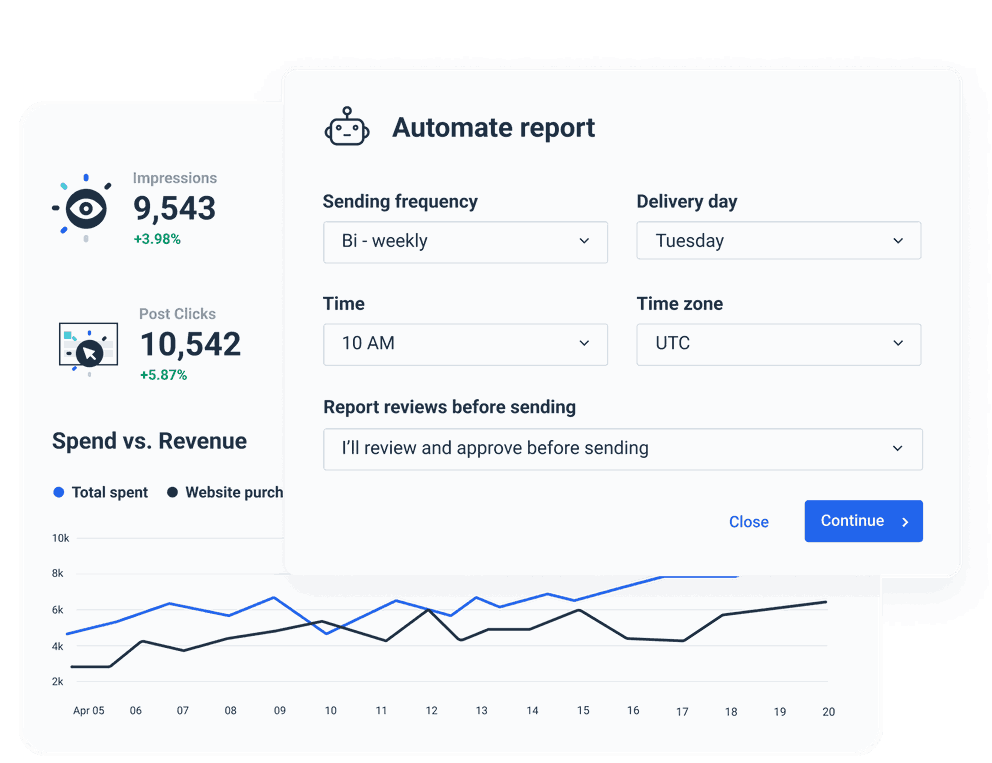 Easily Create Facebook Ads Reports & Track Campaign Performance
Whether you have a monthly meeting or if you are on a call with your client, create a comprehensive Facebook ads report and answer all the questions that may come up. Present data that gives an overview of your ad campaign performance. Highlight ad impressions, relevance score, cost per result, and audience demographics. Whatagraph shows you all of these details in a single report.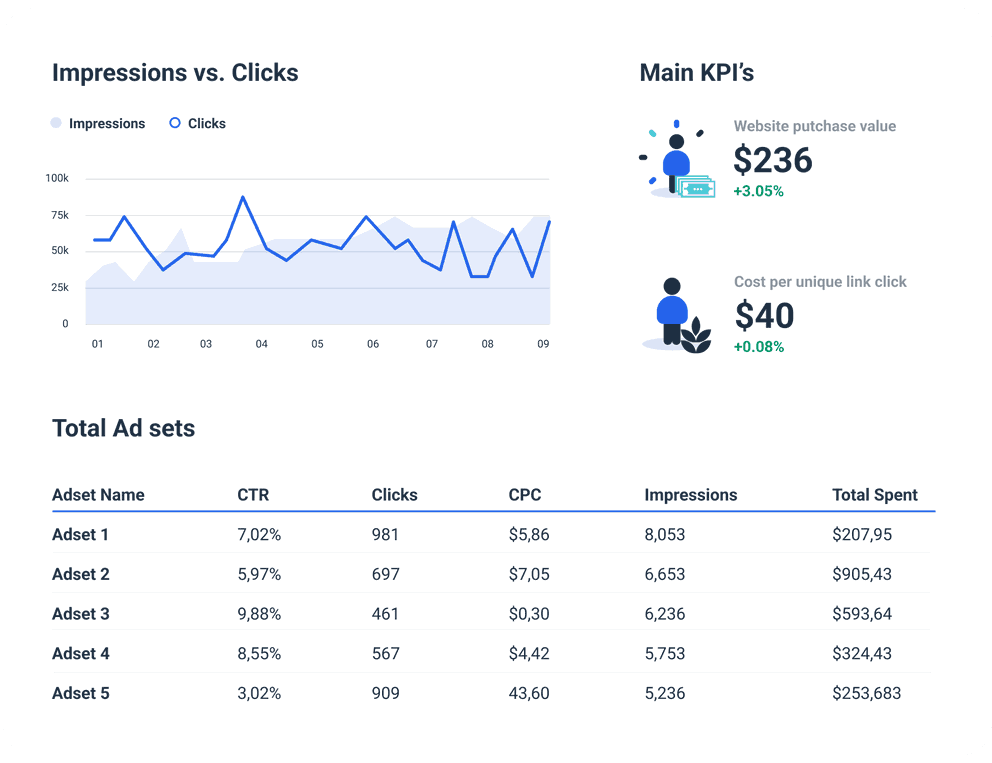 Monitor All Your Facebook Ad Campaign KPIs & Metrics In One Place
Get an in-depth view of your Facebook ad account performance and track ad set analytics. Use our reporting tool to see how each campaign is doing in terms of CPM, the number of received link clicks, ROAS, and ad spend. Develop better and more optimized online marketing strategies with aggregated data - from Facebook ads and many other platforms.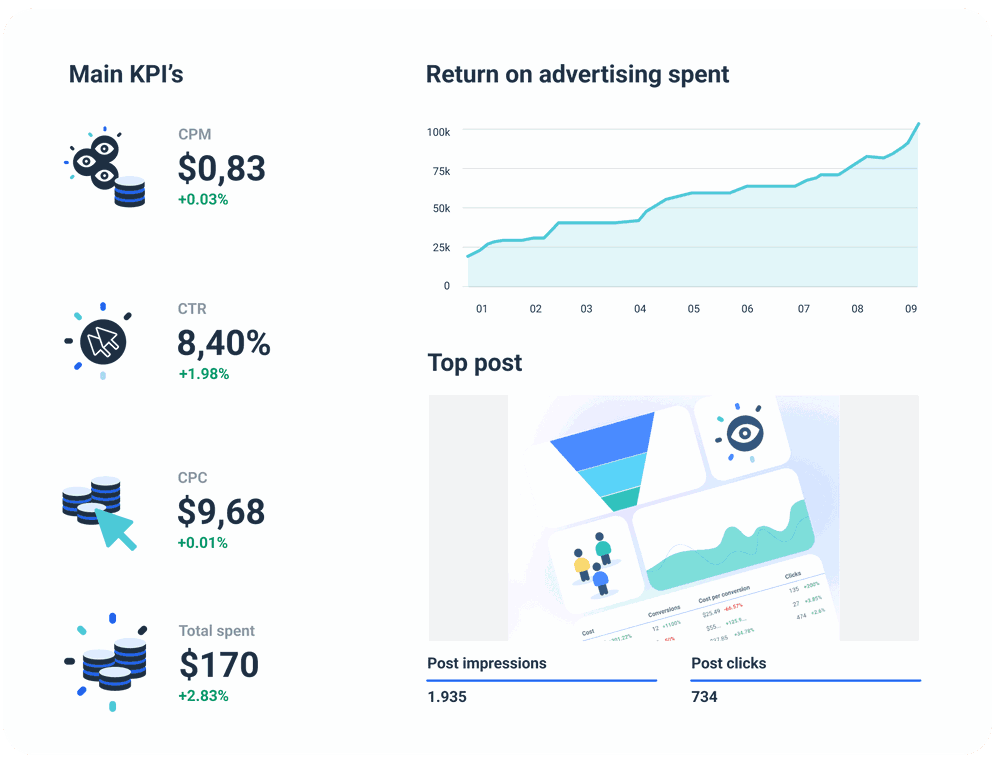 All reporting features your agency needs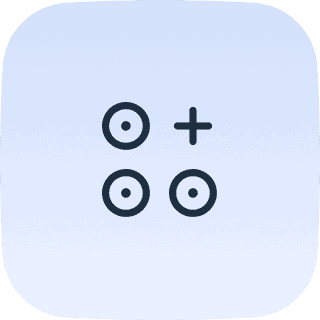 45+ data sources
Create a true cross-channel digital marketing dashboard in Whatagraph. Over 45 integrations for your cross-channel marketing campaigns.
Cross-channel reports
Combining cross-channel data is intuitive and takes a few clicks. Create a single client report for all channels instead of one report for each.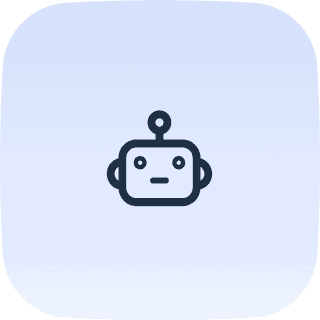 Full report automation
Schedule your reports at desired intervals or share a live link to a report so your clients can check for updates at any moment.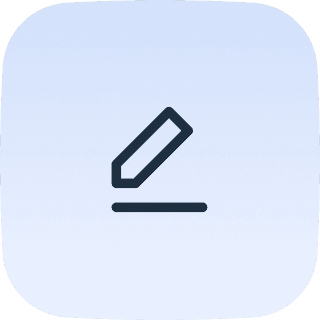 White-label reports
Customize colors and logos in each report to align it with your agency's or clients' branding and style.
FAQs
All your questions answered. And if you can't find it here, chat to our friendly team.
What to include in a Facebook ads report?
In your Facebook ad report, you should include only specific information that your clients require for their campaigns. Not only can you use notes, images, and emojis in Whatagraph's ad reports to make them more interesting, but you can also incorporate critical analytics. Here are some ads metrics you can include in your Facebook ad report:
Return on ad spend, or ROAS refers to the overall money generated by your Facebook ad campaigns. This indicator will tell you how well your ad is performing and if your marketing efforts and investments are paying off.
The Reach tells you how many different Facebook users saw your ad. This measure differs from impressions in that it does not collect numerous views from the same person.
The cost per action (CPA) is a metric that shows the costs of each conversion. In other words, the cost per action is the price you spend for each Facebook user action.
CTR (Click-through-rate) is a metric that counts how many times your ad has been clicked in relation to the number of impressions received.
CPM (The cost per mille) /1k impressions statistic determines how much money is paid for every 1.000 impressions.
When advertising video commercials, the average watch time is essential. It displays the percentage of videos that have been watched. The smaller the percentage, the lower the overall quality of the video;
The cost per click is the average cost of each received click. CPC should be reduced as much as feasible, while Facebook ad content should be improved to enhance CTR.
How many Facebook Ads reports can I create with one Whatagraph account?
All of our pricing plans include an unlimited number of reports. Create, edit and send as many metrics reports as you need.
Why should I use Whatagraph instead of Google Data Studio for reporting?
While Data Studio is undeniably powerful when it comes to the Google Suite, Whatagraph supports 40+ marketing integrations. Connect all your social media, PPC, and email marketing channels and easily build dedicated or cross-channel reports your clients will actually read.
Agency reporting is a multifaceted task. Your reports should keep clients informed, and you need in-house reports to track your performance. Whatagraph offers flexible report automation with downloadable PDFs, live and embeddable links, report scheduling, and more.

Unlike Data Studio, Whatagraph pushes the limits of report customization. We give you full control of how your reports should look, from branded colours to custom email domains, individual templates, custom date ranges, comment boxes, and more.
It's good to be loved! Our clients are not shy about expressing it.
Need more help with getting started?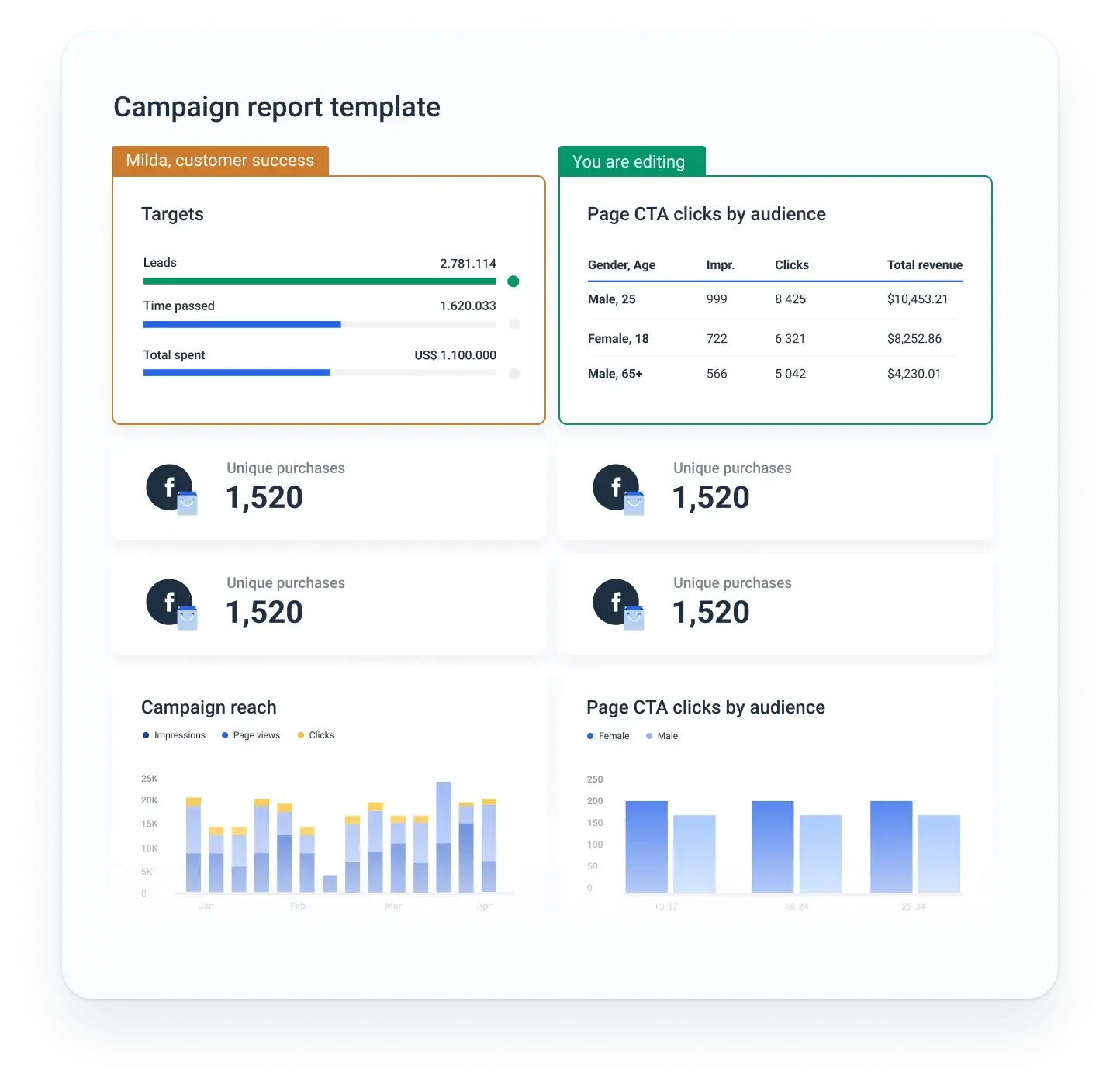 We can set up your report campaign for you!
If you need help with setting up Whatagraph - our team can create your campaign reports!
Ready for insights?
It's time to focus your time on the tasks that really matter, and let us worry about your marketing analytics. Start your free 7-day trial.
Free for 7 days

No credit card required

Live chat support

Cancel anytime