TikTok Dashboard for Agencies
Effortlessly connect TikTok account data and build a stunning interactive dashboard within minutes using widgets as building blocks. Use a ready-made TikTok dashboard template or create a custom TikTok dashboard your clients can use to check live TikTok performance metrics whenever they wish.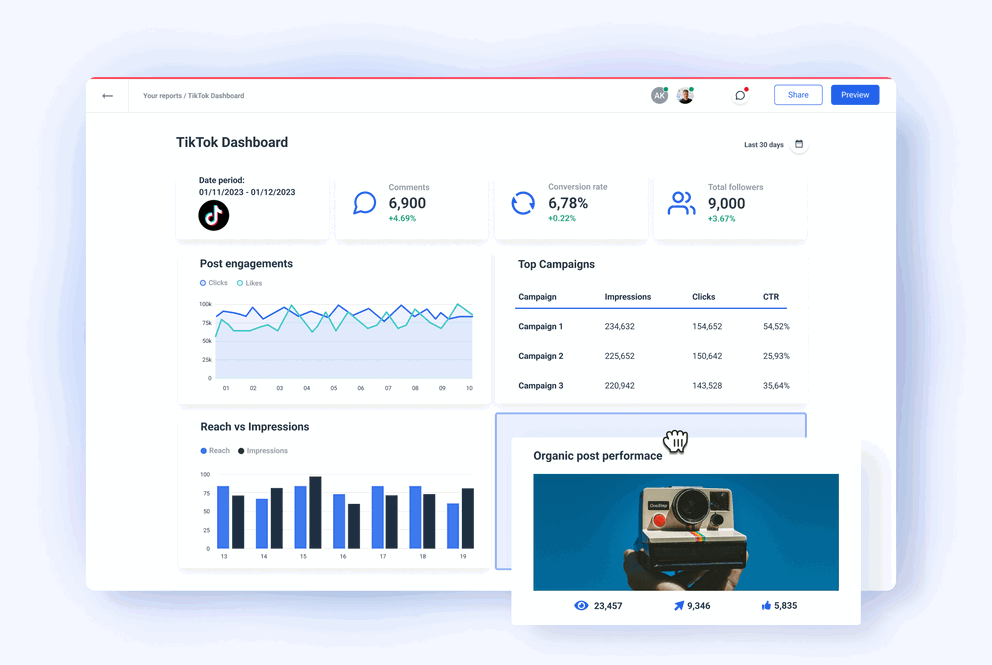 Join marketing agencies and teams worldwide who use Whatagraph to work with marketing data!








Create actionable and engaging TikTok dashboards with Whatagraph
Spend less time building a TikTok dashboard
Drag and drop pre-made graphs, charts, tables, or single-value widgets to show the data you want the way you want. All the widgets stick to the grid for a quick and organized presentation. Save your custom widgets, calculations, and filters and reuse them in other dashboards. Change the layout, colors, and logos. Add media widgets for top-performing posts. Include personal comments and recommendations, and create a custom domain to bring the TikTok dashboard in line with your or your client's branding. Save the whole dashboard as a template for multiple clients and edit them in bulk.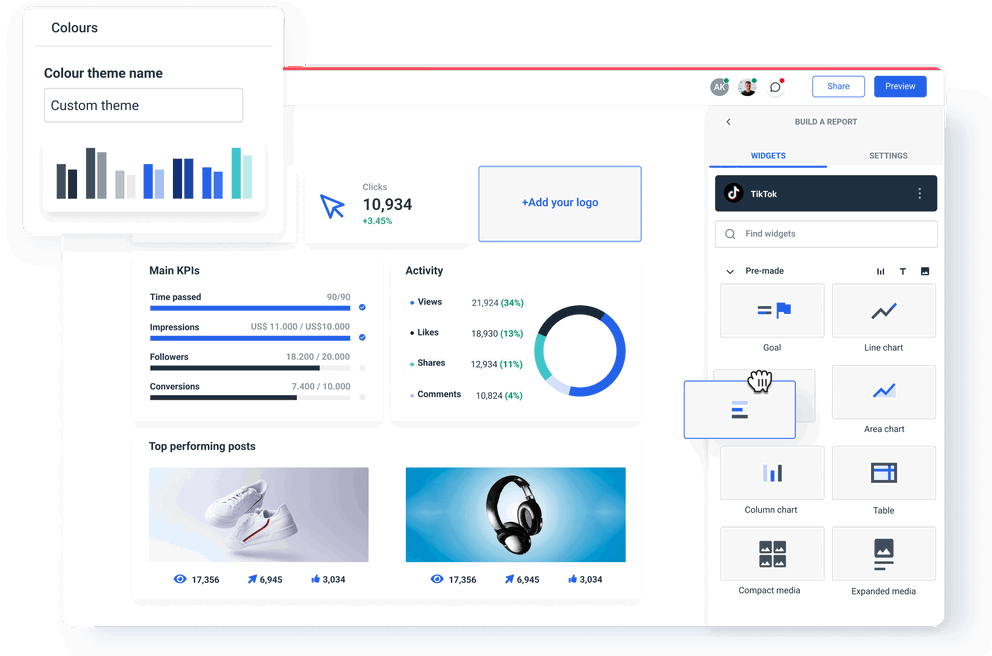 Track the essential TikTok campaign metrics and KPIs
Highlight your TikTok marketing results and measure the real-time performance of your video posts. Monitor likes, shares, new followers, and all other metrics that give you a 360-degree view of your clients' TikTok campaigns. Build transparency and trust with your clients by giving them real-time insight into the TikTok campaigns you run for them.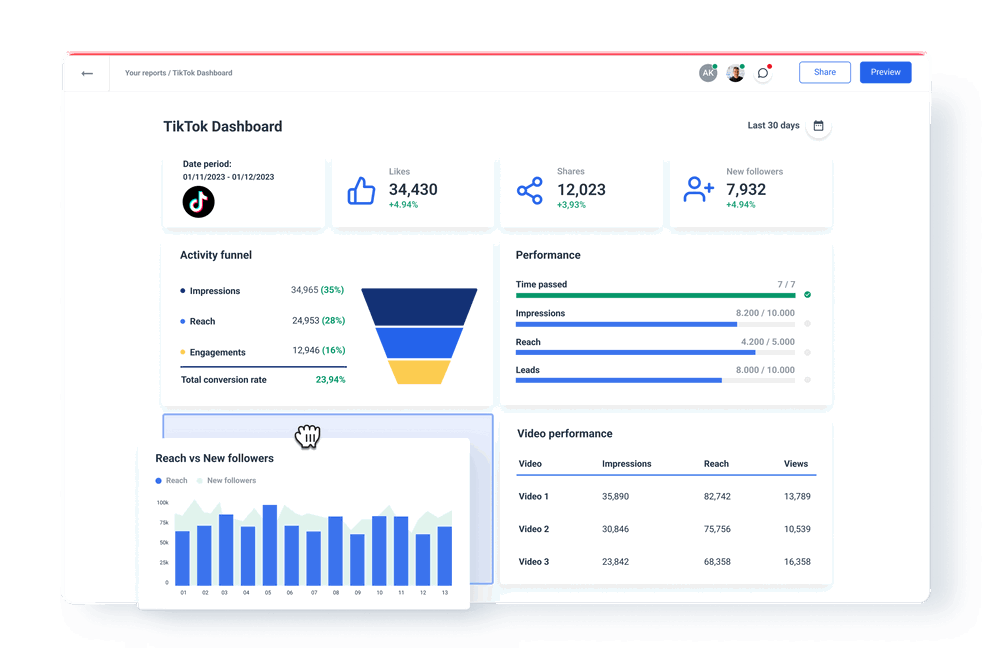 On-demand access via a live link
Share your TikTok dashboard with your clients via a live link for on-demand access. Instead of compiling and sending data every month, present your clients with an interactive dashboard that updates automatically. Let the viewers change the date ranges and explore data at their discretion, and if needed, protect the dashboard from unauthorized views with a password.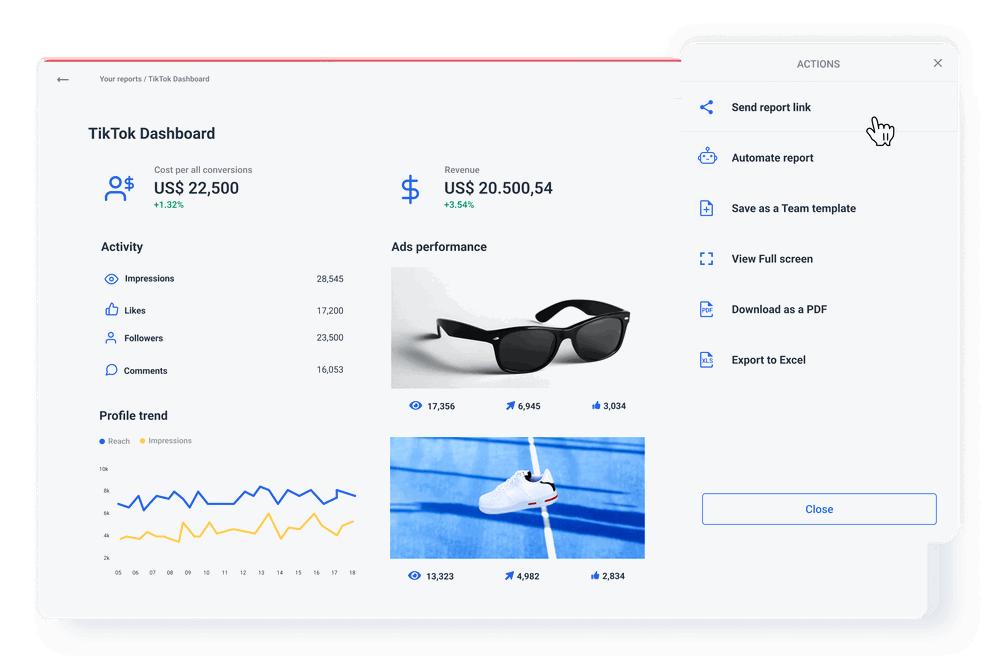 Supplement your TikTok dashboard with other useful dashboard templates
View All Templates
No credit card required
All reporting features your agency needs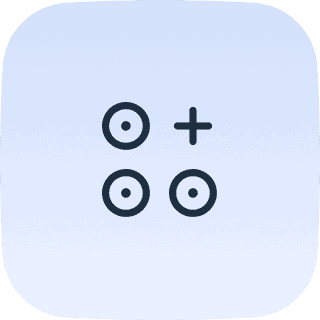 45+ data sources
Create a true cross-channel digital marketing dashboard in Whatagraph. Over 45 integrations for your cross-channel marketing campaigns.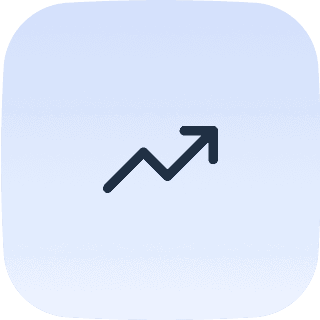 Live dashboards
Securely share interactive access to your reports at any time from anywhere.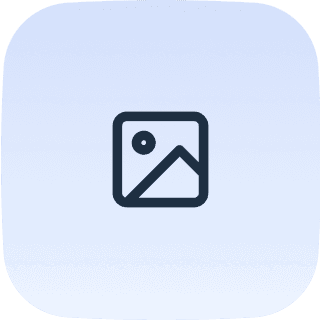 Media widgets
Showcase ad creatives, social posts, and other custom visuals by adding a media widget to your report.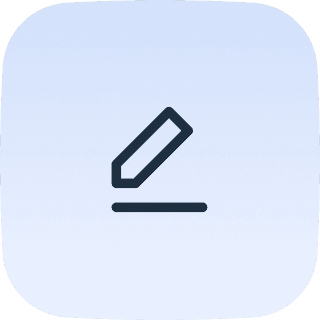 White-label reports
Customize colors and logos in each report to align it with your agency's or clients' branding and style.
FAQs
All your questions answered. And if you can't find it here, chat to our friendly team.
Can you create a combined TikTok organic and TikTok Ads dashboard in Whatagraph?
Yes, you can create one Whatagraph dashboard to monitor the performance of both organic TikTok and TikTok Ads campaigns. Just add both your TikTok organic and TikTok Ads account as a source and drag and drop widgets for the metrics you need. Whatagraph really makes it easy to bring data from multiple sources like social media to one place.  
Do you need to use Excel or Power BI to visualize TikTok data in Whatagraph?
No, you don't need to use Excel or Power BI to visualize TikTok data in Whatagraph. Whatagraph is an all-in-one marketing data platform you can use to connect TikTok data, visualize it in a dashboard, and share it with your client via a live link. No other tools or connectors needed.  
On the other hand, if you have data in Google Sheets or BigQuery data warehouse, just add them as a source to your dashboard.
What metrics to follow for organic TikTok and which for TikTok Ads?
For TikTok organic, start with new likes, shares, comments, and video views. Also, make sure to add a profile data table where you can monitor the changes on a weekly basis. 
For TikTok Ads reporting, you need a campaign performance table for CTR, CPC, CPM, total costs, and conversions. For a high-level view, Whatagraph has single-value widgets for the total cost and CTR. 
For both organic and paid TikTok, you should include media widgets for the top-performing posts by selected metrics. 
How to upsell your client for TikTok influencer marketing?
TikTok influencer marketing is a common addition to agency campaigns due to its high ROI and impact on other marketing efforts. To convince your client to expand into influencer marketing, you need to present the benefits: 
1. When your content is distributed through the influencer's platform, it comes across as a word of mouth from the influencer to their audience, which increases the click-through rate and purchase intent. 
2. TikTok influencer marketing complements other marketing actions by bringing awareness to other parts of marketing campaigns, improving the success of video releases, or coordinating events with your client. 
Apart from the TikTok app, what other marketing data sources can you include in a Whatagraph dashboard?
Whatagraph has native integrations with over 45 marketing data sources, including different website analytics, social media, PPC, SEO, email marketing, e-commerce, and CRM platforms. You can also connect data via a custom API or by previously exporting it to BigQuery or Google spreadsheets. 
It's good to be loved! Our clients are not shy about expressing it.
Need more help with getting started?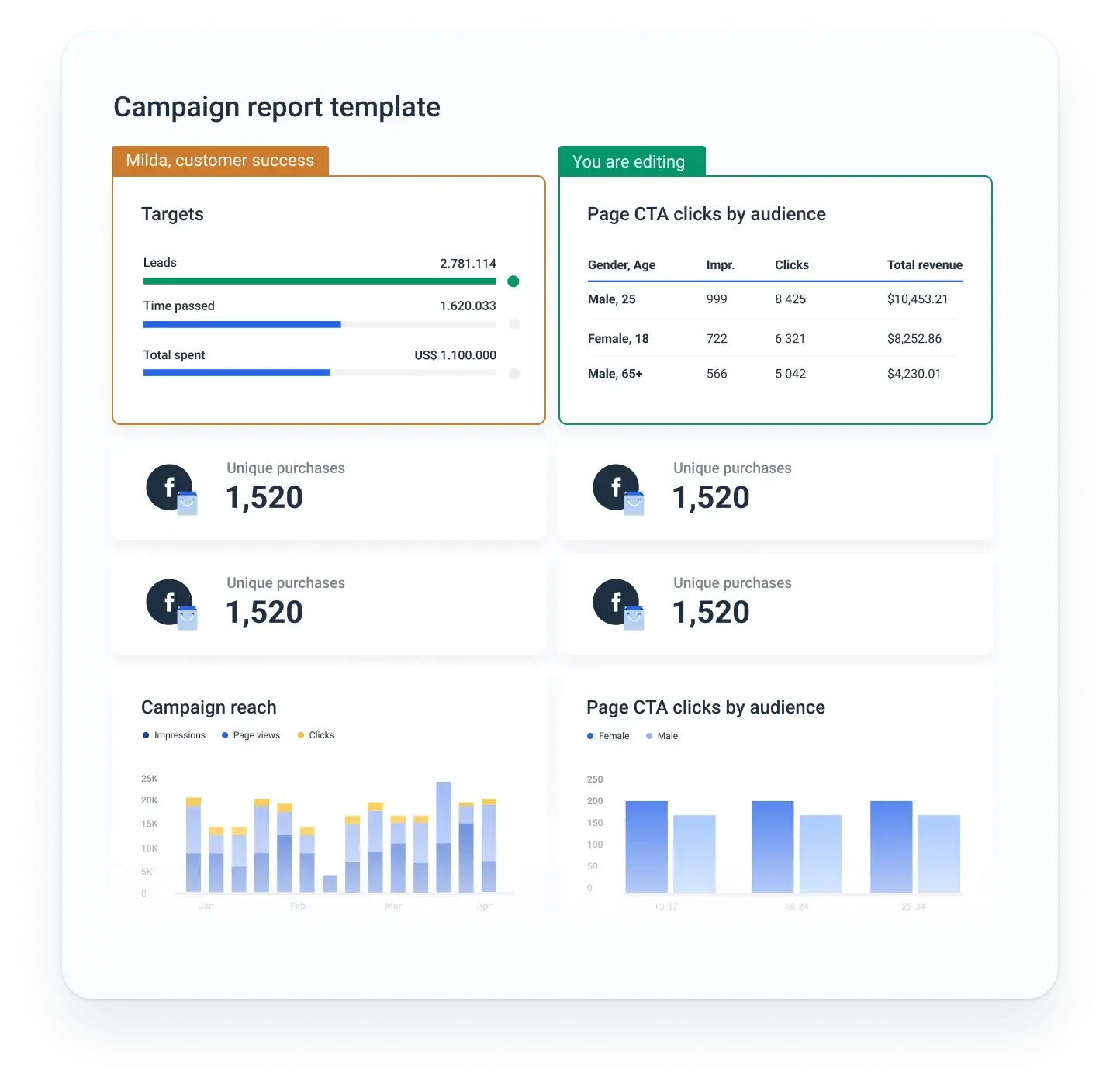 We can set up your report campaign for you!
If you need help with setting up Whatagraph - our team can create your campaign reports!
Ready for insights?
It's time to focus your time on the tasks that really matter, and let us worry about your marketing analytics. Start your free 7-day trial.
Free for 7 days

No credit card required

Live chat support

Cancel anytime