#marketing
5 Agency Reporting Tips To Prove Your Value To Client
Often times it's hard to effectively relay your value to a client. These challenges arise when the two parties are disconnected from each others activity. Presenting concise insights and bolstering communication with your client is a great way to build rapport and prove your worth.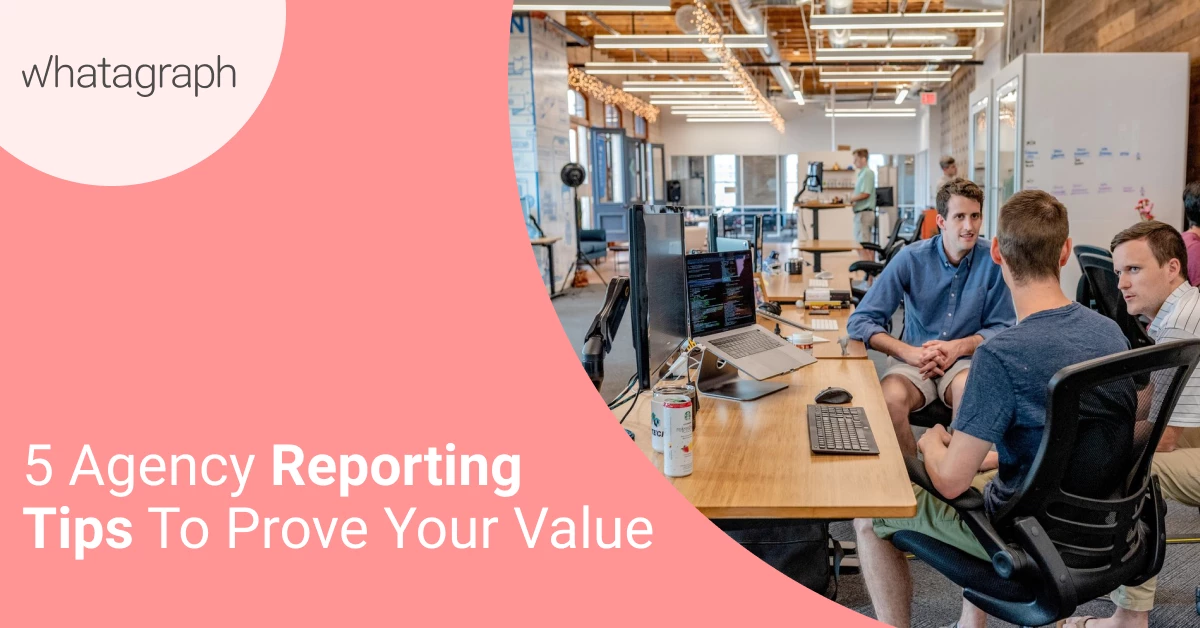 Peradventure, you have been offering premium marketing solutions to your clients over a length of time. The fact is each individual you collaborate with possessing some degree of marketing experience. Some might have worked as account managers, others might know the basics, while others might not have a clue of what the industry is all about.
This makes it easy to confuse your contact with many jargon and data beyond their level of experience. This is why it is expedient to offer them concise, customized, and holistic techniques for preparing an agency report that details your successes ( or setbacks) of your activities. This will enable you to build a long-lasting relationship with your clients.
Designing a customized agency report will also eliminate concerns in client reporting and provide a smooth running for your check-in calls. It does not matter the size of your client or the length of years you've been collaborating; an improved report will boost your relationship. That's why I will share tips and tools that can help you prove your mettle to your clients.
Tips and Tools to Prepare a Valuable Agency Report

1. Employ the Right Tools
This is the initial stage in curating compelling reports for your clients. You need the right tools to extract and interpret performance data. In case you are attuned to utilizing spreadsheets, you may want to relent in changing to another tool that requires extra investment. However, you could be incurring more expenses in extracting and presenting the data each week or month- compared to what you will use when you leverage real-time technology in implementing the same task.
Some tools can help you extract and interpret performance data without any hassle:
Whatagraph is one of the popular reporting tools that offer your agency and clients versatility. You can connect several data channels to have a complete overview of campaign performance. You can create custom templates and personalize them with white label reports for each client. Not only that, you can assign your client's specific report from their portal.
2. Customize Your Reports
There is no general template for agency reporting. Every client you collaborate with will have special reporting requirements, not minding the niche that you operate in. Based on this, you need to use a general template for basic data while you personalize these templates to align with the needs of the client at hand. One way to achieve this is by focusing on the business goals of each client.
Conversion reports
A common process for several premium acquisition clientele is the monitoring of tangible outcomes. Therefore, creating a dashboard or report that factors in conversion processes is an excellent means of proving that your efforts are impactful on the bottom line of your clients. There is a variation from client to client in the timeframe for the presentation of such data. However, you can stick to monthly or quarterly in displaying this information.
You can also present this data by running through conversion trends using screen share. You can enable your clients to view trends within CPA, and conversion volume will provide them an instant insight into the general performance concerning their goals. This will allow you to bolster the data with other supporting evidence using different metrics that show improvement in their account. The bottom line here is to show them what they can easily digest and what's crucial.
Click-related and impression reports
As stated, it is ideal to present information that focuses on the goal first. This will enable you to unveil to the client where they were and their present position. From that point, you can effectively provide the justification that backs the trends in the broader scope coupled with the data that relates to them. You may discover some clients may be attracted by click-related information and impression - which may be one of their objectives.
Funnel Reporting
One of the essential tools possessed by these agency reporting tools is the capability to monitor performance throughout the funnel. You are not restricted to showcasing Facebook and Google metrics at the surface level. For instance, you can sync Hubspot, Google Analytics, MailChimp, and others with Whatagraph. By doing so, you have instant access to performance data inside the funnel. This will help you make an informed modification to your campaigns given the way leads are generated from them
3. Disintegrate the channels
In case you are making use Whatagraph as your reporting tool, you can design a single report that brings together all the channels. The data presented will be straightforward and those with minimal data literacy will still be able to understand what is happening.
However, you may also choose to separate each channel (Google, Facebook, Linkedin, etc.). and assign each platform to its unique series of reports.
Breaking up the channels will also prevent your client from being discouraged by poor performance in any of the channels despite results in others. You don't want your client to lose sight of the excellent performance while focusing on the bad.
Another thing is that there is a distinction between the strategies used to deploy marketing campaigns for each platform.
Even the way each channel serves and optimizes ads through their algorithm differs. That's enough reason to separate data.
4. Prepare More Than One Report Per Channel
You can also create multiple reports for each channel. While you might want to start from simple reports to more advanced reports that track in-depth metrics, you can as well showcase complex data based on the needs of the client. A marketing department may be keen on knowing every small detail about marketing, while the execs may only need to know a simple summary of marketing performance.
Collating all vital information in a report may look like the ideal, but it is reasonable to establish distinctive degrees of complexity and detail. You can start with a comprehensive report of those factors in advanced metrics like impressions, budget pacing, clicks, as well as conversions.
This can then permit your client to have a sneak peek into some critical details about paid campaign data such as keywords, targeting, and impression share.
Paid search includes several data points, as well as moving components that form the whole idea that it's reasonable to design templates for those data points. While you may not bother using those templates for some clients, others might require them. When the need arises, it will be easy for you to duplicate your agency report and synchronize crucial data points. This alone will save you time as there won't need to prepare the reports from scratch again every time.
5. Create Reports For Personal Use
These tools are adequate to enable your clients to have insight into performance, but more value is derived when you can organize vital information into a single report independently. Perhaps you are spending several hours each week logging into each channel to know the next action plan.
The uniqueness of these channels is that you can assign a personal dashboard for you or your team to stay in the loop of what it takes to run an agency. You can track conversion pacing in line with goals, spend pacing per customer, and dips in KPIs. That way, you get to save time when working on your optimizations and determining which of the client accounts requires prioritization.
Reporting is a crucial factor in satisfying your client, aside from your ability and expertise to manage a successful paid search campaign.
Providing your client a great looking and easy way to comprehend a report o could make a great difference.
What Are The Challenges With Preparing Agency Report?
As agency reports gain traction, clients are becoming more demanding as they need adequate feedback.
Do you know that sending complicated and messy excel sheets listing is below what will be considered a proper form of feedback? Presently, you have to combine the proper data sources.
Several agencies are presently facing challenges when it comes to preparing a proper agency reports. Some even make mistakes due to inexperience or complexity of cross-channel reporting.
Also, they neglect what is vital, which is crafting a comprehensive agency report that provides valuable and detailed insights.
In another vein, clients consistently pay for a service without understanding what they should expect. Then, at a point in time when they request for feedback, they discover that the agency has been underperforming.
Poor communication can make clients be under pressure, uncooperative, and uncommunicative, which culminate into wasted time and efforts—all of these need to change.
Many of the issues mentioned above can be easily circumvented with a reporting tool such as Whatagraph. It makes creating comprehensive visual reports a breeze while providing cross-channel performance assessment possible.
How to Build a Good Relationship between Client and Agency?
The purpose of an agency report is to strengthen the cord and not to weaken it.
For instance, we treasure reporting in our agency. That's why we invest considerable time and resources in enhancing the process, and we have seen the results.
Some clients are working in a dynamic and ever-evolving niche. They understand the importance of tracking performance and stay agile to outperform the competition. They know the risk of being stale, and they embrace a data-oriented approach. They aspire to test several theories to fully maximize their resources and improve their bottom line.
How Can We Solve These Reporting Issues?
It is simple!
Incorporate crucial information and optimize the relevancy and frequency of reporting.
The rigors that come with frequent reporting is eliminated with the use of Whatagraph. More time can be spent on bolstering communication with your clients while minimizing the effort it takes to produce comprehensive campaign reports.
There could be disjointed relationships as a result of mistakes like the inability to offer genuine insights, poor face-to-face schedule, or establishing unrealistic outcomes.
Therefore, it's essential to be clear of the basics before you collaborate with a client.
Published on Mar 10, 2020