#marketing
Top 5 Facebook Reporting Tools for Better Insights
A successful social media strategy involves understanding and analyzing your metrics on the world's largest social network, Facebook. Reporting is essential for informing you and guiding your marketing strategy. Luckily, many Facebook reporting tools make it easier for you to measure the performance of your Facebook ads and posts.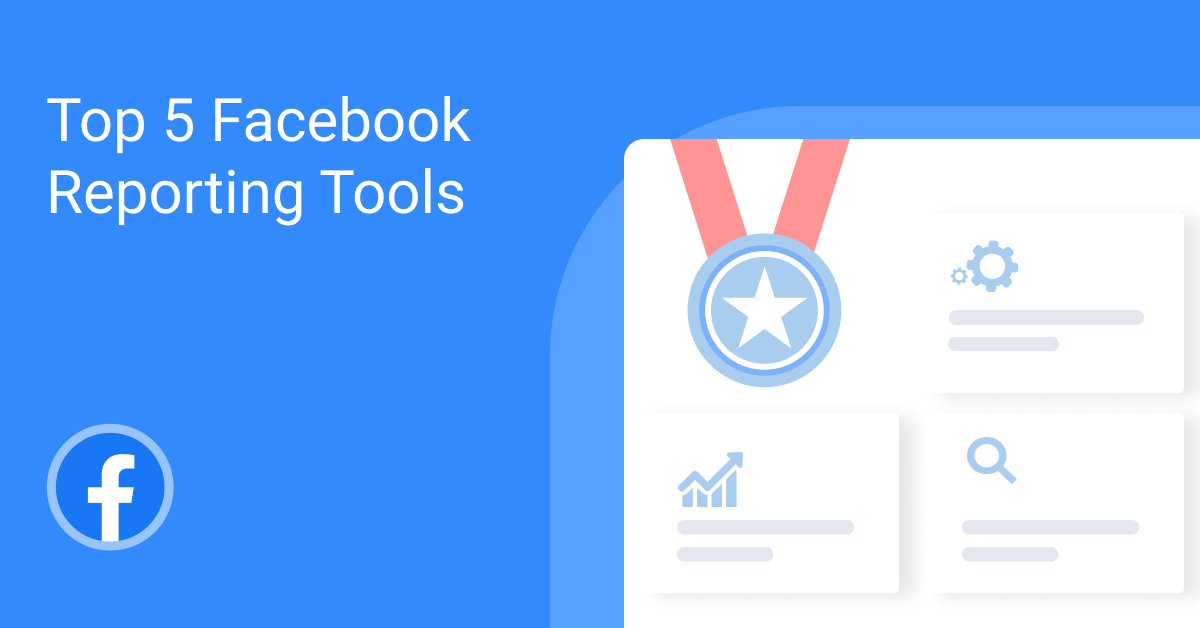 Table of Contents

Knowing the progress of your marketing strategy, how it stacks up to competitors, and whether the ROI is being made is part of the data that will help you realize your strengths and weaknesses. Facebook reporting tools provide all this information for you, saving you hours on this overwhelming task every week or month.
Here are the five best tools in no particular order that will provide you with data that allow you to see where you stand on the market and how to improve your strategy on Facebook.
The 5 Most Powerful Facebook Reporting Tools

1. Whatagraph
Whatagraph's Facebook reporting software delivers easy-to-understand report templates that will help you, your team, and your clients to have a more successful Facebook marketing strategy. You can send the reports straight to your client's inbox on a weekly or monthly basis or have them sent to yours. Social media management has never been so easy.
Some of the cool features of this tool include:
Analyzing your audience demographics by location, age, and gender.

Monitoring interactions and engagement are driven by your Facebook page content.

Finding out the posts that have performed best, as well as the most engaging post time.

Comparing impressions driven by viral vs. sponsored shares.

Discover how your sponsored content affects your Facebook page likes.

Comparing the performance of paid and organic video views.


The infographic style of the reports with explanation is easier to understand than the Google Analytics graphs. There's a 7-day free trial you can choose to see how this brilliant tool works.
2. Simply Measured
Simply Measured offers reports for Facebook, which can be exported to PowerPoint or downloaded to Excel.
Facebook Competitive Analysis Report – allows you to compare up to ten fan pages with up to 250K fans. You will get an overview of each fun page and a series of charts that show how every brand compares in overall metrics. You can see fan page engagement comparison overtime on admin posts, community health details, and the top posts across all of the competitive pages together with likes, post type, shares, comments, and engagement rates.
Facebook Fan Page Report – in-depth data about the last two weeks of your fan page or your competitor's with up to 250K likes. It shows an overview, admin posts and total engagement, engagement on user posts, analysis of the top posts by day and time, and a thorough analysis of individual post content.
Facebook Insights Report – a thorough analysis of the last two weeks of your fun page insights data (for a page with up to two million likes.) A Facebook engagement megaphone focusing on the useful data for your posts, user mentions, user posts, page likes generated. You'll also see your metrics overview, a thorough insight into your engagement, stories, and messaging, impressions breakdown and post type details, top post details, engagement, impressions and reach by post type, negative feedback, page like details, traffic sources, fan statistics, activity, and demographics.
Facebook Content Analysis – insights into the last two weeks of your Facebook posts to determine the top posts in terms of engagement for your competitor's pages or yours with up to 250K fans. You'll get a content summary for the desired page, post type usage and engagement, the best posts of each post type, top domains, and top keywords found in the best posts.
Simply Measured offers fantastic plans for brands and digital agencies, starting at $500 a month.
3.LikeAlyzer
LikeAlyzer is a simple and free Facebook reporting tool that allows you to measure and analyze the performance of any page without authorization. In this way, you can monitor your competitor's pages. The tool ranks the desired Facebook page with a grade out of 100 based on over 70 different data points, at the same time comparing it to other competitive pages and suggesting ideas for improvement.
Some of the cool features of this tool include:
Evaluating your page and comparing it to million others to determine your performance.

Suggesting ideas for improvement based on your current performance.

Exporting the desired insights and metrics in the form of simple and clear reports.
4.Social Bakers
This analytic platform monitors your Facebook profile along with the profiles of your competitors. It analyzes your activity and compares it to your competitor page's activity. The creation of the PDF report is easy, and you also can customize your report.
The data in the report includes fan growth and demographics, a summary of your page posts, engagement and post types, most engaging post time, a breakdown of engagement types, an average response rate for user questions, and a comparison of the top 5 most engaging posts in a specific period.
This reporting tool isn't free and costs $50 a month for a single page or profile. If you want to compare your page with two competitors, the cost increases to $100 a month. For enterprises, there is also a package for up to 100 pages for $2,000 a month.
5.Sprout Social
This tool offers social media analytics, listening and insights, and performance reporting. It allows you to:
Monitor fan growth and decide if content performance influences it.

View a snapshot of your content to determine the frequency of your shared videos, photos, or links.

Dive more deeply into Facebook insights at the Post Level, including reach, shares, engaged users, comments, and likes.

Easily view average and total daily page impressions.

Track impressions by post type and learn how they are served.

Use impression data by gender, age, and location for more successful targeting of future posts.

Create presentation-ready PDF reports using your logo.
This tool offers management of up to 10 profiles for $39, management of up to 20 profiles for $59, and management of up to 50 profiles for $99.
Published on Jan 15, 2020