#marketing
Top 5 Facebook Analytics Reporting Tools for Agencies
Out of all social platforms, Facebook provides you with the largest amount of marketing data. However, to make the most of the data, you have to choose the correct Facebook analytics reporting tool.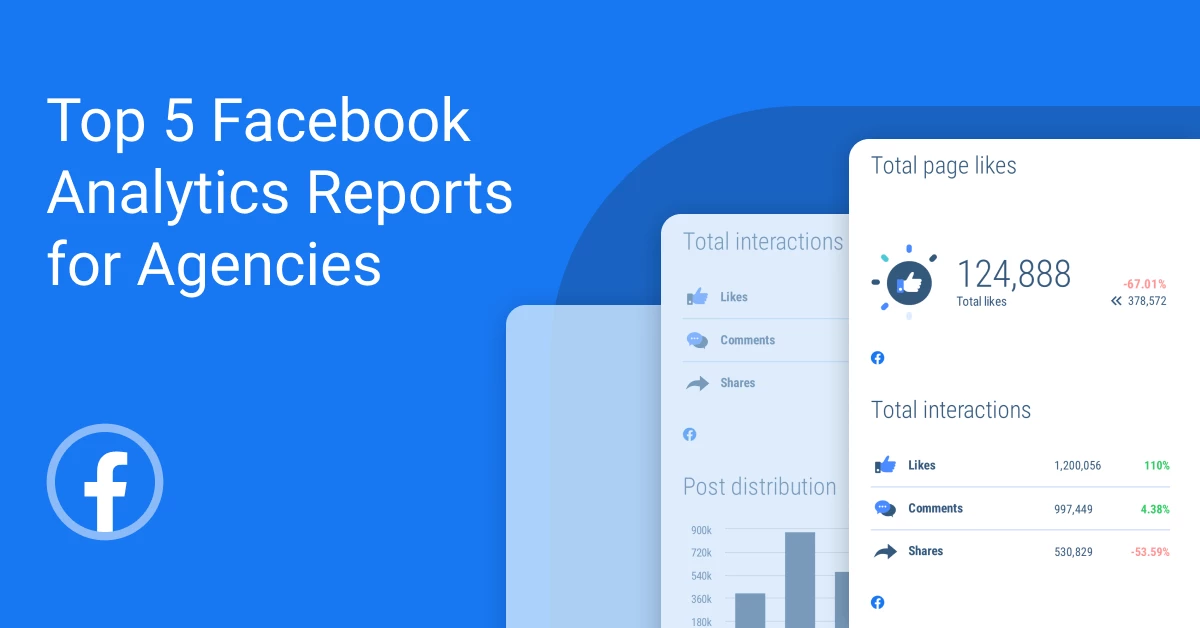 This way, you'll get the most accurate numbers and see how your client's brand performs. You can then decide what you can do to improve your strategy and increase ROI, short for (return of investment).
So, how do you go about picking the right analytics tool for your business?
For starters, you can use Facebook Insights – a data analytics tool that Facebook provides for free. However, it requires quite a lot of manual work. If you're looking to save time and create a report in just one click, get yourself one of the top 5 data analytic tools listed below.
Table of Contents
Top 5 Tools for Creating a Facebook Analytics Report for Your Business


1. Whatagraph
Using Whatagraph, you can get a clean-looking Facebook analytics report for your team and clients in the simplest way possible. Whatagraph allows tracking important KPIs, such as:
Demographics of your audience: location, age, and gender;

Interactions and engagement are driven by your client's content;

The top-performing posts and best times for sharing.
With Whatagraph, you can replace the default logo with your one. Finally, it allows you to schedule the data report delivery by days, weeks, or months. Your client will get data reports automatically without having to ask for one always.
2. Sprout Social
It's an intuitive analytics tool that allows monitoring and managing Facebook data. Using this analytics tool, you'll get access to:
The number of organic and paid likes your client's page received during a selected period;

The top-performing posts alongside with the number of likes, comments, and shares people have given your page;

An insight into how your post is traveling across the platform: you'll see how information is shared, including the number of stories created (posts, mentions, comments, etc.) and the number of people sharing the content;

Your audience demographics, including age, gender, and location.
A Facebook data report you to create using Social Sprout displays the following statistics: the users' activity overview, publishing behavior, audience growth, impressions, top posts, engagement, video performance, stats by page, and audience demographics.

3. Brandwatch
It's a tool that provides you with the number of people talking about your client's content on Facebook. You can also track reach, likes, and many other Facebook metrics.
This tool also offers the ability to monitor the performance of any Facebook page. This way, you can narrow down what methods work best for your competitors.
Finally, Brandwatch provides the topic of clouds and sentiment analysis features. And, it gives information on which exact posts or users are converting.
4. Hootsuite
It's a tool that allows adding up to 200 different metrics to your data report. Monitoring these metrics brings the following benefits: you can increase the reach rate and determine the type of content people enjoy the most.
Using this tool, you can create, download and share reports with other people, including your team or a client. Hootsuite supports PDF, Excel, CSV, and PowerPoint formats.
5. Facebook Insights
It's a free tool that provides your page content metrics, including the engagement rate and audience demographics.
Facebook Insights allows you to get the engagement rate for each post separately or gives you a general engagement overview. You can also see the ratio between paid and organic likes. This way, you can evaluate whether your promoted content pays off.
For a free tool, Facebook Insights provides high-value data insights. Even if you get any of the paid tools mentioned above, you can level up your report by adding data from Facebook Insights on top.
FAQ:
What Can Facebook Analytics, also known as Facebook Page Insights, Tell You?
Facebook Insights or Facebook Analytics gives plenty of useful information that can help you monitor and evaluate your business results, improve your strategy, and measure your ROI. The purpose of Facebook Insights is to make you understand the Facebook algorithm instead of working against it. You can even use Facebook Insights to build your own analytic reports.
Where Do I Find Facebook Insights or Facebook Analytics? How Do I Use It?
Open your Facebook page and navigate to the top menu, where you'll find the Insights section. Then, click on Overview to get details on what's been going on with your page in a selected period.
If you click on the Page Summary under Overview, you'll see different metric categories, including page views, actions on the page, page previews, post reach, post likes, story reach, post engagement, recommendations, videos, responsiveness, orders, and page followers.
Another section under Overview shows the engagement and reach rates of your past five posts. Meanwhile, the Pages to Watch section lets track how your competitor's page performs and compare it to your own.
Finally, by using this tool, you'll be able to see the number of people viewing your posts or the actions they take on your page. You'll know the time's people visit your page or even the sections they view.
Published on Jan 30, 2020