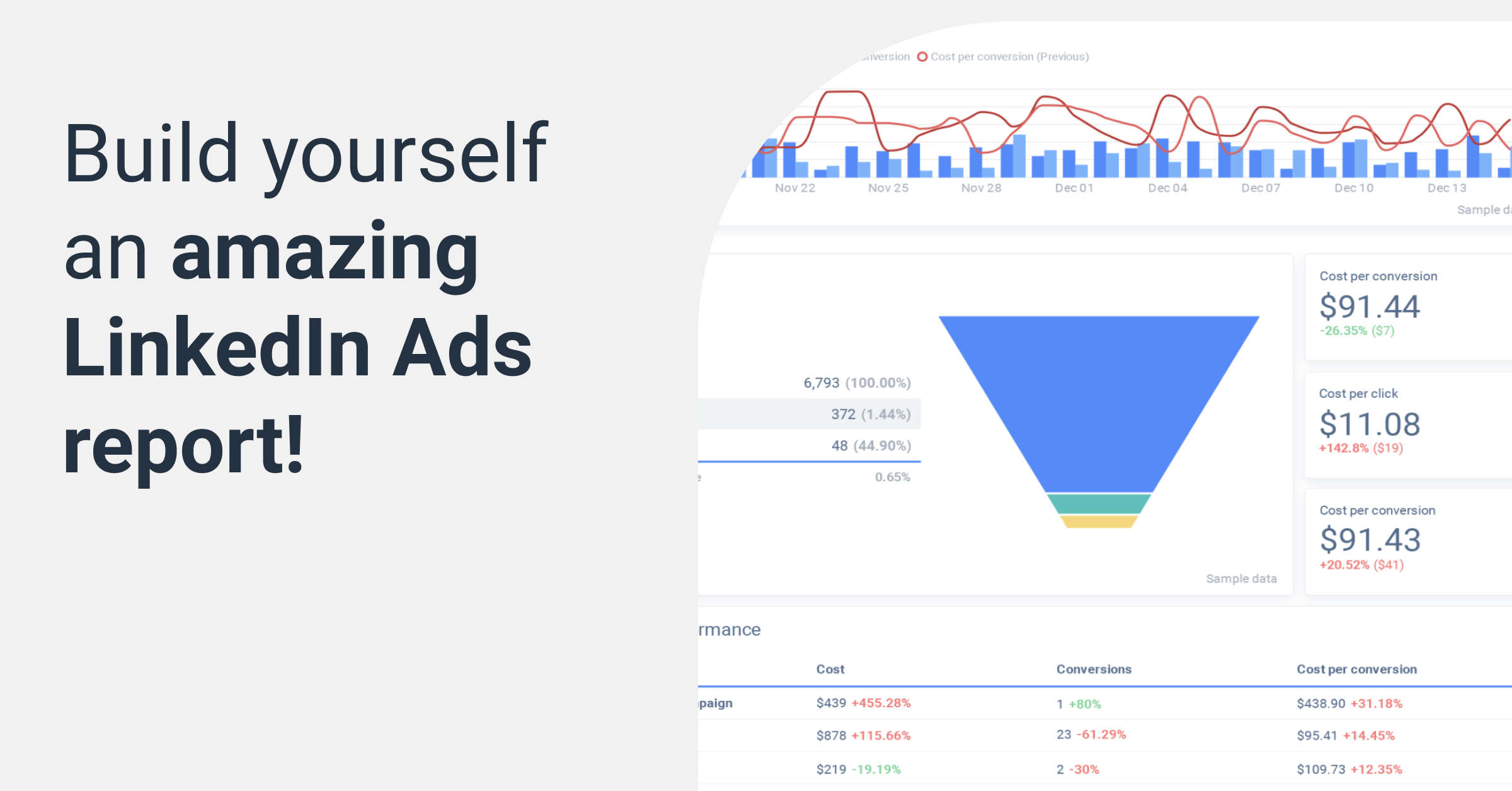 How to Create Actionable LinkedIn Ads Reports
Jan 18, 2021 ● min read
With the help of LinkedIn ads, a PPC marketer can build an extremely-targeted audience. However, the tricky part comes when you need to report your results to your clients or firm executives. Building an insightful LinkedIn Ads report shouldn't be difficult.
Whatagraph is a tool used to aggregate digital marketing data and present it in a visually appealing way. It works with a variety of popular digital marketing tools, one of which is LinkedIn Ads or LinkedIn Advertising.
You're probably well-aware that LinkedIn is one of the most powerful B2B generation networks. It helps you to target business, job title, and related demographics. LinkedIn Ads, the native advertising channel for LinkedIn, is just as strong as Twitter or Facebook Ads.
Now when the time comes to report LinkedIn Ad performance, you need to present the data effectively. It means the reports need to be insightful and divert the audience's attention to metrics that matter most.
In this article, we'll go over the shortcomings of the native LinkedIn ad management dashboard. We'll also show you how to build a LinkedIn Ad performance report that's insightful and provides in-depth analytics.
Let's go!
What actually goes on within the native dashboard?
LinkedIn reporting is designed to show you how your campaigns run on the site and how many conversions you receive. You can see metrics like impressions, link clicks, social commitments, and overall spending.
There are five major forms of LinkedIn Advertising Campaigns:
Sponsored Content

mimics the look of organic posts. This content is displayed on user news feeds.

Sponsored LinkedInMail

targets users via their LinkedIn mailboxes, i.e., target groups or individual users.

Text Advertising

is similar to AdWords text ads; they appear on the LinkedIn sidebar.

Dynamic Ads

allow you to reach those audiences with dynamically generated custom content.

Programmatic Display Advertising.

LinkedIn also provides users access to their programmatic purchase platform, enabling them to reach audiences with customizable display ads.
The key LinkedIn dashboard interface gives you an overview of all your campaigns. The dashboard includes the campaign's status – whether the campaign is live, its Views, Clicks, Contribution, and Cost metrics. In the same section, Complete Commitment shows Paid, and Social/Organic clicks on your ad.
If you're monitoring lead conversions on LinkedIn, you can dig deeper into conversion details. Access this data by pressing the conversions tab at the top of the report dashboard.
All of this data helps you see how well users react to your ad. Use it to determine if you need to raise your total budget or make similar adjustments.
What's missing in the native LinkedIn Ads dashboard?
Data that is older than a year
You can only see data from the past 12 months in the native LinkedIn Pages UI. To get older data, you need to manually export the files and store them in a spreadsheet or database. This way, you'll be able to accumulate them on a regular basis, which is tedious, time-consuming, and error-prone.
Granular user behavior
Although you can see how well people react to your ad on the website, you can't monitor it all the way through on-site conversions and interactions. As an example, your LinkedIn Dashboard shows that you have earned 100 clicks on your ad. So, you clearly know that there is interest, that the ads hit the right audience, and that the creative is successful.
What you don't see is how people behave when they get to the platform. You can't evaluate the following:
Bounce Rate:

Are people coming to the web or landing page and leaving immediately? It could mean that there's a difference between your content and ad messaging. Or, that your CTA is hard to find.

User Flow:

Where are the users going when they get to your site? What are they doing there? How many sites are they going to visit? What material is more of their interest?

Conversions on-site:

Most advertisers want to know whether people convert once they get to the site. Are people going to the conversion or purchase page without taking further actions? If there are multiple conversion choices, what type of ad is driving what type of conversion? Which ad is the most powerful to convert? How long is the conversion process going on? Is LinkedIn more of a direct converter or an aided converter?

Statistics from other social networks:

If you are running campaigns on Facebook, Twitter, and LinkedIn at the same time, you need to see and compare outcomes across various social networks.
You can access all this data from Google Analytics, Facebook Advertising, and Twitter Ads. If you're planning to track it this way, set up individual Google Analytics tracking codes for each creative – this way, you can assess the efficacy of individual ads or promotions.
However, now, you have to go to a variety of different outlets to hear the whole story, which is frustrating.
Reporting tools can help circumvent these issues
Luckily, there's a reporting service that can simplify the process for you. Here are a few benefits of using an automated tool:
Comprehensive analytics report are built in minutes;

Pre-built report templates;

All of the most vital metrics in one location;

Ability to track visitor flow across multiple marketing channels.
Now let's jump into the report creation process.
Start the report with a LinkedIn Ads data overview
Chances are, you probably have some specific KPIs to track. Without KPIs, your efforts as a PPC specialist cannot be quantified.
So, let's look at how your budgets are performing. Is the money spent bringing in customers and converting traffic?
In the example above, we placed the essential metrics at the top of the report. It allows you to track your media spend against conversion and traffic targets.
The top-left portion of the overview is goal tracking. Clearly illustrated goals and current standing is essential when disclosing your KPIs.
Conversion rate is another KPI that needs to be within the top of the report. After all, PPC ads are all about driving conversions while maintaining a low CPA.
In our example, we clearly disclosed the current conversion amount, conversion rate, and CPC metrics. Also, when creating your LinkedIn Ads report, compare data of previous time periods to present results.
Data and date comparison is vital for evaluating the overall campaign progress and marketing performance in the long-run.
Changes in those KPIs are clearly labeled – the drop or increase in the KPI since the last reporting period. As you can see, from the client's (or executives) – point of view, campaign development over your selected reporting period is clear. Growth and contraction in performance are self-evident.
Conversion performance
When looking at PPC ads, generating conversions at a reasonable cost is the name of the game. In this portion of the report, we'll look at the conversion-to-cost ratio 'evolution' over the course of a reporting period.
Use a bar graph in conjunction with a line graph to show how conversions (and conversion costs) fluctuated. It's the most effective way to relay this information visually. Also, it helps you see any patterns on how conversions correlate to a specific week date or holiday.
Provide context
Context is incredibly vital when reporting marketing results. It explains some irregularities and possible inconsistencies in the overall marketing performance. The most basic example would be a drop in search queries for Christmas decorations in January.
Create a report and leave some insights as to why there are some unusual outliers in performance. Describe what you've done throughout the reporting period, what you've tested, what has worked. This way, it'll be easier for a client to evaluate the situation.
Including your next steps in the report is another important thing to consider. Shows initiative from you that you're looking into the future and are already curating strategies for what's to come.
Funnel – trickling down users
How effective are you in converting top-of-funnel visitors into paying customers? Well, here's where you're going to provide this insight.
Clearly visualized how well people are funneling down to a paying customer.
Have a look at specific campaigns
The report should finally lead to individual LinkedIn Ad campaigns.
Not all of your campaigns are created equally – they all have their nuances and perform differently. In addition to the big-picture, aggregated data, it's wise to break down individual LinkedIn campaigns' performance within the report.
This data is relevant to you as a campaign manager, and gives valuable insights to your client. They may wish to look deeper into which campaigns perform best and what budget allocation looks like.
Clicks and impressions aren't your only problem. Having adequate design and content on the webpage is what helps convert visitors into customers. Campaign metrics help you further improve ad copy and reallocate budgets to the most effective campaigns.
This data is relevant to you as a campaign manager and gives valuable insights to your client. They may wish to look deeper into which campaigns perform best and what budget allocation looks like.
Clicks and impressions aren't your only problem. Having adequate design and content on the webpage is what helps convert visitors into customers. Campaign metrics help you further improve ad copy and reallocate budgets to the most effective campaigns.
Metrics must tell a story
Whether you're reporting to your clients or firm executives, your report needs to tell a story. All of this rests on two things – data and visuals.
Data is used to showcase results and explain the reasoning for specific actions that you've taken. Most people – especially in marketing – aren't too keen on making changes if the change is not supported by data; hard numbers.
Visuals are there to help translate data into something that's easier to digest. The simple reporting process you've come to dread is turned into extensive storytelling, engaging your clients and executives.
Seek out a tool with customization options and pre-made templates
Insightful client-centric reports are there to tell the story of your progress via visuals and precise information.
Great internal reports help your team monitor the current situation and quickly find any shortcomings within your processes.
You are welcome to try out our pre-built LinkedIn Ads report template for free. We've already built the report for you: all you need to do is connect your LinkedIn account, and your data will be extracted automatically. Enjoy!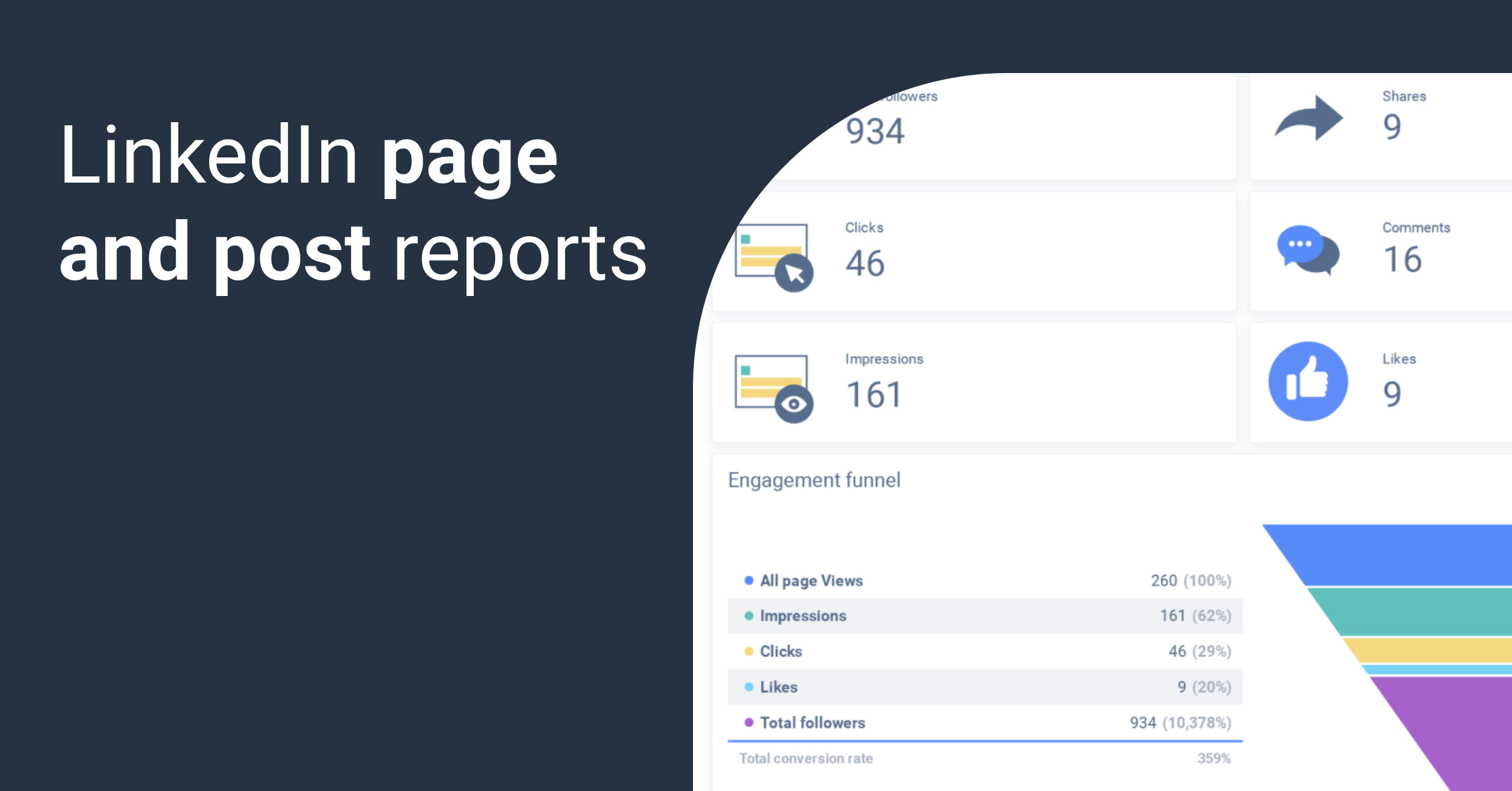 LinkedIn is a great tool for digital marketers to reach a more professional audience. LinkedIn page and post performance needs to be measured to see just how effective those marketing efforts are. Create LinkedIn post analytics reports and analyze your page engagement fast.
Read more...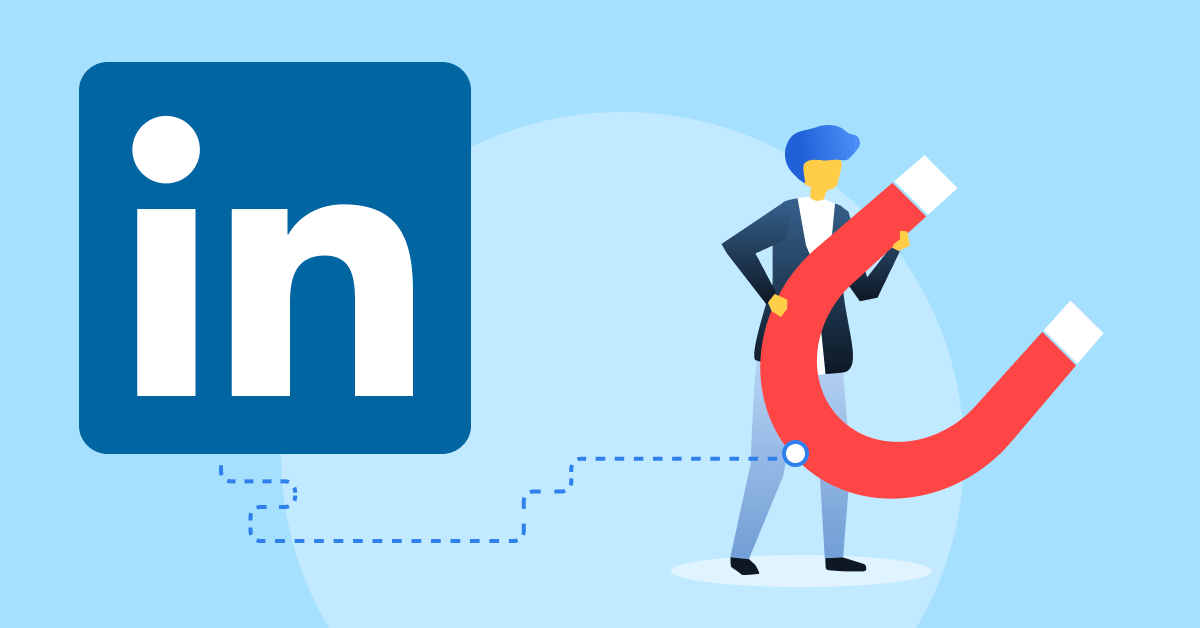 In the paragraphs below you will find out more about various ways to generate leads on LinkedIn, and hopefully, implement some of them right away.
Read more...