Modern Google Analytics Report Template
Gather all the Google Analytics KPIs you and your client need to see. Center your client reports around tracking website traffic, measuring key performance metrics and monitoring website performance. Provide strategic guidance to your client and find optimization opportunities. Create a perfect Google Analytics web page report and track core metrics such as time on site, CTR, bounce rate, top landing pages, pageviews and many more.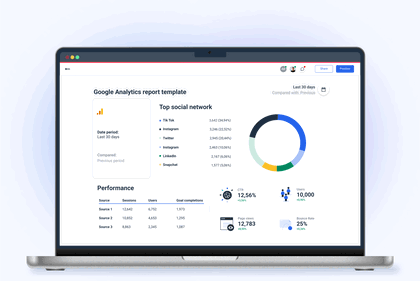 Join marketing agencies and teams worldwide who use Whatagraph to work with marketing data!








What Is a Google Analytics Report?
A Google Analytics report is a solution for digital marketing agencies to track and monitor the performance of their client's websites and apps. Whatagraph is a reporting tool that is especially useful as it allows agencies to drill down to data at organic traffic, referral traffic, users by channel, user by device, and sessions by location degree.
Use Whatagraph's pre-made Google Analytics Report Template and Easily Report On Your SEO, Ecommerce or PPC Performance
Monitor All Your KPIs & Metrics in A Real-Time Google Analytics Report
New and returning visitors, bounce rate, goal conversion rate, session duration and average page load time - these are just some of the metrics that Whatagraph's Google Analytics report tracks by default. Build a Google Analytics report with Whatagraph and put these metrics at the center of your client report. Let them know how your initiatives are performing. Get accurate Google Analytics data so your clients can see what's working and what isn't.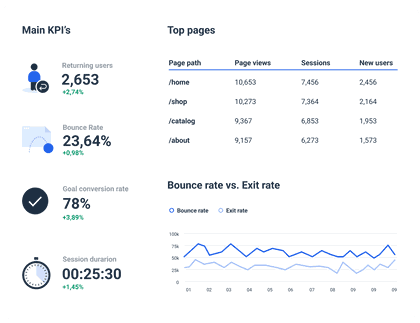 Create Insightful Analytics Reports & Impress Your Clients
Notes, tables, charts, graphs. These and other Whatagraph features create custom Google Analytics reports and allow agencies to make better data-driven decisions. Explain, show and visualize your results. Use the goal widget to see you well you are reaching your client's objectives. Try Whatagraph and engage your clients with easy-to-understand performance reports.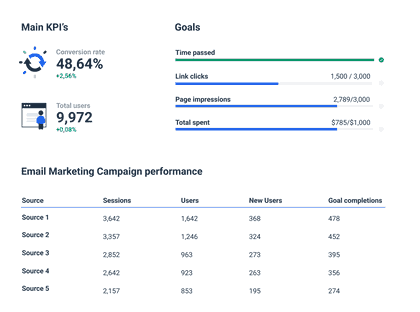 Track Campaign Performance and Automate PPC Reporting
Want to track a specific ad campaign and analyze how the audience is behaving on your client's website? You can do that with our Google Analytics report template. No matter your client's needs and metrics they want to monitor - try Whatagraph. Build that perfect report for them and automate your paid search reporting. Weekly, monthly or quarterly. Set up a report and automatically send it without lifting a finger again.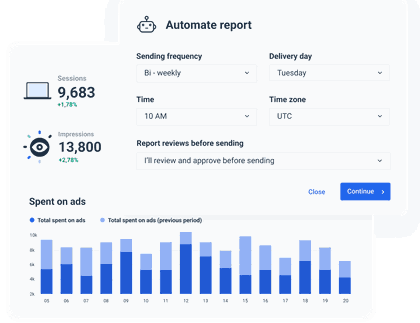 How to Get Started with Whatagraph?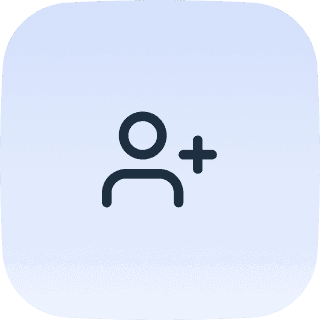 1. Sign up for your free account
All it takes is a few bits of information and you're ready to create reports in under 10 minutes. No credit card info is needed!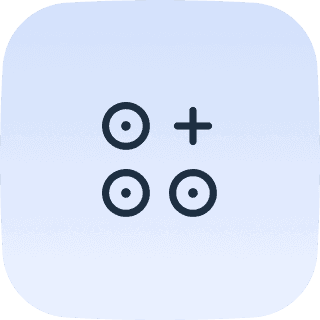 2. Connect your data sources
Add the data sources you want to use in your clients' marketing reports. We have 40+ available to choose from.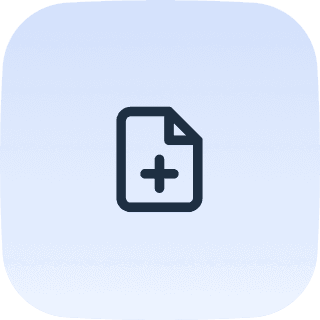 3. Choose a report template
Select a template that best shows the work you do for your clients. With a few clicks, your template becomes a fully finished client report!
All reporting features your agency needs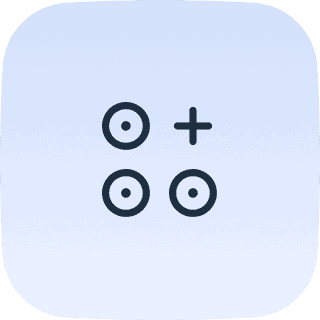 40+ data sources
Create a true cross-channel digital marketing dashboard in Whatagraph. Over 40 integrations supported for your marketing campaigns. Some marketing platforms supported include: Google Analytics, Google Ads, LinkedIn Ads, Facebook Ads, Shopify, TikTok Ads, Twitter Ads, Ahrefs, SEMRush and many others.
Cross-channel reports
SEO, SEM, social media, performance marketing, email marketing - create a singular client report for all channels instead of one report for each.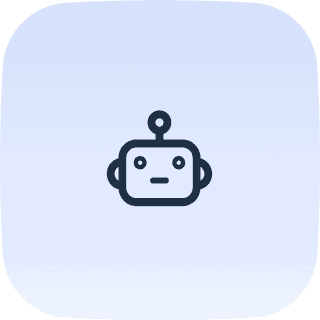 Full report automation
Start from a report template, add your sources and you can create a report in under 10 minutes. You can automate the delivery too - and send reports automatically at your desired intervals.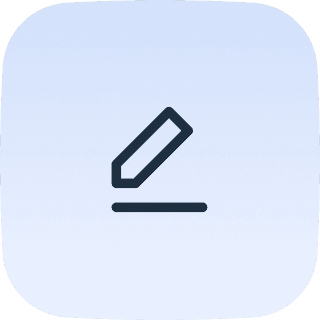 White-label reports
Make your reports align with your agency branding and style. Customize each report with your agency logo, colors and branding and every detail you need to make your report truly your own.
Other Useful Report Template Examples for Agencies
View All Templates
No credit card required
FAQs
All your questions answered. And if you can't find it here, chat to our friendly team.
How do I create a Google Analytics report?
To make the Google Analytics report creation process easier, just connect Whatagraph with popular web analytics integrations like Google Search Console, Google Ads (Adwords), Google data studio, Google Sheets, and many others to provide you with a comprehensive overview of GA performance.
Track analytics data in one place and manage campaign reports for all of your clients in one place. Just connect your data sources with Whatagraph and use our automated report builder to build a comprehensive GA report in just a few minutes. You will save literally hours on monthly report building for your clients. You can also use Whatagraph with Google Analytics 4.
What should be in a Google Analytics report?
For Google Analytics reporting, you must provide a cohesive summary of your client's website performance metrics. This means keyword performance metrics, conversion rates, website traffic, bounce rate, and any metrics relevant to your marketing goals. 
What is the difference between the Google Analytics Dashboard and the Google Analytics report?
Google Analytics dashboard focuses on live, up-to-date and the most recent data. GA dashboards allow you to take a look at the current state of the performance of your initiatives and even prevent any long-term damages. 
Google Analytics report provides historical and live data allowing agencies to draw conclusions about what worked and didn't in the past and what changes can be made now.


It's good to be loved! Our clients are not shy about expressing it.
Need more help with getting started?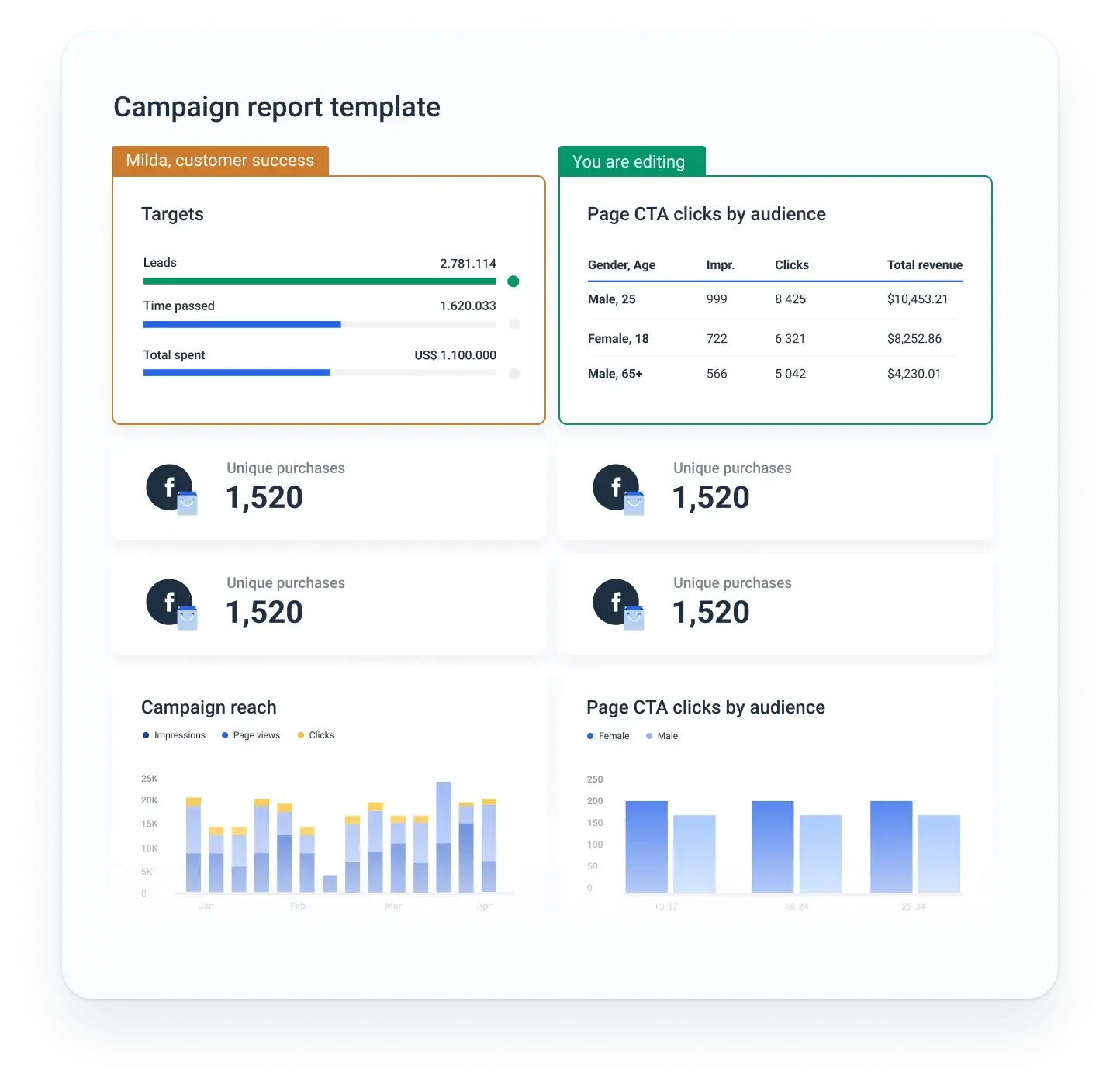 We can set up your report campaign for you!
If you need help with setting up Whatagraph - our team can create your campaign reports!
Ready for insights?
It's time to focus your time on the tasks that really matter, and let us worry about your marketing analytics. Start your free 7-day trial.
Free for 7 days

No credit card required

Live chat support

Cancel anytime