Semrush Dashboard Template
Keep a close eye on your keyword position tracking by connecting your Semrush account to this dashboard template. Bolster your content strategy with in-depth SEO and PPC metrics.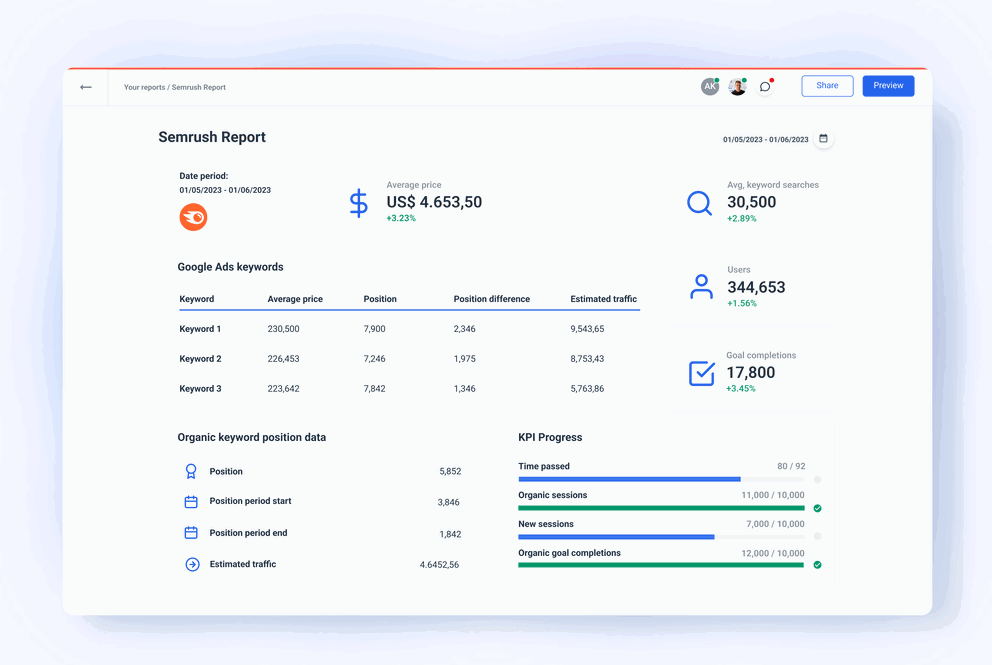 Join marketing agencies and teams worldwide who use Whatagraph to work with marketing data!








What Is an SEO Dashboard?
An SEO dashboard is a live document with your most important up-to-date SEO metrics. It includes data on off-page and on-page SEO performance. Some KPIs in this dashboard can be: organic traffic, branded organic traffic, keyword movements, new and lost keywords, new and lost backlinks, page loading speed and others.
Use a pre-built template to create a dashboard, fast
Track and compare the results of your landing pages
Use prepared widgets to track your landing page rankings based on keywords ranking. Use the Semrush dashboard to gain data-driven insight into your SEO projects performance.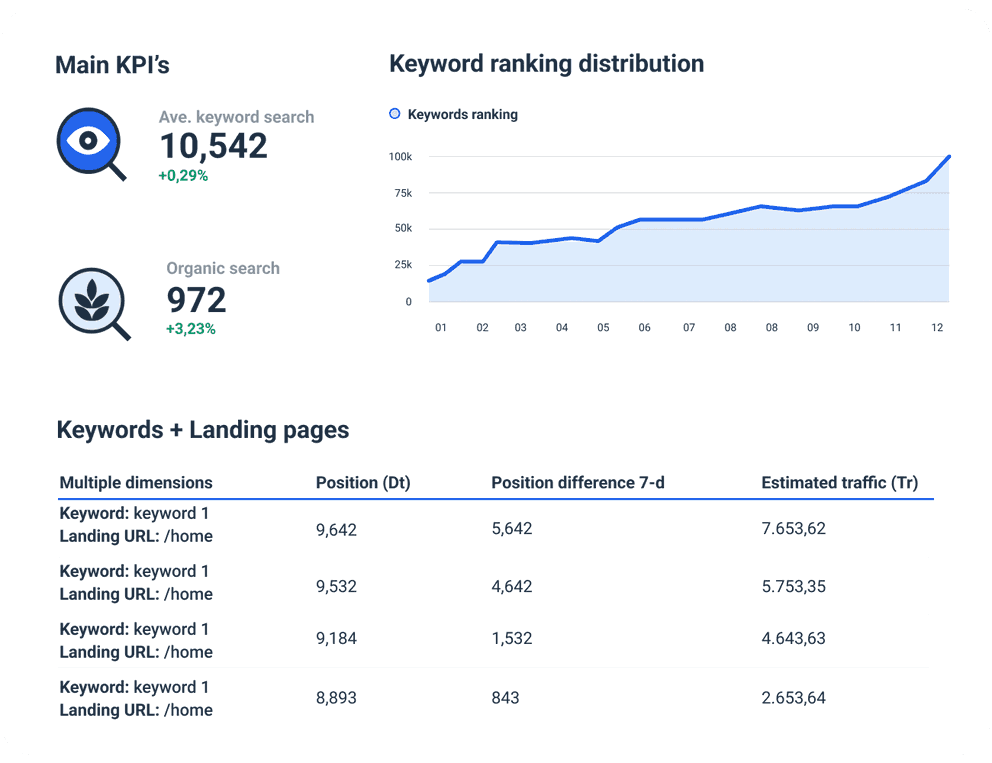 Include paid metrics in your report
Fetch data for your PPC projects into a single Semrush dashboard. Track the success of paid keywords and the traffic they create. Use the Semrush integration to give accurate reports on digital marketing success.
Keep track of Google Ads performance
See just how well your keywords are performing in a Semrush project. Keep an eye on the average keyword price, ranking position, and its changes over time. Take complete control of your Google Ads budget and use the data to keep up the performance.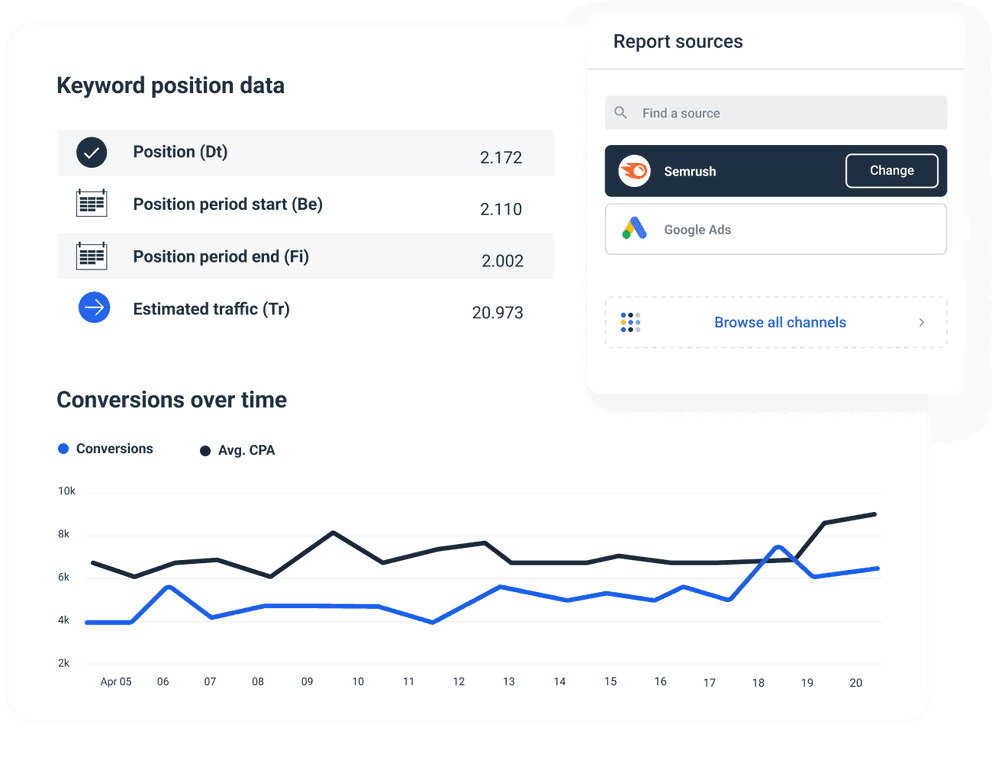 All reporting features your agency needs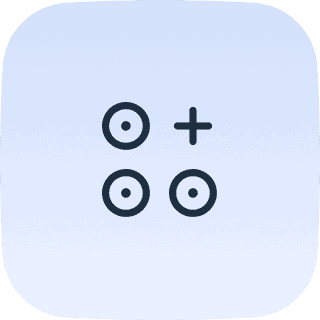 45+ data sources
Create a true cross-channel digital marketing dashboard in Whatagraph. Over 45 integrations for your cross-channel marketing campaigns.
Cross-channel reports
Combining cross-channel data is intuitive and takes a few clicks. Create a single client report for all channels instead of one report for each.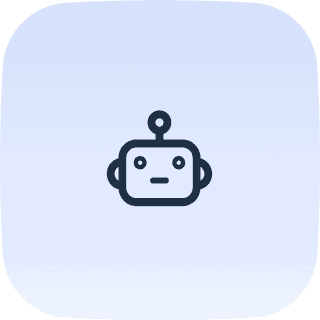 Full report automation
Schedule your reports at desired intervals or share a live link to a report so your clients can check for updates at any moment.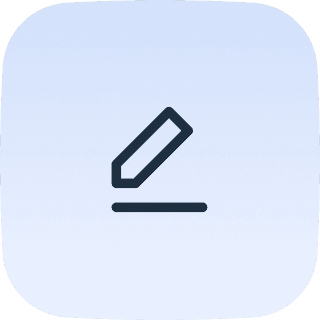 White-label reports
Customize colors and logos in each report to align it with your agency's or clients' branding and style.
FAQs
All your questions answered. And if you can't find it here, chat to our friendly team.
Why use Whatagraph to report on your SEO data?
The reasons are many. Whatagraph pulls all of your SEO data in one place, from tools such as Google Search Console, Google Analytics, SEMRush, Ahrefs and others. No more digging through multiple reports. You can also use a report template instead of creating an SEO dashboard or report from scratch. The data is always accurate and up to date and you can schedule reports to be sent out to clients at certain intervals. And these are just some of the basics that you can do in Whatagraph.
It's good to be loved! Our clients are not shy about expressing it.
Need more help with getting started?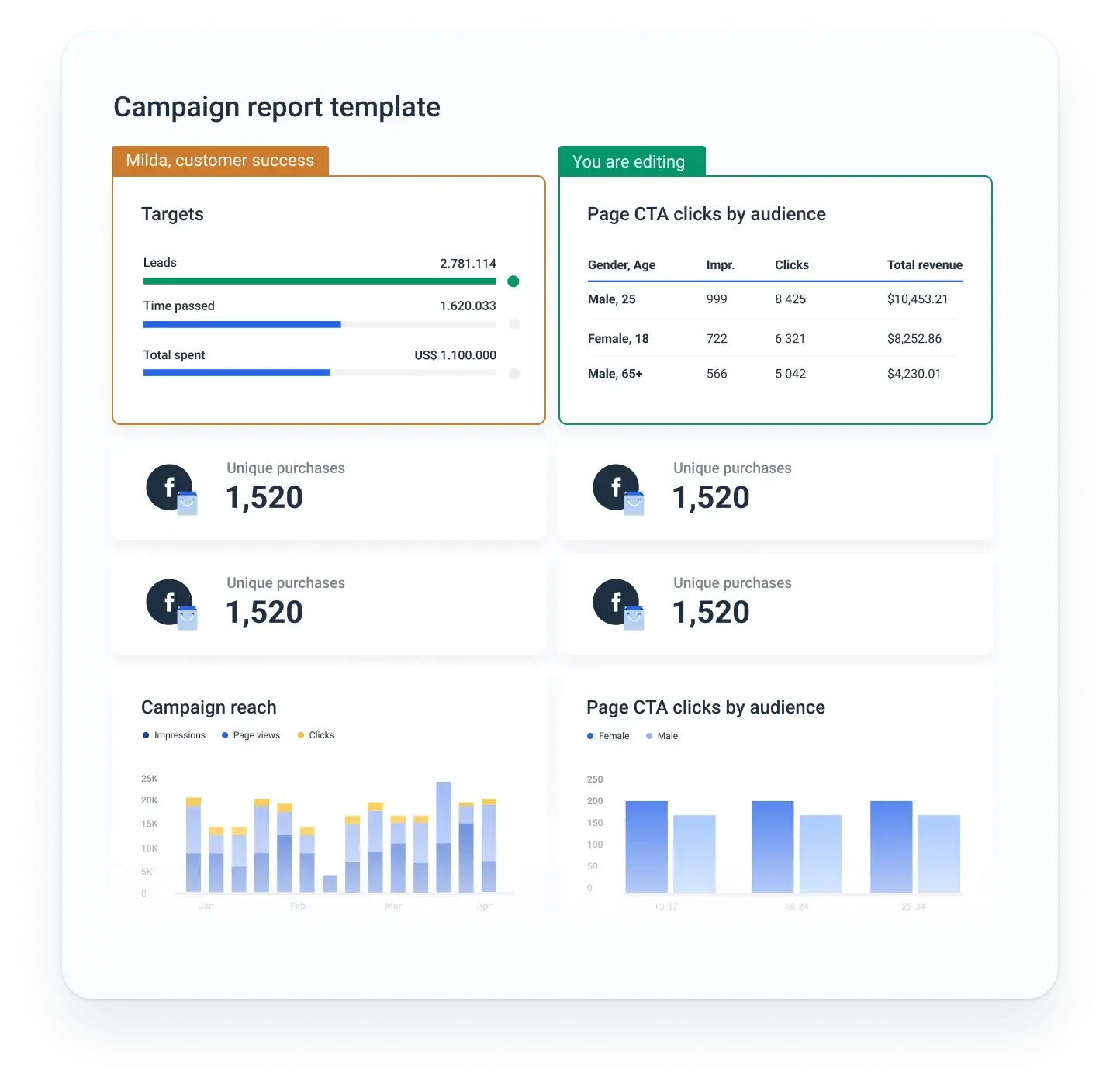 We can set up your report campaign for you!
If you need help with setting up Whatagraph - our team can create your campaign reports!
Ready for insights?
It's time to focus your time on the tasks that really matter, and let us worry about your marketing analytics. Start your free 7-day trial.
Free for 7 days

No credit card required

Live chat support

Cancel anytime