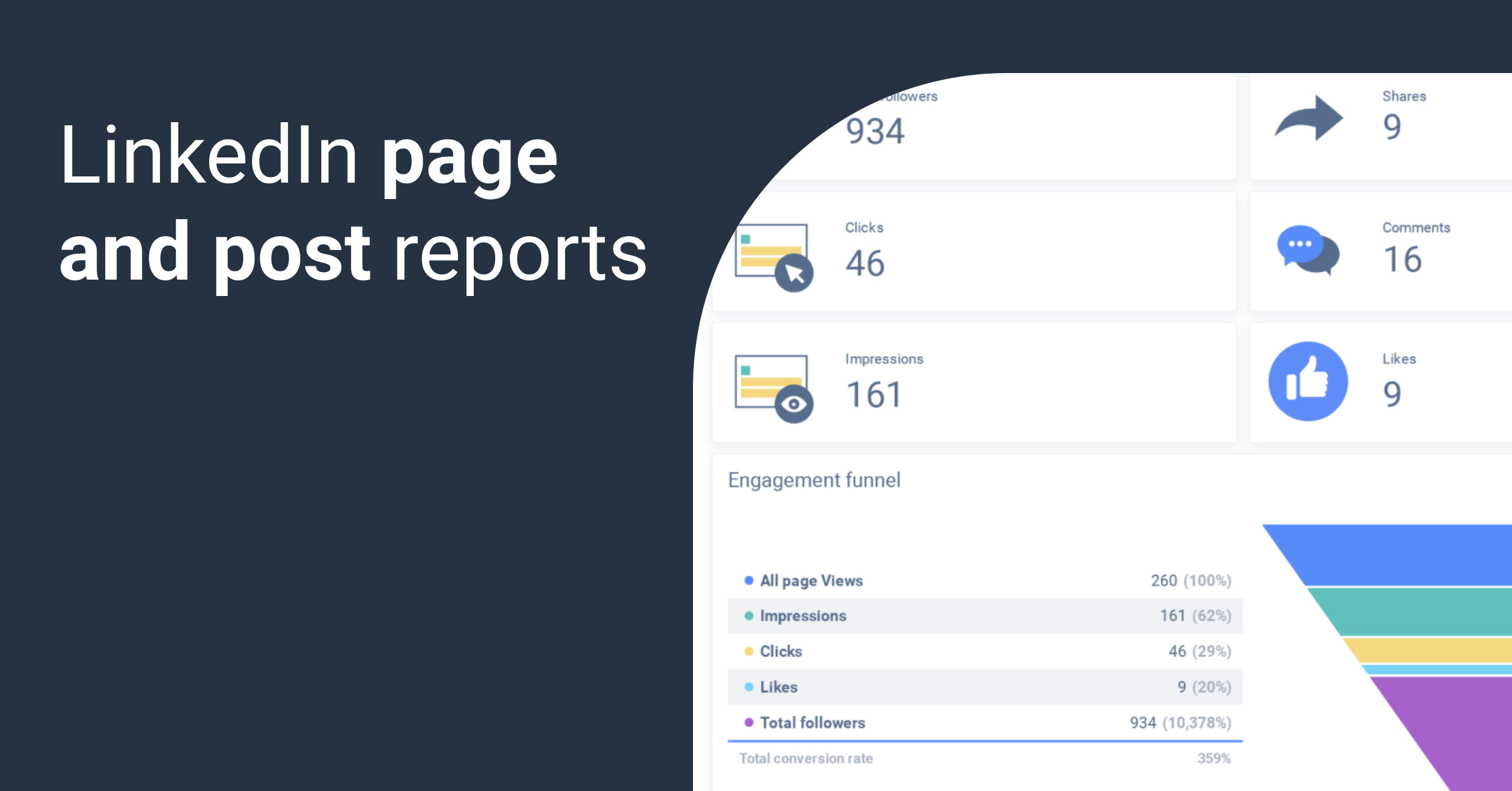 How to Create LinkedIn Post Analytics Reports
Jan 18, 2021 ● min read
LinkedIn is a great tool for digital marketers to reach a more professional audience. LinkedIn page and post performance needs to be measured to see just how effective those marketing efforts are. Create LinkedIn post analytics reports and analyze your page engagement fast.
Whatagraph is a tool used to aggregate digital marketing data and present it in a visually appealing way. This works with a variety of popular digital marketing tools, one of which is LinkedIn.
Is your business active on LinkedIn? If so, it may have a variety of social media objectives: building brand awareness or increasing follower base. And without analytics, your ability to track these goals turns to simple guesswork.
LinkedIn data, analytic results, in particular, are proof of your LinkedIn marketing efforts. It gives you the information you need to prove and improve your ROI on the platform.
In today's article, you'll learn how to find the essential metrics of your company page and how to build a comprehensive report. We've even created a LinkedIn page report template for you to use – the link to it will be at the bottom.
Let's go!
So what metrics does LinkedIn track, and what should YOU track?
There are quite a few metrics that LinkedIn tracks within their own analytics dashboard, some of them being:
Clicks - The number of times your update or company branding was clicked.
CTR (Click Through Rate) - Clicks divided by impressions.
Likes - Number of likes on the posts.
Comments - Number of comments on the content you post.
Shares - How many people shared your content.
Followers - Number of people who click 'follow' on your page.
Engagement Rate - (Clicks + Likes + Comments + Shares + Follows / Impressions)
Conversion funnel - how effective is your LinkedIn content at converting.
Now, keep in mind that LinkedIn boasts more metrics, however, most others are pure vanity metrics that you shouldn't burden yourself with.
Here's what your LinkedIn post analytics report should contain
We'll go through this step-by-step to make the report creation process easy, while not leaving anything important out. The goal is to make sure we have a comprehensive report that shows the performance of a LinkedIn page and answers any questions a client or your executive would have – even before they arise.
General page and post overview
To begin, your report should start with a general analytic overview of the LinkedIn page. Here's an example of what it should look like:
This is just the first portion of the report. The vital metrics are clearly labeled at the beginning of the report, giving a summary of LinkedIn content performance. There is very little room for interpretation.
You may also want to present this data with comparison metrics. Since most digital marketing efforts are measured against a certain benchmark or a previous reporting period results, comparing data may be desired.
Using a reporting tool makes data comparison easy.
Here you can see current metrics and how they progressed since the selected reporting period.
You, along with the individuals you're presenting the report to, can quickly assess the effectiveness of your current LinkedIn content strategy and see if it's performing well.
Don't hesitate to use a report like this for yourself even on a weekly basis. By doing so, you'll always be aware of recent page progress and address any outstanding issues before the reporting period comes.
Are your LinkedIn pages and posts converting?
LinkedIn pages can target a very specific audience –usually, more professional than your typical Facebook page. But how well is your content converting the audience from a simple reader to a long-term fan?
Using a funnel graph is a phenomenal method of showing the audience transformation process and analyzing any content shortcomings.
As shown above, there's a clear transition process from page viewers, down the engagement 'funnel', then all the way down to a full-fledged follower. This way, you can see how the content that makes its way onto your LinkedIn page generates engagement and grows your follower base.
This concludes the report creation process
LinkedIn is an extremely efficient advertising platform that reaches a rather peculiar audience. However, their analytics dashboard lacks some basic reporting features that make data dissemination simple. You can't drill down into the overall page performance and provide visual insights while effectively comparing older LinkedIn data - or data from other marketing tools.
Adding third-party software to the mix to alleviate some of the reporting issues may be worth considering. You are welcome to try out our pre-built LinkedIn post and page report template for free. The report is already built for you, just connect your LinkedIn account and your data will be extracted automatically. Enjoy!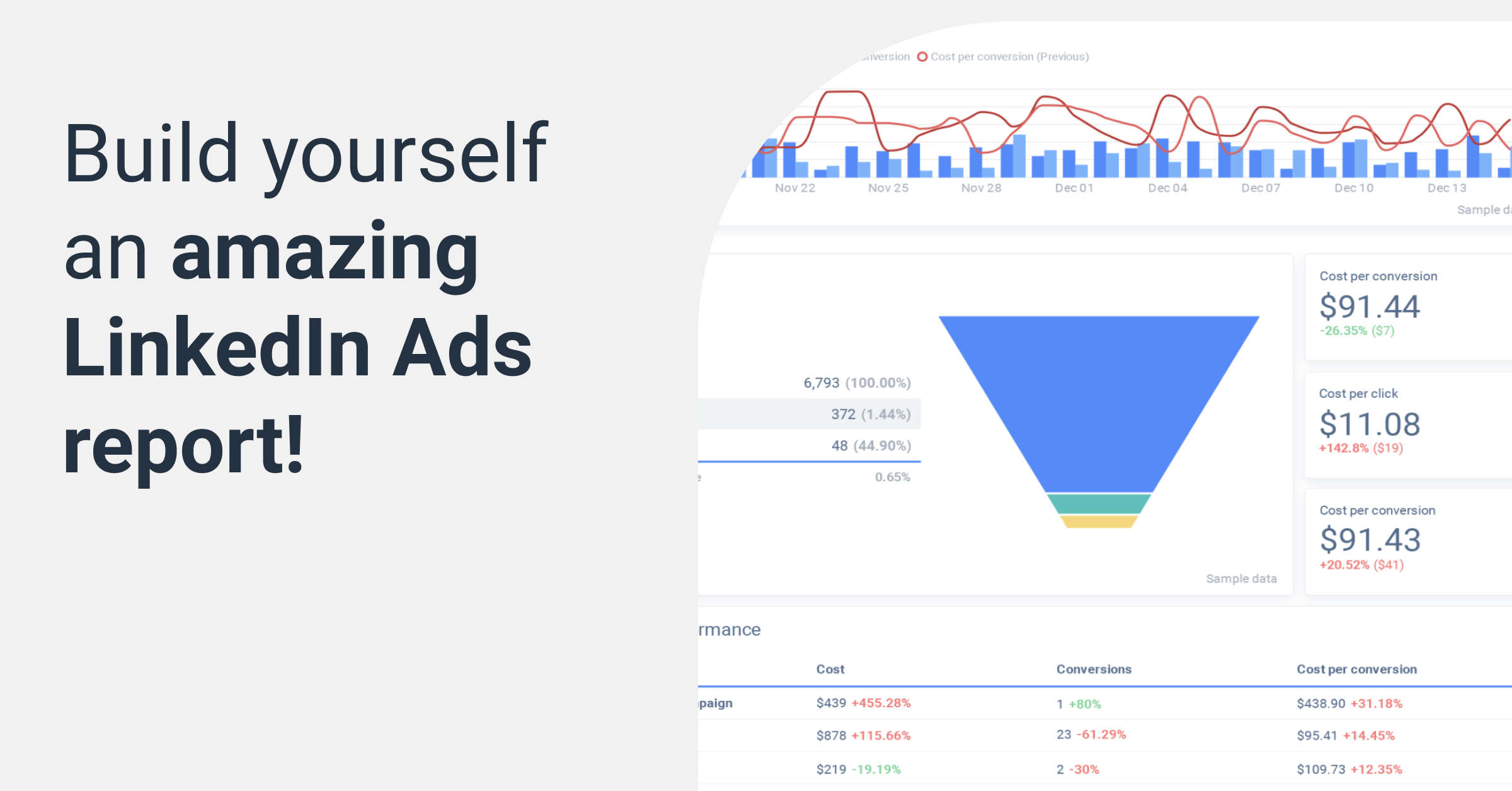 With the help of LinkedIn ads, a PPC marketer can build an extremely-targeted audience. However, the tricky part comes when you need to report your results to your clients or firm executives. Building an insightful LinkedIn Ads report shouldn't be difficult.
Read more...