SEO Client Dashboard vs Reports
Jan 22, 2020 ● 2 min read
SEO client dashboard makes reporting easy and helps to track crucial multiple SEO metrics in one place. SEO dashboard not only saves your time but also provide concise and easy to understand search marketing reports to your clients.
Table of Contents
SEO Client Dashboards versus Report Builders
There are many SEO dashboards available from free to expensive ones but choosing the right one is not an easy task. Which service is the right one for your particular situation depends on your needs, your budget, and your business? That is why it is important to analyze different reporting tools and dashboards.
While looking for the best SEO client dashboard, you need to know how and why you want to use the SEO reporting dashboard. Some things to keep in mind are:
Your business sizes
If your business is at an early stage or very small, you can use one of the free or cheap dashboards. However, if you have a big size business, you need to invest in an excellent dashboard or SEO reporting software that can handle multiple sites.
Your budget
What is your budget? Can you afford to invest in a costly SEO client dashboard? If not, you can choose from some cheaper options. In any case, it is better to try a free trial before buying any.
Integration requirements
The next step is knowing what features and functionality you want in an SEO client dashboard. Will it be a reporting or performance checking goal.
Another thing to think about before settling on a dashboard is the amount of data sources that the dashboard can draw from. Some offer only specific measurement tools and don't provide many services in one place. If you want to have many tools available, then choose a service that integrates all the data sources.
However, if you or your client want to focus on one particular functionality, sometimes it's better to search for a service that focuses on that one tool. Considering you do not need to look for other things, a singular focus can give stronger results. The more the services are offered, the more they come in the way of digging deeper into that one functionality.
The right SEO tool


White labeling aspect
How much importance do you give to white labeling? Some people may prefer the white labeling tool on their tool. On the contrary, some may not care much about this feature and would select a tool that does not offer white labeling but have some other tools they prefer.
SEO integrations
The SEO analytics dashboard/reporting is helpful when you need all the data in one place, and you don't have to go waste time anywhere else. SEO integrations make it easier to monitor your SEO strategy on the go and make decisions on the spot that are beneficial for the overall business.
Also, make sure to look at your must-have features/tools in the SEO reporting tool before you decide to get it. Such as historical Google My Business insights, Search Console data, etc. Tools such as Ahrefs, Moz, and SEMrush integration. Example of how it may look like:
Hopefully, now it is easier for you to choose an SEO reporting/analytic tool carefully, which meets your particular requirements.
If you want to make the reporting process right now try Whatagraph. It is one of the best options to use for reporting SEO data, take a look at its SEO reporting sample.
We also have created an SEO dashboard template for you to use - for free. Integrate the SEO tools of your choice - Google Analytics, Search Console, Ahrefs, or SEMrush with Whatagraph, and get all of the latest performance metrics in one place. This makes monitoring progress and sharing recent SEO successes with clients very simple.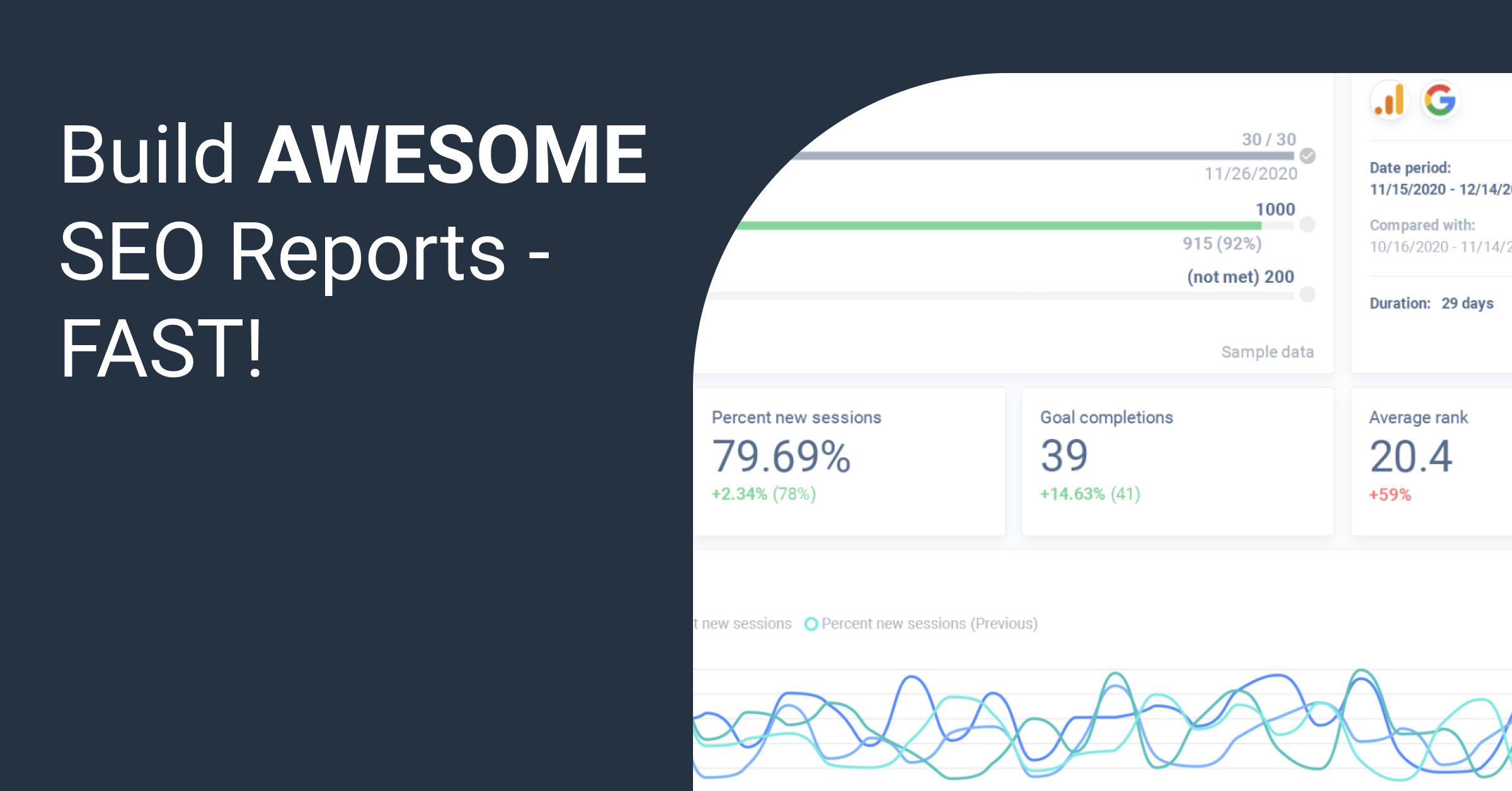 SEO is one of the most cost-efficient digital marketing efforts. Use comprehensive SEO reports to quantify the benefit it brings for your clients or firm executives.
Read more...