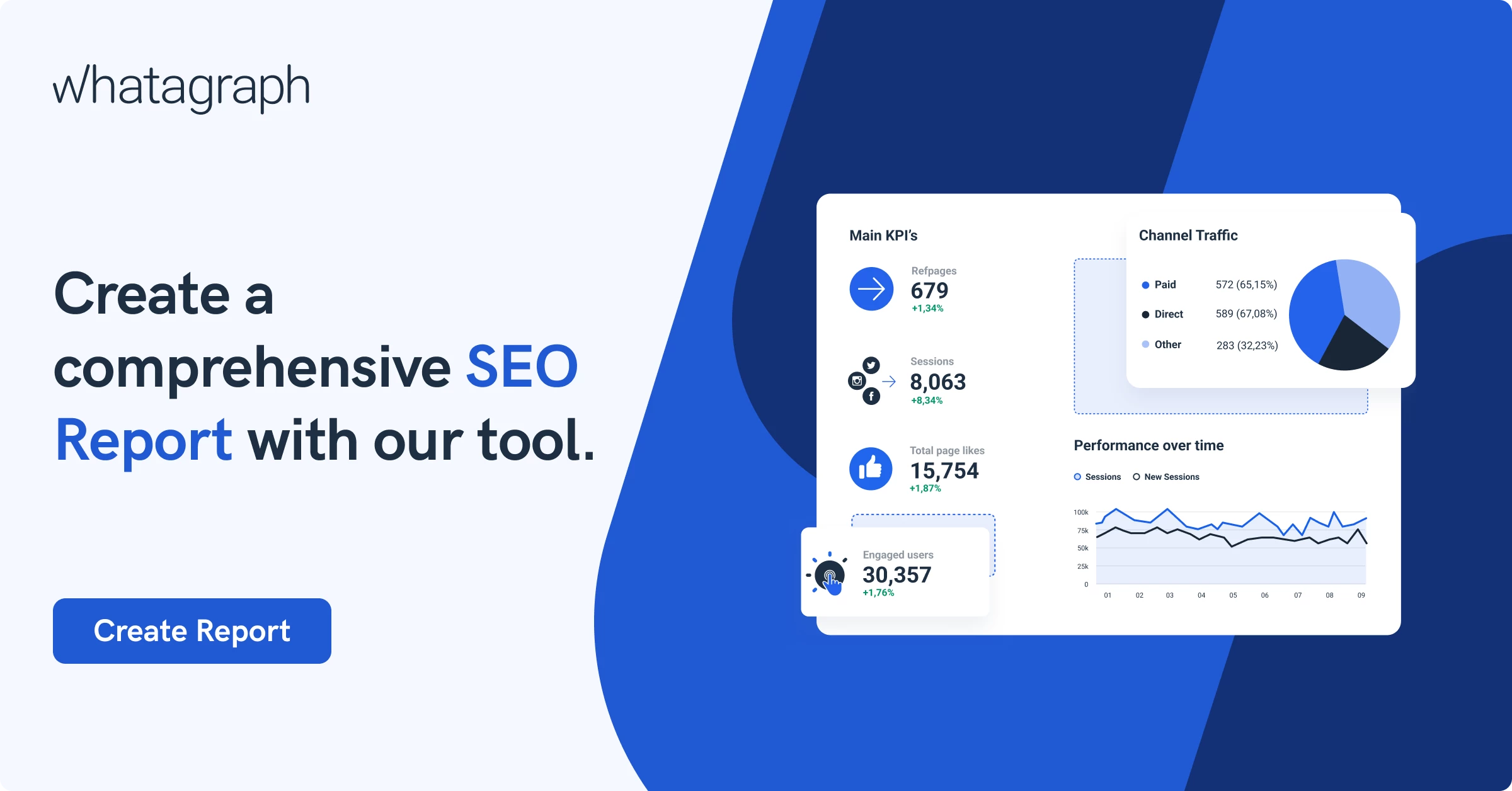 Whatagraph is a tool used to aggregate digital marketing data and present it in a visually appealing way. It works with a variety of popular digital marketing platforms, including Google Search Console, Google Analytics or Semrush.
If you're an SEO specialist, you know the pain: building performance SEO reports takes a considerable amount of time and effort. It can be challenging to define the critical information that is part of monthly SEO reports, let alone find out how to present it to make sense to the client or an executive.
In today's article, we'll help you simplify reporting by providing you with a walkthrough of the entire report building process. There will also be a link to a pre-built SEO reports template for you to use at the end if you want to skip the reporting building process entirely.
Let's begin.
First portion – the overall health of website content
Let's begin with a general SEO performance overview.
Keep this portion of your SEO report simple and provide a quick health overview of website content. If your client (or an executive) has a few spare minutes, they should be able to understand the general performance of your SEO strategy by only glancing at this portion.
A good introduction gives structure and context to the rest of the report. So, you should be thorough and provide the following breakdown:
Current goal and the KPIs standing.
General page performance.
After looking at the SEO overview, your client should be able to see the outcomes of the reporting period. They should be able to instantly tell that organic traffic increased by X% amount and had X amount of desired goal completions.
Finish the summary with a few notes on the next steps you intend to take towards your client's objectives.
Session growth over the period
Although the previously mentioned SEO report section includes session growth numbers, we'll expand on that just a bit more here.
We're going to look at the exact session count development over the whole reporting period.
In the example above, we used a basic line graph to show the number of daily sessions fluctuation in the selected reporting period. We're comparing present reporting period data against a previous reporting period.
We looked at the session numbers but are those pages converting traffic?
How well are pages converting?
At the end of the day, clients and business executives want to see what impacts their bottom line. This part of your report is probably the most important one. It's when you can show clients the actual value you're bringing to the table.
First, it's important to set the goals you want to achieve. Objectives will measure things like leads and conversions.
If you've set your targets (this is done directly on your Google Analytics account), you can see what portion of organic traffic has reached the goal.
Look at how these visitors are acting on the site. Do they stick around, or are they bouncing right away? Are organic traffic conversions increasing, declining, or steady?
While more organic traffic is generally better than less, the quality is what should also be taken into account. Low conversion rates, coupled with high organic traffic, indicate that the content is not currently attracting your desired demographic, and you should rethink the targeted keywords.
There's also a chance you've got technical website issues that prevent conversions. The same problem can be indicated by a high bounce rate.
Above, you can see each landing page segmented within your SEO reports.
If you're producing content or creating new client pages, you definitely want to include a landing page section.
The landing page report provides additional insight into which pages generate the most traffic and have the most goal-completions.
Compare current page standing with past performance
As you already know, providing an option to compare current data with previous reporting periods is essential for gauging overall SEO progress.
Notice how your landing pages have developed throughout two reporting periods, for example:

Gauge desired keyword performance
Keyword ranking and their performance are vital to include in the report. It indicates whether your overall SEO strategy is working or if you may need to try something else.
Identify a handful of target keywords that you've been monitoring since the beginning of the campaign. Connect these keywords to your SEO client report template to demonstrate SERP development to your client or executives.
In addition to the keywords that your client is ranking on, look at the search terms that are currently garnering traffic. Is there a great deal of variation between the two groups?
Ranking in the first position doesn't mean a thing if it brings zero traffic or the traffic doesn't convert.
If these target keywords aren't generating traffic, you need to revise your plan: concentrate on higher search volume keywords or look at your click-through rate.
SEO reports must tell a story while showcasing results
Whether you're reporting to your clients or firm executives, your SEO reports must to tell a story. All of this rests on two things – data and visuals.
Data is used to showcase results and explain the reasoning for specific actions that you've taken. Most people – especially in marketing – aren't too keen on making changes if the change is not supported by data; hard numbers.
Visuals are there to help translate data into something easier to digest. The simple reporting process you've come to dread is turned into extensive storytelling, engaging your clients and executives.
A tool that provides customization options and pre-made templates is essential
Insightful client-centric reports are there to tell the story of your progress via visuals and precise information.
Great internal reports help your team monitor the current situation and quickly find any shortcomings within your processes.
You're welcome to try out our pre-built SEO reports template for free. We've already built the report for you: all you need to do is connect your account with access to Google Analytics and Search Console, and we'll automatically extract your data. Enjoy!