Google Ads (Adwords) Report Template
Collect and aggregate all the metrics you and your client want to see. Connect all your client's data sources and gather them in the same report. Explore your Google Ads report at the campaign or keyword level. Get and provide quick real-time and historical data access to key Google Ads metrics and KPIs.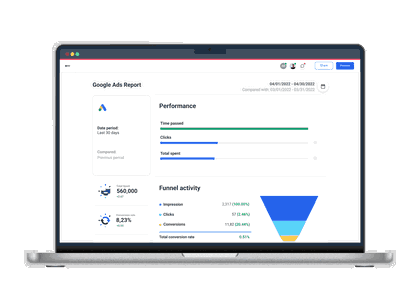 Join marketing agencies and teams worldwide who use Whatagraph to work with marketing data!








Use Whatagraph's Pre-made Google Ads Report Template and Easily Report On Your PPC Campaigns
Track Campaign Performance and Automate PPC Reporting
Want to track a specific ad campaign and analyze how the audience is behaving on your client's website? You can do that with our Google Ads report template. No matter your client's needs and metrics they want to monitor - try Whatagraph. Build that perfect report for them and automate PPC reporting. Weekly, monthly or quarterly. Set up a report and automatically send it without lifting a finger again.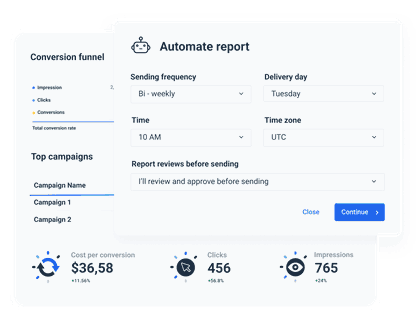 Monitor All Your Vital KPIs & Metrics
Impressions, conversions, clicks and CPC are the core of all Google Ads campaigns. Build a Google Ads report with Whatagraph and put these metrics at the center of your client report. Let them know how your initiatives are performing. Get accurate Google Ads data so your clients can see what's working and what isn't.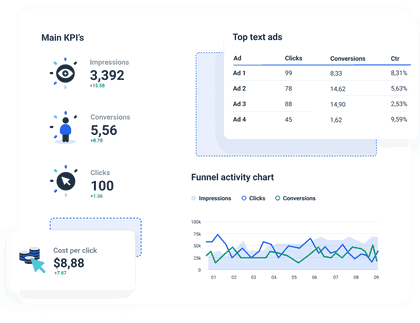 Create Insightful Google Ads Performance Reports
Notes, tables, charts. These and other Whatagraph features create insightful Google Ads performance reports and allow agencies to make better data-driven decisions. Explain, show and visualize your results. Use the goal widget to see you well you are reaching your client's objectives. Try Whatagraph and engage your clients with easy-to-understand reports.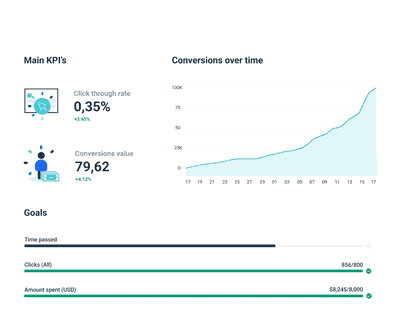 All reporting features your agency needs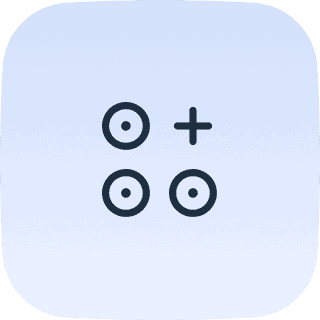 40+ data sources
Create a true cross-channel digital marketing dashboard in Whatagraph. Over 40 integrations supported for your marketing campaigns. Some marketing platforms supported include: Google Analytics, Google Ads, LinkedIn Ads, Facebook Ads, Shopify, TikTok Ads, Twitter Ads, Ahrefs, SEMRush and many others.
Cross-channel reports
SEO, SEM, social media, performance marketing, email marketing - create a singular client report for all channels instead of one report for each.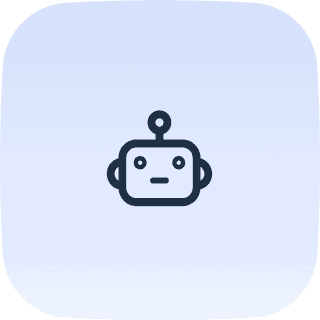 Full report automation
Start from a report template, add your sources and you can create a report in under 10 minutes. You can automate the delivery too - and send reports automatically at your desired intervals.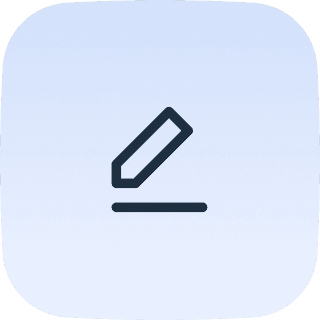 White-label reports
Make your reports align with your agency branding and style. Customize each report with your agency logo, colors and branding and every detail you need to make your report truly your own.
FAQs
All your questions answered. And if you can't find it here, chat to our friendly team.
How do I create a Google Ads report?
You can generate a Google Ads report using the tool provided by Google. But even explaining it will take time. Here's what we'd like to offer you:
1. Create a Whatagraph account 
Create an account in less than a minute by adding your information. No credit card is needed, and you can try it for free for 7 days!
2. Connect your tools 
Now the easy, fun part. Connect the channels you need to create a report that would meet your and your client's needs. 
3. Customize the Google Ads report
Now that you've done the hardest part pull relevant metrics and customize the report. Change domains, logos and colours as needed. 
What should be included in a Google ad report?
For Google Ads reporting, you must provide a cohesive summary of your campaign performance metrics. This means keyword performance metrics, conversion rates, ad spends, ROAS, and any experiments you may be running. But, you also need to drill down into specific data, so the client can see data at the campaign, ad group, ad, and keyword level.
What is a PPC report?

A PPC report is used to demonstrate the results of your PPC campaigns or analyze how effective certain keywords are on which you're bidding. You can do this by looking at an aggregated PPC report that contains Google Ads data and comparing it with other PPC channels.



By assessing these key metrics, you can gauge how effective one PPC channel like Google Ads is compared to other PPC channels you may use. You can also view how effective each PPC campaign has been thus far and see where to allocate your budget in the future.
How do I create an SEM report?

To make the SEM report creation process easier, you may wish to use a data aggregating tool like Whatagraph. Connect with popular analytics tools like Google Analytics, Google Ads, Facebook Ads, Ahrefs, and many others to provide you with a comprehensive overview of SEM performance.



Track analytics data in one place and manage campaign reports for all of your clients in one place. Just connect your data sources with Whatagraph and use our automated report builder to build a comprehensive SEM report in just a few minutes. You will save literally hours on monthly report building for your clients.
It's good to be loved! Our clients are not shy about expressing it.
Need more help with getting started?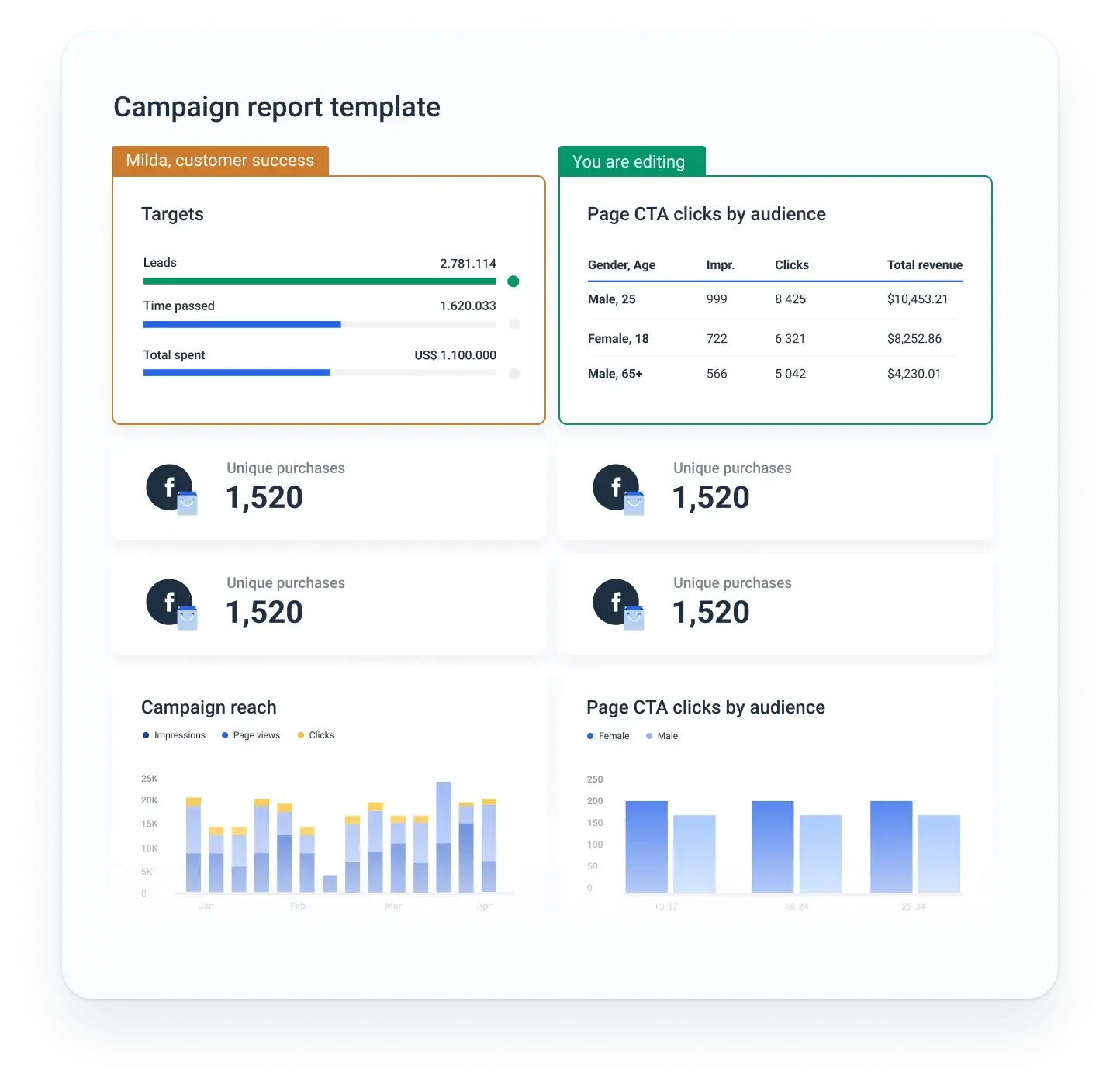 We can set up your report campaign for you!
If you need help with setting up Whatagraph - our team can create your campaign reports!
Ready for insights?
It's time to focus your time on the tasks that really matter, and let us worry about your marketing analytics. Start your free 7-day trial.
Free for 7 days

No credit card required

Live chat support

Cancel anytime