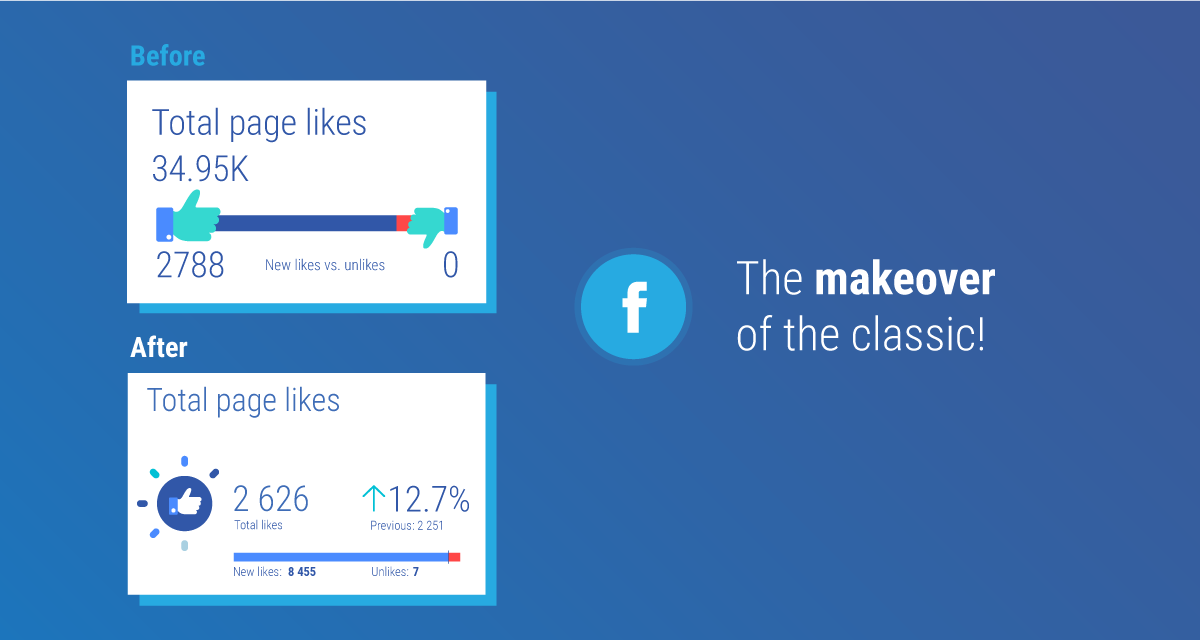 Facebook Insights reports got a striking makeover
We have updated Facebook analytics reports with new metrics, added customisation and improved the look!
Social Media reports at Whatagraph are on fire. After launching Instagram and Twitter reports a few weeks back, we have now reviewed Facebook Insights reports and made some welcomed changes.
Learn what's new below, and feel free to check out the new Facebook Insights sample report too!
New Facebook Insights metrics added to the report
With the new numbers and graphs, a Facebook report is now a delightful 4-pages-long insight galore.
Page engagement
We've added a visual graph to the report to show you a number of people who engaged with your Facebook page by clicking anywhere on your Page.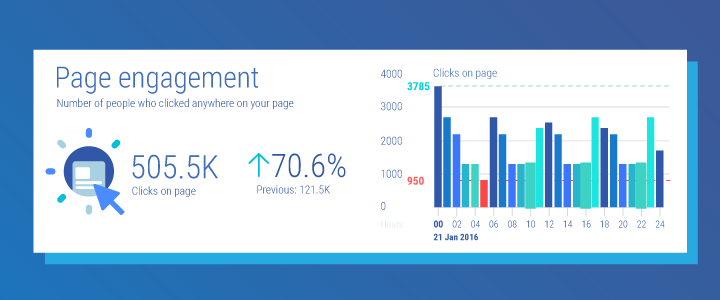 The metric shows a total number of clicks, as well as clicks on a page over the selected time period helping you see which days drove the best engagement.
Post reach by fans
With the new metric, it's easy to determine your Facebook page's reach by people who like your page.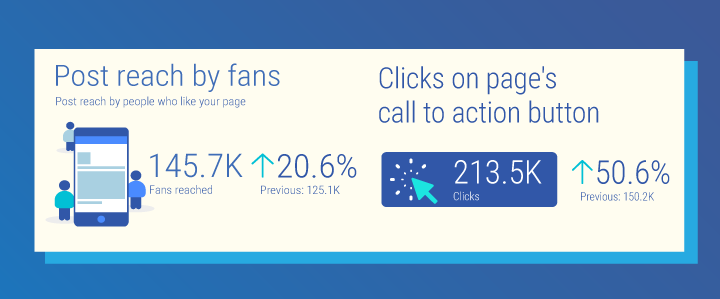 Unique page impressions and unique post impressions
You can now easily check how many times content associated with your Facebook Page has been seen with unique page impressions graph.
We also made it easy to compare paid and viral content that generated those impressions. While paid impressions refer to adverts and sponsored content, viral impressions are the organic numbers that come to you with a help of Page shares, word of mouth and Page mentions.
Similarly to the page impressions, unique post impressions show the reach of your Facebook page posts, also compared by viral and paid impressions.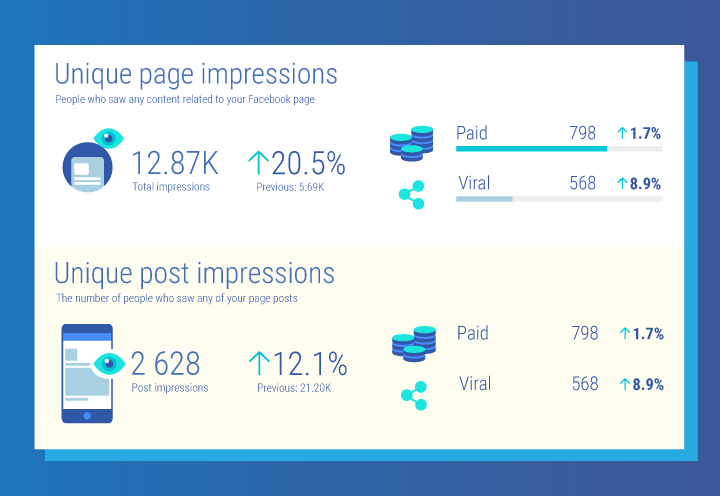 Page likes: sponsored
Using paid Facebook campaigns to encourage your Page likes? Now it's easy to track how many people liked your page after seeing a sponsored advert!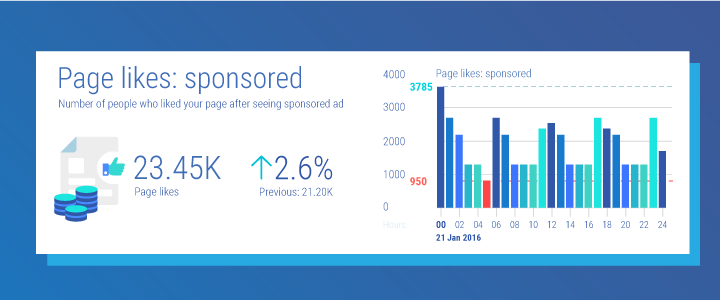 Ads vs. Mobile Ads
A similar metric to the above, Ads vs. Mobile ads compares the number of people who liked your Facebook Page as a result of an ad or sponsored story. The difference is - it compares the source of your Page likes broken down by desktop and mobile.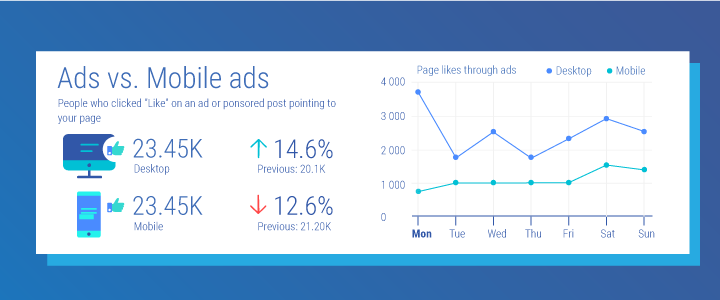 Top performing posts
Determining what type of content works best for your audience is now a piece of cake.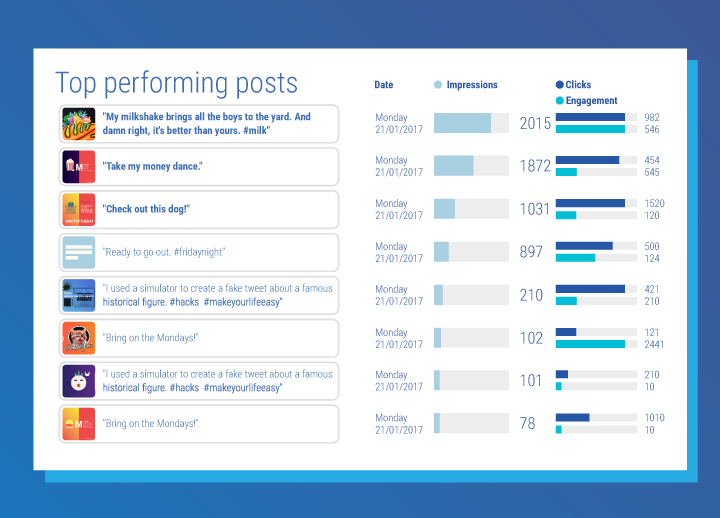 Compare your posts by impressions, clicks, and engagement, and do more of what performs best.
Page video views and Average watching time
Ready for your Facebook video analytics data? You can now easily check how many people viewed your videos for longer than 10 seconds. What is more, video views are broken down by organic and paid views. And you will also see the average length of time people spent viewing your Facebook videos.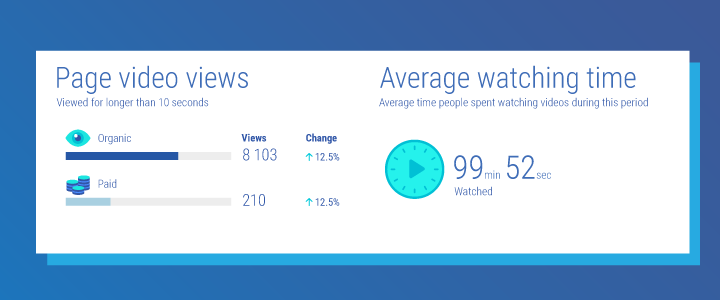 You can now customize your Facebook Page reports!
You were already able to customize Google Analytics and AdWords reports, and now Facebook got the same feature too, along with other social media integrations.
Feel free to pick just the data you need, and build custom Facebook Insights reports suitable for your own reporting audience.
Old Facebook metrics got a makeover
We improved the design and added more insightful data to a number of old Facebook metrics.
Audience demographic data
Audience data now lets you compare analytics data between different demographic segments:
Previously, your audience's demographic data was presented by two metrics:

audience by gender

and

audience by age

.

Now, we made two improved cross analytics stats. You can

compare Facebook page likes and Facebook page clicks based on the audience's gender and age

.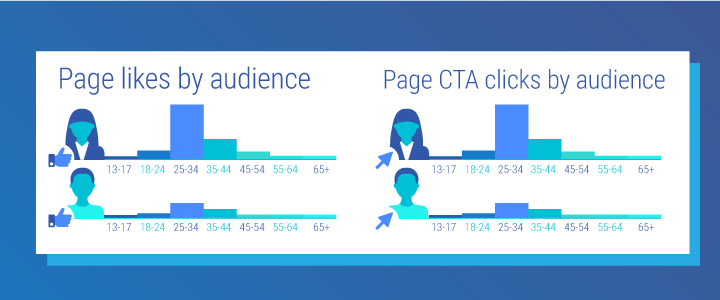 Clicks on domain metric
Starting in May 2017, Facebook will no longer provide data for clicks on the domain. So we removed it and changed it with post reach by fans.
Top performing cities
We slightly changed the stat description to be more explanatory. It is now called Page views by the city, and the list has been extended to top 4 performing cities in terms of Facebook Pageviews.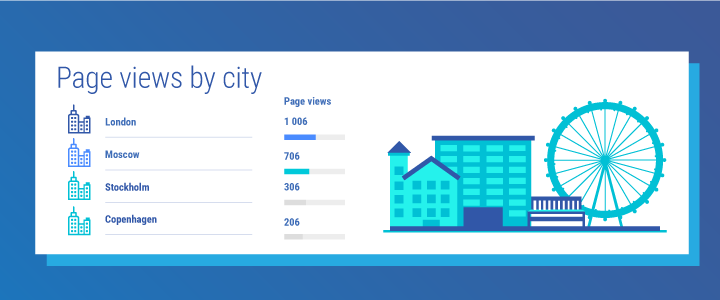 What now?
Let us know what you would add to the new Facebook Insights report, and next time you might just see it in your dashboard.
Know someone who still screenshots analytics data for social media reports? Help them out by sharing this post.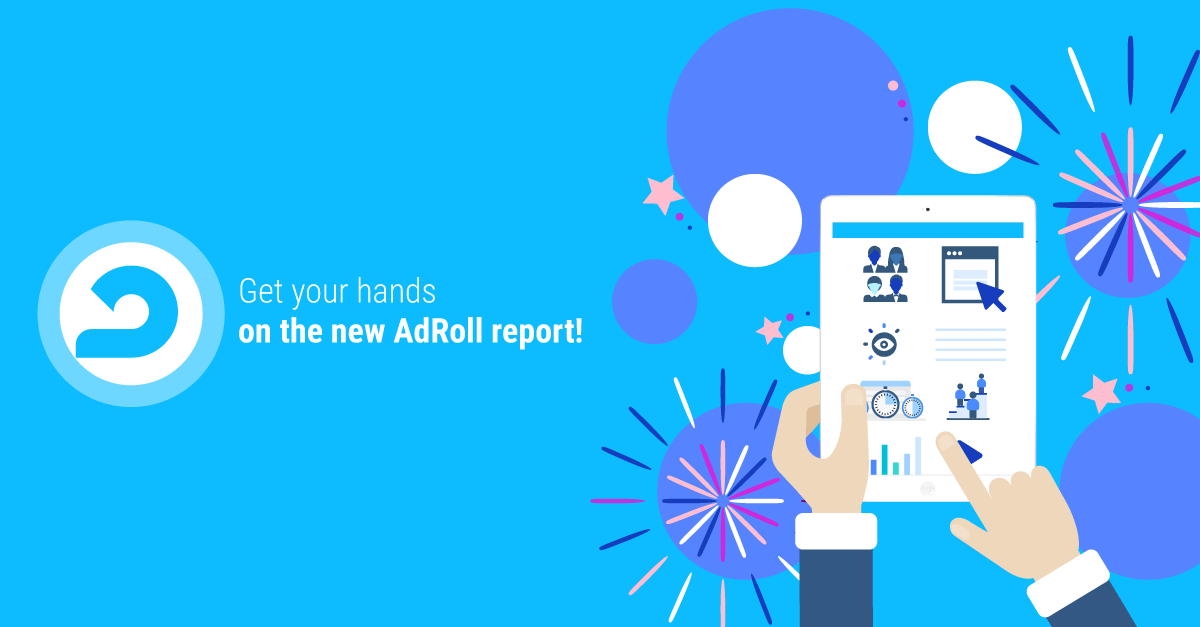 Now that we've launched this wonderful integration, you are able to quickly generate visual and engaging automated AdRoll reports for your display ads, social campaigns, behavioral email, and other actionable insights!
Read more...