#marketing
Key Google Analytics metrics to track your SEO success
The ultimate list of SEO metrics you should be measuring regularly.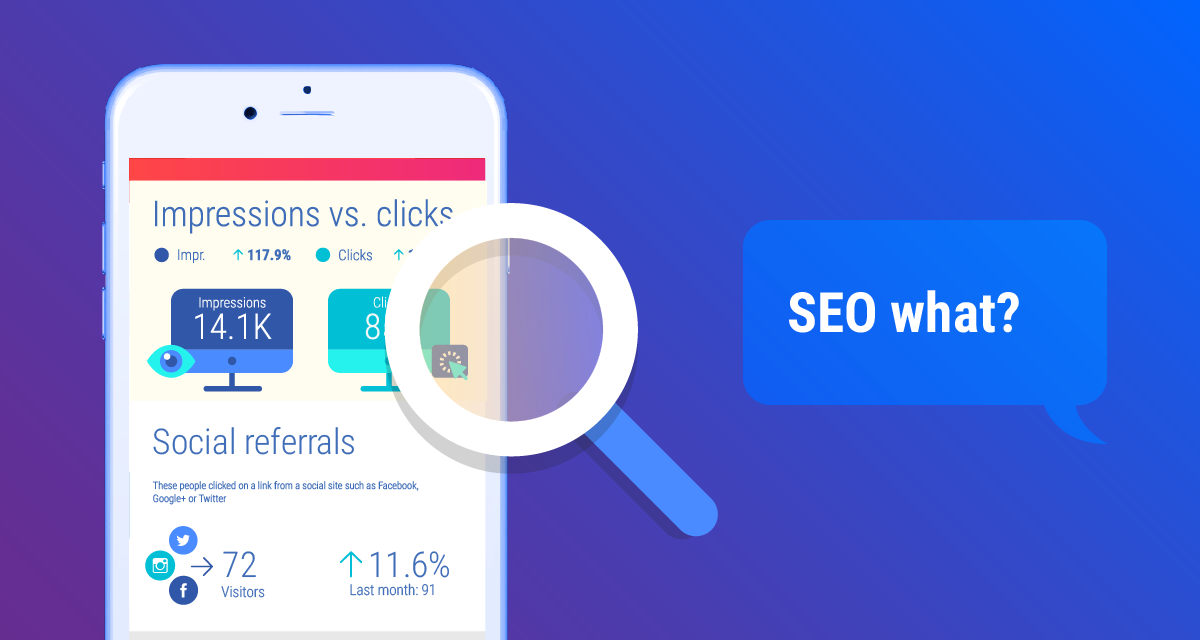 Do you really know how well your SEO is performing?
Checking organic traffic numbers in your Google Analytics is the starting point. But it's just the peak of the iceberg.
In this post, I will take you through Google Analytics metrics that big marketing agencies use to track the impact of their SEO efforts.
You will not find technical terms like spam scores or citation flows here - ones that make your clients cringe and feel uncomfortable.
What you will find is a great list of key metrics and indicators that essentially bring value to your clients & help them understand data better.
Firstly, what is the role of SEO?
Well executed Search Engine Optimisation not just helps people find your website - and your product or services. Good SEO is the holy grail that brings you free traffic which is ready to convert.
People come to your site already knowing they need what you have. And all you have to do is convince them to take action - register for a trial, leave their email address or buy.
So you've researched the keywords, optimized content for them, built links, set up relevant metatags and headings, and your landing page is tested and ready to convert those leads.
What's next?
Metrics, metrics metrics
Measure. Optimize. Repeat. Obviously.
Google Analytics gives a vast amount of website traffic data for you to choose from. It can get a bit intimidating though, especially for someone who is not too familiar with the tool.
I've spoken to several agencies here at Whatagraph to learn what metrics their clients are interested in when overviewing SEO in Google Analytics.
Below is the list of key metrics that indicate how well a website is doing in terms of organic traffic.
When you put all of them together into one marketing report, you get a comprehensive yet understandable overview to present to your clients at the end of the month - one they will appreciate.
So what are the questions that your clients want to get answered?
Let's get to it.

How is my website performing?
To give an idea of how the website is performing in general, you need the traditional metrics. Better yet if you compare the data to the previous period to show the changes in traffic volume and visit quality.
Total Users and New vs Returning Users
Knowing how many page visitors a website received during a given period helps give a first-hand idea of the overall performance. Using a graph to show the number of visitors over a time period also helps spot the spikes in traffic.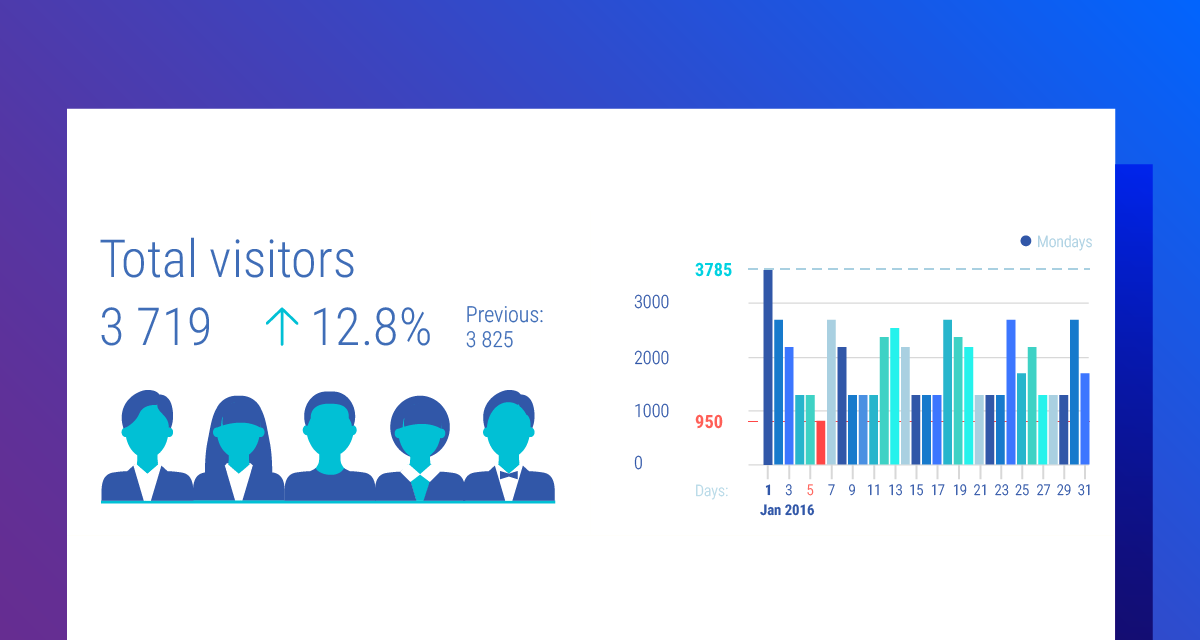 New vs Returning metric simply shows how many of the website visitors were new in comparison to the returning. A good flow of new visitors helps you grow, while a steady amount of returning visitors is a sign that retention rates are healthy.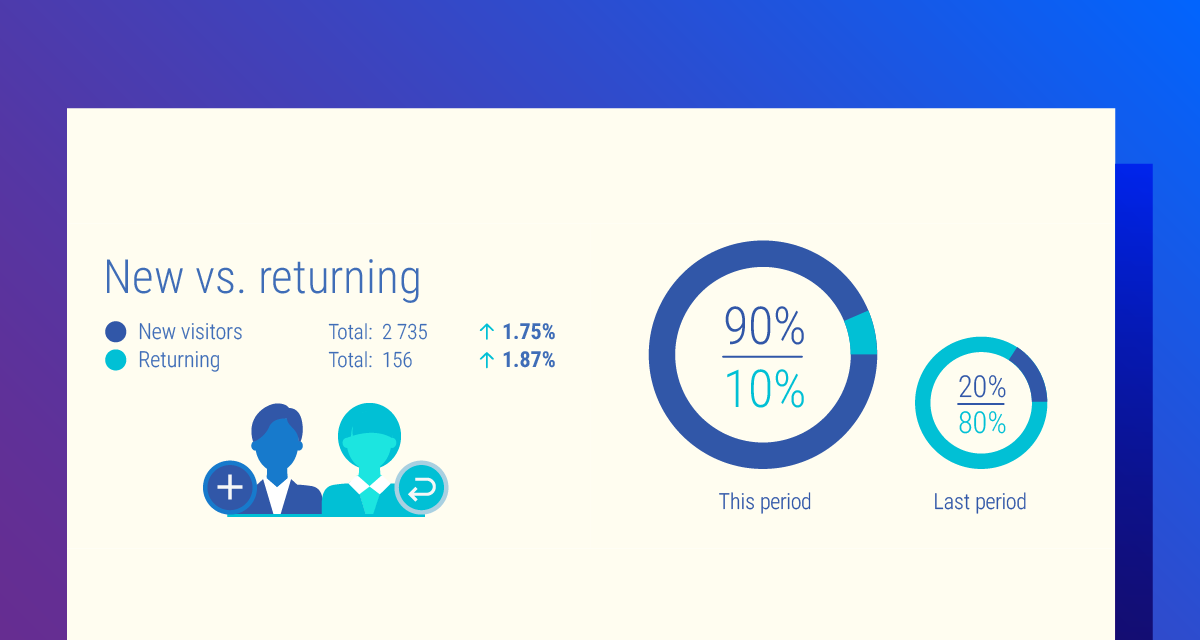 Sessions and Average Session Time
The metric that shows how long website visitors are interacting with the site, and essentially gives an insight into traffic quality and content relevancy.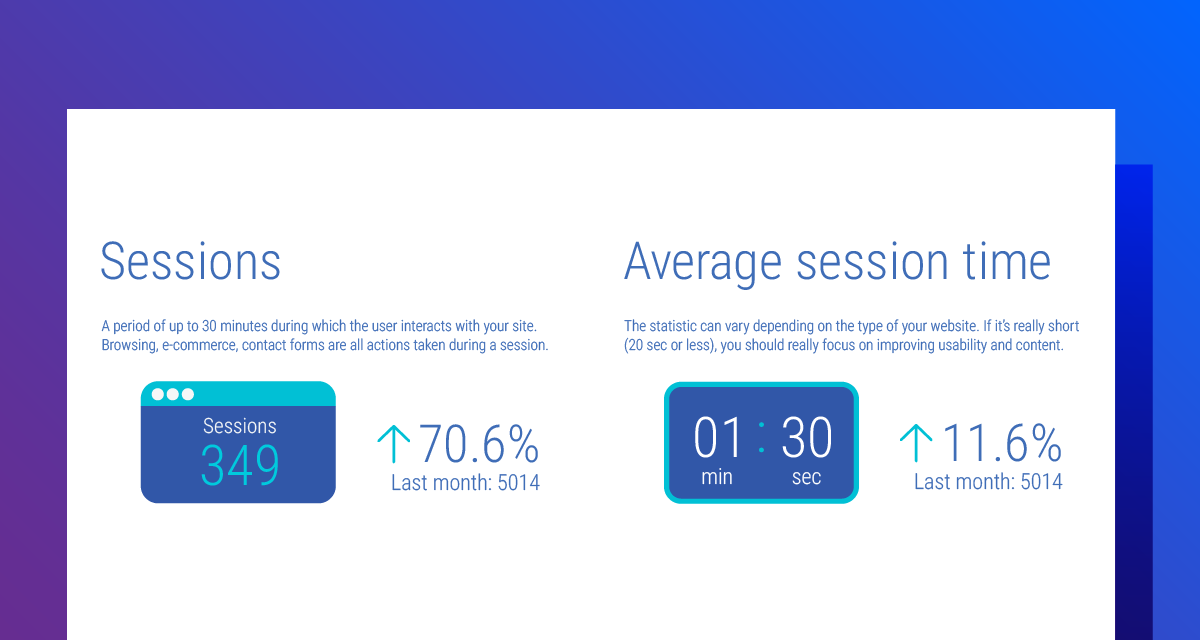 Bounce rate
Bounce rate shows the percentage of sessions during which the visitor leaves the site without interacting with it. It's a very good indication for how the website's content is relevant for the visitor and is also useful in determining which channel brings higher quality traffic.
This is one metric that you want to keep low.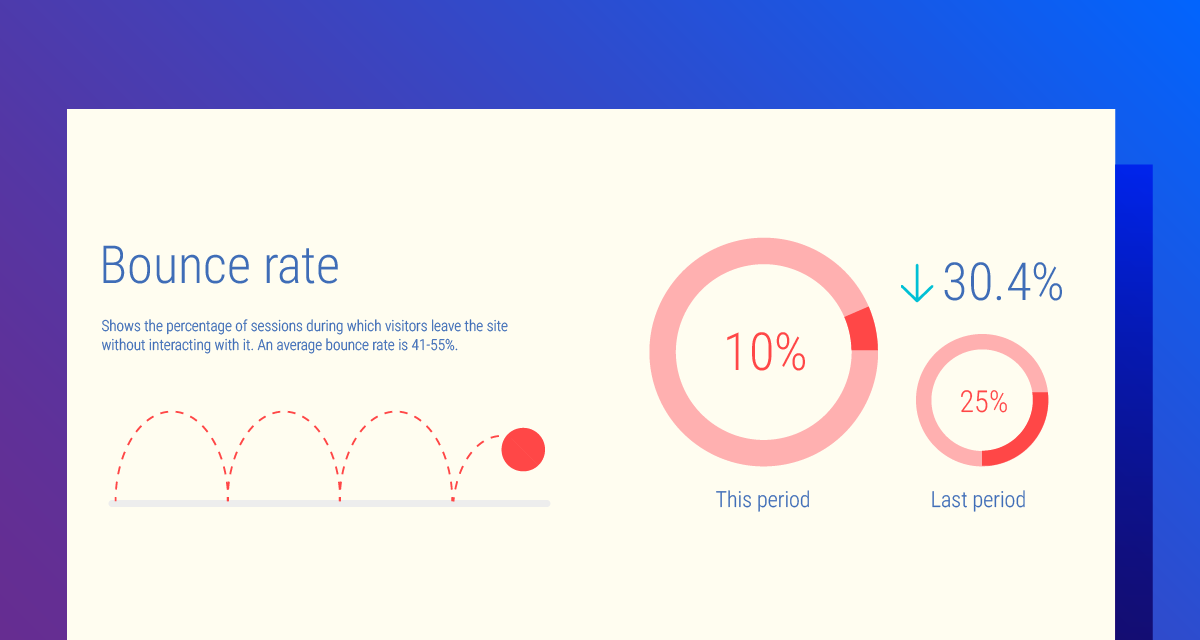 How do people get to my website?
One key traffic that is important in SEO reports is organic traffic. But it is equally important to compare it to other traffic and general trendline.
Organic traffic (and comparing it to the trendline)
It's great to see month over month growth confirming that you're playing it well with SEO. What is even better? Comparing the growth of the organic traffic to the general trendline, to avoid unnatural spikes and get a clearer view about the direction your SEO is heading.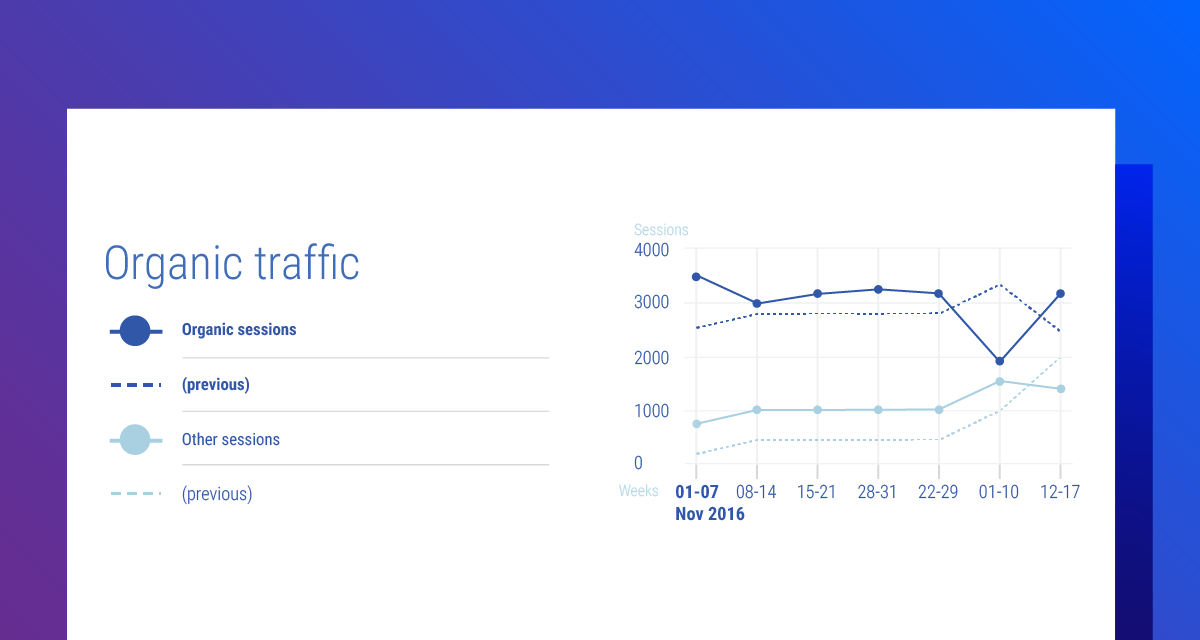 Organic vs other traffic
A nice to have an easy to understand overview graph showing how the website's organic traffic compares to all the other traffic.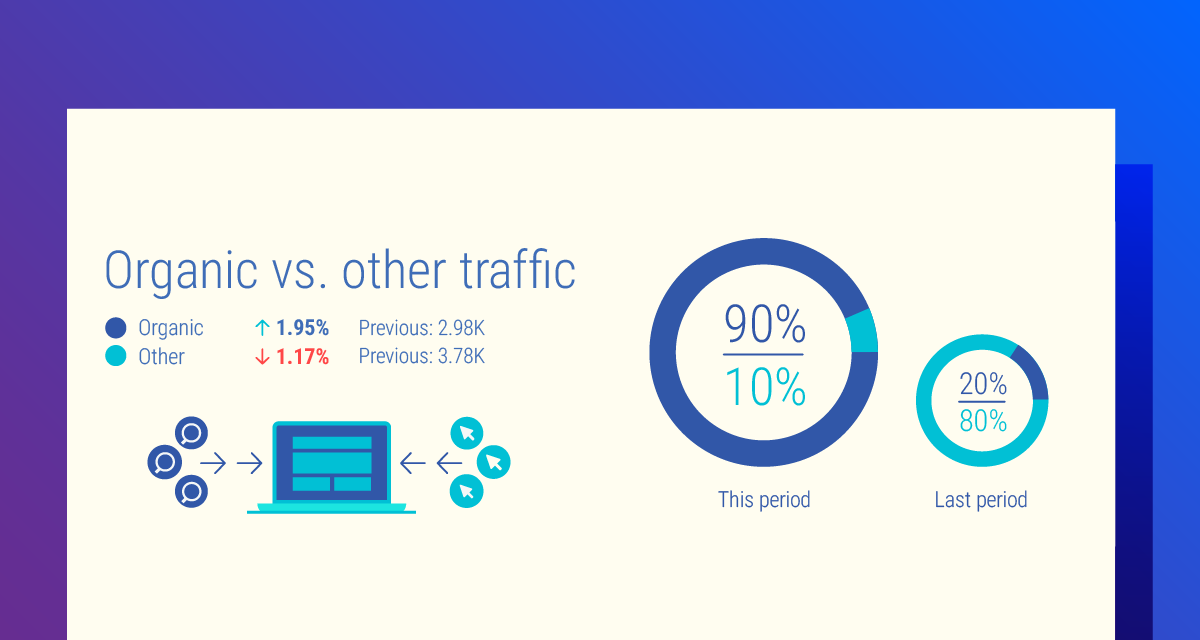 Top Traffic Sources
This is essentially a more detailed comparison of how the traffic channels are performing in terms of generating website sessions, bringing new users and delivering relevant content.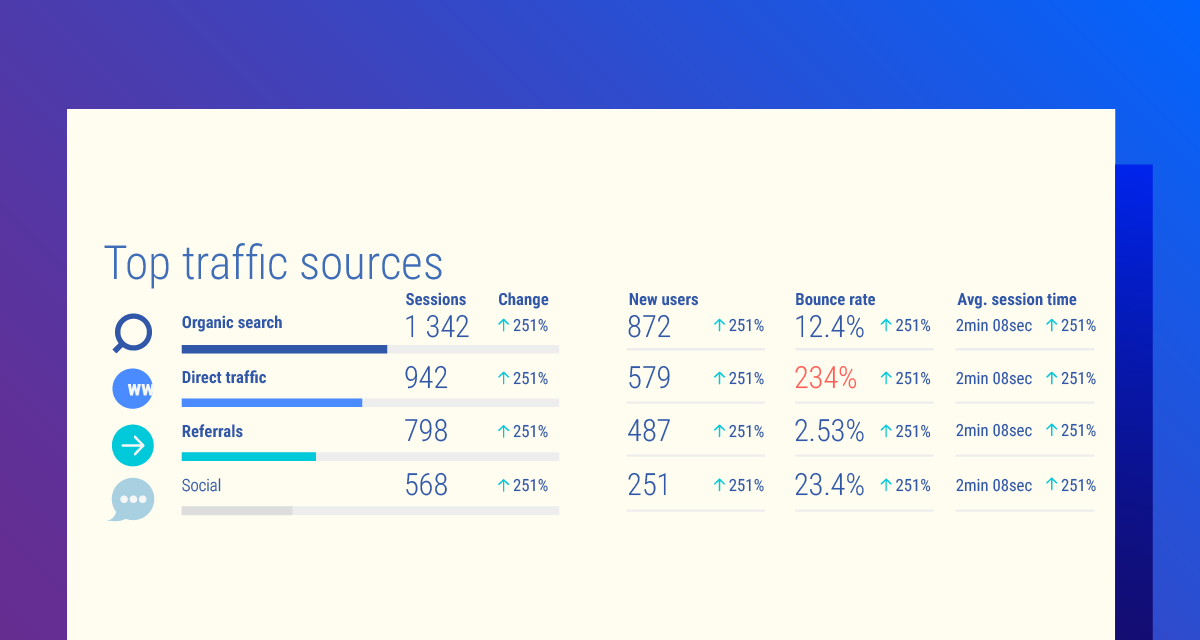 All Referrals and Social Referrals
Referrals show the traffic that reached the website by clicking on a backlink somewhere on another site. It's always good to know what role social sites are playing - and social referrals give exactly that.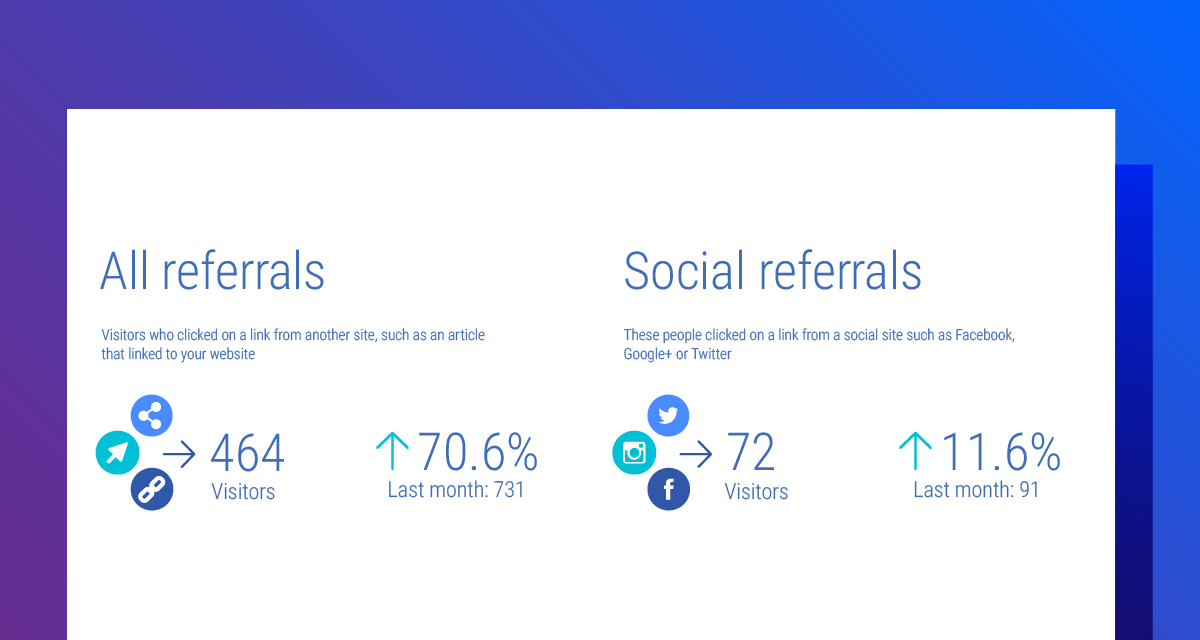 There is one reason why we have included this metric in the SEO report. Backlinks play a big role in building a reputation for Google Search Engine. More backlinks mean a higher place in SERPs (Search Engine Results Pages), better keyword ranking, thus resulting in more organic traffic. OutreachMama has published a comprehensive guide on How to plan your backlinks which is a useful resource to read and implement on your active off-page campaigns.

What do people do on my website?
Top 5 pageviews by URL
A list of most viewed pages on the website in terms of page views they received. The perfect start to help determine where the most popular content on the website is located.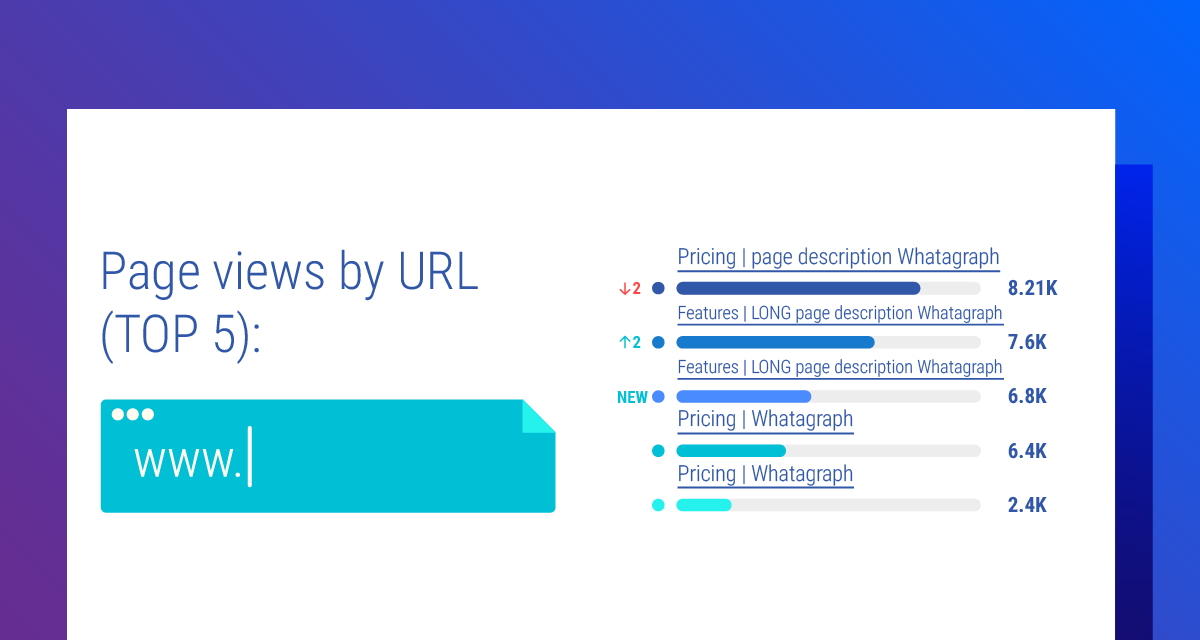 Top Landing Pages
A comparison of best performing landing pages on the website in terms of sessions, page views, and views per session. When you compare these metrics to the previous period, you get a decent idea on how the landing pages are improving and whether they are fulfilling their goals.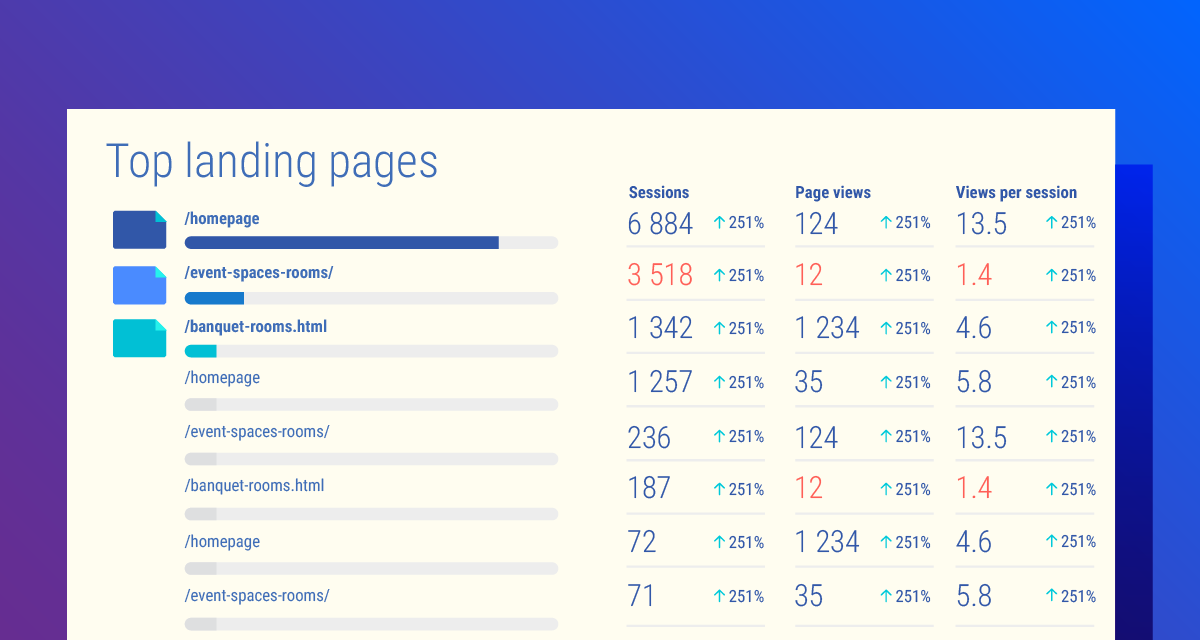 How do people search for solutions like mine?
These are the important Google Analytics stats that show how people find your website through Google Search Engine, and how their searches are matching the content they arrive to.
Bear in mind that you need to enable Google Search Console in the reported website to be able to see the below metrics in your Analytics account.
Top Searches
This is the stat that lists down the most popular keywords people use to get to your website. It is important in determining how your own key terms are performing in Google Search results:
How often your website shows up for the relevant search (Impressions)

Which position your website takes in the result listings for each keyword (Average rank)

How many clicks to your website you get from each of the keywords (Clicks)
Top searches are also important in getting familiar with the language of your customers (and potential customers) use to find products like yours.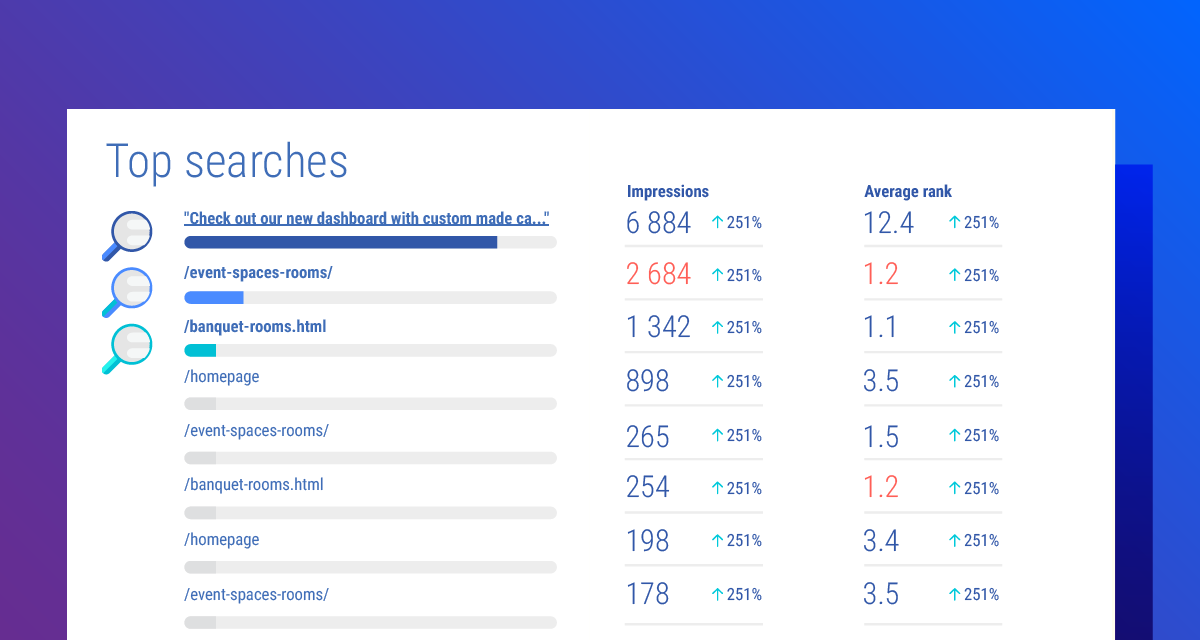 Impressions vs clicks and Click Through Rate (CTR)

This metric helps you determine how persuasive your listing on the Google Search Results is, and how relevant it is to the search term (essentially affecting your website conversions):
Good amount of impressions mean the site shows up on SERPs

Good amount of clicks means that people find your Meta descriptions and Headings relevant and persuasive.

CTR essentially takes the two metrics above and gives a very good idea on how your keywords and website content are performing.

(Hopefully increasing the number of times your website appears on search results, and an equally increasing number of people are finding it relevant enough to click on).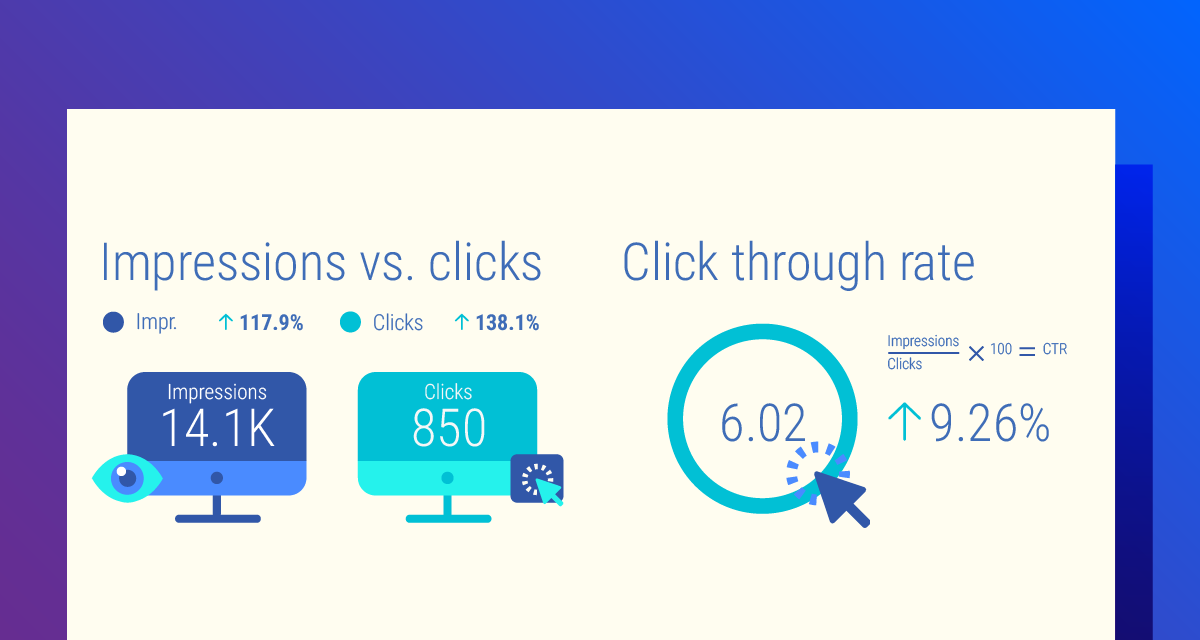 Now it's over to you.
The good report shows traffic in general and compares it to the organic traffic to show an impact your SEO does.
Great SEO report makes the data visualization and explains it in a way your clients understands, without over-complicating the presentation.
The perfect report is transparent, engaging and helps draw better conclusions from data and insights.
If you are ready to take your SEO reporting to the new level, we have just released our new Google Analytics reports that are bound to make your clients smile.
And now it's over to you -
Have a stat that is missing in the report? We'd love to hear about it! Talk to us live on customer support at Whatagraph website or on social media - we do like talking to you!

Not sure what Whatagraph is? Visit whatagraph.com and give simplified visual reporting a go.
Share this post on Facebook or Twitter to help make the reporting better for everyone! (Hint: sharing buttons are below).
Published on Jan 13, 2017