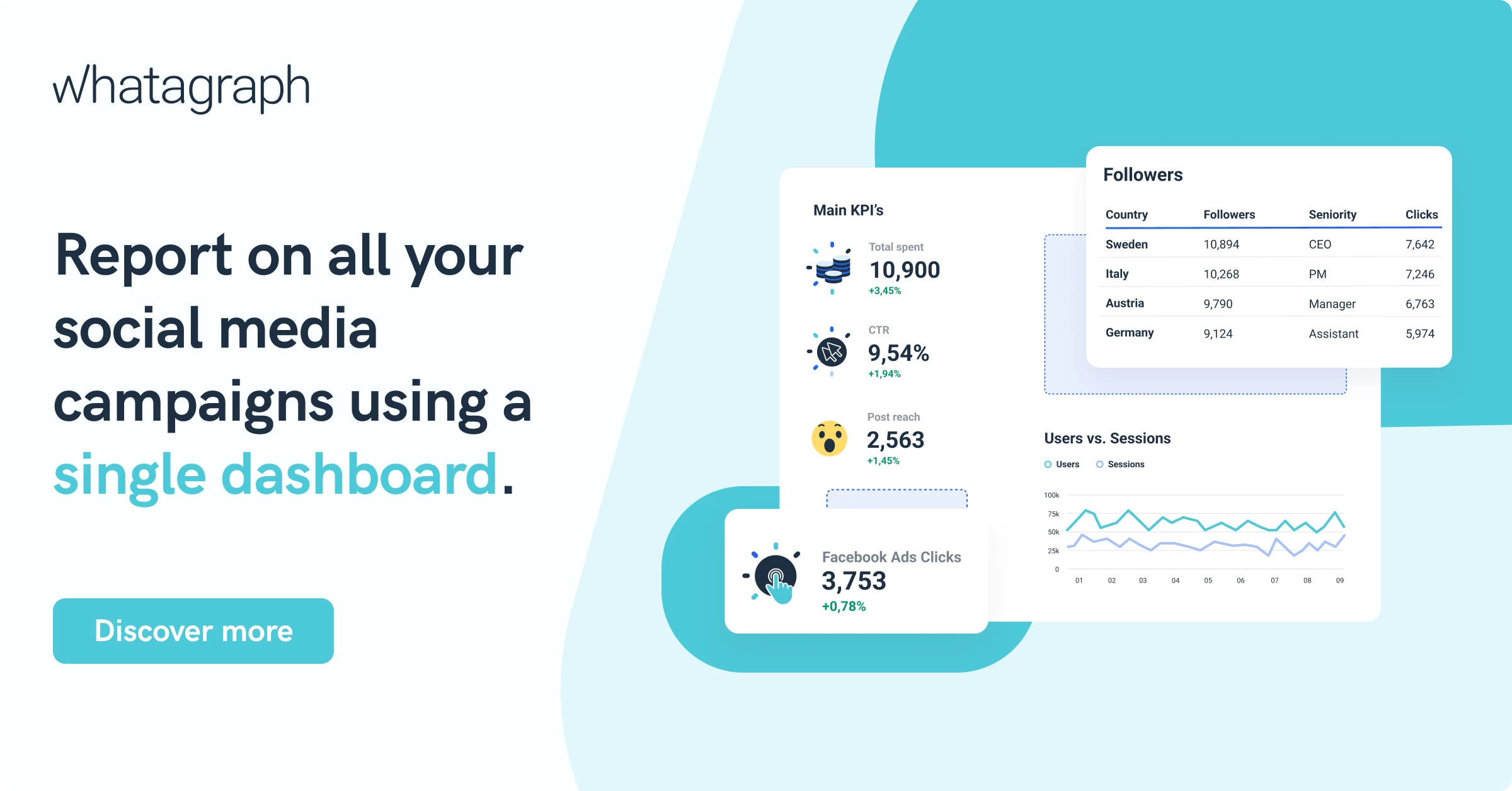 Without using important metrics and social media KPIs, it is very difficult to know with absolute certainty if you have the right impact on social media (with your client's target audience).
Unlike most individuals and agencies believe, social media analytics and metrics go further than viewing and tracking website traffic on the platform. It even goes deeper than having many followers. So much is involved in social media tracking, and that is where KPIs play a greater role. Here are some of the most important social media KPIs used for tracking social media performance.
How to Choose Which Metrics to Track?
There is no such thing as a "one-size-fits-all" KPI. However, the metrics we are going to mention are the ones that provide the most in-depth and accurate insights into the performance of your social media efforts and marketing strategies.
Whatever KPIs you choose to track, they must meet the SMART criteria. You should keep an eye on the following KPIs:
Specific

Measurable

Achievable

Relevant

Timely
This neat acronym is a great way to determine if a KPI actually makes a difference or if it's just another vanity metric that looks good on a report and is in accordance with the latest algorithms.
Serg Aspidoff, the Founder & CEO of Shoutcart, says they are tracking engagement rate, CTR and social shares. These three KPIs are the most important ones for a self-serve influencer marketplace.
Keep on reading to find out the most important KPIs for each objective according to us.
Social Media KPIs for Engagement
Social media engagement metrics are important because they show how impactful your campaign is; more engagement is good, less means you can do better, and none is bad. Engagement highlights the social aspect of social media by displaying likes, comments, and shares.
1. Engagement Rate
Engagement rate assesses your client's audience behaviour and actions in response to the social media content they consume. This could include things like liking, commenting, or sharing.
It is important to track this KPI because high engagement rates indicate that the content you provide to your client's audience is well received. You can also collect historical data to learn what they like to see and adjust your strategy accordingly.
2. Likes
Likes are the KPI that tracks and counts the number of likes your pieces of content receive from social media users.
More likes on a social media post indicate that your content is of high quality and is well-liked by your audience, and people tend to listen to and follow popular things.
3. Clicks
Clicks is a KPI that counts the total number of clicks your posts receive. The higher the click number, the better your social media content performs. Note that clicks without further action don't mean much as your ultimate goal is get your followers to take action on your website.
4. Comments
Comments are the KPI that tracks and counts the number of comments your pieces of content receive from social media users.
For most people that take their time to leave comments on posts, it means that they are very much interested in what you are talking about and trying to sell. The comment section is a very good engagement for getting feedback from your target audience. With many comments comes loyalty, provided that they are positive in nature.
5. Shares
The social shares KPI measures and tracks the number of people who shared (retweets on Twitter, for example) your content on their newsfeeds or stories on social networks. Depending on the context in which people share your content [as people sometimes call out and criticize the content], it is a great way to learn how many people liked and disliked the post.
It is also a metric that you can use to evaluate your marketing efforts. The greater the number of shares, the more viral your content is and the better job you've done.
Social Media KPIs for Reach
You cannot start making leads or ROI without penetration on social media; the reach of KPIs for social media is integral in social media. You need to connect with the right people, show your business to the right people, and build your reach to increase your social media performance.
6. New Followers
The number of followers is the most basic way to determine how far your reach has spread. This follower count measures and tracks user engagements on your client's social media accounts and identifies how many new followers they get.
7. Referral traffic from social media
Referral web traffic is generated when a user clicks on a link to your website or lands on any of your landing pages from social media channels. Knowing how much traffic your website gets through social media is a way to know how good your social media reach is. You can see this metric quite easily in Google Analytics for your website.
8. Follower Growth Rate
The rate at which your client's follower list grows is referred to as the follower growth rate. The higher the number, the better. Because the goal is to increase the number of subscribers, every digital marketing agency should monitor this KPI. How will you know if your follower list is growing or shrinking if you don't track it?
Social Media KPIs for Conversions
Another set of crucial marketing KPIs is social media conversions. This KPI helps find out how many people are brought in as customers through your social media platforms.
9. Revenue From Sales
The terms sales revenue and revenue are frequently used interchangeably. Revenue from sales is defined as income generated from the sale of goods and services. Conversely, total revenue includes profit from sources other than the core business, such as savings interest or dividend payments.
Long story short, revenue from sales is a metric that shows how much money your client's business generated specifically from sales.
10. Lead Conversion Rate
Conversions from social media refer to the number of times the desired actions are taken by the client's target audience on social media.
11. No-revenue Conversions
This indicates leads that come through social media but don't end up becoming customers for one reason or another.
12. Share of Voice
SoV assesses how popular your client's company is compared to their competitors. It's a great metric to calculate when you are just starting to work with a new social media management client and want to find out how their company is positioned on the market.
Marketing agencies usually track online brand mentions, analyze social media campaigns and the demographics that engaged with them the most.
13. Click Through Rate
The CTR measures the number of people that clicked on your ad. It is usually expressed as a percentage and indicates the number of people likely to click on your ad/link after seeing it.
Social Media KPIs for Loyalty
This KPI set is perhaps the most technical of them all. Making a new customer is much easier than keeping an old one. These metrics show how to know if your customers keep returning for more or if they don't return.
14. Cost for Lead Generation
A lead is a person who has expressed interest in your product or service by achieving a goal. The cost per lead metric shows how efficient your marketing strategies are at generating new leads at a low cost.
As time progresses, if the cost per lead decreases, you are making the right impact by creating customer loyalty.

15. Impressions
The impressions are a social media metric that counts the number of impressions your post received on any or all social channels.
More precisely, it counts the number of times any post was visible anywhere on the user's feed.
16. Return on Investment
Marketing ROI is a technique for determining a company's return on investment from its marketing budget. Simply put, it is the overall value of marketing activity in relation to the money invested in it.
17. Hashtags
Hashtags are KPIs that count how many times a specific hashtag was used in the post and, essentially, your client's brand awareness.
Brand24 depicts five major hashtag metrics that you can track:
The number of hashtag mentions

The number of interactions your hashtag receives

The social media reach of hashtag mentions

The most influential authors

The most interactive authors
The Best Ways to Track Social Media KPIs
If you want to track your social media KPIs effectively, there are a couple of ways to do it.
This implies manually typing and adding data to reports. Marketers usually use spreadsheets or Excel as documents to keep track of their progress.
Yet, keep in mind that this way is prone to human errors and is time-consuming.
Whatagraph understands that manually creating reports is inefficient. As a result, we offer a gallery of over 95 ready-to-use templates.
Here is a free social media reporting template to try out now.
You also have an option to use a reporting tool without developing a report from a template.
We offer an option for you to start from scratch, connect your data sources, pull data and optimize the report however you need to.
Conclusion
Choosing the proper metrics to track your progress is critical when launching a new Instagram ad, Facebook page promotion or LinkedIn brand awareness campaign. Yet, simply building a list of important social media KPIs and avoiding vanity metrics is not enough. You need to monitor and analyze them with an analytics tool.
If you want to do that in an easy and modern way, you'll need a proper modern and powerful social media reporting tool.
Try Whatagraph for free today and improve your social media strategy with accurate data.

FAQ:
What Are Social Media KPIs?
KPIs are short for Key Performance Indicators. Social media KPIs are a metric system for measuring how much productivity a person has on social media since it can be confusing to know how much penetration, engagement, conversion, and loyalty one gets. KPIs make it much easier to know, and it helps to make users get better when using social media.
What Are the Key Performance Indicators Examples?
A perfect example is the social media KPI for engagement, which shows how to know if your social media platform is engaging enough; if it is, then it is productive. Examples of engagement indicators are comments, likes, shares, and clicks.
How Do You Measure the Effectiveness of Social Media?
You measure the effectiveness of social media by using the different KPIs available and create a social media report template using Whatagraph. Examples of such KPIs are:
Social media KPI for Reach

Social media KPI for Engagement

Social media KPIs for Conversions

Social media KPIs for Loyalty