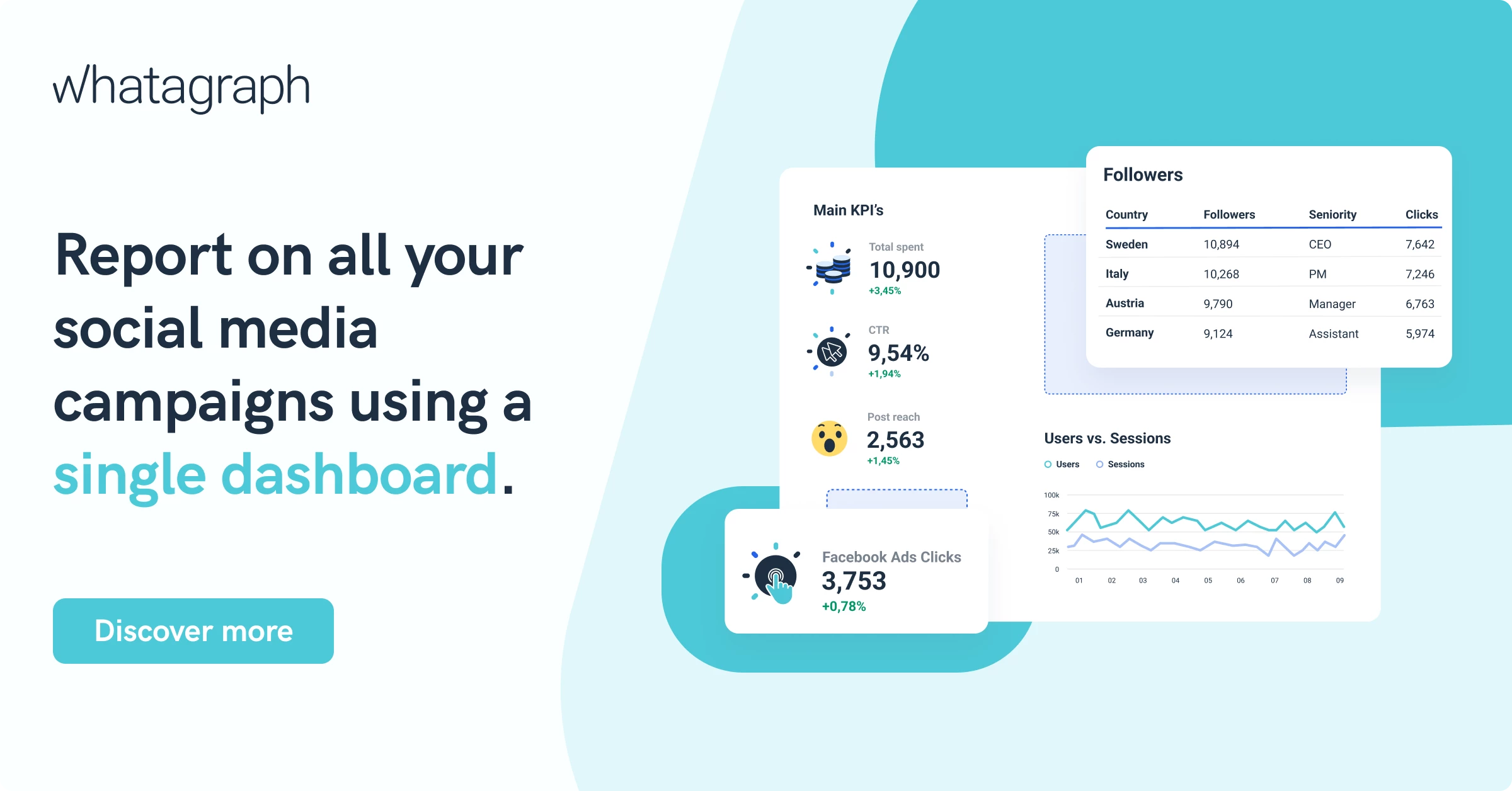 What is a S
ocial Media Report
?
A social media report presents data related to your marketing agency's campaigns and the overall progress of advertising efforts for your clients. It pulls information from sources such as Google Analytics, Facebook ads, LinkedIn, and other social networks that you use as an agency for your clients for social media marketing. This document is so valuable that no social media strategy would be effective without it!
Social media report examples
Facebook reporting tool

Automated

social media report
Why is S
ocial Media Marketing Reporting
Important?
To put it simply, there are 3 key ways how social media reports help marketing agencies:
Creates A Clearer Picture - Reporting gives a clear overview of the results you deliver for your clients. It shows that work has been done and is still in the works. It helps find better ways to tweak your strategies and improve productivity.

Shows The Work - For those that have bosses that never seem to stop complaining about paying more than you bring in, reporting shows that you are doing work. You can show that your work is worth every penny that they throw at you, and more.

Keeps Everyone Informed - A good report doesn't just stay within the confines of client and service provider or between boss and client, it goes beyond that. You can use it internally in your agency to show the progress of your overall client efforts.
What Should Be Included in a S
ocial Media Report
?
Depending on the goals, social media platforms, and strategy, each social media report will be unique. Not only that, but KPIs and key metrics will vary as marketing agencies determine what to track based on what provides the most actionable insights into their social media performance.
You'll now see an executive overview of all the KPIs that a social media performance report can track, as well as all the social media KPIs it can monitor. However, make sure you discuss them with your clients first and ask them what they want to see. Creating a social media audit as the zero step could give a good indication of what to track and report on.
KPIs
and
Metrics
The following indicators represent your audience's presence on social media:
Likes
Comments;
Shares;
Engagement rate;
Top performing posts;
Number of posts
Page views;
Retweets and tweets;
Twitter impressions for your hashtags;
Click-through rate;
New followers;
Brand mentions
Overall follower growth;
Demographics of your audience.
Web traffic is a metric that indicates how much traffic your client's website receives from social media and how effective your social media reach is. Not only that but traffic also shows how well your content strategy is performing and what type of content is the most persuasive for your client's target audiences. The best social media metrics to track when it comes to this data point are:
Traffic sources;
Bounce rate;
Users;
New users;
Avg. session duration.
Conversion is an indicator for social media that helps to know how many of your clients' customers come in from social media as a channel. Track these metrics with our social media marketing report and improve your social media campaigns' performance:
Revenue from sales - If you generate revenue from sales through social media marketing, that means the conversion rate is good;
Lead conversion rate shows how many customers come through social media;
No-revenue conversions indicate leads that are generated through social media
Retention;
Social media ROI;
ROAS.
Other social media data may and may not be valuable to your clients depending on your objectives and social media channels, so be careful not to employ metrics that aren't relevant.
How Often Should You Report on Social Media?
For most marketers that create reports manually or by using software, it's pretty obvious they need to create social media analytics reports as often as possible. Your client's social media manager may want to evaluate reports every week, or every month, and some might require them even more frequently. Here are some common intervals.
Weekly reports - This time interval is useful for companies that are very flexible with their social media strategy.

Monthly social media reports - This is a standard frequency but it can also be strenuous to small businesses since there will be lots of data to process.

Quarterly reports - They give clients a higher-level overview of their social media strategies and can be extremely useful.
What are the Different Types of S
ocial Media Marketing Reports
?
Whatagraph provides pre-made templates that meet even the most specific niche report ideas. Here is a glimpse of what the Whatagraph platform offers:
Instagram analytics report
Instagram insights report helps show the demographics of your followers, depict what kind of posts are the most popular, and show you the overall progress of an Instagram marketing campaign and your Instagram automation efforts.
Every Instagram report should have three main segments:
1. Progress of your reach and impressions.
The overall number of individuals who see your material is known as reach. The number of times your content is displayed, regardless of whether or not it is clicked, is referred to as impressions.
Reach and impressions are both essential Instagram stats that reveal distinct information. Reach only counts unique views, whereas impressions measure the overall number of views, which may include numerous views from the same person. The term "reach" refers to the amount of exposure your content receives.
Decreasing stats indicates that you may need to launch sponsored ads or change your hashtags. It can also mean that your content is not relevant to your target audience. Utilize this report and learn about it now to prevent your overall stats from dropping.
2. Account performance. Think about the overall picture of your Instagram account. This report will allow you to immediately learn how many followers you have at the moment, how many impressions in total you have received, and how many likes you have generated. The social media analytics tool can also cover organic and paid social, competitor benchmarking, and influencer analytics.
3. Demographics
Demographics are an important aspect of any marketing plan because they allow you to identify specific individuals in your target audience based on their qualities, desires, and requirements.
Learn about your audience's demographics and create the content they enjoy the most.
Facebook analytics report
Whatagraph has over 90 social media performance templates to choose from. The following is an example of a Facebook analytics report template. Access your Facebook Page insights and campaign performance with the real-time Facebook reporting tool and increase engagement.
Facebook analytics reports include essential Facebook performance data. Whatagraph not only lets you integrate any source to Facebook, but it also lets you report data from several platforms. The tool relies heavily on graphs and other visuals which is the most important aspect of presenting your performance to stakeholders. No need to use Excel and Powerpoint.
Take Facebook and LinkedIn, for example. You can effortlessly monitor and compare the behavior of your target audience with Whatagraph and make data-driven decisions.
Twitter analytics
Twitter analytics provides you with information on how each of your Twitter posts performs based on various criteria. It's a report on the performance of the content you've published on the platform. It tracks data like clicks, impressions, reach, and engagement to determine how well your content is performing.
Overall social media report
Whatagraph's cross-platform reporting tool is the most useful, allowing you to integrate any free social media platform including TikTok in one place and easily keep track of important social account metrics.
This is one of the most significant reports since it provides an overview of all the channels, social media activities, and their success, as well as how the overall marketing efforts are performing.
It benefits marketing teams and agencies by allowing them to aggregate data and understand where they need to invest more effort and focus. They can better understand their clients' wants and expectations by using this social media reporting template. Not only that, but thorough reports contain just the proper amount of information to help you enhance any aspect of your marketing efforts.
How to Create a Social Media Report and Explain it to a Client - in 5 steps
The very first step in creating a social media report is not to think about the theme and colors. It is to think about the goals and objectives of your social media strategy.
According to those goals, determine your key metrics and KPIs. For example, if your client's goal is to increase the conversion rate, you'd monitor metrics related to conversion rate like revenue but not the metrics related to the brand awareness like comments.
Now that you identified these two areas, create a monthly report or a dashboard with Whatagraph for the best in-depth reporting analysis.
You can start using our social media reporting tool now!
Step 1 - create your Whatagraph account
Create your account using your email and a password. Your Homepage will be your go-to place to access all the dashboards & reports you've created.
This will also be the one-stop place to:
Access pre-made templates;

Access automated reports;

Access folders;

Create new templates and reports;

Manage sources.
Step 2 - connect your sources
The second step in creating a report is connecting relevant sources. By doing so, you'll be able to pull and access live data.
Step 3 - connect your clients' accounts
Source Management is where you connect your clients' accounts to pull needed data.
Select your needed integration;

Link your accounts;

Choose the sources you want to see in your report.
Step 4: use the white-label function
Digital marketing agencies may want to send reports that are aligned with their clients' brands. The white-label function will allow doing that. Change the domain, color, font, and theme of the report. Got that extra mile for the client and show them you care.
Step 5 - automate the report
Start sending automated reports straight to your client's inbox. Whatagraph allows choosing your desired reporting timeframe, sending frequency, and adding as many recipients as needed. Forget about manually sending reports and save time with report automation.
Bottom Line
By now you should have created a picture of why social media reporting is important and what to do to make social media analytics more engaging to your clients. Start reporting with Whatagraph and effortlessly satisfy your client's reporting needs. Sign up for a free trial today to get started!