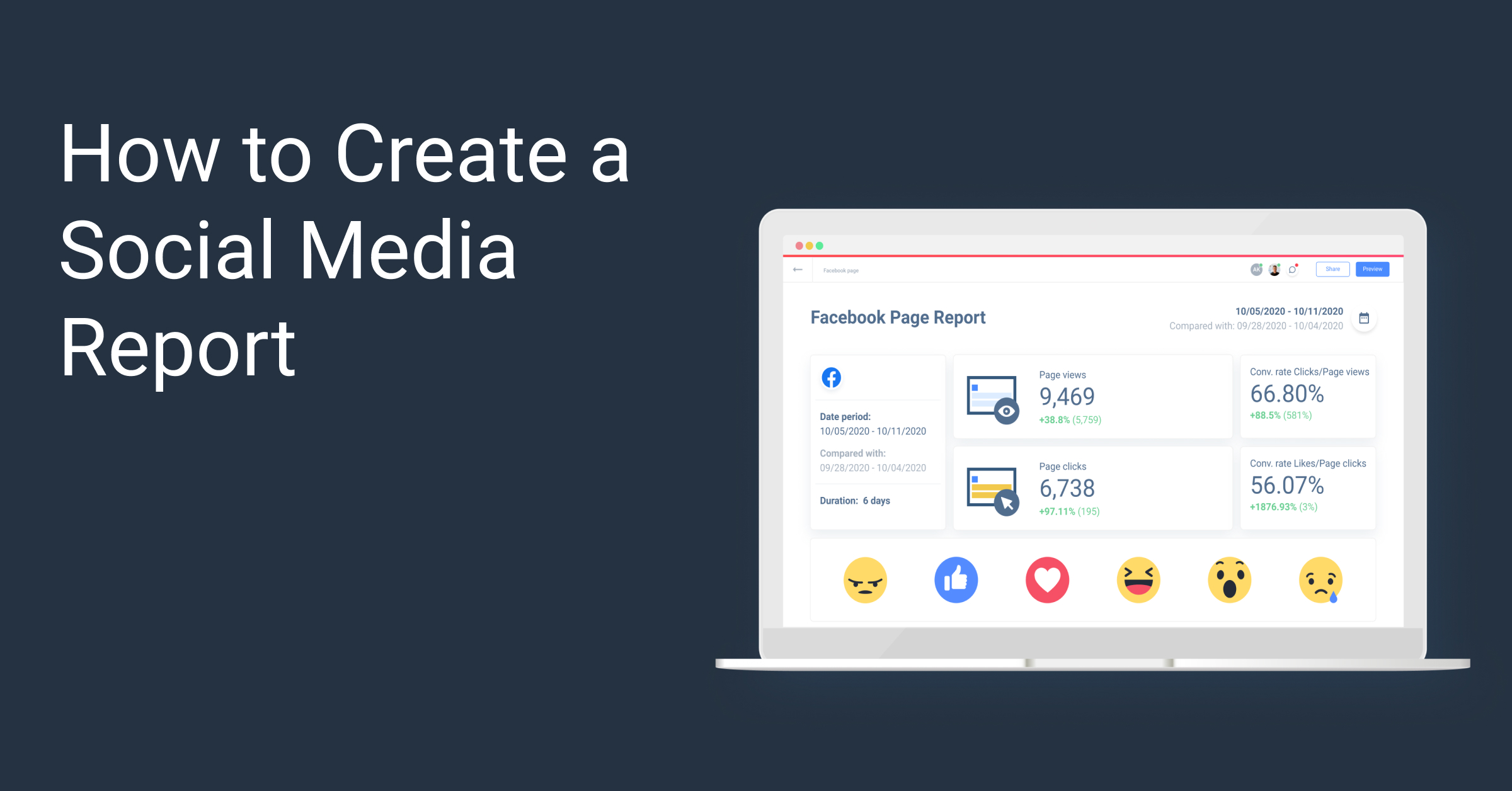 Social Media Report Templates
Mar 01, 2021 ● 8 min read
Social media report templates are necessary for tracking your social media performance and apply the insights into your marketing procedures. Social reports help measure your growth and give you a clear representation of your social presence.

With more organizations and businesses increasing their investments in social media marketing and social media reporting tools, the stakes seem high. Companies want to know how their return on investments is measuring up. Similarly, presenting your social media performance to your team or reporting audience is crucial. Make sure to communicate your activities to them in a manner that justifies your method.
For this reason, you may want to create a social media reporting tool to get started. If you are handling socials for your company or a part of a marketing team, you would be asked to send your campaigns in reports. To help make the process easy, you can also rely on free social media report templates to convince your clients or employees that you can generate the buzz around their business or product.
Social media report templates help make your job easy as it contains all the important metrics and steps you need to deliver a great presentation. Let us look at the important steps and components a social media report must contain.
Essential components of a social media report
It is important to keep your social media reports quite short and concise. While numbers are important, the report should have a compelling conclusion. It should be presented in a result-oriented fashion, including your goals, tactics, procedures, and success metrics.
A Snapshot of your overall social media efforts
A campaign snapshot of your overall social media efforts is fundamental to building your social media report. It would help if you started with a broad view before integrating critical KPIs and how they tie back to your strategy. The campaign snapshot should contain the following information on metrics such as:
Post reach
Number of posts
Number of likes
Number of comments
New followers
Cost per thousand impressions (CPM)
Brand mentions
Number of views of videos
Click-through rate (CTR)
Click-throughs
Cost per Click
Track data
Data tracking helps measure performance and shows how reasonably the marketing efforts or strategy has been effective. You would have to include some vital performance indicators such as:
Number of posts
Number of profile views
Number of posts
Post reach
Follower growth
Follower count (loss or gain)
Engagement rate
Top Posts: Depending on engagements reach or rate
Number of clicks to website
Number of stories
Number of video views
CTR
In a situation where it is a paid campaign ad, then you can include metrics such as leads, KPIs, Ad spent, Total revenue generated, number of conversions, and return on marketing investments (ROMI)


Space for extra information
Building a social report is beyond just numbers. Other important details, such as testimonials, connect with influencers, are not about the numbers.
The analysis
Analyzing data is necessary to understand the volume of numbers that are presented in your document. You would have to explain the numbers to your boss and tell them what it means. The analytics report should tell your readers how you could generate the growth in engagements and why it is good for the campaign using relevant KPIs.
If, for instance, you concentrated on releasing a certain amount of posts daily, then you should be able to explain why and how it benefits the campaign. The analytic reports should also compare to the last presentation and state if you have reached your target audience. Similarly, it should explain why key objectives were not met and highlight the major achievements if there were any.
Projections into the future
Your employers and clients want results. One key feature of a social media report is your projection into the future and the expected results. For example, if you intend to reduce the number of posts per day, you should state why and the expected outcome you would be envisaging.
Examples of social media templates you can work with
Building a social media report may be quite challenging for individuals who are not conversant with the process involved. It is recommended that you rely on already made templates to form your reports. You can download a template and customize it to meet your specifications. You can also find Free social media report templates to use. Want to make use of the best report tools? Let us look at some social media report templates by major brands you can rely on.
Social media reports template by Whatagraph
If you are looking for a social media report template that would effectively handle your reporting needs, then Whatagraph has got you covered. Whatagraph social media template helps to measure your social media ROI with their report template conveniently.

It tracks audience growth, several conversions, the social share of voice, and engagements. There are several social media report templates available on Whatagraph to use in building custom reports in minutes. Whatagraph social media report templates are designed to deliver top-level insights to users in just a few clicks.




You can track and present your page followers, engagements, top-performing posts, analytics report, interactions, and so much more via KPIs. With its amazing customer service, Whatagraph offers great social media reports to its users.
Furthermore, the Whatagraph social media reporting tool helps analyze your top-performing posts and find the most effective way to engage your audience. You may want to see results for specific content email address marketing campaigns by filtering keywords to deliver helpful insights.
Whatagraph free social media report templates available on free trial take it further by allowing you to engage with your followers via social network insights. You can also analyze historical trends to see how your audience has been growing over time and make sound projections into the future. You can start reporting by signing up for seven days free trial that can be canceled at any time with no credit card required.
Social media reporting template by Buffer
Buffer is one of the popular names in social media report tools. Buffer allows you to manage your content publication and campaigns across all social media networks from a single place. The report template shows a snapshot view of the last seven days. You can import data to get a clear picture of your social media posts and understand social media engagements' influence.
The reports carry important information such as posts, clicks, and total interactions. This Buffer report helps you know your top 5 posts of the week regarding the engagement they received. The Buffer social media report tool template comes with ready-to-use formulas best suited for weekly monthly reports. The data can analyze older data, but the document may have to undergo some changes. Data is shown by graphical data that is very easy to read. The report template can also be printed if you seek a printed copy.
Social media reporting template by Semrush
Semrush is one of the worlds' leading platforms that allows you to improve your social strategy with cross-network publishing, scheduling, analytics, and ad management. You can also track competition by seeing how often your competitors are posting and the number of followers they are getting.
Semrush helps you schedule posts on various social media networks such as Facebook, Instagram, Twitter, Pinterest, etc., in quick time and track their performance. Their social media ad tool helps you create and launch, manage and optimize ads on placement with Facebook. You can see your low- performing ads and receive tips on how to make them better.
Semrush allows you to create a Social Media Performance report under the My report section once you open an account on the platform. The reports contain vital information and show data in a graphical format that makes it quite easy to understand.
Social media reporting template by Dashthis
Dashthis delivers all-in-one social media reports templates that help track your performance, optimize your social media campaigns, KPI and show your social media strategy results. With the DashThis social media reporting template, you can focus more on building your strategy and expanding your reach on all social networks.
Creating your social media report on DashThis is quite easy, as their ready-to-use report template comes in very handy. Their social media reporting templates contain everything you need to take your marketing strategy to another level. Designed with the standard social media KPIs DashThis report templates are easily customizable to visualize data just as you want it.
You can also optimize your ROI with their well-designed KPIs that underscores your marketing actions across all platforms. Dashthis can help improve your social media visibility by tracking some key social media presence KPIs every month. They include:
Impressions
Reach
Frequency
Like
Social share
Clicks
Video share
Comments
You can create your Dashthis social report by following these simple steps.

Step 1: Open a DashThis account with just your email and password.
Step 2: Connect to your social media networks.
Step 3: Select from the numerous social media marketing report templates and get started.

With DashThis, you can combine all your social media channels into just one template and see everything you need at a glance.
Social media report template by Keyhole
Keyhole social media report template allows you to deliver quick PDF reports for your social media campaigns. One unique feature of the Keyhole reporting template is it's a live dashboard that allows you to share credible data with your clients without the need for a login.
You can show off your report within seconds to your clients by sharing extensive PDF reports. With the custom report feature, you can adapt your presentation to meet your specifications and your client's needs. All you need to do is to bring out what your client may be concerned about and marry them with yours.
Their historical data report feature can help you retrieve reports from a past campaign. It allows you to backfill up to five years of data from any tracker. Keyhole offers free social media reports for every platform, including YouTube and Instagram, that lasts for seven days.
Social media report template by AgencyAnalytics
An AgencyAnalytics social media report template allows you to communicate and create a social media report to your client clearly and easily. Its monthly summary statement feature helps inform clients of your performance for the last month and whether you are on track to meeting your long-term goals.
The monthly report feature can also guide you in putting up strategies you want to use for the next month to meet your goals for that month. You can rely on its Google Analytics feature in seeing traffic generated from social media reporting campaigns and data or conversions. Agency Analytics social media reporting template comprises both a Facebook insight and a Facebook post section. With the Facebook insight page, you can see your client's followers and their activity on the page.
It also shows useful data such as the followers' demographics, such as their gender, and geographical location. This information is crucial because it gives you an idea of your client's audience and whether you are reaching the targeted audience. Agency Analytics social media report templates are also available for other social media platforms such as Instagram, Twitter, and LinkedIn.
Meaningful metrics to track social media performance
Your social media goals determine the key metrics you would have to data track. For instance, you may want to track conversions. Make sure to track the social traffic and conversion rate metric from those posts in your website Google Analytics. Social Media analytics help you apply data to know how well you are performing and if you need to overhaul your social media marketing strategy. You must measure the key metrics for the best results. Let us look at some of the important social media metrics to measure:
Engagements: likes, comments, shares, and clicks
The engagement rate metric is used to track how vigorously your target audience relates to the content. Comments, likes, and shares are ways most active customers interact with brands.
Awareness, impressions, and reach
Suppose your social media is focused on brand awareness and perceptions. Impressions are the number of times a post shows on someone's timeline, while reach is the potential unique a post has.
Referrals and Conversions (ROI)
Social traffic and conversions are tied to marketing and business goals. It is best suited for e-commerce businesses and companies with websites.
Referrals are how a user reaches your website. In this case, you would have to monitor the referral sources from social media. On the other hand, conversions are when somebody purchases a product on your site. Social conversions indicate the buyer reached the website via social media. Click-through rate (CTR) correlates the number of times someone clicks on your content to the number of impressions you receive.
Final Thoughts
Social media report template help make the reporting process and steps much easier, giving you room to focus on other important details. Using a social media report template, you can data track and measure your key performance indicators and objectives by helping you make smart decisions while maximizing your ROI.
The days of just formulating strategies and hoping for the best are over. Today, as part of a marketing team or freelancer, you can use data points to achieve your goals and create a better social strategy.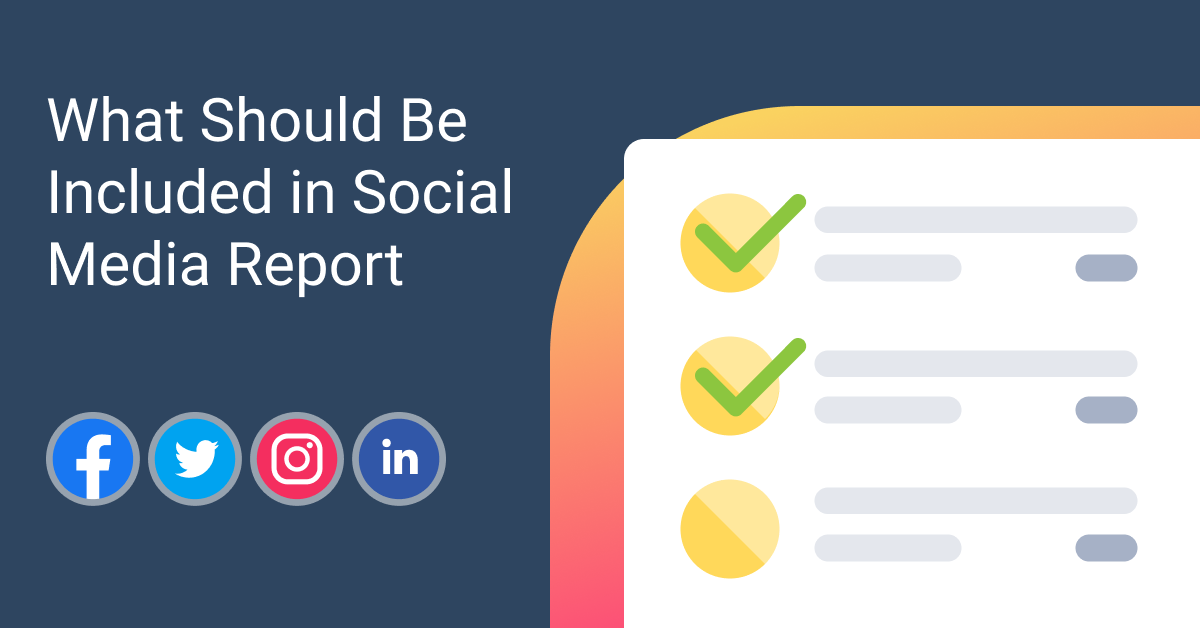 Learning how to write an easy-to-read social media analytics report is an essential part of an effective marketing plan. Having all the information in one place helps you see how much you've accomplished and make result-based changes.
Read more...