#marketing
10 LinkedIn Profile Hacks That Will Make You Look Like an Expert
LinkedIn is for way more than job searches. Want to build a network around your brand? Generate more leads? More sales? LinkedIn can deliver, but only if you present yourself well on the platform. These ten LinkedIn hacks will show you how.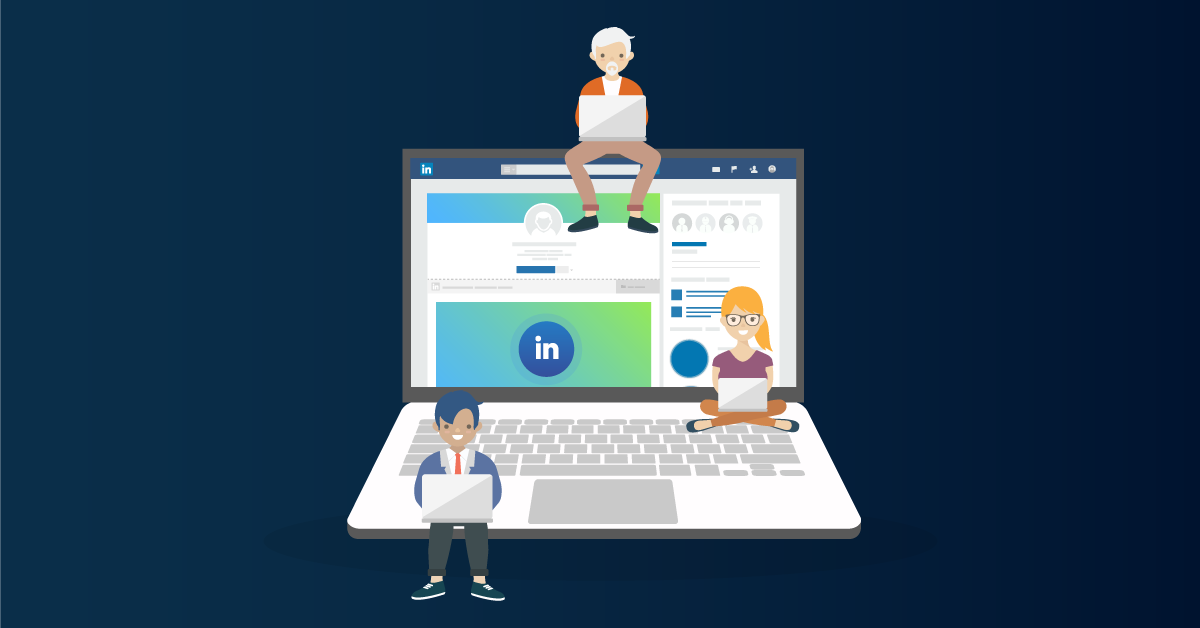 Before we jump right into the hacks, there's one thing that many people are concerned about when updating their LinkedIn profiles: notifications to their network.
No one wants to spam their followers with updates when they're testing new LinkedIn headlines or profile pics, so to avoid that we recommend you temporarily or permanently disable notifications about changes to your account.
Click on the "Me" section in the top row of navigation. Click on "Settings & Privacy" in the pop-up window, click on the Privacy tab in the next window. Find the option "Sharing profile edits" in the list of controls. From there, it's easy: Just turn it off.
Now that we can be sure our network isn't going to get sick and tired of our profile updates, let's explore these LinkedIn profile tips that will make you stand out from the crowd.
1. Give yourself a super-long headline.
Let's start with one of the main fields that make up the first impression when a visitor lands on your LinkedIn profile – your headline.
There's a curious thing about LinkedIn: there are certain things you can do on the mobile version that are not available on desktop, and the headline section is one of them.
If you edit your headline on desktop, you're limited to 120 characters. But do it in the mobile version of LinkedIn, and you can have a headline as long as 220 characters. That means more keywords to work with.
Be wary of going overboard, though. As with all keyword-optimized titles, make sure you include the most relevant ones instead of overstuffing with meaningless buzzwords. Also, you may be tempted to include special characters, i.e. Unicode symbols, in your headline, but think twice before you do.
Sure, they'll make your profile stand out. But possibly in a bad way. Too many characters can make your profile look spammy. It isn't professional, and it could get your messages and invites blocked.
Really, the only legitimate way to use these symbols is to break up phrases. Use the "pipe" symbol | or the middle dot • (option 8 on a Mac) to separate words, something like this:
Jane Doe
Certified CPA | Small Business Enthusiast | Best-Selling Author
2. Split-test your LinkedIn profile picture.
If you've had at least one run-in with visual content, then you'll know what a huge difference a picture can make. Even the slightest change can make a significant impact on engagement and conversion rates, and the same goes for people, too.
Particularly, for people's headshots. The right headshot may get you far more connection requests, business, and even job offers. And with so much riding on how people perceive the person in your headshot photo, why not test it?
That's what Photofeeler does. It's a free online tool that lets people vote on your headshot. You can select from Professional, Social or Dating categories to be rated on, then upload two photos you'd like to use for your LinkedIn headshot.
Let your test run as people review and grade your photos, then see which image gets rated the highest in terms of competence, likability, and influence. Boom! You have your money (head)shot.
3. Create a public profile badge.
Want to add a prompt on a website or in your email signature to have more people look at your LinkedIn profile? It's easy.
Go to "Edit my profile," scroll down a bit and look in the right column. You'll see a link that says "Your public profile badge." Click that and you'll get to pick which badge format you want. Like this:
Select the size you want, then click the blue "Copy the code" button near the bottom of the badge format you like. Then paste the code in wherever you want the badge to show. Some ideas for where to put this:
On your website;
In your email signature area;
On a profile page you have access to (like a university profile page, or on an About.me page);
On your Facebook business page. There's no super-easy way to do this, but if you know how to create an iframe tab, you can put any HTML into that tab – including the LinkedIn badge code.
4. Create a custom URL for your profile.
This is just another little trick that will make you look like you're a LinkedIn pro. It'll also give you a nice-looking URL to put on a business card… or anywhere else for that matter.
To create a custom URL for your LinkedIn profile, log into LinkedIn and go to your profile page. Click "Edit public profile & URL." In the right-hand column of the next page, you'll see the URL editor. You get 5-30 characters for your custom URL, so use them wisely!
5. Stop promoting your competitors.
Ever noticed how when you look at someone's profile, there's that "People Also Viewed" section in the right-hand column? Often, the people listed in "People Also Viewed" are your competitors. So stop sending them business!
Go to the "Me" tab in the top row of navigation, click "Settings & Privacy" from the pop-up menu that will appear, go to the Privacy tab of the next screen.
Find "Viewers of this profile also viewed" in the list and turn it off. You'll keep more people on your profile page, rather than clicking away to somebody else's page.
6. Grow your connections through other social media platforms.
Now let's move on to the next big thing when creating your LinkedIn strategies – and that is your LinkedIn network. Just like with keywords, it's meaningless to stuff your network with people you don't know and who have little to no impact on your professional wellbeing.
Focus on people you actually have real connections to. That maximizes your chances for success. But bear in mind, that on social media, "real connections" have a much broader sense and aren't limited to people you know in real life – a real connection includes people who follow you on Facebook, Instagram, Twitter or somewhere else online.
Even if you don't have many friends and followers on those platforms, think about your email contacts. Remember your old school buddies, people from your hometown, those business cards you collected at the last professional event you attended. If any of them know something you professionally, they're a potential connection.
Now here's the other important thing: When you ask someone to connect with you on LinkedIn, you should always send a personalized message, which can look something like this:
"Hello, Daryl.
We're following each other on Twitter. Thought I'd reach out and see if we could connect here.
Best,
Pam"
It's a simple, short note… but it works. You might even decide to follow a bunch of industry leaders on Twitter or Instagram, then wait a month to see how many follow you back and then circle back to LinkedIn to invite them to connect with you there.
For power users: Want to automate your networking on LinkedIn? Check out LinkedHelper, a Chrome plugin that will:
Send personalized invites to your 2nd and 3rd connections
Get you hundreds of endorsements (by strategically auto-endorsing others)
Add a custom signature file to all the messages you send on LinkedIn.
7. Get around the email requirement for connections.
When you connect with some people on LinkedIn, the system will require you to give their email address as proof that you know them (and are not just sending spam connection invites). This can shut an invite down quick.
But if you use the mobile version, you are much less likely to hit that email wall. The mobile system will let your invite right on through.
Another way to get around this connection block is through groups. If you're in the same group as the person you want to connect with, you can send them a message. Even if you aren't connected. Here's how:
Go to the group's main page.
Click the count of how many people are in the group
Search for your target's name on the list.
Once you've found them, click the envelope icon to send your message.

8. Start sharing content on LinkedIn.
A surefire way to get more eyeballs on your LinkedIn profile is by sharing relevant, interesting content. If you are struggling with writing do not let this stop you, hire writers who will definitely know their work. This will not only grow your network but also establish you as an expert in the field.
Use LinkedIn's native content system to write short stories about your professional achievements, fails, and gains, tips and tricks, etc. If you already blog somewhere else, go ahead and reuse that content on LinkedIn!
Don't let the fear of Google's duplicate content penalty keep you from using this hack. There is no such thing. Especially if you first publish on your own site, wait a week, and then publish on LinkedIn.
You'll publish your LinkedIn post via the "Publisher" feature. If those posts happen to go viral, they'll appear on LinkedIn Pulse – which is basically LinkedIn Publisher's greatest hits of the moment.
Want to get maximum results from the posts you publish? Try Outgrow's LinkedIn post assessment tool. It will tell you if your LinkedIn posts are optimized based on Publisher's best practices.
9. Find out your social selling index.
This one is for those of you who are networking for business or outright doing your sales work via LinkedIn. In the biz, that's known as "social selling." LinkedIn has an interesting assessment tool that will show you how well your profile is optimized for it.
Click here to see your own Social Selling Dashboard (provided you're already logged into LinkedIn). It'll look a bit like this:
Your social selling index is basically a measurement of how well you're using the entire LinkedIn platform. Improving your score won't benefit you directly, but doing all the things that it takes to increase your score (posting content, connecting with new people, contributing to discussions, etc.) will definitely lead somewhere.
So go ahead: Aim for a score of about 80 and see if it has any positive impact on your engagement, network, and even career opportunities.
10. Use showcase pages on your LinkedIn company page.
Creating a LinkedIn company page is a whole other topic in itself, but if you already have one, make sure you utilize it to its full potential. One way to do so is by adding showcase pages.
LinkedIn's showcase pages are designed to give you more room to promote permanent aspects of your business, like product lines, annual events, books, news, and other stuff.
Each company can have up to 10 showcase pages. Just keep them current, and you can basically have a mini-website hosted by LinkedIn. With showcase pages, you can:
Gain insight into the performance of your pages
Get notifications on your Page's engagements
Sponsor updates from the page
Feature groups on the page
Manage content through social media management apps
Appear in search results for searches and Ads business accounts on LinkedIn
Allow members to follow your pages.
Here's an example from Adobe. Notice how their showcase page promotes their other showcase pages, too?
Showcase pages and company pages are especially good to use now that tracking their performance has gotten way easier. With Whatagraph, you can easily create LinkedIn company page analytics reports.
Conclusion
There's a ton of business to be found on LinkedIn. It may not be as big as Facebook, but often the connections are often worth much more.
And now that you know a few ways to connect better, stand out better, and look like a total LinkedIn pro, you'll probably get better results. Make sure to think out of the box as well – LinkedIn still poses many untapped opportunities, such as native videos, SlideShares, and so on.
Published on Nov 10, 2017