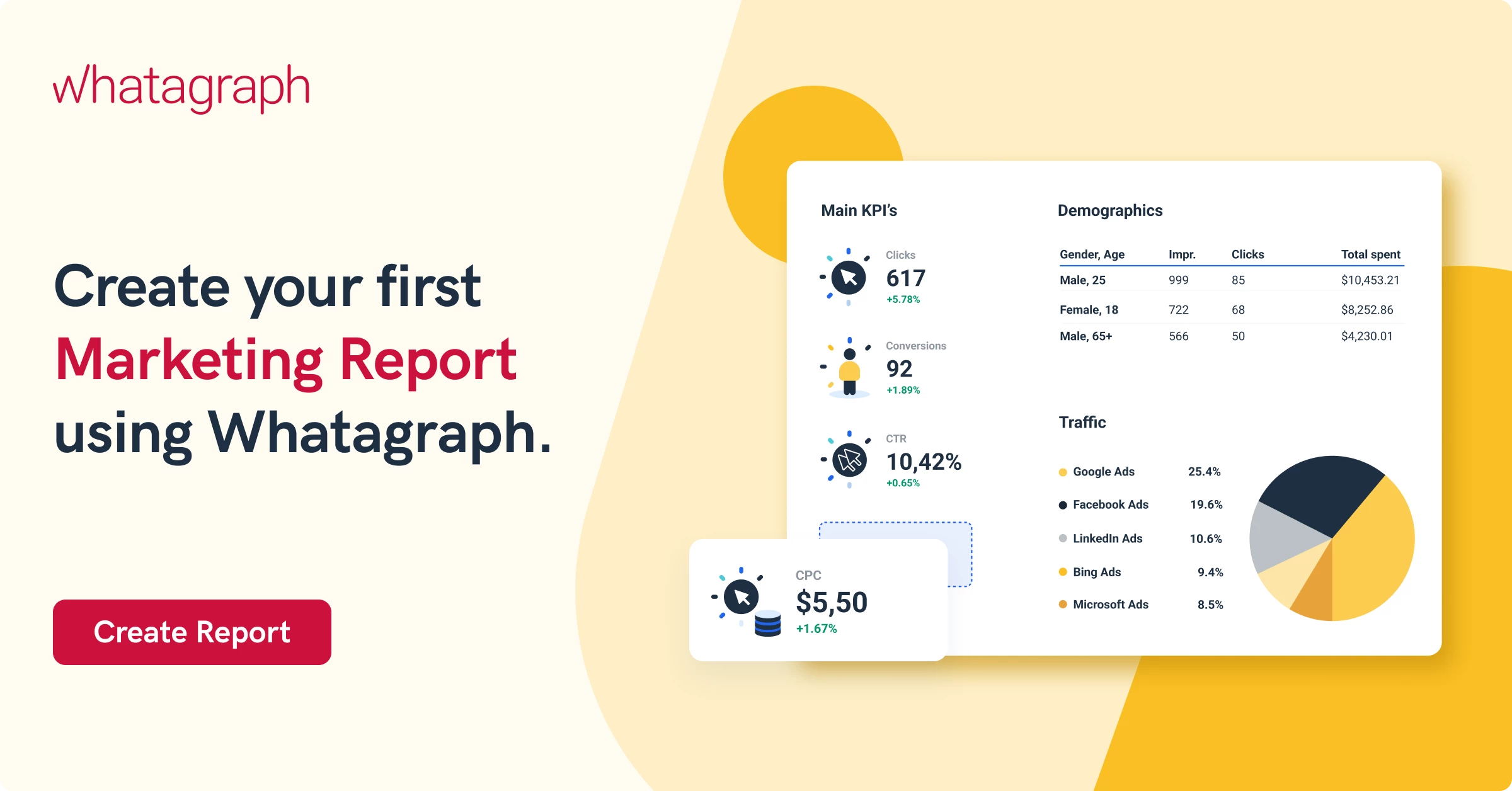 What is a Marketing KPI Dashboard?
A marketing KPI dashboard is a tool used to measure the current performance of marketing efforts, identify issues and gain actionable insights for further growth. Such marketing dashboards are usually used by marketing and business executives. They're also helpful for tracking managers and specialists' daily, weekly or monthly performance.
Differences Between Agency And In-house KPIs
When speaking of any marketing analytics, the assumption is that we're talking about KPIs for marketing agencies. That is not always true. In-house marketing teams have just as much need for marketing metrics - and in some cases, even more.
The main difference between agency and in-house KPIs is this:
An agency works to bring leads for their clients;
The in-house marketing team works in tandem with a sales team to bring leads and convert them into paying clients.
Naturally, the KPIs that will be mentioned in this article will suit teams of different purposes and configurations. Despite that, both agencies and in-house marketing teams will find these KPIs crucial.
What Tools Are Needed for a Marketing Dashboard?
You will need all your marketing channels as data sources. Plus, a powerful data congregator and visualizer for an accurate and insightful marketing dashboard. Here's how a list might look like:
Whatagraph - an exceptionally visual tool that congregates data from many different sources. It then uses a drag&drop widget system to build entirely visual dashboards with data coming from several sources;
Google Data Studio - a free tool to visualize the data from many sources. Although difficult to use and has limitations on data collection, it's an excellent tool to start with;
Google Analytics - a classic tool you will need to track your lead conversions, website traffic, marketing campaign effectiveness and many more;
Google Ads - data from this platform will show the effectiveness of PPC campaigns;
Facebook Ads - if your social media marketing includes Facebook, its ads integration is a must-have;
Other social media platforms - Instagram, TikTok, Snapchat, Twitter, LinkedIn - whichever platform you're using, you will need this data;
Email marketing platforms - MailChimp, Klaviyo, ActiveCampaign or other similar platforms for email campaigns will be necessary to get a complete picture of your KPIs;
SEO tools - Google Search Console, Ahrefs, Semrush and similar platforms will provide data on your SEO efforts;
Ecommerce platforms - if you're working with online platforms like Shopify, BigCommerce or WooCommerce, this data is invaluable for your KPI dashboard.
There are always more tools available to pull data from. If there isn't a direct integration for a data aggregator like Whatagraph, you can always export data to Google Sheets and transfer it to the platform. Otherwise, you can connect your sources via public API.
KPIs for Marketing Performance Dashboard
Out of hundreds of KPIs, there are 16 that can be identified as vital for accurate performance indication. They can be split into three categories:
Conversion funnel: KPIs that deal with leads, lead qualification and sales closing. These are most often used by in-house marketing teams;
Financial KPIs: these deal with acquisition costs, order values, returns on investment, etc. They're critical when working with eCommerce;
Advertising KPIs: these measure the success of your marketing campaigns and are most often used by agencies to showcase their work effectiveness.

Conversion Funnel
This is where the cooperation between sales and marketing teams is crucial. These KPIs are more prevalent in in-house marketing departments. They measure the overall business objectives that sales and marketing set out to achieve.
Website Lead Conversion Rate
This KPI shows how well your website converts incoming traffic. These are top-funnel leads, not yet qualified based on their value or purchase intent.
Example: With Whatagraph - and Google Analytics as a marketing data source - you can view conversions at the exact date or observe change over time.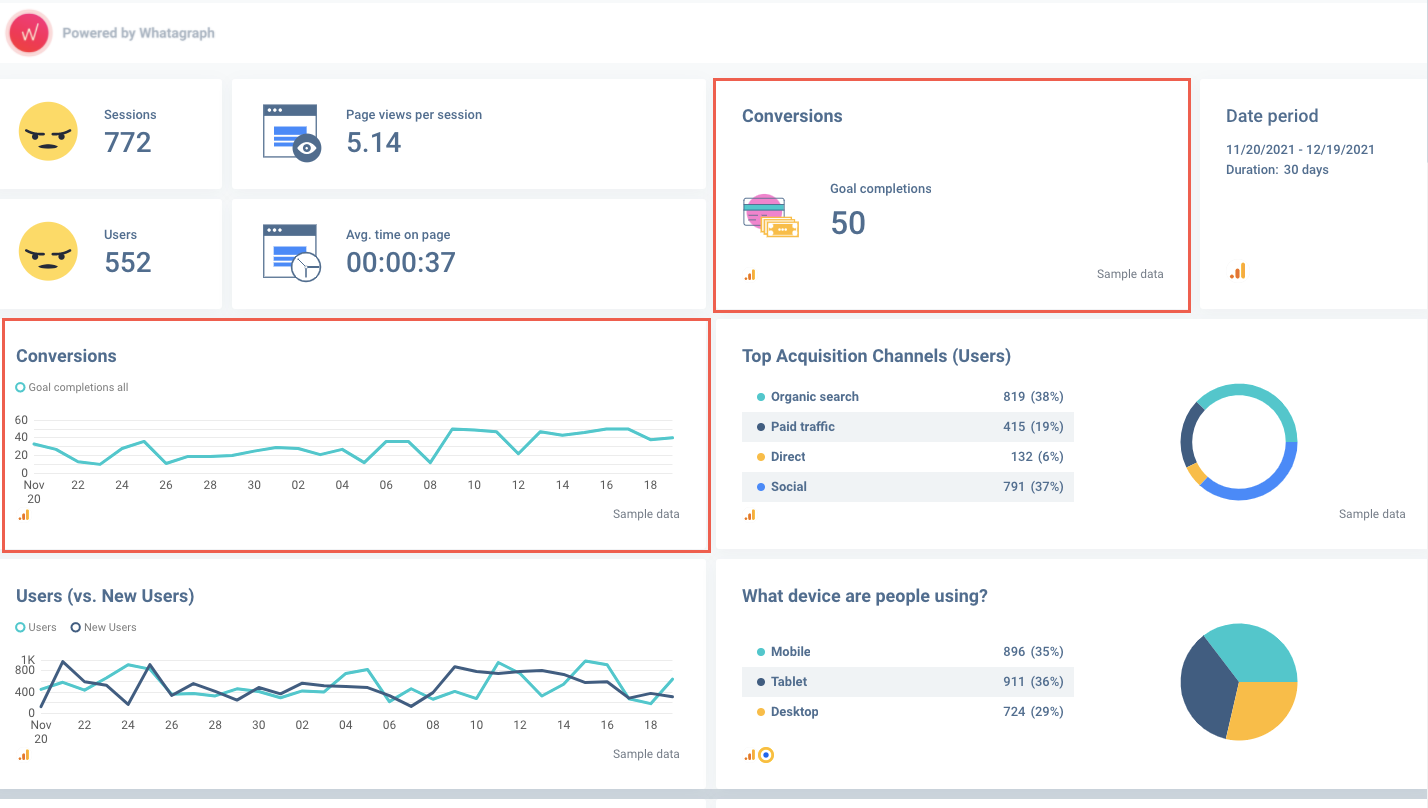 You can start tracking this KPI with the Google Analytics dashboard template.
Goal Conversion Rate
Leads are one of the goals of the website. But if you're tracking multiple actions a lead can take, you will need to track them all. For example, you can have a lead fill out a form. Or you can have them download a lead magnet. Each goal will have unique tracking attributions and can be viewed in the same or separate marketing dashboards.
This KPI can also be tracked in the same Google Analytics dashboard template.
Leads into MQL Ratio
This shows the percentage of leads that became marketing qualified leads. MQLs are leads that have a higher chance of buying compared to unqualified leads. The lead becomes an MQL based on specific actions: in B2B, they may leave their contact information so sales can approach the buyer directly.
Accurately targeted marketing campaigns would bring a higher number of MQLs. It's a valuable metric to determine the effectiveness of marketing efforts.
For a full view of this KPI, you will need this cross-channel dashboard template with offline data capabilities of Whatagraph.
MQL into SQL Ratio
Going down the lead funnel, sales qualified leads - SQLs - are leads that show clear purchase intent. They may become interested in the product or ask many questions, which makes the sales team's efforts easier.
The KPI for an SQL ratio is a good indication of how well sales and marketing teams work together.
Sales Closing Rate
This is the percentage of deals closed against the total number of quotes issued. While not a direct marketing KPI, it correlates with MQLs and SQLs, showing how effective the marketing strategy is at providing quality leads.

For a full view of marketing and sales KPIs, you will need this cross-channel dashboard template with offline data capabilities of Whatagraph.
Landing Page Conversion Rate
This metric shows how well each landing page (LP) converts. You can determine which LPs bring the most value and which need to be updated.
Example: Here, you can see all top-performing LPs not just by conversions but by page views, users and sessions.

Another KPI that can be tracked on the same Google Analytics dashboard.

Financial KPIs
These KPIs are vital to track on eCommerce sites. A successful eCommerce business will need these key performance indicators to track their performance and adjust their site accordingly.
Cost per Acquisition (CPA)
This metric shows how much it costs to turn one lead into a customer. It's also referred to as Customer Acquisition Cost. CAC considers marketing spending and sales and other costs associated with acquiring a customer.

Example: with Whatagraph, you can track CAC at the given date and see the trend over time in a single dashboard. This dashboard is done with Shopify and Google Analytics data for the most accurate picture.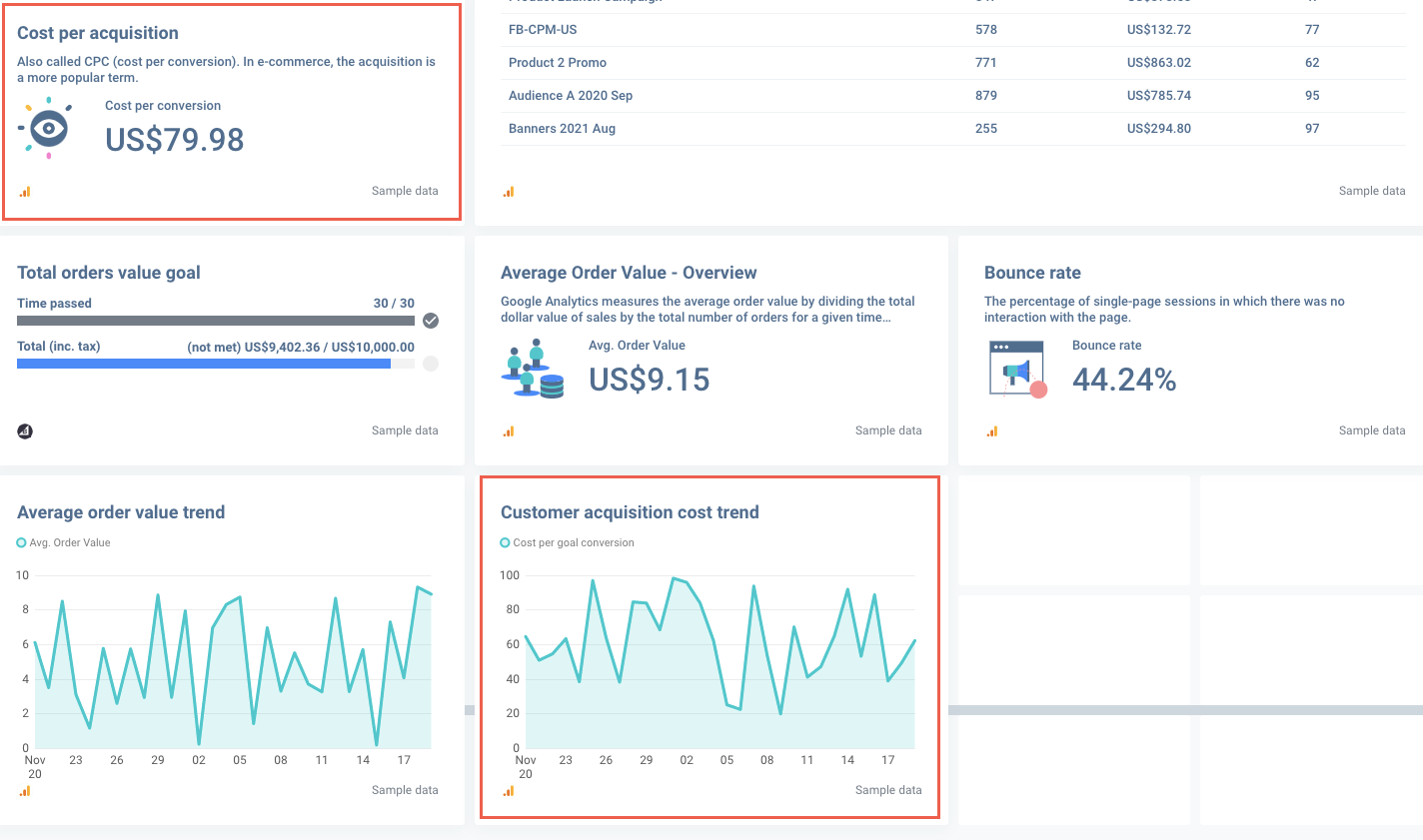 You can add Shopify data straight into the Google Analytics dashboard template.
Cost per Lead
This KPI measures how much it costs in ad expenditure to bring a lead. It takes into account all your marketing efforts and what it takes to convert them to leads. It's a popular metric for performance agencies since it doesn't take into account sales expenses.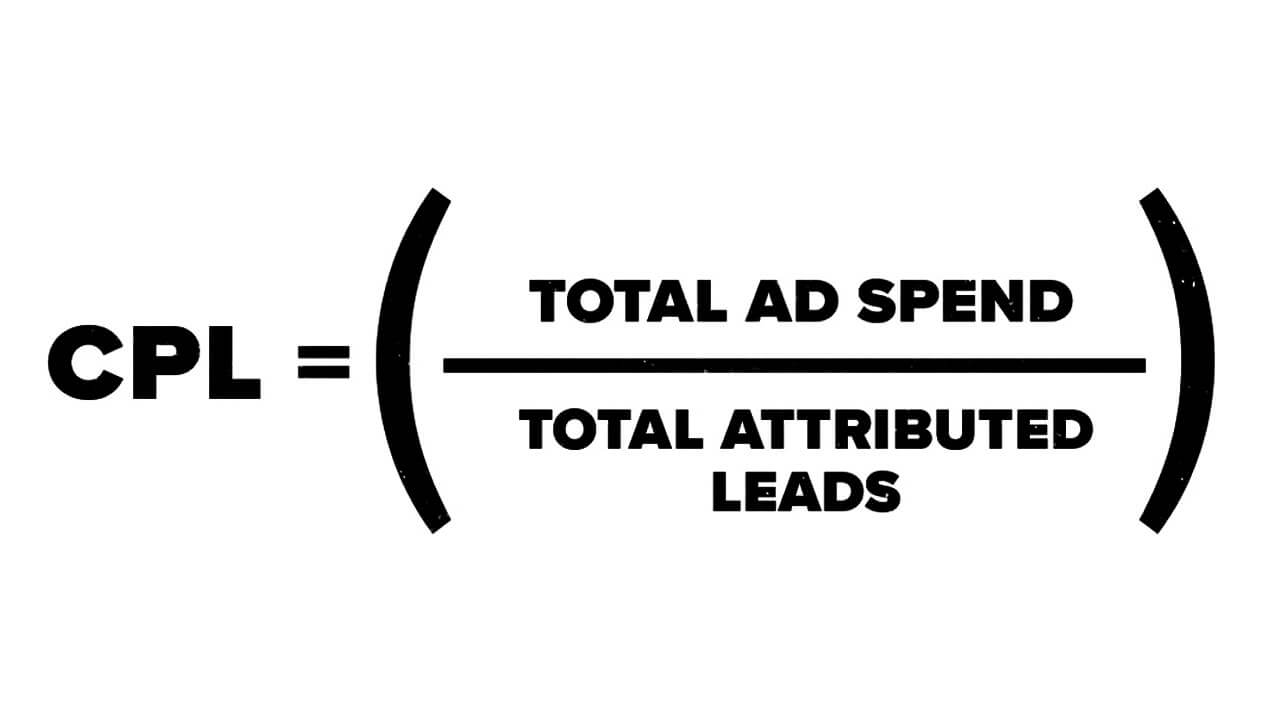 For a complete look at CPL, you either use a cross-channel dashboard template or a PPC dashboard template if you're measuring just paid media.
Sales Numbers And Targets
KPIs that show how the business is growing overall. Agencies that deal with eCommerce performance and in-house marketing teams need to keep a close eye on these numbers, as sales are the primary goal.
This KPI can be set in terms of revenue or number of purchases.
Example: With Whatagraph, you can view sales numbers from Shopify, WooCommerce or BigCommerce platforms, directly integrated. Paired with numbers from Google Analytics, you can get an accurate picture of your sales numbers.
The goal widget also allows them to set sales targets and constantly monitor their progress.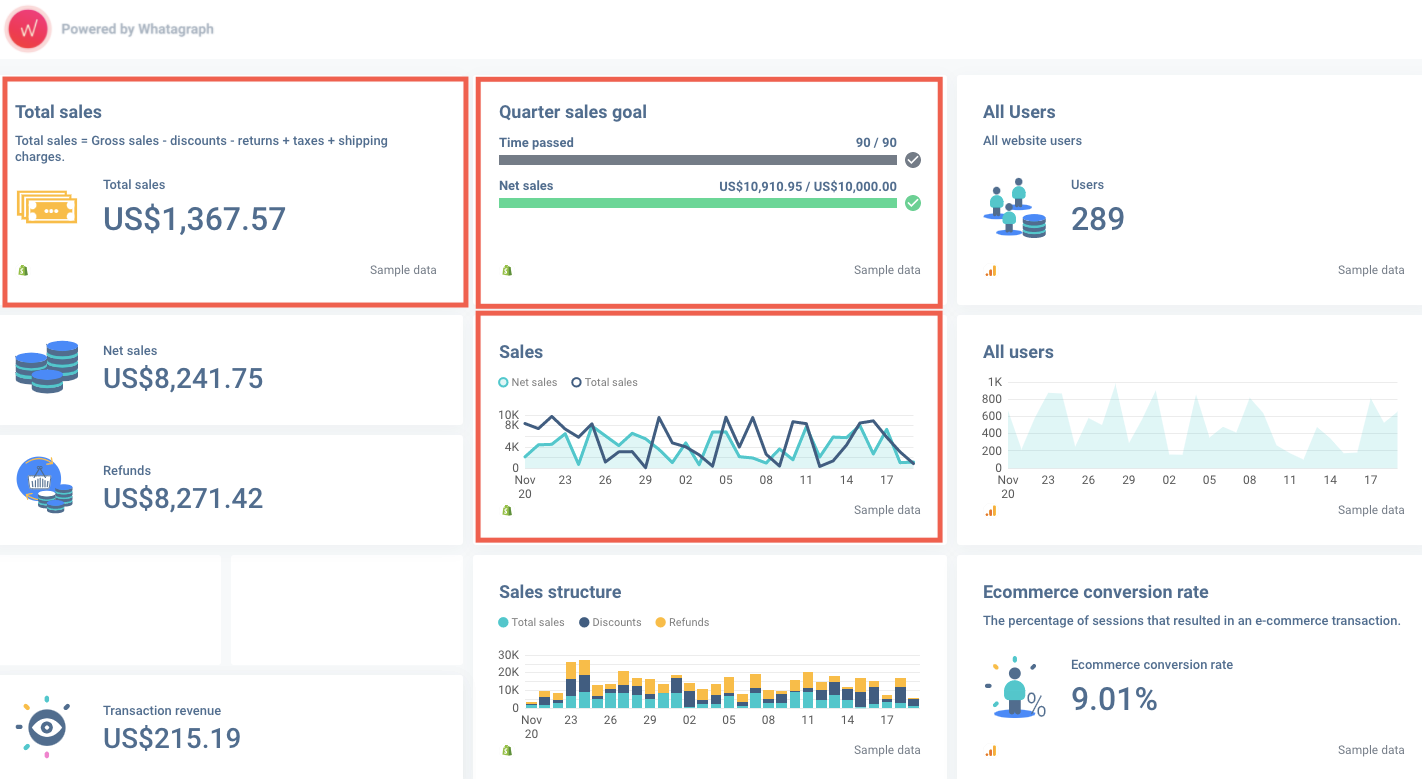 Average Order Value (AOV)
AOV in eCommerce (and outside of it) determines how much average revenue each purchase brings.
In B2B, a sales team can look at AOV to show how successfully each team member promotes higher value products. In eCommerce, AOV is helpful in promoting purchases and how the customer perceives their value.

Example: In the same report together with sales numbers and CAC, you can see the average order value. You can view it in the current average value and a trend over time as with other metrics.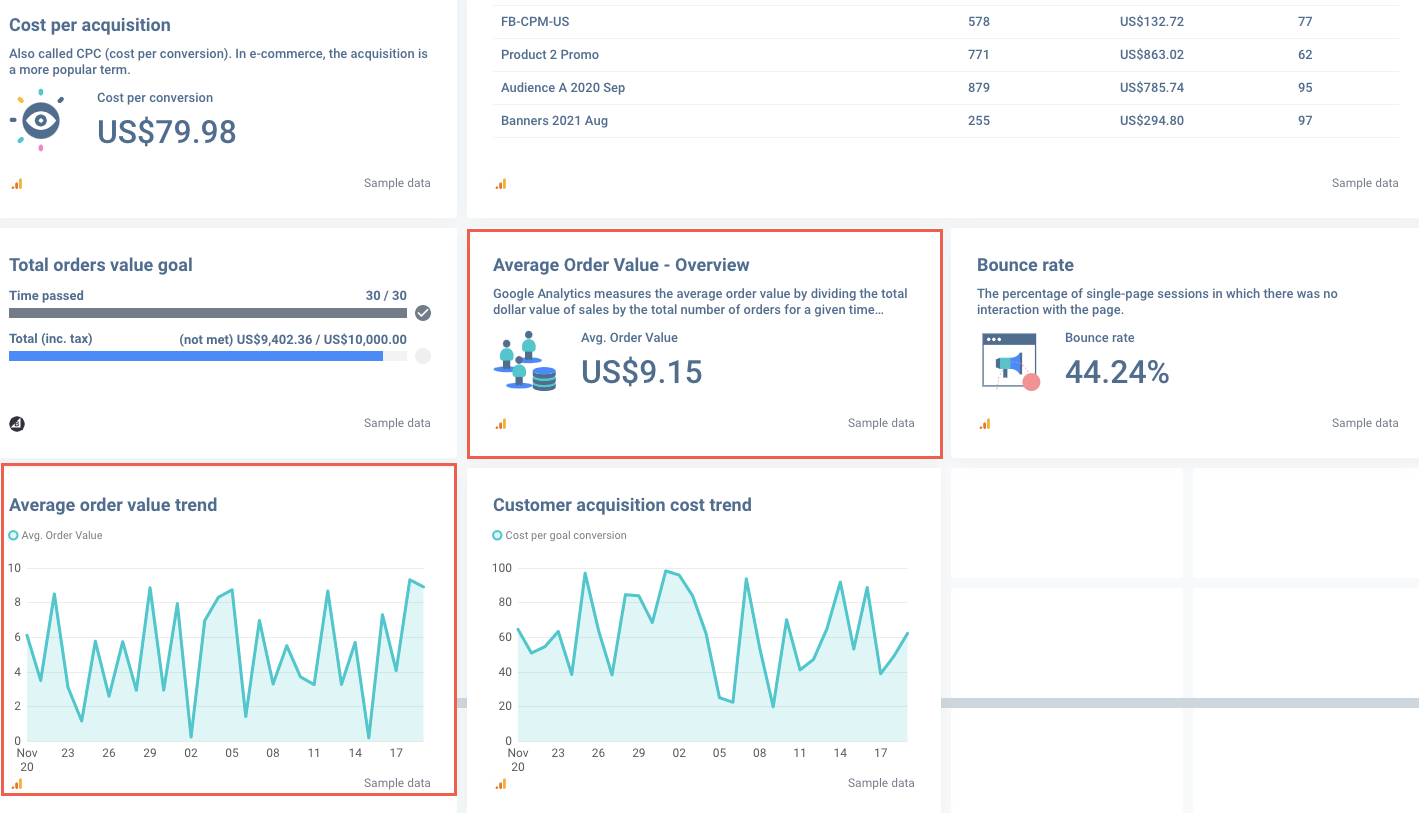 Customer Lifetime Value (CLV)
A KPI showcasing if your customers are profitable in the long run. It takes much more investment to bring new customers onboard than retaining existing customers. That's why CLV is an essential indicator of how much value you can extract from each existing customer.

Return on Investment (ROI)
This KPI indicates how efficiently you're spending your marketing budget. You calculate ROI for marketing spend, as well as for total sales and marketing spend.
This metric is critical to executives, as it indicates if their business made a profit or not.

Advertising KPIs
We arrive at marketing metrics that are most popular among performance marketing agencies. Whether it's social media KPIs or paid advertising campaigns - these metrics help closely track your marketing performance exclusively.
Cost per Click (CPC)
This metric shows how much it costs in paid or organic advertising for the user to click on your link. Depending on whether the cost is high or low, it's an excellent way to measure the efficiency of your digital marketing efforts.
Example 1: Here, you can see a consolidated PPC dashboard by Whatagraph. It consists of Google Ads, Facebook Ads, LinkedIn Ads and Microsoft Ads as marketing data sources. You can add more if you use other channels.
In the example, you can see the average CPC for all channels. Not only that, if you also measure CPA (cost per acquisition mentioned earlier), you can also track it in the same marketing dashboard.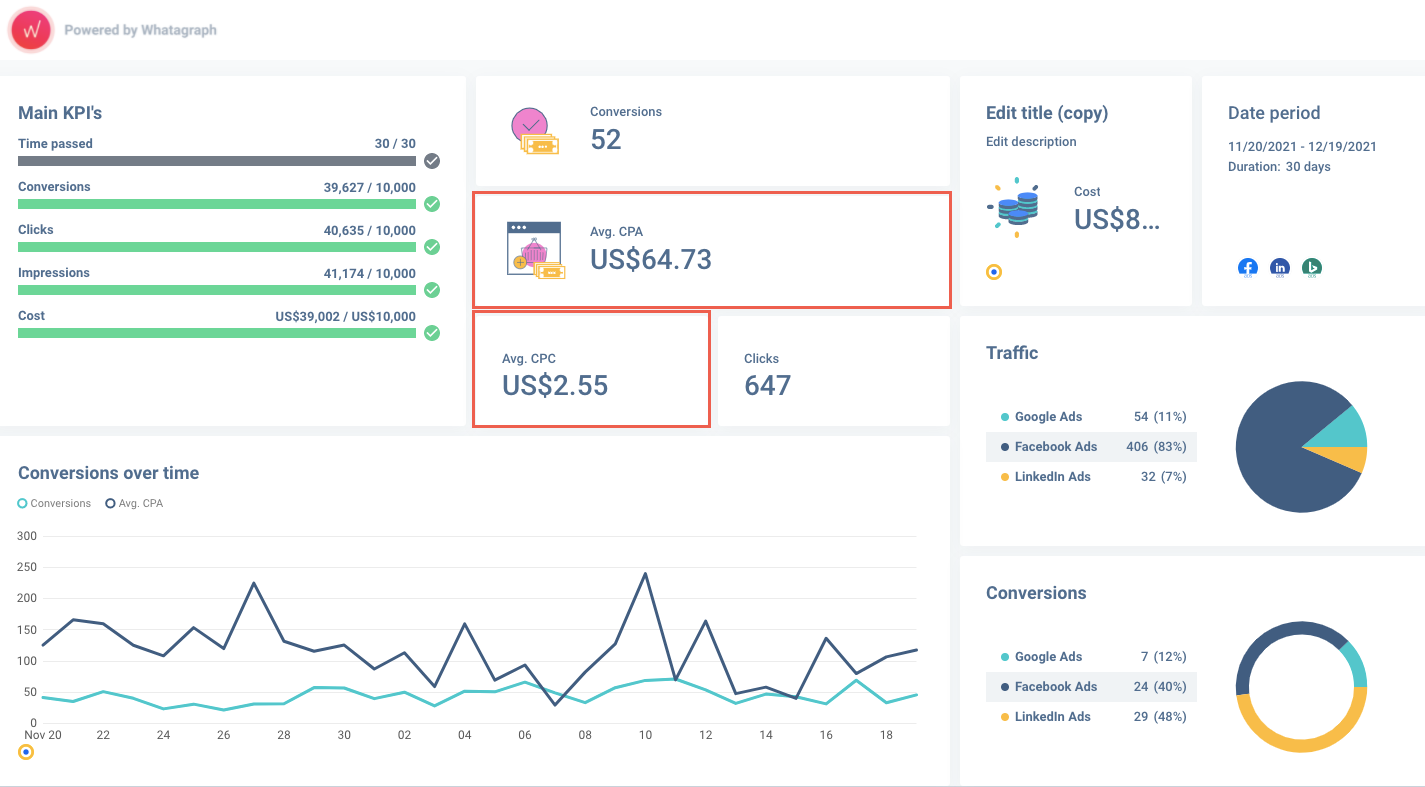 You can start using the PPC dashboard immediately via Whatagraph's templates.
Example 2: You can also track CPC and other metrics by channel. If your marketing objectives include channel performance, a consolidated social media dashboard like this will showcase the most critical metrics.

Bounce Rate
This is the percentage of users that came onto your website but did not interact further than the page they landed on.
Example 1: Bounce rate is an important indicator for all types of websites. In this example, you can see the bounce rate next to all eCommerce data. It indicates whether a potential customer takes an interest in more than one item in your store.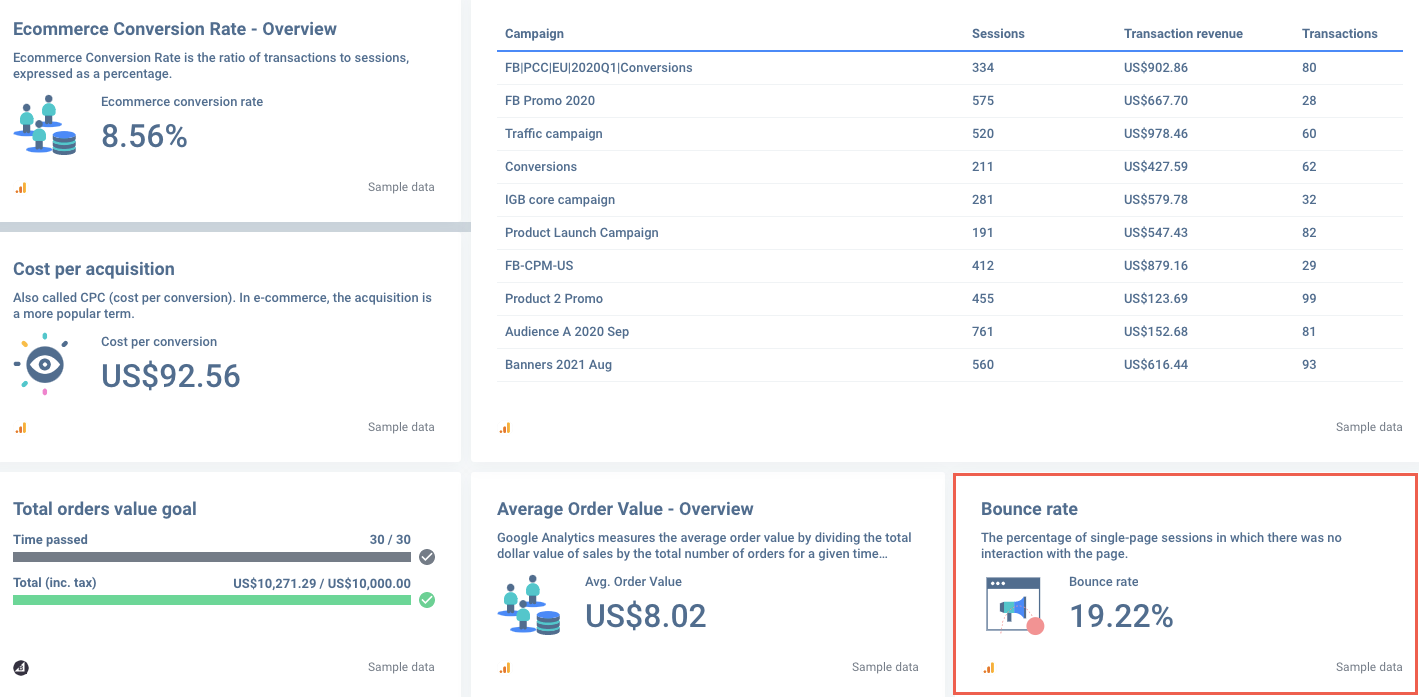 Example 2: On any other website, bounce rate determines if the website's content is relevant to the target audience.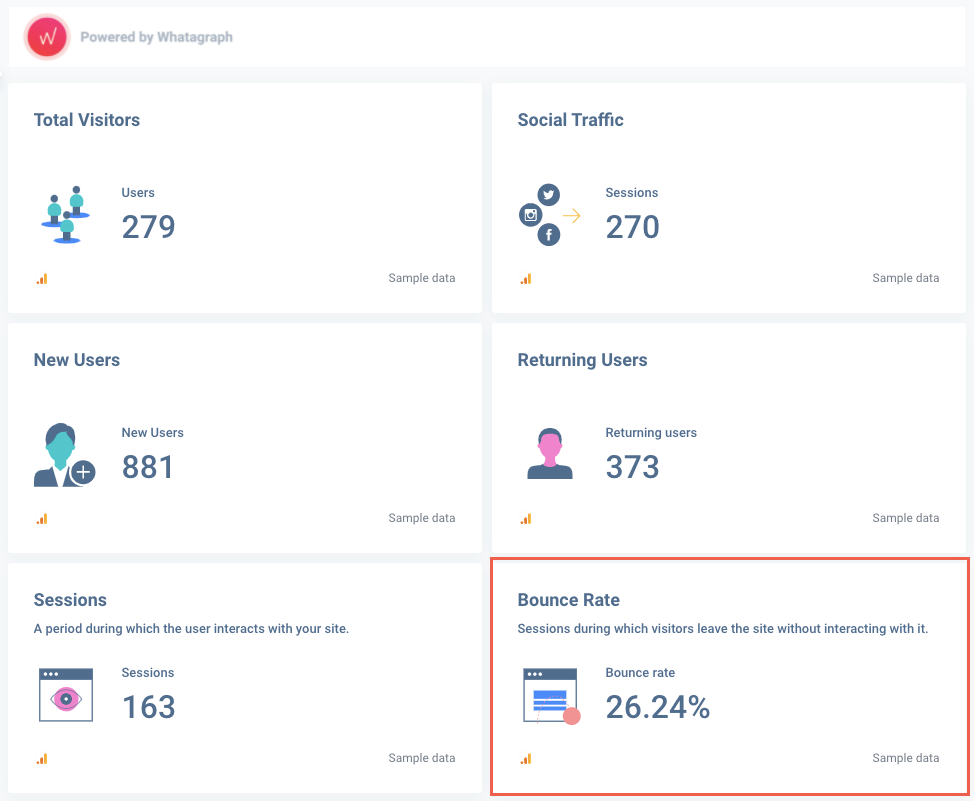 Engagement Rate
A crucial metric to track social media performance. Depending on the platform, engagement can mean clicks, reactions, shares, saves, etc. Social media campaigns can also use this metric to track how many followers respond to the promoted content.
Example 1: Here, you can see a snippet from a consolidated social media dashboard. It consists of Facebook, Instagram, Snapchat, LinkedIn and Pinterest as marketing data sources.
You can track the engagement change over time to see trends that correlate with your social media campaigns.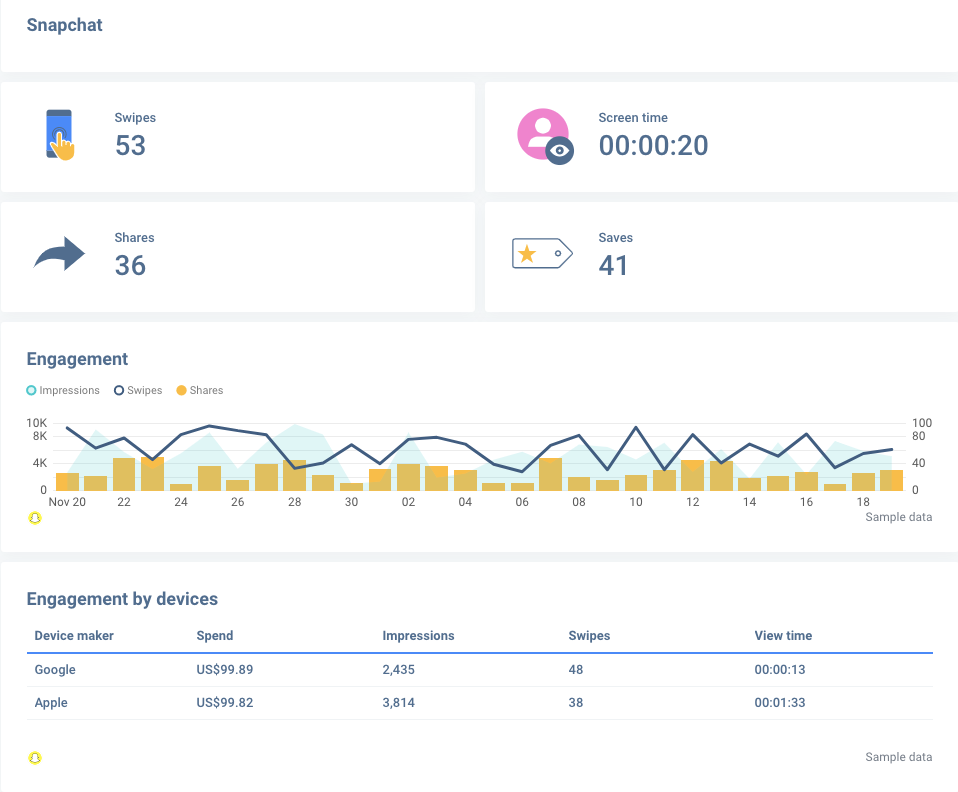 The consolidated social media dashboard template is ready for use.
Alternatively, you can use separate dashboards for individual social networks: Facebook dashboard, Instagram dashboard, Twitter dashboard, LinkedIn dashboard and others.
Click-Through Rate (CTR)
This metric shows how well viewers of your ads respond to the presented content. CTR can be measured per channel or per campaign.
Example: In the same consolidated report in Whatagraph, you can see CTR for each advertising channel.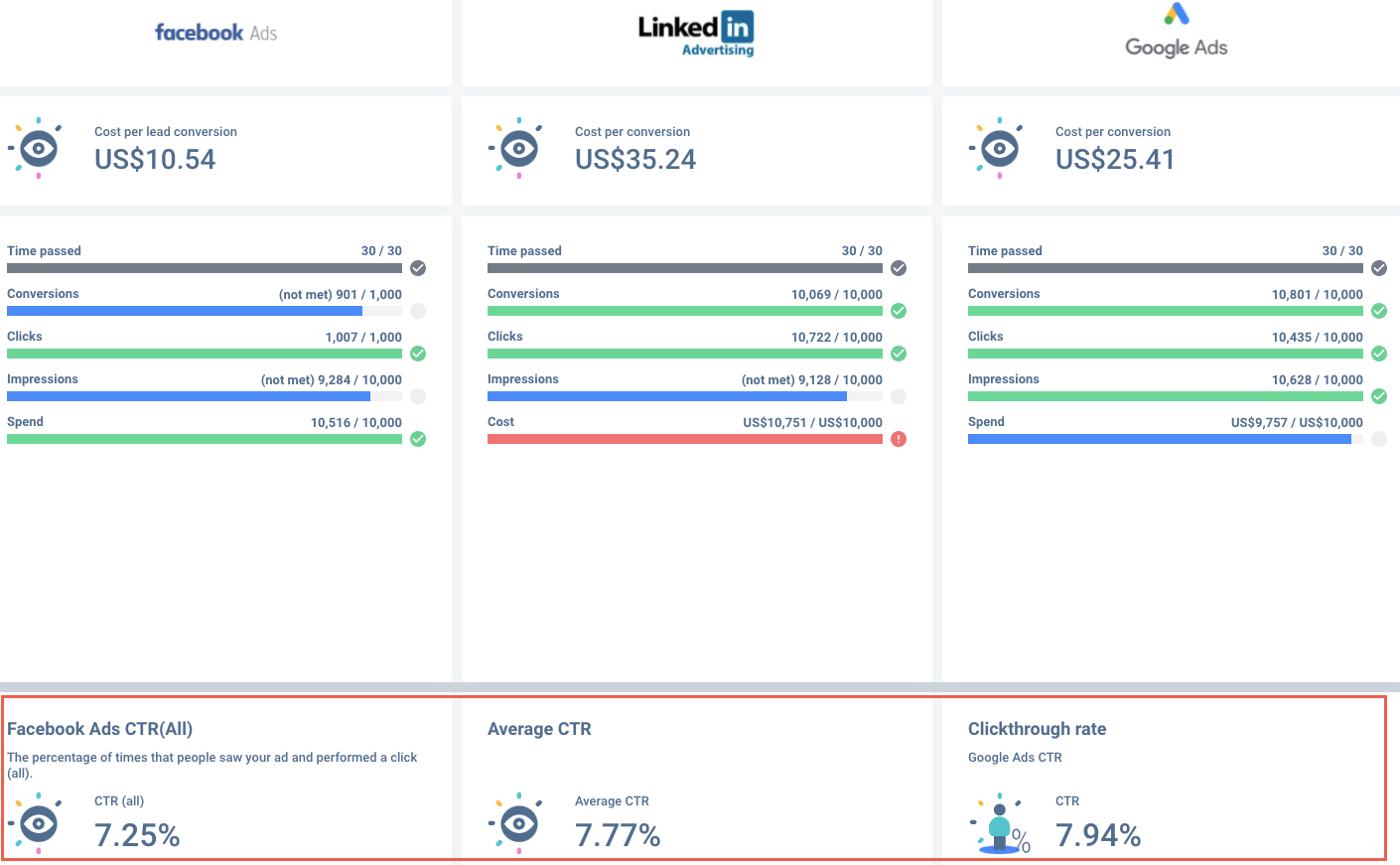 All three of the channels can be viewed in a single PPC dashboard. Or they can be separated into individual dashboards for Facebook Ads, LinkedIn Ads and Google Ads.

Where to Start?
The first step is to determine your business objectives. Then pick KPIs from this list that showcases those objectives and how far you are from reaching them.
The second step is to determine the data sources you will be using. Based on chosen KPIs, choose where your data will be coming from.
The third step is to aggregate the data using Whatagraph into a single place. Then build your digital marketing dashboard using drag&drop widgets or using one of the templates suggested in this guide or from our library.
Finally, show off the effectiveness of your marketing strategy with your professional marketing performance dashboard.