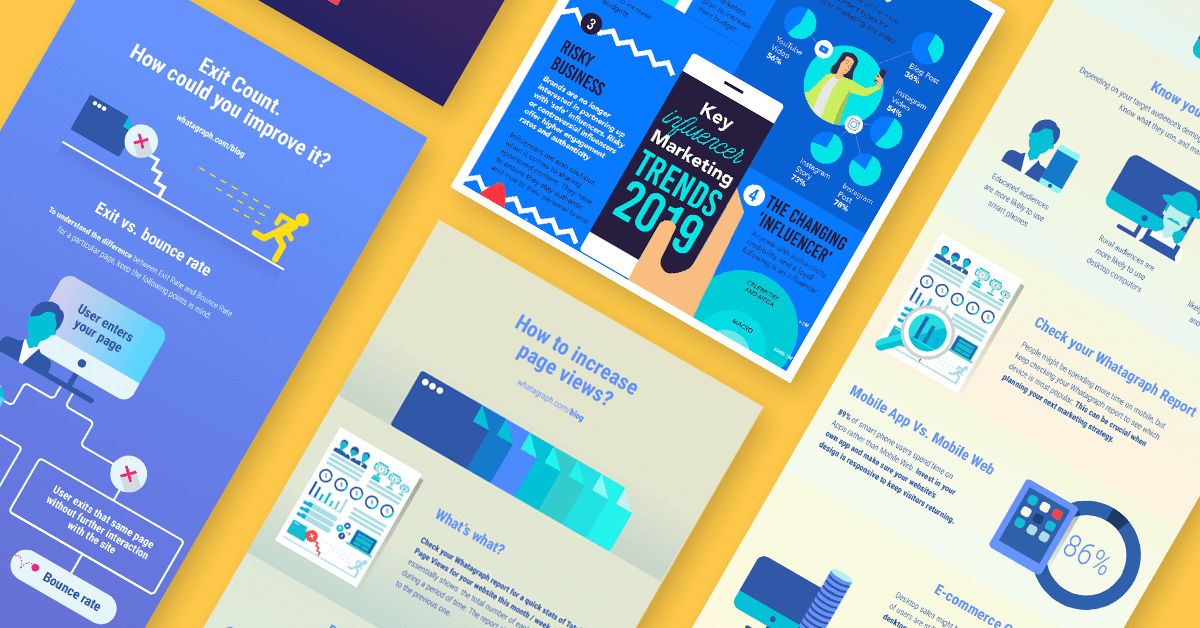 10 Best Marketing Infographics [2019 Edition]
Jul 29, 2019 ● 3 min read
Check out this roundup of best marketing infographics for 2019. Visually engaging and easily shareable, these infographics offer insights on social media, SEO, email marketing trends, content marketing statistics, and more!
In today's world, numerous physiologists and sociologists are actively discussing the condition called clip-thinking. Clip thinking refers to a fragmented information flow, which causes difficulty of perceiving the surrounding world and relationships that exist between separate objects.
Okay, in simpler terms, it's something like when you're reading a book and constantly have to go back to the previous sentence to make sense of the full paragraph. The words you consume are so fragmented and leave your brain so quickly, they're unable to form into a unified piece of information.
The cause of this phenomenon is largely attributed to the rising popularity of TV and the internet. Short, snappy messages and bright visuals became the most engaging way of understanding the world around us. Naturally, it has lead to the rise of infographics.
Marketing Infographics: what are they good for?
Infographics are a type of data visualization that consolidates information about a certain topic in an easy-to-understand overview using images, charts, and minimal text. If I had to describe infographics in one sentence, I'd say it's the case when "one picture is worth ten thousand words."
Because their main purpose is to make complex information easily digestible, infographics can be used by literally anyone. Marketers are no exception – we use them to promote brands we work with, but also to get insights into the ever-changing digital marketing landscape, tips and tricks.
That's why we combined a list of best Marketing Infographics for 2019 that will provide you with the most relevant marketing news and statistics.
Summary of infographics:
Digital marketing trends for 2019
Marketing channel overview
Social media statistics
Best times to post on social media in 2019
Image and video sizes for social media
Influencer marketing trends for 2019
Dominant SEO trends for 2019
State of mobile in 2019
Visual content marketing insights
Email marketing statistics
1. Familiarize yourself with the digital marketing trends in 2019
Digital marketing is constantly evolving – what used to be important and relevant yesterday might be meaningless and outdated tomorrow. To help you keep up with the ever-changing landscape, check out this excellent infographic by DevriX that will help you build successful marketing campaigns in 2019.
2. Understand the popularity of different marketing channels
Data never sleeps! This awesome infographic by Domo gives us an in-depth look at just how much information is generated by different marketing platforms every single minute of the day. We were honestly surprised to learn there are 188 million emails sent and a whopping 4,5 million Google searches performed every minute.
3. Revise your strategy based on 2019 social media statistics
Social media is growing and changing rapidly. Not only are new platforms emerging, but user demographics and behavior changes just as much. That's why it is super important to keep track of social media statistics and revise your strategy based on their usage habits. Check out this quick infographic by Oberlo to learn more.
4. Discover the best times to post on social media in 2019
Since the advent of social media, marketers have been trying to figure out the magical time to post in order to maximize engagement, boost reach, and generate more leads. Truth is – that time is different for everyone. But it's still beneficial to know the average best time based on overall engagement, and this beautiful marketing infographics by Sprout Social lets you know just that!
5. Check if your media dimensions are up to update
If you are not sure what size the images and videos of your social media posts should be in 2019, this infographic by Jamie Spencer of Make a Website Hub offers an amazing cheat sheet for all popular social media channels!
6. Learn how to get the most out of influencer marketing in 2019
Influencer marketing was booming in the past few years and it is still evolving every day. With the majority of digital marketing professionals and brands claiming they are willing to increase the budgets of influencer marketing, Visme prepared a handy infographic about the key social media influencer trends to look out for!
7. Optimize your website based on SEO trends for 2019
Say what you want, but the constant battle between PPC and SEO isn't over. On the contrary, it's getting harsher by the minute, and no one in their right mind could argue against the importance of search engine optimization in 2019. Check Jootoor infographic to understand the latest SEO trends that will help you bee on the top of a search engine!
8. Make sure you're ready for the mobile takeover
The number of actions taken on mobile phones is growing rapidly: we're no longer passively browsing, but also shopping, wiring money, voting, etc. That's why it is more important than ever to make sure your mobile presence isn't lacking and maybe even try some cool new things, like AR or VR. Check out this infographic by Robust Tech House to get even more ideas for your mobile strategy in 2019.
9. Spice up your 2019 content marketing strategy with visuals
Content marketing is literally everywhere: from social media posts to this article you're reading right now! But those specializing in the field should know that it's not enough to be savvy with words anymore. If you want your content to be truly shareable and engaging, you must embrace visuals. This infographic by Venngage dives right into the statistics and trends of visual content marketing for 2019.
10. Follow best email marketing practices for 2019
Email marketing, the underdog of the past couple of years, is coming back full throttle this year. With segmentation and personalization at the top of the list, there are also other trends that you should hop on, like drip campaigns, auto-responders, etc. Check out this infographic by Game of Conversions and evolve your email marketing in 2019!
Conclusion
Infographics are a great way to present complicated information about an organization, a brand or a general topic. Bright visuals combined with short snippets of text make still make it one of the most captivating ways of visual communication on the web. Add them to your list of things to try in 2019!
Content has come to transform the way businesses go about marketing their products today.
Read more...