Table of Contents
Some of the common ways to visualize data are using charts, graphs, images, and maps – it's all about making complex numbers understandable.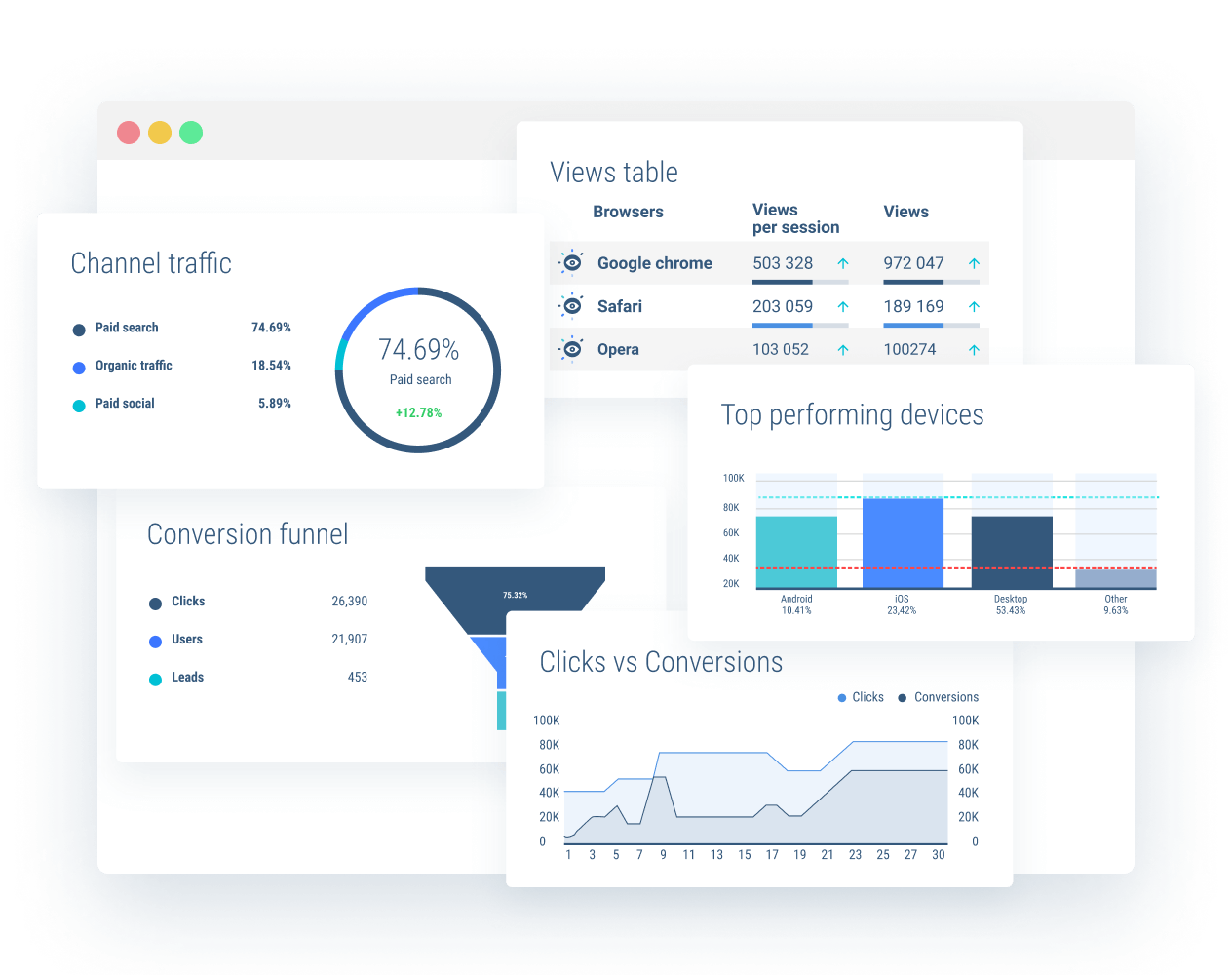 So it almost goes without saying that, today, data visualization apps play a key role in becoming a data-driven company. Tools like Whatagraph champion the whole sector as an easy way to see and understand data. Once you have understandable data, you can start making more informed decisions.
In today's article, we'll go through a few excellent data visualization examples. Then, we'll analyze different types of data visualization and where they are used. Finally, we'll look at a few examples created using a professional tool.
Good data visualization practices
People are drawn to colors, patterns, and unique charts and graphs. Today's world is full of colors, shapes, and visuals – they're jaded in our everyday lives. Movies, videos, TV, art, even music – they've all got it.
Data visualization is essentially another attention-grab tactic to communicate key points with our interest being fixated.
An example that proves this point would be a chart where we can see certain trends without jargon and complexity. Visualization is all about telling a story of data that grabs your target audience's attention.
Gazing into the abyss of big data on a spreadsheet doesn't really tell you a meaningful story. But if you were to put that data into understandable charts and graphs with images and trend lines, it'd be an entirely different story – pun intended.
Types of data visualization
That's the part where it gets a little dull. But it's worth the different types of data visualization to make the most of your data storytelling.
What do you think of when you hear data visualization? If you're thinking of pie charts or pictograms, you're on the right track. But these are barely scratching the surface when we look at the totality of data visualization.
There are a plethora of different ways you can visualize your data. At this point, you want to make sure your visuals fit your data, and sometimes a pie chart just won't do the trick.
Here's a list of the data visualization types to build a better story in your reports.
Common general types of data visualization:
Charts
Tables
Graphs
Maps
Infographics
Dashboards
More specific examples of methods to visualize data:
Area Chart
Bar Chart
Box-and-whisker Plots
Bubble Cloud
Bullet Graph
Cartogram
Circle View
Dot Distribution Map
Gantt Chart
Highlight Table
Histogram
Matrix
Network
Polar Area
Radial Tree
Scatter Plot (2D or 3D)
Streamgraph
Text Tables
Timeline
Treemap
Wedge Stack Graph
Word Cloud
With all of these different storytelling methods, you may get a little overwhelmed thinking about where to apply them. So, where is data visualization actually used?
Data visualization use cases
Data visualization is used in pretty much every industry you could think of. Making data actionable and visual is a universal positive.
Companies of all creeds and industries can benefit from understanding data better. You can present trends and results in a way that can essentially boost your business if acted upon.
The better you present your data, and the more understandable your points are, the more like you will be able to command sentiment and action. Whatagraph here is one of the tools that help you create visually appealing reports and monitor your data in real-time.
But don't just take our word for it – below are a few data visualization examples made with Whatagraph.
5 Data visualization examples
Choosing from a ton of options can be difficult, so here are a few of our favorite from Whatagraph. These are some of the best data visualization examples that we could come up with. To keep it modern, we didn't include John Snow's Cholera map - no, not that John Snow.
Anyway, here are the examples:
Temporal
These normally feature lines that either stand-alone or overlap with each other, with a start and finish time.
Hierarchical
These usually display clusters of information, especially if they flow from a single origin point.
Network
Network visualizations typically demonstrate relationships between datasets without wordy explanations.
Multidimensional
Naturally, multidimensional data visualizations have multiple dimensions.
Geospatial
Geospatial visualization generally relates to real-life physical locations, overlaying familiar maps with different data points.
Concluding
Of course, there are different data visualization platforms out there. But they all vary in complexity and depth of analysis. Your needs will need to be accounted for when checking out some of these different platforms.