Marketing analytics & reporting
8 Best Data Warehouse ETL Tools for Marketers in 2023
Your business uses an impressive marketing tech stack, with valuable data pouring from multiple channels, helping your management make the right decisions through comprehensive reporting and analysis. And yet, you're aware that your insights depend on the stability of different platforms over which you don't have full control.  
This is the exact reason why businesses that seek reliability in their data ops use ETL tools to move data from various sources to a data warehouse.
Here we'll present eight ETL tools worth considering this year.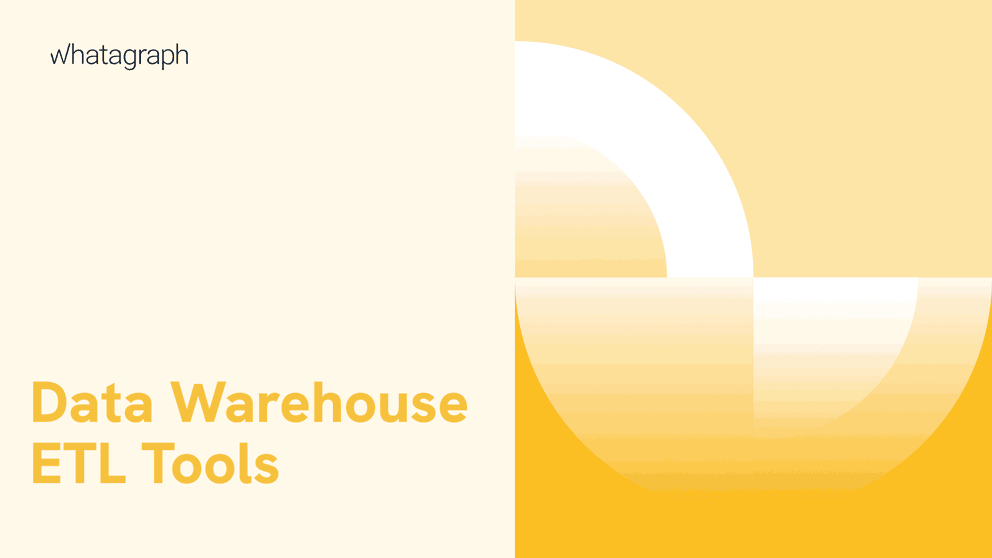 What are ETL tools?
ETL tools are applications designed to improve the ETL process. ETL stands for extract, transform, load, and is part of a wider data integration workflow that extracts structured and unstructured data from different sources, combines, and loads it to a centralized data store. 
Effectively, ETL both organizes and cleanses the source data through a series of data transformation operations, which leads to more accurate marketing insights.
Historically, ETL was a manual process that required meticulous planning and a team of data engineers. Today, however, businesses use powerful ETL tools to extract data from diverse data sources and load the transformed data into a target system, most likely on-premises or cloud data warehouse. 
ETL platforms significantly simplify and automate data management process by allowing even non-technical teams to load large volumes of data to target databases such as:
Data warehouses: Google BigQuery, Snowflake, Amazon Redshift 
Data lakes: AWS, Microsoft Azure
Relational databases: MySQL, Oracle Database
At the same time, ETL tools allow teams to move big data between different locations without worrying about data extraction procedures, schemas, APIs, and other complications.
Data warehousing made possible by ETL tools effectively makes you the owner of your business data. 
Once in a centralized repository, your data becomes safe from specifics of individual data sources, including vendor limitations, changing rules, or discontinued services, as is going to happen in the case of Universal Analytics. 


What are the main benefits of using ETL tools for marketers?
Collecting marketing data without ETL tools today is like navigating the Escher's stairs. So with so many metrics coming from different sources, it's hard to measure which ones lead to actionable insights. ETL tools help you solve this problem in several ways:
Accurate data
Human error and data inconsistencies can impact the quality of data, especially if there are multiple stakeholders in the process. ETL tools remove human input and procession errors, making sure you're getting accurate values.
Automation
Data extraction and transformation save your team time that is better spent analyzing data and deriving insights. Something that SaaS solutions aren't good at (yet).
Improved insights
Higher quality data, increased efficiency, and more time for analysis lead to better insights and more learned decision-making.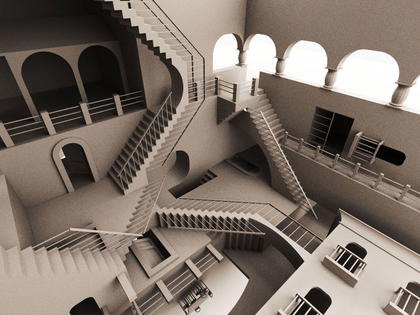 Source - Managing data integration process without ETL tool
Real-time operation
ETL tools automate the process, so you don't have to wait for your data specialist to complete the task before you can draw insights from your data. Most ETL tools load data at scheduled intervals, so your BI tool always operates with the latest data.  
Simple to use
ETL tools have native integrations with the most popular data sources, so there's no need to build and maintain connectors. For marketers, this means they don't need extensive developer help to set up the system or every time they need to add different data points. 
8 Best ETL Tools for data warehousing
Now let's briefly introduce the best ETL solutions for data warehousing operations. Some of the criteria we used:
Ease of use — no-code environment and simple setup. 
Transparent pricing — easy to understand with no fine print or sudden increases.
Additional functions — data visualization, machine learning, etc.
Flexibility — open-source infrastructure, variety of source systems, number of connectors.
1. Whatagraph
Whatagraph is an automated data pipeline that helps marketers load data from multiple marketing data sources to Google BigQuery, a data warehouse based on the Google Cloud Platform.  
Whatagraph's data transfer doesn't require any coding knowledge. Using our platform, you can complete the data transfer in just 3 steps, effectively eliminating manual work:
Connect the destination
Choose the integration
Set the schema
Schedule the transfer
The only thing that remains is to set the transfer frequency — when and how often you want your data to move to BigQuery.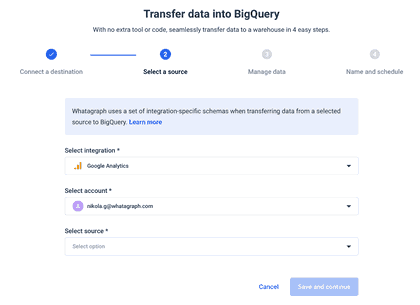 Key features:
Moves data from a source to BigQuery in just 4 steps
No maintenance and infinite scalability
No coding or developers required 
Intuitive user interface
Transparent and easy-to-understand pricing plan
Data visualization via drag-and-drop dashboards.
Pricing:
Whatagraph charges a flexible fee per transfer per month. No surprises, no triggered bumps.  
How about you try Whatagraph for 7 days for free? 
Book a personalized walkthrough to learn more about its features or request a free trial today. 
2. Hevo Data
Hevo Data is a solid contender for the number-one position, mainly because of its ability to integrate and load data from more than 100 sources. It's an entirely automated platform that allows users to set up the data pipeline quickly and has minimal maintenance. As an open-source tool, Hevo Data is an excellent choice for businesses that want to add their own data transformations using Python.
Key features:
Real-time data transformation
Open-source infrastructure
Built-in integrations you can scale per your requirements
Live data flow monitoring
Pricing:
Hevo offers three pricing plans:
Basic Plan: 20 million data events — $249/month
Starter Plan: up to 300M events — $799/month
Business Plan: up to 1B events — $1599/month 
3. Fivetran
Fivetran is a cloud-based ETL tool that enables data integration with Azure, BigQuery, Redshift, and Snowflake data warehouses. Its major selling point is a formidable array of data sources, including multiple SaaS sources, as well as the ability for users to add their own custom integrations. On the other hand, G2 reviewers mainly complain about Fivetran's billing policy and loosely defined terms, as well as customer support that "has a very limited understanding of billing and usage and even less agency over it."
Key features:
Automated data transformation
Real-time analytics
Logging and reporting option
Data security and privacy controls
Pricing:
Fivetran has four pricing plans:
Free: for individual users with small data needs, up to 500,000 monthly data rows — $0 per month
Starter: up to 10 users, 300+ connectors, and 1-hour syncs
Standard: unlimited users, database connectors, and 15-minute syncs
Enterprise: everything in Standard, granular roles and support for teams, and 5-minute syncs
Actual prices, however, depend both on the package you choose and the volume of your data. For this, Fivetran has designed an interactive graph where you can drag coordinates and estimate your monthly fee. 
4. Coupler
Coupler.io is a data analytics and automation platform that helps users extract, transform, and analyze data flows. Coupler is a no-code ETL tool that can be used without technical skills.
Key features:
Data imports on schedule
Real-time activity monitor
Able to create integrations using the append import mode
Connects a wide range of apps that support JSON API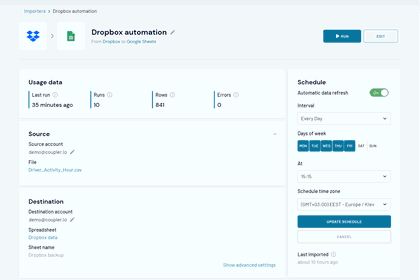 Source
Pricing:

Coupler offers four pricing plans:
Starter: for entrepreneurs and teams who need no-code data export on a custom schedule — $49/month
Squad: for bigger teams who need advanced functionality to manage multiple integrations — $99/month
Business: for companies with multiple teams who need to collaborate on near real-time data coming from different sources $249/month
Enterprise: for large teams and enterprises with complex data sets and a variety of business cases 
5.  Azure Data Factory
Microsoft Azure Data Factory is a fully managed and serverless data integration ETL tool that helps users construct ETL pipelines even if they have no previous coding knowledge. With Data Factory, users can quickly migrate their data to Azure Synapse Analytics to extract valuable information and improve business intelligence.
Key features:
Fully-managed autonomous ETL
Very cost-effective pay-as-you-go pricing
More than 90 built-in connectors
Can use it to rehost SQL Server Integration Services
Pricing:  
Azure Data Factory has a pay-as-you-use pricing model. 
6. Stitch
Stitch sets itself apart from many other platforms by offering automated data pipelines and self-service ELT (extract, load, transfer). However, Stitch doesn't perform arbitrary transformations. Instead, transformations should be added on top of raw data in layers once your data is inside a warehouse.
Key features:
Automated ETL process
Real-time alerts for consistent data flows
Data preview capabilities
Advanced monitoring & troubleshooting
Pricing:
Stitch offers three pricing plans:
Standard: 5 million rows and 5 users — $100/month
Advanced: 100 million rows and unlimited users — 1,250/month
Premium: 1 billion rows and advanced connectivity and security — $2,500/month

7. Dataddo
Dataddo is a no-code, cloud-based ETL platform that allows both technical and non-technical users to integrate data with great flexibility. It comes with a wide range of data connectors, fully customizable metrics, and a central system for simultaneous management of all data pipelines. 
Key features:
Multiple SaaS apps supported, including Salesforce, NetSuite, HubSpot, and Stripe  
Fully managed API 
Built-in retry and circuit-break functionality that improves the overall data quality
Generic JSON, CSV, and XML connectors allow you to connect any API
Pricing:
Dataddo has four pricing models that are based on the number of data flows — connections between one or more data sources and destinations:
Free: weekly data sync to any visualization tool — $99/month
Data to Dashboards: hourly data sync to any visualization tool — $99/month
Data Anywhere: sync between any source and any destination — $99/month
Headless Data Integration: custom data product build using unified Dataddo API — custom pricing
8. IBM DataStage
IBM Infosphere DataStage is a part of IBM Information Platform Solution and IBM Infosphere that has several versions, including: 
Enterprise Edition
Server Edition
MVS Edition
This way, users can choose the variant that suits them best and helps them load their data quickly. IBM Infosphere improves all three functions of ETL, helping organizations achieve data integration and maintain high performance.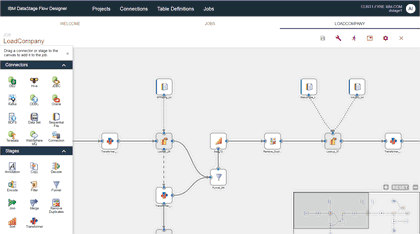 Key features:
 
Batch-based designs for managing legacy systems
ETL workflow separated from runtime thanks to the cloud
Can run any workload 30% faster than others, thanks to the parallel engine feature
Extended capabilities within the IBM Infosphere
Pricing:
Available as four product tiers, from cloud-based IBM DataStage as a Service at $2,500 per month to the on-premises Premium service that goes up to $19,300 per month.  
Which ETL tool are you going to try out?
Each one of these tools comes with perks that lend themselves to different data processing use cases. 
Coupler, for example, is a logical choice for teams that need to aggregate data coming from diverse SaaS apps, while open-source ETL tools like Hevo allow users to create their own transformations using Python. 
Marketing agencies and in-house teams looking to extract large volumes of data from multiple digital marketing platforms to store it in a data warehouse without much hassle should look closely at Whatagraph. 
As a zero-coding ETL tool, Whatagraph is especially suited for non-tech teams who like to set up the transfer on autopilot and have their data updated at chosen intervals. 
If you're updating your tech stack or simply want to keep your business data safe from events you can't control, start a free trial and find out how Whatagraph can help.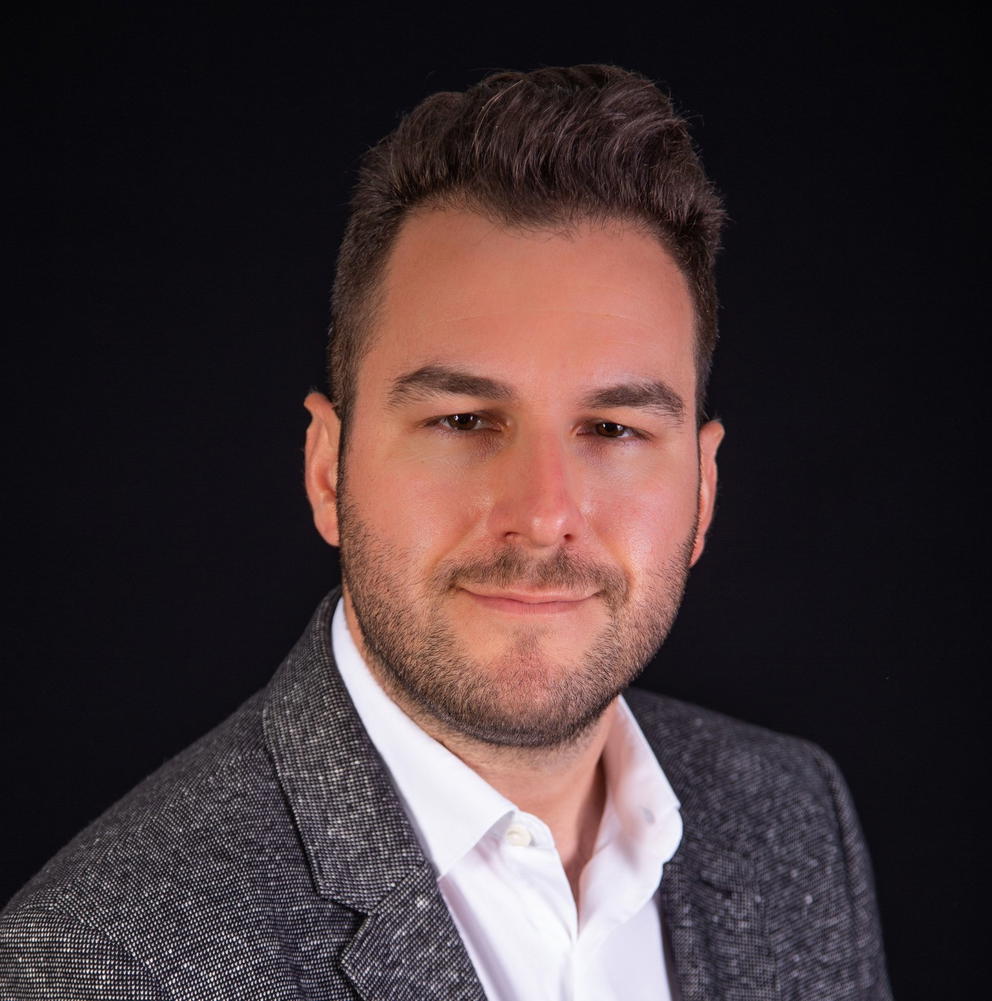 Nikola is a content marketer at Whatagraph with extensive writing experience in SaaS and tech niches. With a background in content management apps and composable architectures, it's his job to educate readers about the latest developments in the world of marketing data, data warehousing, headless architectures, and federated content platforms.
Get marketing insights direct to your inbox