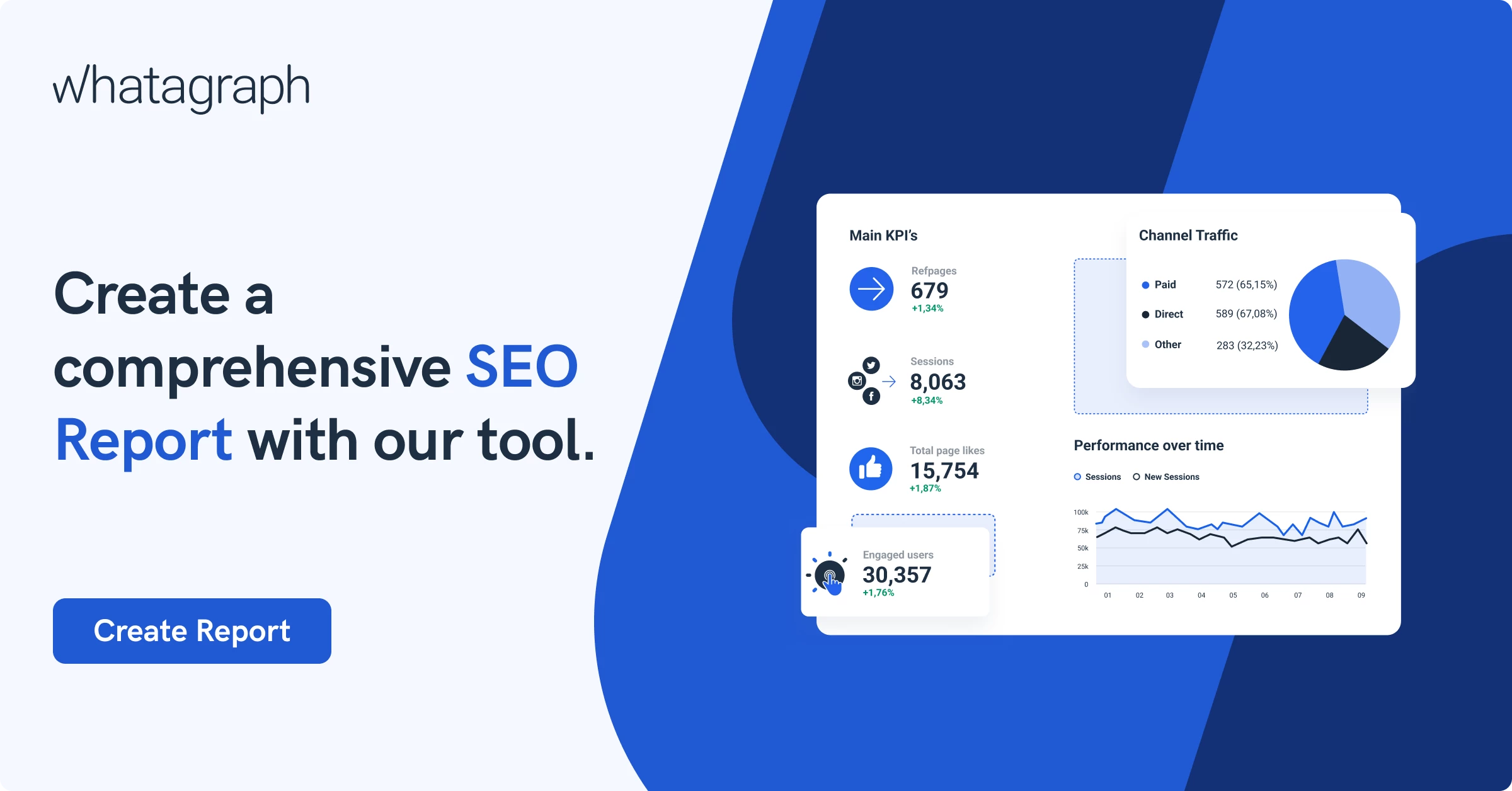 Table of Contents
Let's get some basic things out of the way. When we talk about SEO ranking, we discuss the website's position for specific keywords on the search engine results page. Many factors influence website rankings, including organic search traffic, SEO optimization, backlinks, subject matter authority, user experience, content quality, site speed and others.
Why Are SEO Rankings Important?
The higher your page ranks to the top of the search results page - the more credible it is. This will result in clicks and organic traffic to your site. So the purpose of high SEO rankings is to build trust in the eyes of the reader and Google search engine. And trust brings results.
How to Set SEO Rankings Benchmarks?
Ranking top 5 on any given keyword will bring you around 67% more clicks. Given this, you should aim for at least the fifth position on every keyword relevant to your business.
Secondly, consider search intent. If you're already ranking No. 1 or 2 on the search, but still aren't getting results - you're probably ranking on keywords that are not relevant to your content.
You can also be ranking on keywords that are not searched enough, or your content is irrelevant compared to search intent.
How Do I Check My SEO rankings?
To determine if a particular page or several landing pages are doing well, you must first assess their current SEO rankings.
The most popular platform to use in checking SEO rankings is Google Search Console. Here's how it goes:
Select the domain you want to check ranking for from the upper left menu;
Go to Search Results;
Look for the right-most square - that's your average position over time;
Scroll below to Queries and you will see the keywords you rank on;
You can filter out by position and see your top keyword for this page.
If you're using third-party tools like Ahrefs or Semrush, this is how you can check your keyword rank:
In the Overview window, enter your main domain name;
Enter the keyword to the Include search bar. The example below shows SEO analytics keyword;
Filter by position the keyword is ranking on;
Now you can see the keyword position and which article or landing page ranks on it.

Several SEO tools can help you do that. They're generally called webmaster tools. Google Search Console, SEMRush and Ahrefs are great for this. Also, you can track Google rankings in both organic and paid searches with the help of SE Ranking Google Ranking Checker. In addition to demonstrating how your pages are ranking for your target queries, this tool provides information on their search volume, traffic forecast, and SERP features. Alternatively, you can find a whole list of free tracking tools over at SEO review tools. Keep in mind that every free tool is free for a reason, and you should check with several of them before continuing with your SEO efforts.
How Do You Keep Track of SEO?
Tracking SEO progress takes SEO metrics. To determine the most important SEO metrics, you will need to be aware of your SEO goals. We'll talk more in-depth about setting up the goals in the following paragraph, but for now, let's focus on the key metrics most SEO specialists use:
Organic traffic - the number of website visitors you get with your SEO efforts;
Keyword rankings - the top positions on targeted keywords your website and landing pages rank on;
Search visibility - a percentage of clicks received throughout each keyword you rank on;
Click-through rate (CTR) - a percentage of search visitors that click on the search result divided by the total number of impressions;
Bounce rate - how many visitors come to your website but leave immediately without interacting with the page;
Site speed - search engines prioritize pages with higher load speed;
Backlinks - the number of links from one website to another.
Each one of these metrics needs to have a benchmark. Some of these benchmarks are measured by the time they need to be reached.
Organic traffic - set the benchmark of the minimum monthly traffic you need to get;
Keyword rankings - #1 position on Google gets on average 31.7% CTR. Focus on ranking as high on the first page as possible. Because positions 7-10 have virtually no differences on SERPs, aim for at least the 5th potion on the first search page for every keyword. Compare yourself to your competitor on specific keywords to find avenues for higher ranking;
Search visibility - non-branded keyword search visibility rarely exceeds 40%. Aiming for 30% visibility is a high goal, while 20-25% is still good;
Click-through rate (CTR) - organic CTR is highly dependent on your position on SERPs. See below how each position changes CTR and determine your CTR goal based on those positions;
5. Bounce rate - good bounce rate is highly dependent on your industry. For B2B websites, the bounce rate ranges between 25-55%. Setting your benchmark in the middle of that can be a good start.
6. Site speed - the maximum site load speed should be no more than 3 seconds. Solve technical issues like image sizes or server load to increase the speed;
7. Backlinks - set a minimum amount of backlinks. Each backlink from others sites should also have the minimum ranking requirement (also aim for backlinks that rank top 5 or higher).
Example: Here you can see all metrics listed above in a single Whatagraph dashboard. This way, you can track all metrics every day. The information here comes from three different sources: Google Analytics, Google Search Console and Ahrefs.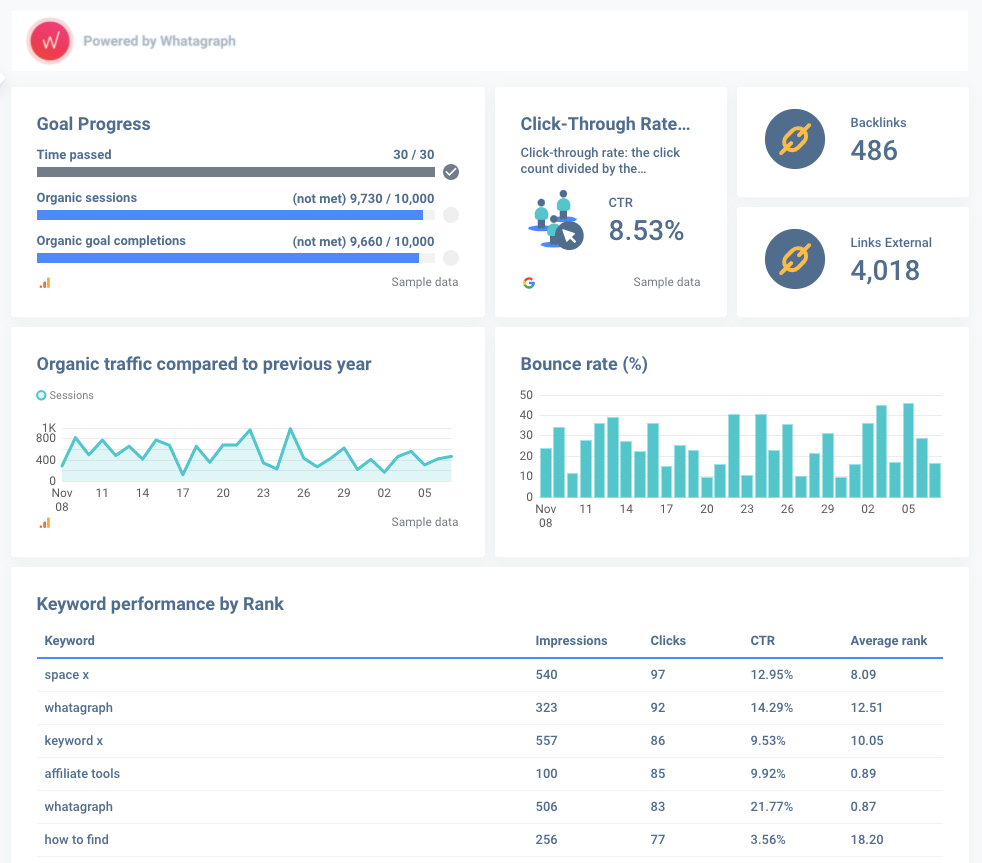 That's quite the SEO metrics list. The example above includes some of the metrics that help determine your SEO performance. But with Whatagraph, you can build your own dashboard like this that includes metrics relevant to your websites.
How to Set Up SEO Goals?
Once you have your benchmarks, it's time to set goals.
Benchmark your goals first, then compare them against your desired goals. Now you will have a clear plan of action on which pages need fixing to rank higher. Here's what to keep in mind when setting goals:
Goals have to be measurable. A clear, numeric goal that leaves no room for interpretation for each keyword and each metric, listed above.
Goals have to be specific. You can and should have an overarching goal for all marketing efforts: bring this many leads, generate this much traffic. But also be specific: bring this many leads from this keyword. Rank this keyword on this specific position.
Goals have to be documented. Whether your SEO campaign is run just by you, or a whole team, you must register your SEO efforts and results. This way, you will always know what worked and what didn't. If you work with a team, everyone will be on the same page with SEO progress. And finally, you can track the SEO results over time.
Example: This is a working template that compares the benchmark against the goal. You can use it while setting up goals manually. So far, this keyword ranks alright but can be improved.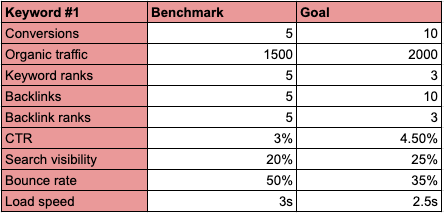 How Do You Track SEO Leads?
Every SEO campaign has one ultimate goal: conversions. Now conversions can be sales, but in the B2B world, conversions usually mean leads. So how do you keep track of your SEO leads?
First, you have to determine the actions that website visitors make to become a lead.
This can be a registration form, a Live Chat initiation, a subscription - anything that you find will help you sell.
Several tools can help track lead conversion:
Google Analytics - tracking the customer journey through different SEO campaigns is possible with a Google Analytics account. The tool is free, although not the easiest to set up. You can see where the organic traffic is coming from, which landing pages it goes to and like that, you will see which landing pages convert the best.
Google Tag Manager - this tool is also free and helps manage your website's tracking. It uses tags better to understand certain events and customer journeys on sites, allowing SEO experts to optimize better.
Google Search Console - a tool that lets you determine and track target keywords and how they influence your website traffic. Together with Google Analytics and Google Tag Manager, these three tools can help you improve your website rankings immensely.
Whatagraph - a data aggregation tool and an excellent SEO dashboard builder, where you can track your website success. Not limited to Google tools only, platforms like Whatagraph show a bigger picture of SEO success beyond rank tracking and into multi-channel performance.
Leads are the ultimate SEO goal. But there are others that benefit your SEO rankings and enhance your SEO strategy.
Bonus Advice
Quality content is the number one ranking factor that will help you get to the top of search results. You can optimize content for SEO, get lots of backlinks, and improve all technical aspects of your website. But if your content is not engaging, your website visitors won't engage with it and search engines won't see you as an authority. With Engine Scout SEO, you can measure your progress and make adjustments as needed to ensure that your website remains competitive in the ever-changing world of SEO. Don't skip out on content quality. It will help you rank higher.