#marketing
KPIs vs Metrics – Tips & Tricks
One of the most significant contributors to your business success is strategic planning. When you have a strategic and implementable plan for your business, there is no how you won't attain your business goal. When it comes to tracking and measuring your online business performance, it seems like a challenging or overcomplicated task. And one of the aspects where it seems inconsequential might be the choice of verbiage.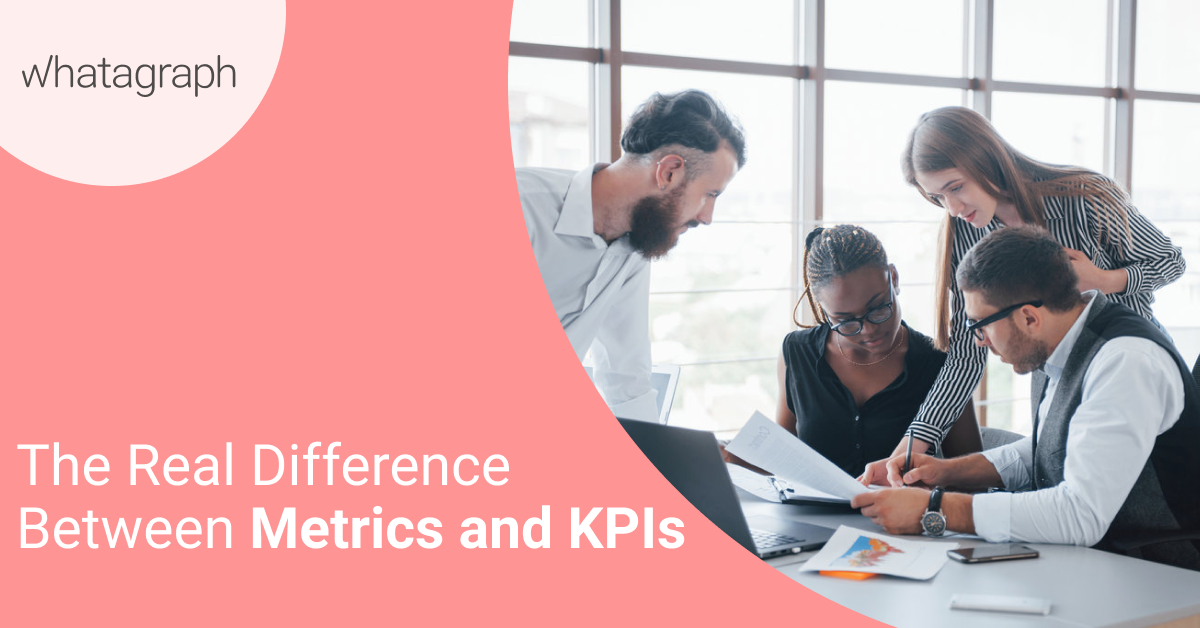 However, there are glaring differences between Key Performance Indicators (KPIs) and metrics. The difference isn't only by definition. But they differ significantly in their roles when it comes to measuring and improving your overall business performances.
What are KPIs? What are business metrics? How do we differentiate between the two terms; KPIs and Metrics? How do you measure both? These and more and what we intend to discuss in this article.
What is a Metric?
In the simplest form, a metric means a category of quantifiable data. For instance, metrics in business simply refer to a category of quantifiable data relevant to the company's performance. Some of the most common examples of business metrics include profit, profit margin, and revenue.
As illustrated earlier, metrics means anything that can be measured. This implies that businesses have an endless list of metrics to monitor, measure, or track. From web traffic to conversion rates, Facebook likes and shares, and purchases, the number of business metrics to track or measure seems endless.
Theoretically, this sounds excellent. As the data increases, the metrics to track also increases. However, in practice, this case seems different. A vast array of data overload tends often tends to become a distraction in most cases.
When you try to improve the various metrics, there is a high probability that you will even forget to ask yourself whether these improvements will have a positive effect on your bottom line, which is mainly your business success. Is getting more likes on social media platforms crucial? Probably, it's not.
This is why you must identify which of your metrics are key performance indicators. With that, you'll be able to prioritize them while you optimize them to improve your business.
What is a Key Performance Indicator (KPI)?
A Key Performance Indicator (KPI) is simply a business metric that directly contributes to a specific business goal, ultimately enhancing your overall business success.
The key performance indicators can include bookings, backlog, utilization, effective billable rate, revenue leakage, and many more for professional services. In fact, there are many KPIs for every department and industry, which is why a sample KPI library can be useful as a starting point in performance management.
In a Software as a service company, the most common KPIs include monthly recurring revenue, cost per click, cost per acquisition, average revenue per retainer, lifetime value, churn, and many more.
Similarly, in a retail setting, the key performance indicators ranging from customer acquisition, stock turnover, average customer spending, customer satisfaction, and many more.
As seen in the earlier instances, key performance indicators are often dependent on the specific industry as well as the business model. This is because these metrics have a direct impact on the particular objectives of those businesses.
KPIs and Metrics: The Difference
A business metric simply describes the category of quantifiable or measurable data directly relevant to the organization's standard business processes. When it comes to the differences between a metric and a KPI, we should understand that metrics shouldn't necessarily be tied to the strategic business goal.
On the other hand, a KPI represents the business performance metric that is directly crucial to attaining your business goals. This could include user acquisition, revenue growth, and many more. One significant difference is that key performance indicators are directly related to a specific purpose.
For many businesses, everything you track or measure is metrics. However, only a few of the metrics are directly relevant to your business objective. And that's exactly why they are known as key performance indicators.
Therefore, it is sufficient to say that all KPIs are metrics, but not all metrics are KPIs.
How to Use KPIs in Your Business
Now that you know the difference between metrics and KPIs, you would probably be concerned about identifying which of the KPIs contribute to your business growth. How do you determine the specific KPIs to measure for your business? Here are the three simple steps to follow:
Step One: Choose a Specific Business Goal for the Year
When it comes to discussions regarding KPIs, strategic business plans, and business goals are often important aspects of those discussions. Regardless of your specific business objectives, you should understand the exact thing you are trying to achieve.
Instead of creating a seemingly unproductive list of business goals, you should consider choosing a specific business goal for the year. This helps to provide a clearer picture of your business performances. Besides, it also serves as a guide to help choose the specific KPI to focus on.
How do you identify your business goals? Of course, this solely depends on the specific situation at hand. However, here are a few helpful questions for yourself:
Is your business currently heading towards profitability? Set a revenue goal.
Does your business find it difficult to break an even? Set a goal to increase profitability.
Do you currently run a venture-funded startup that is threading towards a unicorn ($1B valuation)? Set a goal to increase the growth rate.
While it is great to dream big, staying grounded in reality is also essential. So, ensure that you are setting a realistic goal for that one year.
Identify the Specific Metrics that have Direct Impacts on Your Chosen Business Goal
Using KPIs in your business doesn't stop at setting a business goal for the year. The next after identifying your business goal is to examine the vital metrics that are already being tracked.
Of course, all these metrics are relevant to your business performances, but the reality is that many aren't directly related to the already identified business goals. While you have been keeping your eyes on them, they aren't directly or necessarily crucial to your business goals. So, they do not qualify as key performance indicators.
In this phase, you need to determine the specific metrics that directly contribute to achieving your overarching business goal. Interestingly, the most important KPIs are similar metrics to use when it comes to your business goals. Why? They seem to be the clearest indicator of your business performances. For instance, if you have set out a business goal relating to your annual revenue, the most valuable KPIs will be the daily, monthly, bi-monthly, and quarterly revenue.
Create a Schedule to Review the KPIs
Once you have been able to identify the three key performance indicators to concentrate on, you should focus on ensuring that these KPIs are used optimally. Ensure that you review them regularly to monitor their performances. Individually, you can consider reviewing these KPIs in the following intervals:
Weekly
Monthly
Bi-Monthly
Quarterly
With that, you'll be able to get off the track. While you identify these KPIs, you'll be able to put appropriate measures to contribute to your business success.
Published on Aug 03, 2020