Table of Contents
What is PPC Data?
PPC data refers to the information gathered from already launched paid PPC campaigns, a.k.a. paid search marketing campaigns. These data sources could be Google Ads, SEO campaigns, or Amazon Ads.
PPC Data Analysis
This analysis will show advertisers how their landing pages are performing. Google Ads (formerly known as Google Adwords) is the most popular advertising platform for PPC campaigns. It allows advertisers to showcase their ads on Google's search engine results page and track keywords, cost per click (CPC), and conversion costs. You can also do something similar for Adroll.
Whatagraph and Google Analytics are tools that automatically pull PPC data from multiple platforms to measure PPC efforts, the number of clicks and impressions, and overall campaign costs. These two analytics tools are some of the most popular among marketers. The reason is, they generate high-level visual reports and assist in tracking vital PPC key performance indicators.
PPC Data Sources
PPC campaigns can be run on a variety of platforms. But how can their performance be measured? Use Whatagraph to learn your PPC efforts.
Facebook Ads
Social PPC is another form of paid digital advertising on social media platforms. In the paid ad market, Facebook Ads and Google Ads share 60% of total revenue. This means that Facebook is the most popular and profitable social media platform to run PPC campaigns.
Connect Facebook to your PPC report to get a complete picture of your PPC campaigns. Examine top-performing ads for areas for improvement and analyze campaign performance across various channels.
Google Ads
Connect your Google Ads, Google Analytics, and Google Search Console accounts to Whatagraph and automatically pull data from them. Easily track impressions, clicks, CTR & CPC, and identify the areas that need extra work.
Whatagraph also allows you to investigate reach and traffic data. More so, you can find data on how your impression share affects performance and gain insights into how it can be improved. Determine how much traffic you would have received if your budget had been increased. If you are running multiple ads, examine and compare their performance separately or together.
Bing Ads
Track your most important Bing Ads metrics and quickly make data-driven decisions. By connecting your Bing account to Whatagraph, you are signing up to success as you'll benefit from:
Bing Ads performance evaluation across different Campaigns, Ad Groups, Keywords, and Ads;
Automatic keyword tracking and a chance to easily spot opportunities for optimization;
Clear keyword comparison in terms of clicks and conversions.
Examine the best and worst performing ads and gain insight into the reasons for their accomplishments. Whatagraph provides access to the performance of ad copy for both text and display ads, as well as the ability to quickly identify winning ads for immediate campaign optimization.
How to Clean up PPC Data?
Cleaning up your PPC data entails deleting, removing, or reorganizing existing data. This will allow you to optimize your campaigns, achieve better results, and rank higher in search engine results. To accomplish this, complete the following three major tasks:
1. Clean up keyword lists
Clean up the keyword lists you've already made. It is critical that you do so to ensure that your PPC efforts are optimized and running smoothly. You can improve your conversions and lower your cost-per-acquisition by tidying up your keyword list. Essentially, you must do the following:
Remove keywords that aren't performing;
Remove keywords that haven't gotten any impressions;
Remove inactive keywords that aren't generating traffic;
Remove seasonal keywords. Stop using phrases and keywords that aren't appropriate for the current season;
Remove keywords with a low quality score. You want your ads to be highly relevant to your target audience as Quality Score measures the quality of your keywords. Analyze and trace out the keywords that reduce your Quality Score and identify the ones that are likely to succeed. You can even create a campaign solely for Low-Quality Score keywords to monitor their performance.
2. Clean up your account structure
Cleaning your account structure entails analyzing your ad groups and campaigns. As with the keyword list, delete any ad groups or campaigns that are underperforming or not bringing in any value. It is also critical to keep your account organized:
Create keyword groups of 10 to 15 keywords;
Organize those groups according to themes and keep them focused;
Make sure your ad groups are relevant and include the keywords from the search;
Put your best-performing keywords in a separate group and write targeted copy for each of them.
3. Separate branded vs. non-branded queries
Do not make this mistake and blend branded and non-branded keywords in your PPC campaigns. Reasons being:
They perform differently and have different characteristics, so they should be managed separately;
When you combine branded and non-branded ad groups, your ad copy becomes less relevant and lowers CTR;
When you combine both keyword categories, you limit your ability to bid scalably.
How to Use PPC Data?
Paid keywords
If you've been running PPC Ads for a while, you can take advantage of a wealth of PPC data. Here is how to make data-driven decisions + examples:
So you're looking at your PPC data and have no idea where to begin? Start by analyzing the keyword data. Examine your list to see which keywords received the most impressions, clicks, CTR, and how well they ranked. Analyzing keyword data provides a clear picture of your PPC advertising campaigns' performance.
Additionally, depending on the results, you may want to remove or add specific keywords, as well as double-check your negative keywords list. This analysis is an essential component of any PPC campaign because it serves as the foundation for future paid advertising strategies.
Take a look at these Google Ads: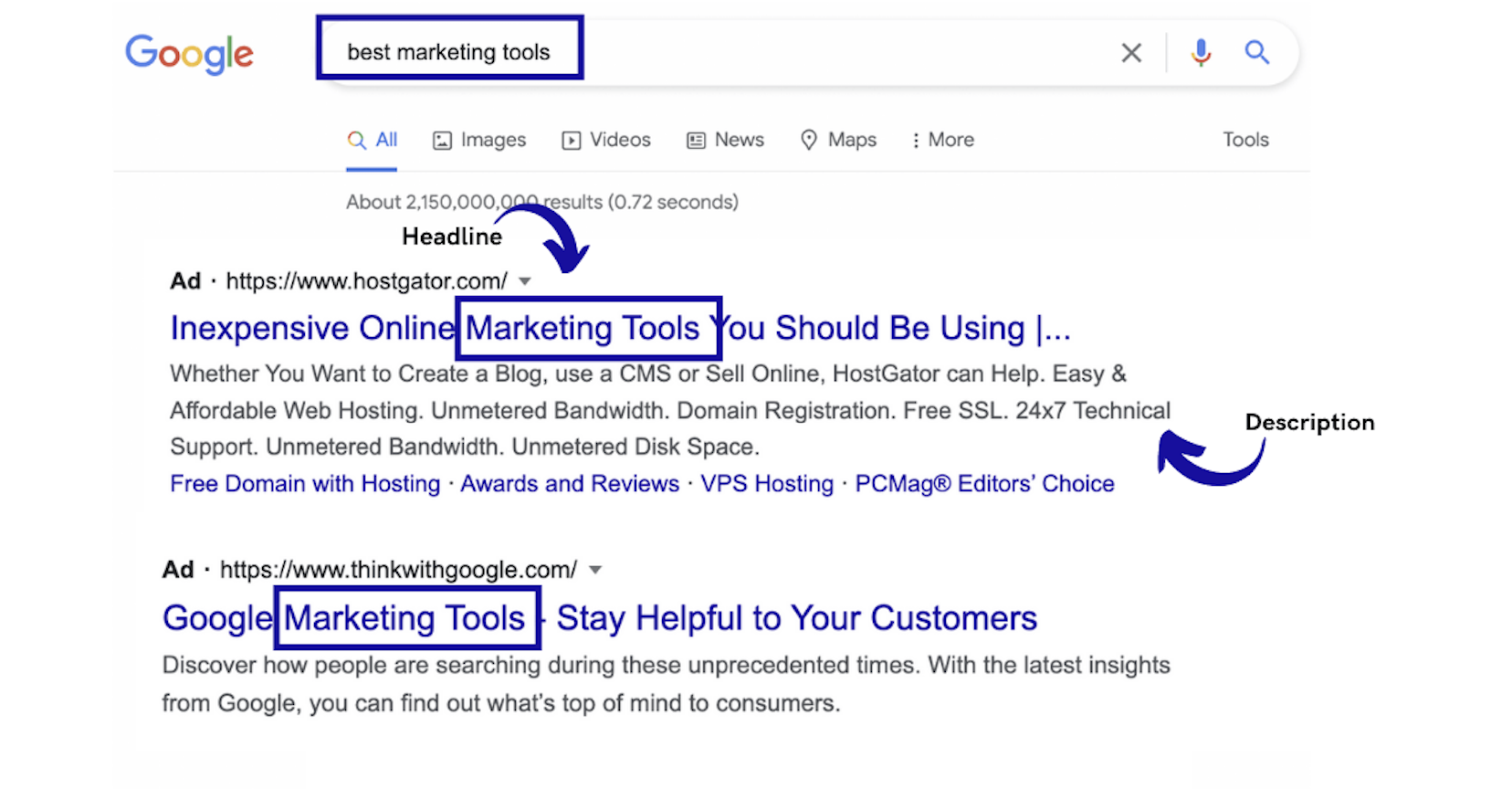 We typed 'best marketing tools' into Google's search bar and received over 2 billion search results. Based on the results, we can conclude that these businesses targeted the appropriate keywords. They've risen to the top of search engine results pages. Already, Hostgator and Think with Google have an 80% greater chance of increasing brand awareness simply by using the exact keywords that we typed in.
Tip: Analyze the top search queries using Google Trends and base your paid ads on the most relevant and popular terms.
Target audience
Social media is a place where brands can immediately learn about their customers' needs. Social platforms are also used to collect feedback and customer preferences. @janehillbridal ran a PPC campaign to push the launch of a new collection. Key things they had to consider:
Account optimization;
Marketing budget;
Target audience.
Before running a PPC campaign, they first analyzed their audience. They posted a couple of pictures of women wearing different wedding dresses. The dress "Bowie" gets 2018 likes; the dress "Luella" gets only 379 likes. This means that if you want to generate a higher ROI, the "Bowie" dress should be the first product visitors see when clicking the link.
Implement remarketing
Remarketing is a fantastic strategy to incorporate into your sales funnel. A single campaign can result in a 161% increase in conversion rate. And if it wasn't clear already, Grammarly adopted this method. So whenever you click on something related to this software, keep in mind that you'll see their ads in the future.
To retarget someone, you need Google AdWords data. It will tell you all about your audience and let you target the ones that:
Did not take a certain action on a page;
Reached a certain page within your checkout process but did not complete their purchase;
Have not seen a page that you'd like them to see.

How to Report PPC Data?
Whatagraph's PPC reporting template generates a consolidated PPC overview. This is the overview you'd look at to see how your PPC campaign is performing in general. You can use this free template to generate an instant report on all of your paid advertising and track its effectiveness.
Moreover, Whatagrap's PPC overview identifies trends, tracks changes in conversions, and determines the most cost-effective channel. The most advantageous aspect of PPC overview is that it is based on real-time data. That is, whenever you generate an overview, you will immediately learn how your PPC strategy is performing right now.
Keep in mind, that presenting data with Whatagraph is easy and quick. All you have to do to generate reports is to, connect needed sources, choose widgets that best represent your data, and then just automate them. Receive and send PPC reports on a weekly or monthly basis and always stay on top of your PPC game.
Bottom Line
Track PPC data with an analytics tool and garner immediate results. Thrive even through algorithm changes and increase your brand recognition. Here is a PPC reporting template for you to try out all the benefits reports bring.