#marketing
Supermetrics Complete Guide: Everything You Need to Know
Data is a valuable asset for modern businesses, and while there are plenty of ways to collect data, it needs to be transformed and unified for deep analysis and accurate reporting. Data warehouse solutions are designed to make data analysis easier and faster. But to prepare and load data to a data warehouse, you need a data transfer and reporting tool, such as Supermetrics. 
Supermetrics is a popular tool for marketing teams because it provides both data consolidation and reporting — two key functionalities of business intelligence  
Let's take Supermetrics for a spin and see how this data management tool can help businesses make data-driven decisions.
What is Supermetrics?
Supermetrics is an API (Application Programming Interface) software that connects two programs. It connects data from different marketing platforms, such as Google Analytics, Facebook, PPC, and SEO tools, and loads it into a data warehouse.  
Data warehouse is a cloud-based storage system that allows businesses to consolidate data from multiple platforms and use it for analysis or reporting. Supermetrics supports the most popular data warehousing tools, including Google BigQuery, Snowflake, and Microsoft Azure Synapse. 
Supermetrics eliminates the painstaking job of data exporting and modification, which is traditionally done manually in Excel or Google Sheets.
On the other end of the pipeline, Supermetrics helps teams quickly create engaging reports on consolidated data.   
With Supermetrics, data extraction and transformation are automated, so teams have more time to focus on analysis and delivering results.  
Supermetrics for data transfer
Supermetrics allows you to import any KPIs and dimensions from a range of marketing platforms and load it to your reporting, data visualization, data warehousing, or business application. 

 
To move data, you need access to the destinations. Note that Supermetrics doesn't provide this access and needs read/write access to your data storage or BI tool before data transfer. 
To run a data transfer with Supermetrics, you need to
Create a destination in your data warehouse or other cloud storage platform.
Create a transfer to move data from a data source to the destination. You can schedule the transfer to run automatically daily, weekly, or monthly. A single transfer is processed in less than 6 hours. 
Run a backfill to import a batch of historical data to the destination. There are limitations on the time range for the backfill, which depends on the individual data sources and license you have. 
Once you complete the initial setup, you can monitor the status of your transfers and get automatic email alerts for any possible errors. 
Supermetrics provides standard denormalized schemas for the data sources that you can use. You have options to define queries by modifying the schema with Supermetrics Query Manager.  
Supermetrics for online marketing reporting
Supermetrics is also a popular solution for creating marketing data reports with data from diverse sources. Supermetrics currently has connectors for around 70 digital marketing data sources, but you may run into a wall if you want to create a dashboard. 
Supermetrics doesn't have a data visualization feature. You can import the metrics but don't have the means to report on them. 
To visualize your data, you need to export it from Supermetrics to another analytics tool like Looker Studio (formerly Google Data Studio) or Tableau. 
Most users prefer to use Looker Studio as a Supermetrics data visualization tool because it's free and supports a range of data sources from both Google Cloud Platform and non-Google data (Semrush, Shopify, etc.)
Looker Studio is a versatile platform that allows you to start with a blank canvas and build any type of report. 
Open Looker Studio and log in

Go to Create Report to display a new canvas
Click My data sources to find data sets you've already built using Supermetrics. Choose the one you want to use and hit Add.

A new report blank will open, and you can begin adding your charts.

Select Add a chart from the upper menu to add new elements to the report. 
You can add filters and adjust data ranges, sources, products, categories, and so on. 
Every time you refresh the browser window, your data will also update. 
As you can't aggregate and visualize data in a single tool, Supermetrics might not be the best choice for creating marketing reports. 
Supermetrics connectors & integrations
Supermetrics helps businesses integrate data from more than 100 sales and marketing platforms with a range of reporting and analytics tools.
Most connectors supported by Supermetrics fall into one of the following categories
Paid advertising — Facebook Ads, Google Ads, Amazon Ads, and TikTok Ads.
Web analytics — Google Analytics, Google Analytics 4, and Adobe Analytics
Mobile and app analytics — Facebook Audience Network and Apple Public Data  
Social media — Facebook, Instagram, and Twitter
SEO tools — Google Search Console, Google My Business, and Ahrefs
Ecommerce platforms — Shopify, Klaviyo, and Stripe
Email automation — Mailchimp
Sales — HubSpot, Salesforce, and CallRail
In addition, Supermetrics is constantly developing new data integrations. Users can even submit a request for a new connector or check the roadmap to see if the connector they're looking for is already under development.  
Supermetrics templates
Supermetrics offers a limited number of report templates that you can use.
But why are templates so important?
A template is a pre-made report with all the necessary information to create an engaging cross-channel or single-channel marketing report. 
For example, a Google Ads report template comes pre-loaded with all the metrics, and KPIs needed to evaluate a Google Ads campaign. 
You just connect your Google Ads account(s), and the report populates itself automatically. 
Currently, Supermetrics offers only 11 Looker Studio templates. This means that if you need to create a quick report outside the box, you're down to manual work. 
At Whatagraph, on the other hand, we have over 100 different report templates for use cases like SEO, PPC, social media, eCommerce, and many more, that allow you to create all sorts of reports in just minutes. 
Every Whatagraph report template comes with advanced metrics you need for precise reporting, such as click-through rate (CTR), bounce rate, conversion rate, number of leads, etc. 
Since Supermetrics doesn't have any templates of its own, you're stuck with the little options that Looker Studio offers. 
Supermetrics customer support
Supermetrics customer support is a pretty much self-serve venue.
Right off the bat, you have the option to choose whether you want to
Get started

Connect data

Build reports

Manage account
Each of these opens up an extensive library of written guides on different topics related to the parent topic.
If none of those guides solves your problem, or you simply don't have time to browse through the library, you can create a ticket for the customer support team.
But if you take a look at online Supermetrics reviews, you'll notice that most negative ones have one thing in common — they complain about its customer service. 
Multiple users have complained that it took several weeks to get an answer — not something you want in the midst of creating a marketing report. 
If the response speed is what you're looking for, you should try Whatagraph. Whether you contact us by live chat, email, or phone call, our customer support is on standby 20 hours a day, 5 days a week. 
Whatagraph is ahead of its competitors in many areas, but customers particularly love our customer service. 
Supermetrics pricing 
Supermetrics offers a total of 15 pricing plans that users can pick from to meet their business needs.
The pricing is based on the destination, in other words, where you want to move your consolidated data.
This includes
Visualization tools like Looker Studio
Spreadsheets like Google Sheets and Excel
Data warehouses like Google BigQuery, Snowflake, and Redshift
Data lakes like S3 and Google Cloud Storage
With Supermetrics, you get fixed-fee pricing, so there are no surprise fees or surges in price due to added usage.
The good thing is that you always know what you'll pay and what the package includes.
The not-so-good part is that you can only see the initial pricing plan for a couple of destinations, while the bulk of them are quote-based — you need to contact Supermetrics sales to find out. 
Again, this is where the lack of native visualization can increase your costs. 
For example, if you want to load data to Snowflake and visualize it in Looker Studio, you need to pay for both destinations. 
Who is Supermetrics for?
Supermetrics is a good choice for smaller teams and businesses that are just starting with web analytics and need to process, store, and report on vast amounts of data from different sources. Loading data to a data warehouse and reporting through Looker Studio answers basic marketing performance questions like What happened when?
Another user group is marketing agencies that handle hundreds of accounts, with each client using different data sources. Apart from data transfers and consolidation, agencies also benefit from the Supermetrics Looker Studio integration, as it greatly reduces the time and effort needed for regular client reporting. 
5 Supermetrics alternatives to consider
Whatagraph
Whatagraph is a much-more user-friendly data pipeline that helps businesses load data from different marketing sources to Google BigQuery.
Whatagraph has integrations with the most popular marketing data platforms and social media, including Google Analytics 4, Google Ads, Facebook Ads, and LinkedIn Ads.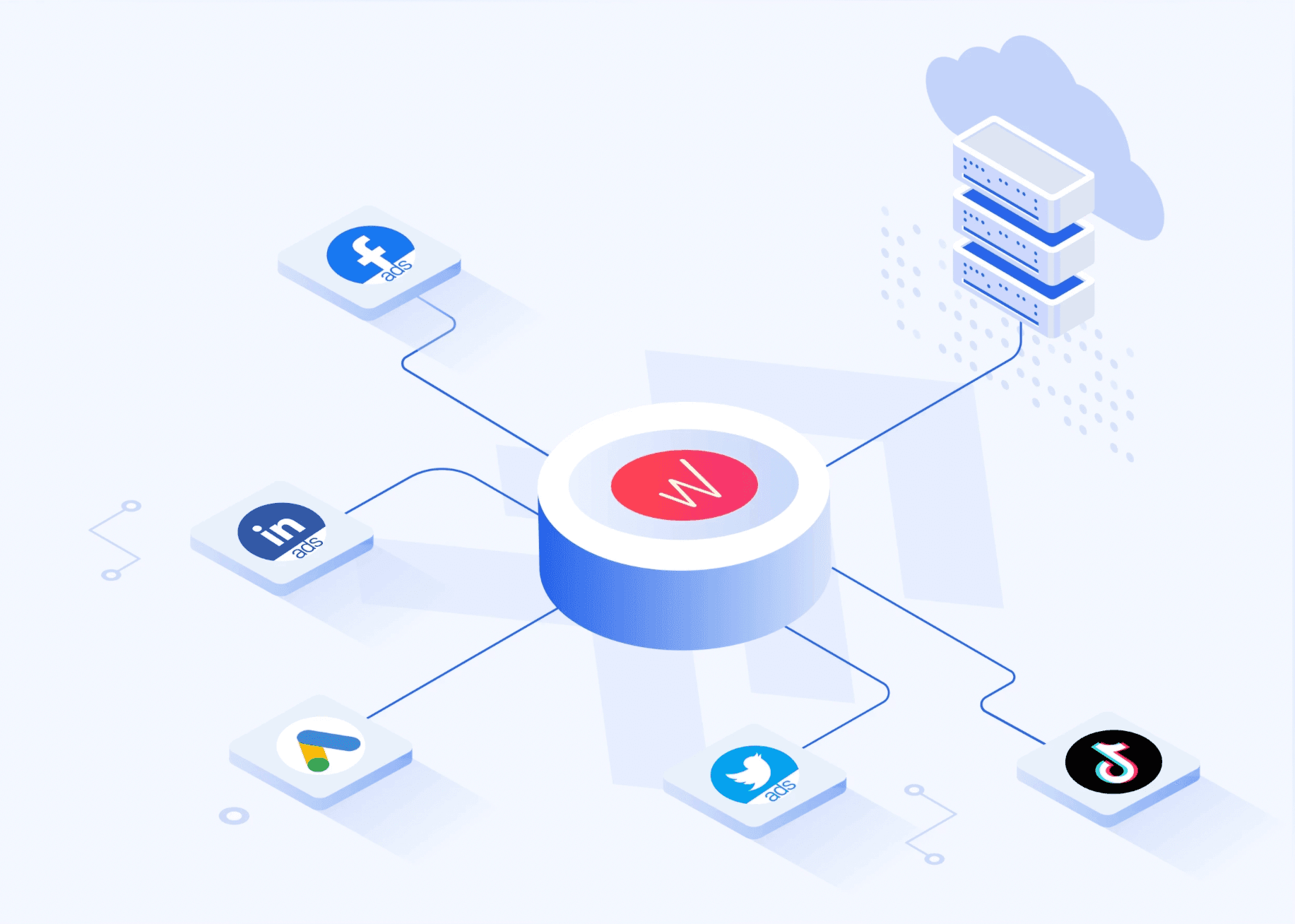 We developed our tool keeping in mind that many teams lack tech knowledge or can't afford a developer onboard.
So we eliminated all coding from the data transfer process, enabling our clients to complete it in three steps:
Connect the destination

Choose the integration

Create a transfer
You can also use Whatagraph to create an engaging drag-and-drop dashboard using your BigQuery data. 
Unlike Supermetrics, Whatagraph has native data visualization, so you don't have to use two tools at once. This not only flattens the learning curve but also eliminates the need to pay for a separate reporting tool, alongside Supermetrics. 
Another problem with Supermetrics/Looker Studio reporting workaround is that you're often dealing with outdated data. In other words, you need to refresh data manually to get the most current figures. 
If you send a couple of reports every month, this might not be a huge deal. But, if you regularly create live reports that clients can access at the click of a button, you need fresh data 24/7. 
Data in Whatagraph reports is refreshed automatically in intervals of around 20 minutes. Thanks to this, your reports always show accurate numbers, no matter when the clients check them. 
Also, some clients may want a report on a weekly basis, others may ask your marketing team for a monthly report. Whatever the interval, with Whatagraph, you don't need to keep a separate tab on that. 
Whatagraph allows you to schedule your reports. 
Just connect the data sources, set the interval, and every digital marketing report is delivered to clients on autopilot. 
Whatagraph's reporting feature lets you choose among different types of bar charts, line graphs, widgets, tables, and more.  
If you don't know where to start or simply want to speed up the creation process, grab one of 100+ report templates from our library and populate it with your sources, metrics, and dimensions with a couple of clicks.
No need to import or upload any elements from outside the tool. Everything you need is already in the templates.
Once you create your report, you can change all the details you like, such as the placement of widgets and graphs, the colors of individual elements, logos, etc. You can even white-label the report to remove the Whatagraph branding and make it your own. 
Whatagraph comes with transparent pricing that is easy to understand. BigQuery data transfers are available even in the basic pricing plan. 
Talend
Talend is an open-source ETL automation tool (extract, transform, load) that allows small business teams to build basic pipelines. With Talend, you can extract data from a range of sources, including relational databases, JSON, XML, CSV, and flat files. 
Talend Open Studio offers file management without scripting, allowing businesses to extract data from disparate datasets and transform it into a unified format. On the other end of the pipeline, Talend allows you to visualize the ETL process through charts and graphs.  
Qlik
Qlik Compose is a data transfer solution allowing teams to build and operate enterprise data warehouses without manual coding. 
With Qlik, you can deliver business intelligence faster with fewer resources at hand. Data analysts and developers can also use Qlik Compose to create real-time data testing models.
In this sense, Qlik follows the Whatagraph philosophy of two groups of users: Data architects who need to create agile data warehouses and non-tech teams who need to ingest large amounts of data from multiple sources. 
Power BI
Developed by Microsoft, Power BI is a powerful business intelligence tool that allows users to create interactive data visualizations. Power BI is a potent BigQuery data reporting tool that helps SaaS teams keep their data at one location and optimize a data-driven culture across the organization.
Power BI also comes with a robust self-service analytics at an agency scale. The main problem with this BI tool is that its data modeling feature only works with Windows Desktop. 
Looker Studio
Looker Studio is one of the most popular tools businesses use to report on their marketing campaigns. 
From the days of Google Data Studio, Looker has inherited many data connectors. However, Looker might not be the best choice for data infrastructure or data analytics that involves SQL modeling. 

Another drawback is that you need proficiency in Excel to combine data and create graphs and tables. 
You can use Supermetrics integration to automate the reporting process, but that's already two tools you need to learn. 
On the bright side, Looker Studio also supports drag-and-drop features.

Is Supermetrics the best data transfer and reporting tool? 
Honestly, no. 
Extracting and combining data from multiple sources has been a primary concern for small teams and large marketing agencies alike. 
Supermetrics has made a massive leap by eliminating coding from the ETL process. 
However, although Supermetrics has a solid base of loyal customers, other, more advanced data pipeline tools have emerged.
Whatagraph adopted the no-code approach, and went a step further, simplifying data transfer to a point-and-click level. 
What is more, Whatagraph has developed its proprietary reporting function from day 1. 
You don't have to use (and pay for) additional tools to create insightful reports on your business data. 
Book a demo call with our product manager to learn how to speed and automate your reporting with Whatagraph's amazing dashboards. 

 
Nikola is a content marketer at Whatagraph with extensive writing experience in SaaS, tech, and sustainability niches. He takes his coffee as he takes his pizza: hot and without pineapples in it.
Read more awesome articles
Enter your email and get curated content straight to your inbox!
Only the best content & no spam.
Pinky promise.
By submitting this form, you agree to our
Privacy policy