Everyone has a few favorite things.
Hopefully, one of yours is marketing. Or maybe it's a world-class cup of coffee. Or maybe something else…
We've got a few favorite things, too. Admittedly, Whatagraph is one of them (yeah, we're a little biased).
But of all the things that Whatagraph can do, these ten features are our favorites. So we thought we'd share them with you, including how to set them up in your own account.
1. Automation.
If you've been manually creating reports over and over again, you probably know how much of a drag it can be.
Not that we don't love data and analytics, but doing the same thing over and over again is… inefficient.
And boring. But even more importantly, it's crazy time-consuming. One marketer, we know of, Justin Herring at the SEO agency YEAH! Local used to spend half an hour preparing each report for all his clients.
He's not the only one spending that much time on reporting, either.
HubSpot did a survey of how marketers spend their time on routine tasks … and guess what came in as the #1 offender?
Yup: "Collecting, organizing and analyzing data"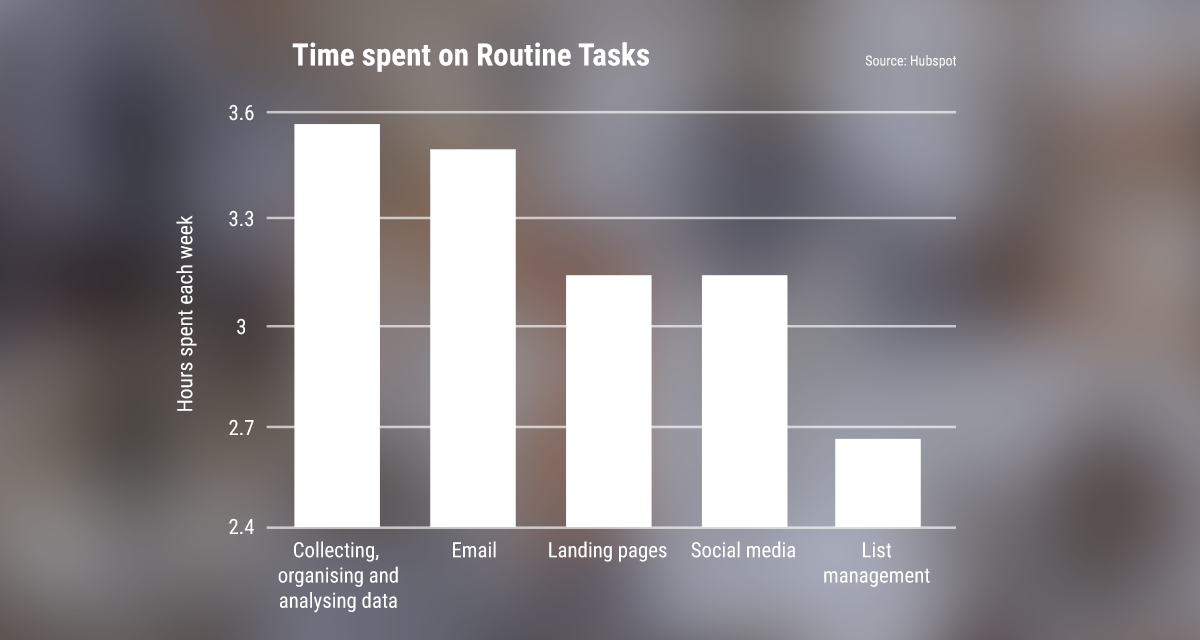 If you've been running a special report by hand for an executive or client every week, being able to completely automate the creation of that report might feel downright life-changing.
That's not an overstatement either: 3.5 hours a week works out to 175 hours a year, assuming you work 50 weeks a year.
175 hours is about four week's worth of work. At 43.75 hours a week.
That's one full month out of the year.

Which you could radically condense by automating your reports.
Just sayin'.
Want more information on how to automate all your reports? See our Support page on the topic.
2. Review reports before they go out.
Technology rocks. Automation is awesome. Until… they don't work the way you expect them to.
And so while we love being able to automate reports, we also appreciate being able to check and review reports before they go out to clients and team members.
All you have to do is to click once, scan the report, and click approve – and you'll know there wasn't some funky mishap in the data that turned your report into a mess.
Here's how to make it happen:
You can set this when you create an automated report, or when you go in to edit an existing automated report.
Just go to the report settings and find the "Approval" section.
Make sure the box next to "Don't send without reviewing first" is checked.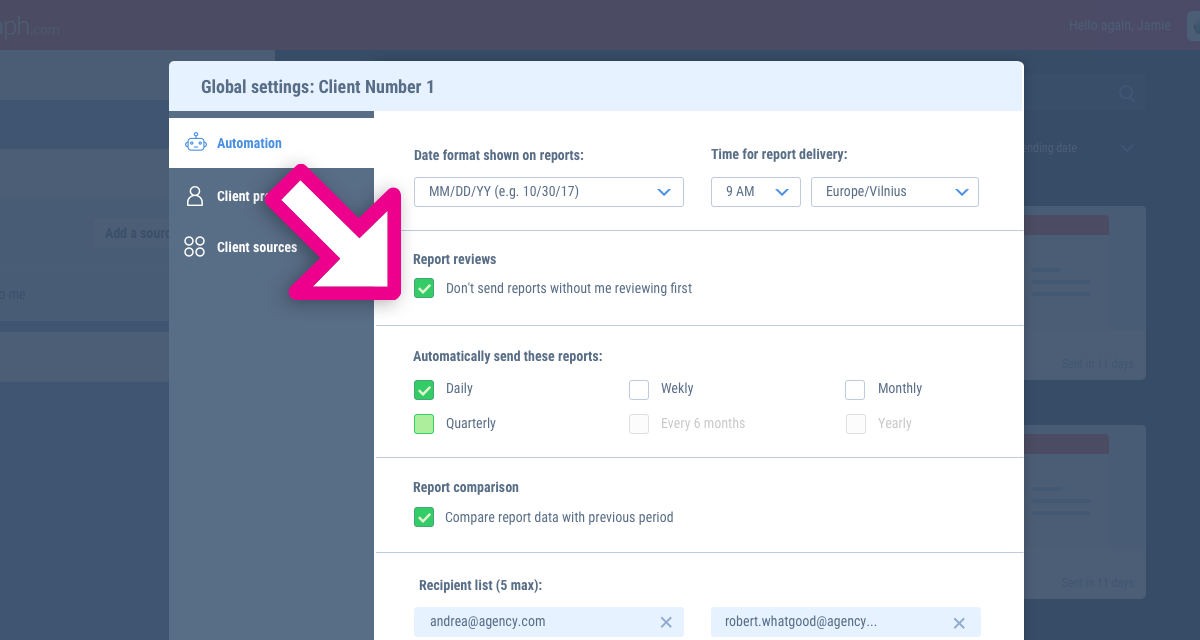 That's it!
Just remember, this report won't go out now until you've approved it. So if you'll be out for a day or so, remember to hand over report management to one of your co-workers. See item #8 on this list for how to do that.
3. Add comments to your reports.
If you're a client or a manager, it's one thing to have a nice-looking report automatically sent to you every week or so, all filled out with only the information you want.
It's another thing to actually understand what you're looking at.
This is where client management comes in. Who hasn't sent a spiffy report to a new client or a new boss, only to have them get back to you and say, "Can you tell me what I'm looking at here?"
Ugh.
Being able to add comments to your reports lets you explain to them what they're looking at.
This means you can frame the information they see - which means you can frame how they understand what the report says.
That's powerful stuff. It shapes how this client or boss views your work, and how much they trust you.

The trust thing is especially relevant. People tend to distrust what they don't understand, so if you want more budget, more resources, or just the go-ahead to try a new marketing tactic, you need to present your case – your data – in a way that's convincing. In a way that makes you look trustworthy. (We expect you were trustworthy already, of course, and this is just for appearances.)
Even if you can't meet with a client or boss in the room, being able to add commentary will literally change the way your client or boss sees the information in that report.
Here are a few things your comments might include:
You can point out where their data is improving, and say a few things to manage expectations for future reports.
You could quote some industry benchmarks. For example, cite a study that shows their email open rates are actually very good for their industry. Or cite competitive research that shows their cost per lead is exceptionally low.
Clients value this kind of context. A lot. In many ways, they may care more about what you say about the report… than about what the report says itself.
To set up commenting, check the "Automation" page settings for your client. Make sure the approval option, where it says "Don't send without reviewing first" is checked.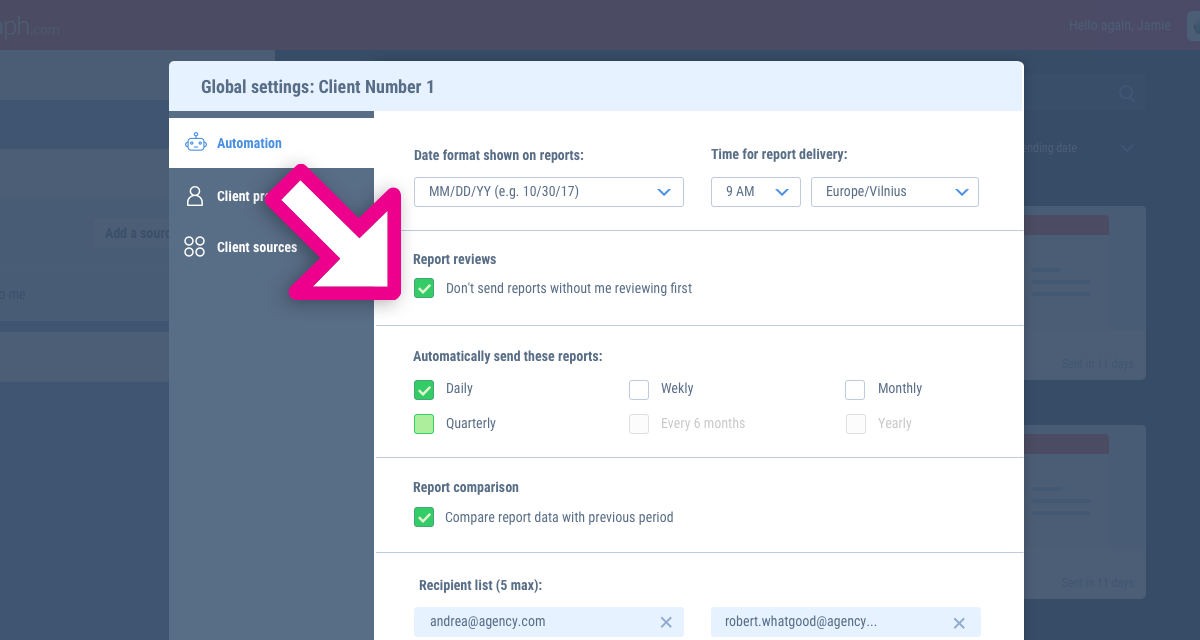 There's a help page for how to add the comments to your reports here.
4. Customized formatting for reports.
This is another way to polish your image with clients and co-workers. It's basically "dress for success" for analytics reports.
A Whatagraph Agency account lets you customize reports for each one of your clients. You can:
Upload their logo
Choose a color scheme
Specify their company name
Specify their domain name
Customize the reply-to address for the report
Specify who on your team is responsible for the report (perhaps the account executive)
Here's the screen that has those settings: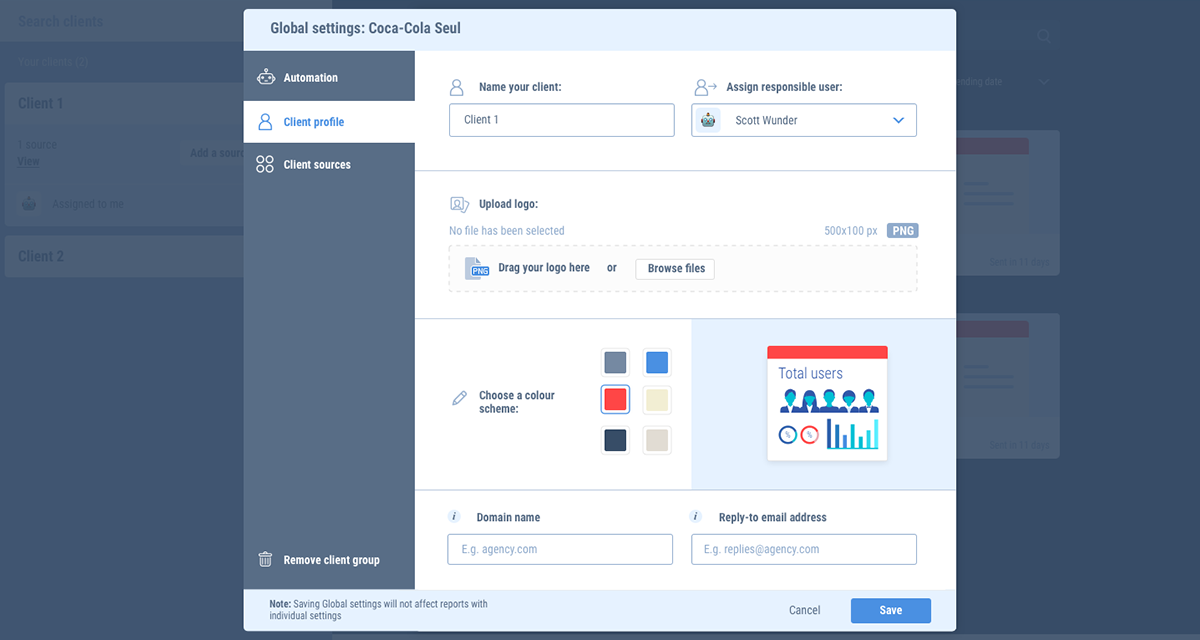 5. Multi-source reports.
The average marketer has at least seven different marketing platforms operating at once.
That means they have seven (or more) different sets of reports to manage.
Yikes.

Whatagraph simplifies all of that. Once your accounts are hooked up (and that takes barely three mouse clicks), you can embed the analytics widgets into your Whatagraph reports.
Voilà – now those seven reports are one report.
Here's what it looks like. This particular view uses the template from the Website Performance Report, but you can add pages above or below. And you can add any of the widgets from the right column to this page, or any additional pages you want.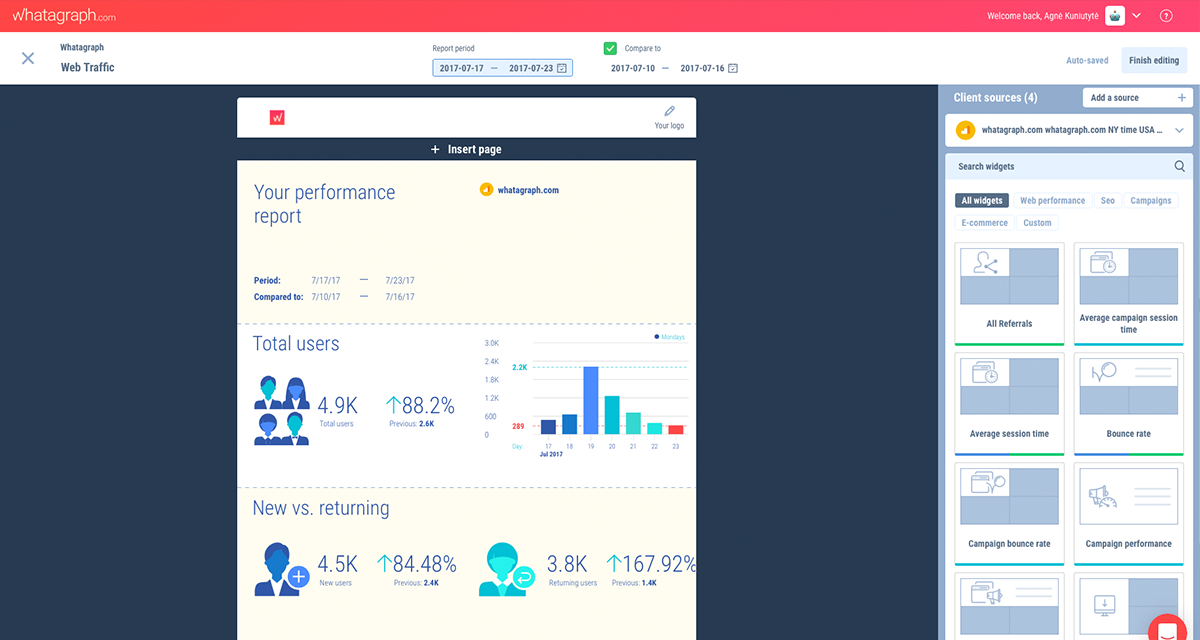 Here are a few ideas for how to use this:
You can build a report to see how different landing pages are performing or to compare the same marketing campaign across different social media channels.
You could use the e-commerce report template to create an overview of best-selling products and the revenue they generate.
Consider creating a report for your company's own internal reporting. Clients are the priority, but don't completely forget your own marketing. Create a report to track how your website and social media accounts are performing.
6. Custom data widgets.
You don't have to be limited to reporting on just your marketing accounts, either. With custom widgets, you can add a data feed or a static piece of information to any report. Anywhere in the report.
One of our favorite applications for this is financial data. That's the stuff the C-Suite cares about most, so it's nice to able to give it to them in an automated, polished, consistent way.
Custom data widgets can include:
Comments
Data values
A histogram of values
A line graph of values
Static comments
Text lists with one to five values
A report title
7. Personalized reports.
Because Whatagraph reports are automated, it means you can send people exactly the information they want - and nothing more.
This is a beautiful thing. Know why? Because different people want VERY different information. And when you give everyone the same report, it just means everyone has to dig through your massive report to find the elements they need.
Not only is this a drag, but as the UK digital agency Liquid Silver Marketing found, having too much data leads to client apathy.

This is especially true if the client isn't particularly enthusiastic about analytics (hey… we love data, but most people only love it in small doses). It gets even worse if they weren't technically-minded enough to really understand the metrics in the first place.
The result of all that?
The client starts to tune the data out.
That means they're operating their business without critical information. Maybe they're spending advertising money they don't need to be, or maybe they're investing in projects that aren't generating good returns.
In other words, ignoring your analytics can be costly.
Trimming reports down helps with this a lot. It makes the data more accessible. More interesting. More actionable.
And so Voilà again: You've made a major improvement to your client's business. Simply by streamlining their analytics reports.
8. Easy handoffs to team members.
Going on vacation? Taking a few days off? You can easily hand-off your reporting responsibilities to another team member. It only takes a couple of clicks.
To do this:
Go to the client settings page
Look for the "Responsible user" area on the top right of the page
Choose which team member to assign the reporting to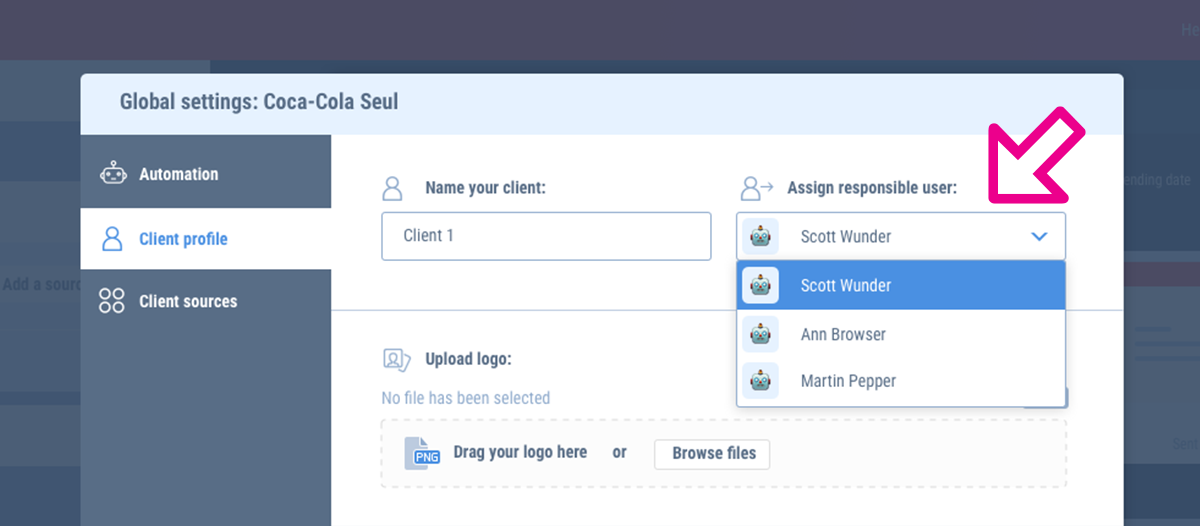 No more worrying about any interruptions to client communication while you're gone. And your client won't have to wait for their reports until you're back.
9. Easy sharing capabilities.
This is actually a combination of four smaller features, but the results are the same – to make it super easy to share your Whatagraph reports anywhere, at any time.
Namely….
You can also now get a direct link to the report, so sharing it quickly with your team on Slack or anywhere else is super easy.
You can embed reports in other documents. This is perfect for transparency, business pitches, and 'advertise with us' pages.
The full-screen view lets you have fast client presentations on the go.
You can generate instant reports for any date period. So long as you've got a template pre-made, you can generate a report in literally seconds. Even with your boss standing behind you.

10. Streamlined client management.
Being able to have different client areas means way less headache for agencies that have to handle dozens of clients. It lets each client have their own report settings, their own team manager, their own inputs and formatting.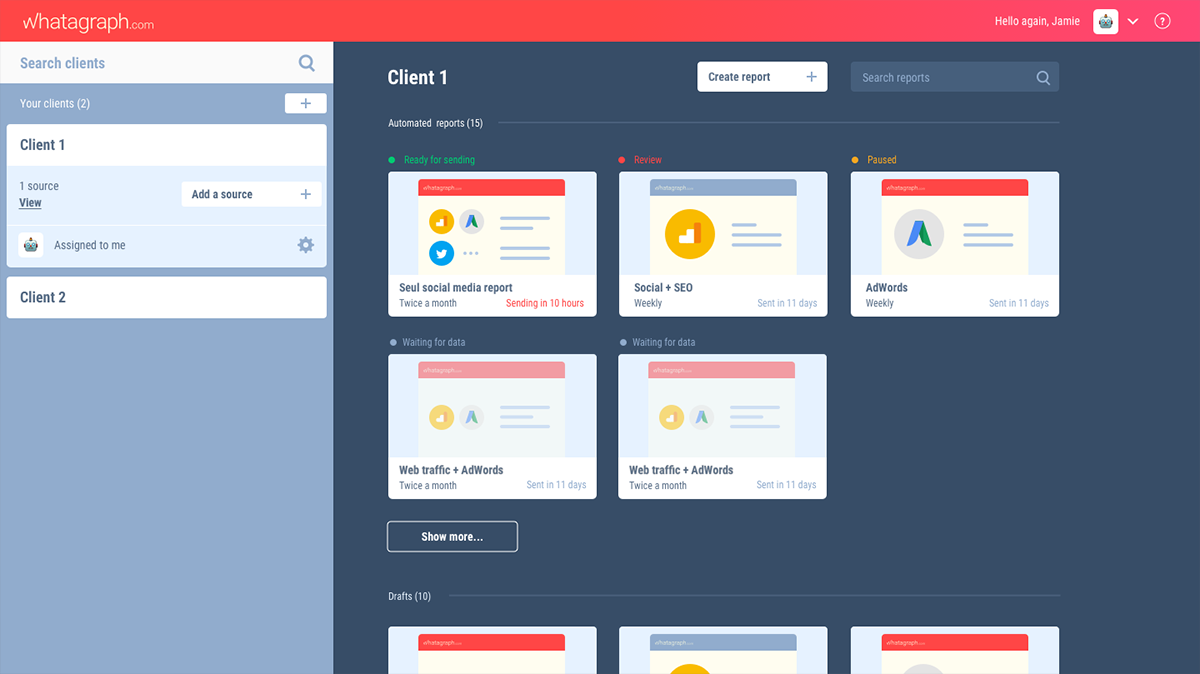 And because team members can be assigned to different client accounts, no one will have to search through a long list of names to get to their client.
The home screen of their Whatagraph account will show them only the client accounts they're responsible for.
Your turn
Now that you know these features exist and how they work, we hope you'll dive right into using them in your Whatagraph account. But if you have any trouble implementing these, customer support is a click away. We'll help you get it right.