Table of Contents
What is Bing Ads Intelligence used for?
If you have even the slightest understanding of PPC, you'll be able to manage using Bing Ads Intelligence easily. The functions and features are all explained in detail on the platform. Also, the data is instantly available, making the user experience almost seamless.
Report Bing Ads With Whatagraph
The platform is internet-based, so you cannot access data offline, and you have to log in to a relevant account. This is a slight downside, but the upsides can make up for this.
The data is also built into Excel spreadsheets nicely, so you can sort it and manage it hassle-free.
Bing Ads Intelligence is also used to identify demographic information, search volumes, and other useful search trends.
And if you need to go a little more in-depth into keywords, Bing Ads Intelligence has three different functions: traffic, keyword performance, and other tools are placed under More Research.
Now that we've covered the purpose of Bing Ads, how do you actually use it?
How do I use Bing Ads Intelligence?
Installing the add-on
1. The first step to using the tools is by downloading the Excel add-on. You can do that here.
2. Once you install the add-on, you'll see the Bing Ads Intelligence tab on the excel overhead bar.
3. From there, you need to sign in using your Bing Ads account. Otherwise, you won't be able to use the add-on. Afterward, you can select your country and language.
4. Now you're all set and ready to get started.
Research
If you want to do some research using Bing Ads Intelligence, here's how you can:
2. You'll get an option to download a template. Also, you should enable editing and content.
3. The yellow shaded fields let you set search parameters for your research. These can include keywords, data ranges, and devices.
4. Once these are set, you can click Refresh All.
5. You now have keyword research all done in the span of <5 minutes.
Summing up
Bing Ads Intelligence is a great way to get loads of data on key points.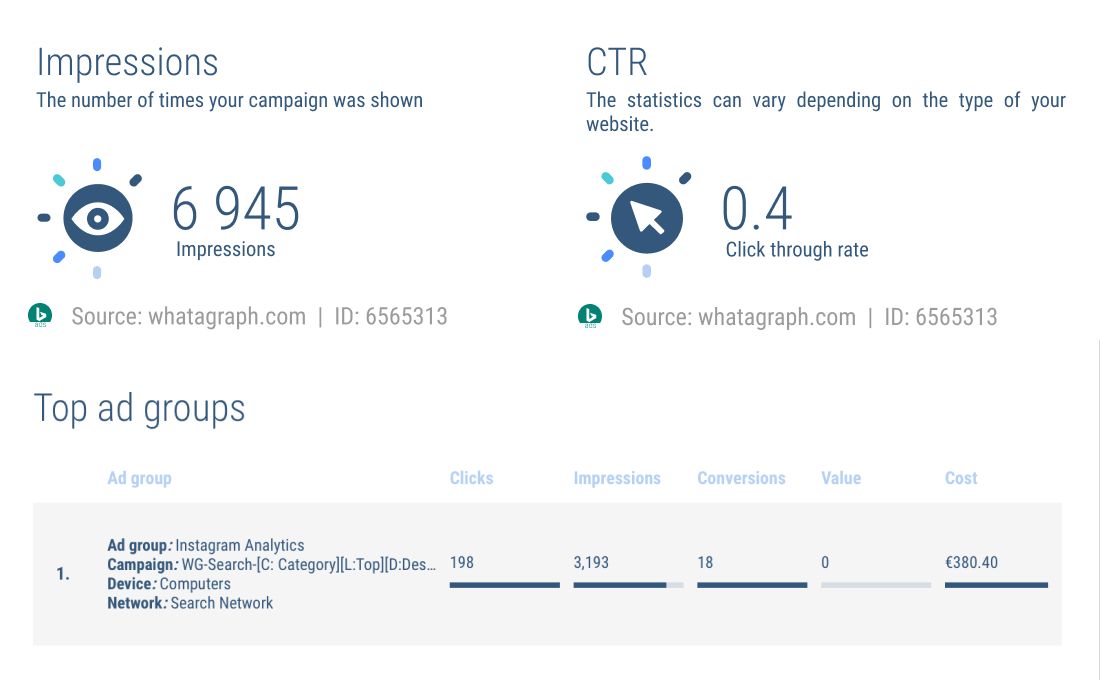 And if you want to present all of that useful data in a more understandable and actionable way – check out Whatagraph's Bing Ads dashboard. It's another fully automated tool that uses visualization to make reporting more insightful and valuable.
Here's a 7-day free trial to try it out.