28 Best Digital Marketing Software for 2020
Mar 20, 2020 ● 9 min read
Are you searching for digital marketing software? There are over 7000 of them you can consider. But how do you find out the best digital marketing software when you have over 7000 tools you can use?
You can read recommendations by industry leaders or marketing experts or narrow down your selections to tools that can enhance you to achieve your goals.
That's why we have researched and highlighted the 28 best digital marketing software that has been recommended by industry leaders.
1. Whatagraph
Whatagraph is one of the best solutions for agencies that have a lot of clients and have to automate their reporting process.

WG have many integrations with other tools:
And much more. Simple integration helps to extract necessary information from different sources and represent it on a single visual report.
2. Visme
Visme is the best digital marketing software for creating and sharing stunning graphics and other visual content with your audience.

Whether you need to create a basic promotional graphic, ad campaign assets, an animated GIF, a marketing report, a sales presentation, or any other type of visual, Visme is the perfect solution.
Get started with a premade template to make the design process easier, fully customize it to fit your brand and your content, then download and share in a variety of different formats. Choose from design elements like vector icons, animated illustrations, data widgets, stock photos, and more.
3. Ahrefs
Ahrefs is the best digital marketing software to navigate through every of your SEO metrics.


Ahrefs possesses helpful and rich set traffic reports, domain-based links, and keywords to streamline your sales prospecting, content reports, and calls. You can research topnotch content for blog posts using Ahrefs. It is highly useful to perform competitive analysis and also to track the activities of your competitors.
Ahrefs' SEO audits help detect issues with your site, while you can also find some backlink opportunities.
4. Aiva
Aiva is the best digital marketing software to optimize your conversion.
Engaging the entire team for conversion optimization using multivariate testing could be costly, especially for smaller business clients.
With the Aiva AI platform, you can streamline the conversion process. It is possible to specifically target, assess, and optimize on-site content given a particular user behavior with the campaign builder. You can also retarget and customer user experience over multiple devices at an insignificant cost for your business clients.
5. Basecamp
Basecamp is a topnotch collaboration and project management software.

It is designed as an easy-to-use but powerful tool for project management. Basecamp is perfect for agencies. It has chat rooms called the 'campfire', and you can save files and set milestones, which make it more dynamic compared to Slack. Clients can also upload files to a particular project.
6. Beacon
Beacon is the best digital marketing tool to create ebooks quickly.




A lot of agencies go through the long process of researching content, creating, designing, and revising content. With Beacon, the process has been streamlined so you can quickly design a lead magnet for clients.
The software has well-curated templates you can pick from; you can also customize layout, colors, etc. This enables copywriters merely the process of putting together the whole lead magnet. It also expedites the launch process and saves you money.
You can obtain analytics on individuals going through your lead magnets. You can as well convert a blog post to a lead magnet with few clicks. What a great way to repurpose content and optimize your subscription list.
7. BuzzStream
You can track influencer outreach with Buzzstream.
Are you one of the agencies that track outreach and conversation with excel spreadsheet. You must have been wasting a whole lot of business hours.
With Buzzstream, you can focus on what matters to your business such as building connections and promotion of content
8. Calendly
Calendly is our best digital marketing software to simplify appointment books by prospects.
A lot of agencies still send emails back and forth with their prospects. Calendly can save you several hours by finding a suitable time or day that suits calls, sales, podcast interviews, and other forms of mobile meetings.
9.Pabbly Connect
Pabbly Connect is a very powerful software that lets you transfer data and create automated workflows among applications from multiple niches like CRM, payments, marketing, etc. The best thing about this platform is that no matter what plan you buy there is no limit on the number of workflows that you can create. Plus, you get access to its complete features in the basic plan itself.
This user-friendly application is very easy to configure and a new integration can be created in a few easy steps. Further, you can begin the workflow by setting an instant trigger via Trigger Apps or webhooks. It also allows you to create unlimited multi-step calls using which you can connect limitless applications in your workflows. You can also employ filters to import only the required data in your workflow.
All-in-all Pabbly Connect is a cost-effective solution to all your automation needs.
10. JotForm
JotForm is one of the best online form builders out there for your digital marketing needs. It has over 7 million users and it's the easiest way to collect the necessary information from your audience for a better marketing strategy. They have 10,000+ ready to use form templates, 100+ integrations with 3rd party apps, and a great form designer for you to get creative with it.
It's widely used to collect payments, generate leads, collect registration, upload files, collect contact information and with its built-in electronic signature widget, used by marketing agencies frequently, it is one of the best DocuSign alternatives. Also, with it's HIPAA compliance, JotForm stands out from its competitors, providing very necessary help to medical professionals with their digital marketing needs.
11. Contentools
Contentools is the best digital marketing tool for planning and marketing content.
You can use it to organize your calendar and ensure you meet your deadlines. It is also easy to collaborate with freelancers and also manage your content demands.
12. Drift
Drift is the tool you need to add chatbots to your client's site.
With Drifts, you can easily migrate cold prospects into consideration while you offer additional net to catch a lead by proffering solutions to the issues bothering them while they browse your site.
You can also customize your consultative selling adventure, delight visitors and answer timely and technical queries to win their hearts and convert leads
13. Drip
Drip is the best CRM automation software you need.
It can help you aggregate and deliver personalized and relevant content across different channels but utilizing triggered marketing automation which can convert a looker to the buyer.
You can optimize your webstore using relevant customer data insights. This alone can enable your clients to actualize their business objectives and surpass their expectations.
14. Fotor
Fotor is the best digital marketing software for editing pictures online.
If you have a lot of reports and banners to create, a free and web-based digital tool such as Fotor is highly essential. Fotor contains a lot of easy-to-use add-ons and go-art.
15. Google Analytics
Google Analytics is the best digital marketing software to manage your web analytics requirements.
Your site remains your best marketing infrastructure. And GA is the best tool to track your performance- from the first traffic origin to the last conversion. You can't find a proficient digital marketing professional working efficiently without Google Analytics.
Google Analytics introduces indispensable additional data compared with other tools. You can determine what pages are not converting, discover issues, as well as which page is bringing the best traffic.
Google Analytics offers you a clear insight into the performance of your different channels. If you want to know to create and run a practical A/B test or understand the origin of the traffic to your sites, you cannot joke with Google Web Analytics.
16. Grammarly
Grammarly is the best digital marketing software to prevent grammar and spelling errors.
Peradventure, you write a lot, especially for emails, social media, blog posts, or kindle books, Grammarly can help you ensure you have not missed any grammar error in your content. You can also align your content to suit your target audience based on their languages-British, American, Australian, and Canadian English.
17. IntentData.io
IntentData.io is the best digital marketing software to gather actionable data for your outbound sales.
In the SaaS space, process and data are two significant differentiators to look out for. This tool has both.
IntentData.io is a refined data source that drives results.
18. Jira
Jira is the best digital marketing tool for agile project management.
You can use it to coordinate agile project management for both internal, as well as client marketing projects. The software can help you simplify complex projects into minute elements. That way, you can assign team members those tasks with a deadline.
You can establish a plan weekly on Jira whereby everyone is clear of what they need to do, and then review the plan at the end of the week. This makes it easy to make improvements where needed.
Project management is essential for marketing agencies. They run different projects, and with Jira, they can track the status of each task and project. Jira provides full transparency into peer's activities. Anyone can assess workloads, capacity, project performance, and overall productivity.
19. Keywords Everywhere
If you continuously run campaigns, this tool is indispensable.
Typically, you go through the process of identifying the volumes of keywords, LSI keywords, and check the historical costs of each click. That's not quite easy if you agree.
If you require a significant volume of data on your target keywords, you have to access the dashboard to find the details, then export to Excel spreadsheets. With Keyword Everywhere, the process is streamlined. You only need a browser extension to check for LSI keywords, CPC data, and volume directly in your search results. That way, you have three steps reduced to just one.
20. KWFinder
KWFinder is another tool your agency can use to search for organic keywords. It's a simple, powerful, and user-friendly keyword research tool.
A notable feature is that of the proprietary keyword difficulty parameter or metric.
This metric provides an insight into the level of difficulty in ranking a keyword on the Google search results page. It examines the link profile as well as other sites on the first page. A lot of studies have confirmed the accuracy of this metric.
It also includes others such as a search for semantic keywords (like question keywords and autocomplete), browser extension, and a lot of relevant content that you can easily understand.
21. Leadfeeder
Leadfeeder is the best digital marketing software for generating lead intelligence.
You can target viewers better, know their locations and companies. With that intelligence, you can customize outreach campaigns and initiate relevant conversion around their requirements.
22. Loom
Loom is the best digital marketing software for creating and sharing screen recordings.
Sometimes, you need to share colleagues on how to go about a task. Loom makes this possible.
You can share screen capture using your webcam and audio. These videos can impact collaboration, reporting, and training.
23. Moz pro
Moz is the best digital marketing software to perform SEO analysis.
Moz offers better keyword targeting. You can research potential keywords in its keyword explorer and also track progress. The campaign monitors domain authority, rankings, and search visibility and offers insights on optimization.
24. PandaDoc
PandaDoc is the best digital marketing software to create and track proposals quickly. It is one of the tools that enable agencies to support existing clients, plan, share, and secure authentication for sprint plans. But there are also plenty of other good Pandadoc alternatives you can check out.
25. Right Inbox
Right Inbox is the best software to convert your Gmail account to CRM
The email 'notifier' can save you time by reminding you of who sent an email that needs following up.
Previously, following up is done manually in Google calendar, but you can follow up via this tool.
You can schedule emails you need to send later, set reminders for them, so you don't forget relevant conversations. That way, you can save yourself time. Right Inbox can boost your email productivity as you save hours each week, which you can spend on other aspects of the agency.
26. Samepage
This software is highly effective in tracking projects in a team.
A lot of agencies use different tools, such as Timefox, Asana, Teamwork, and others. Some of them may not have a particular component that's relevant to your goal. So, you start changing tools until you find the right one.
Samepage organizes your entire project. It provides a clear view of relevant projects and enables you to organize then in a way that you want. It's also a great platform to synergize with other team members.
You can set up repeating tasks for every member, store meetings and notes, or create new templates for future activities. You can also review your project statuses.
27. SE ranking
SE Ranking is the best digital marketing software for tracking keyword rank.
SE Ranking offers every SEO feature you need in a tool. An exciting aspect of the tool is its ability to track changes in rank. For this tracking, you can set the device, location, and language of the analysis. That way, you can achieve precision with your results.
Peradventure, you are managing several projects simultaneously, and you need to report outcomes to different clients. SE Ranking can enable you to automate reporting with a set of data and frequency that you need to share.
28. SEMrush
SEMrush is the best digital marketing software to optimize your content for search engines.
It has incredible tools for content marketing. It also covers the bases of SEO, just like Moz.
SEMrush streamlines your content marketing process beginning with topic research, competition research, and keyword research. You can outline and gain insights while writing thanks to the Writing Assistant. It also provides on-page tips and link opportunities after-launch.
29. SEObility
SEObility is an excellent tool for TF-IDF optimization.
Its TF-IDF feature can make your articles rank higher than leveraging only keyword research. It can provide you with several contextual phrases and topical ideas beyond your imagination.
30. Seventh Sense
Seventh Sense is a great tool to customize email send frequency.
You can seamlessly synchronize data from other software to enhance the rates of email engagement, as well as marketing automation outcomes. This can culminate in increased leads and customers for your business clients.
This tool is highly important as you can continually innovate and drive results for your clients.
31. Asana
Asana is a collaborative management system for your workflow. Its visual emphasis is designed to help you streamline and de-silo goals and data between your teams.
You can visualize projects you need to finish, devise deadlines, and set priorities for your tasks. You can also assign tasks to all team members and de-silo data between teams.
32. Netpeak Spider
Netpeak Spider is the best digital marketing software to boost your website ranking as well as a spy over your competitors.
Netpeak Spider analyzes technical optimization of websites and prepares intuitive and simple dashboard based on crawling results. You can detect broken links or images, content duplications, errors in robots.txt or redirects, and so on. Fixing the issues boosts your website traffic and generates more leads.
Netpeak Spider allows use up to 100 conditions and four types of search (contains, Regexp, XPath, CSS). You can scrape hreflangs, emails, phone numbers, as well as analyze competitors' content strategy or research data for your blog posts.
33. Respona
Respona is the best digital marketing software for creating and successfully implementing outreach campaigns.
Make it easier to find the contact information of the people you're reaching out to, personalize and send emails, and build quality backlinks to your website, improving both your domain authority and your SEO.
34. WiseStamp Email Signature Manager
The Wisestamp Email Signature Manager lets companies take control of their brand appearance across their entire organization's email correspondence.
This tool integrates with your company's G Suite or Office 365 and, grants you centralized control over your team members' email signatures. The integration only takes minutes, after which you'll be able to automatically synchronize your company signature on your employees' computers.
Central control over your company signatures will allow you to unify your branding for the thousands of daily emails your company sends out.
WiseStamp makes it extremely easy to create a signature without involving a designer nor a developer. You can even add buttons, banners, and links with specific CTAs by departments. For example, you could use "We're Hiring" for your HR team, "Schedule a demo" for your Sales team, and "Contact our support" for your Support team.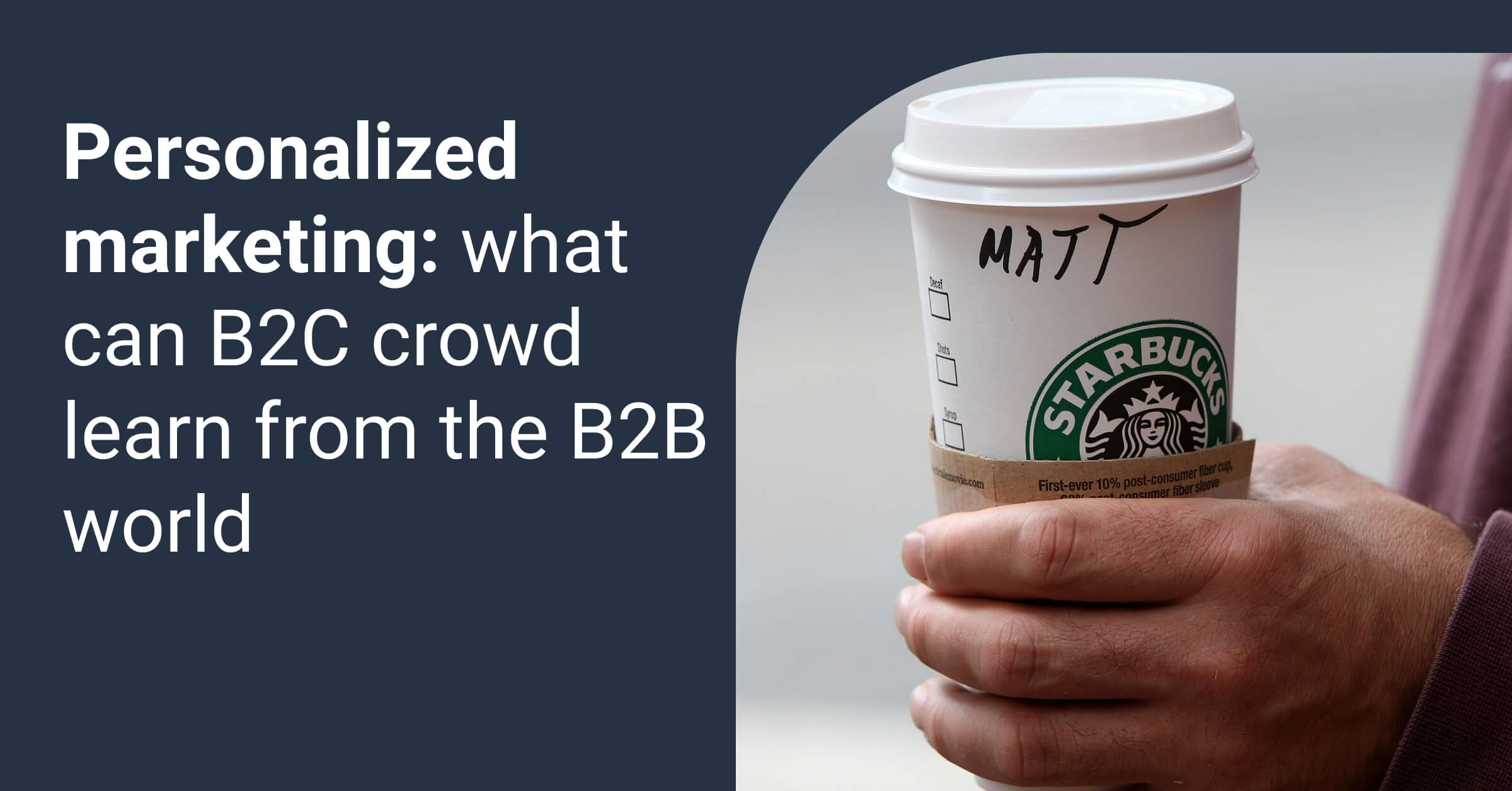 Personalized marketing has been trending recently, but its application started all the way back in the early days of social media advertising. Yet it's B2B businesses that have been personalizing their products, services, customer and sales experiences - and not by their own choice. What can B2C crowd learn from that experience?
Read more...