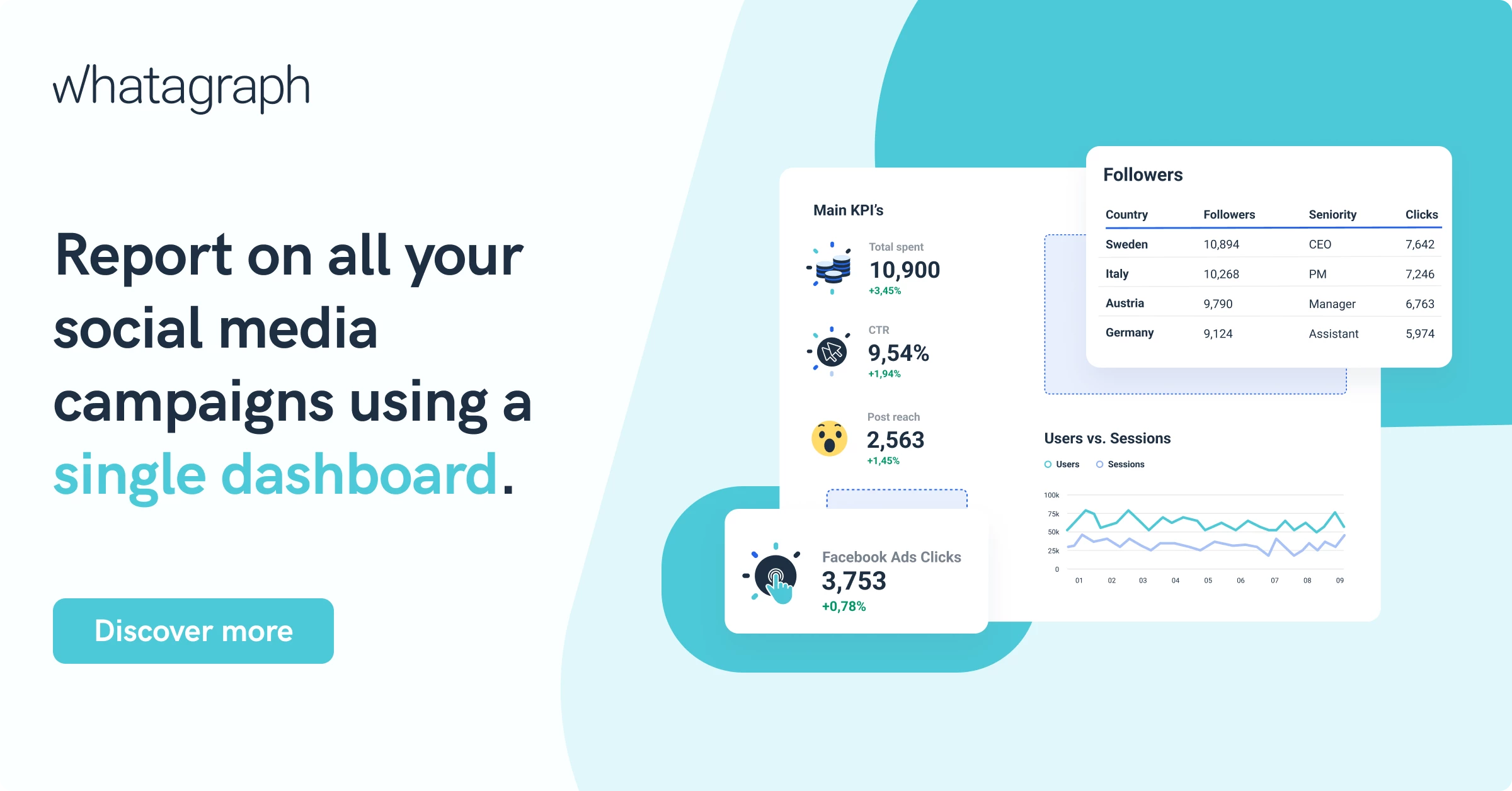 Table of Contents
An audit is an excellent way to gain a much more in-depth understanding of your operations. Aside from that, it is also beneficial to update and develop your client's social media presence in order for it to perfectly align with the overall business marketing strategy.
Social Media Audit Definition
A social media audit is a methodical process of assessing your client's social media presence. With a social media audit, you, as an agency owner, will want to take the time to regularly evaluate all of your clients' social media channels. If you are unable to do so on a weekly basis, you can conduct an audit on a monthly or bi-monthly basis.
An audit can be compared to spring cleaning. This is an opportunity for you to keep or redefine a successful strategy, discard elements that aren't working, and make room for new and innovative social media marketing strategies. In summary, the three main factors to consider when conducting a social media audit are as follows:
What strategy is effective and yields the best results?

What is the failing strategy that isn't producing good returns on investment (ROI)?

What steps should be taken to improve results on those social media platforms?
The impact of a social media audit on your overall social media marketing strategy cannot be overemphasized as it helps to increase your return on investment (ROI).
Many businesses that fail today do not place much significance on the right step to take when it comes to social media campaigns. Hence, they end up losing more than they should ordinarily in terms of their social media marketing strategies. Conducting a social media audit has a lot of valid and valuable reasons.
Some of these include:
Conducting a social media audit will provide you with insight and clarity that you wouldn't have discovered ordinarily. It helps to eliminate hurdles and challenges that might hinder the success of your social media marketing activities. Of course, it might require some effort, but it will be worthwhile in the end.
How to Do a Social Media Audit for a Client
Doing a Social Media audit for a client and then giving them an overview of it are two entirely different things. While conducting an audit necessitates attention to detail and a large amount of data, presenting ALL of it is not required. Now you will find a social media audit checklist to consider when running that deep dive into your client's social media. Finally, if you want to learn how to efficiently present this audit to your clients, find a smaller guide at the end of this segment.
1. Assemble all of the client's current social media profiles
Begin by simply 'Googling' their company's name. Try typing their company name or a few of their products to see what comes up. If any accounts appear on your screen, open them and look into them. Because unknown (or possibly known) accounts are accessible to anyone who uses Google, potential clients may associate those accounts (which could be a fan, hate, or review accounts) with the brand.
Then proceed to examine social platforms. Determine who has access to them, who can interact with users, and whether that interaction is beneficial or harmful.
Don't forget to also evaluate brand consistency. For example:
Examine whether the profile images on LinkedIn, Snapchat, and TikTok are the same; read some tweets, captions on Instagram accounts, and content on Instagram stories. Is the language consistent?

Is the

social media

handle

consistent?

Are bios, hashtags, phone numbers, and URLs all saying the same thing?

Are they keeping up with social media design trends across all the different social media platforms?
You should also consider platforms that are not yet in use but could be beneficial if you are developing a social media strategy.
2. Investigate top-performing posts
Now you'll need a social media analytics tool to get some metrics and KPIs in front of you. Your aim at this step is to find patterns and trends as to what type of content the client's audience prefers.
Take a look at all relevant key metrics:
Depending on the number of followers each social profile has, it is not difficult to see which platform is the most

liked

by the target audience. Use this data when creating future strategies;

Engagement is another important metric. This one, in particular, identifies the types of posts the client's

social media

network approves the most;

Other social media metrics that are relevant to the objectives and goals.
3. Report overall channel performance
Using the same (or a different) data analytics and social media reporting tool, you will learn not only which posts are the best performers, but also why running paid ads on certain channels is advantageous.
Furthermore, different measurements should be expected depending on the goals. For example, if you want to increase traffic to your website, you could use Google Analytics to find out how many people are visiting it. Then, by filtering on 'social', you'd be able to see which socials are bringing in the most traffic.
Social Media Audit Report
Now that we've covered what should be considered when conducting a social media marketing audit, let's look at the different types of SM data analysis available.
First, create social media dashboards. They will show you where your agency's marketing efforts are at and what is the current performance of campaigns. Social media dashboards display live data allowing to immediately learn and prevent big errors.
Create this dashboard now and see it yourself. Allow your agency to succeed and impress your clients.
Historical data is a key component of the audit. It will provide a glimpse of previous successes and failures, as well as identify patterns and allow to make optimized campaigns. Social media report templates also have a great feature allowing to effortlessly compare data points and results.
Generate a report and find out what it means to easily spot customer trends.
Lastly, keep in mind that you can also create as detailed and as niche as needed. For example, you can audit social media content, create engagement, sales reports or dashboards. So start identifying what information and what kind you need.
How Often Should you Do a Social Media Audit?
Regardless of the fact that each agency has a unique skill set, team size, and marketing objectives, an agency should track and monitor performance on a daily basis. However, when it comes to large refreshes and social media audits, Whatagaph has found that doing them once every quarter is the best practice. 3 months provides a lot of data, patterns, and trends, but most importantly, 3 months is not that long and allows you to prevent errors (such as overspending, underspending, and failing to meet the objectives).
Social Media Audit Tools
Whatagraph
You will most likely need a dashboard tool to keep track of all your client's social media platforms and monitor their performance. Without a dedicated reporting platform, this can be a time-consuming endeavor. This becomes even more difficult as your client list expands and your reporting requirements expand in tandem.
An audit appears to be the work of a detective. The most important thing, of course, is to define how you will keep your discoveries and findings. While there are many ways to keep these findings, using a spreadsheet is the best way to keep track of all the details you'll uncover during your social media audit.
Whatagraph has a social media report template and a pre-built social media dashboard for you to use now. You can, however, create your own social media audit spreadsheet to keep track of the details. Nonetheless, with our reporting tool, it will only take a few seconds.
Whatagraph provides a wide range of reporting automation options. You can schedule regular reports for your clients based on the performance of their digital marketing to be generated automatically by the platform. Cover any time period and provide updates on your marketing efforts on a daily, monthly, or quarterly basis. We'll give you a quick summary of the contents before sending it. Your client can access the report at any time without having to repeatedly request it.
Cross-platform reporting is another useful feature. This feature comes in handy When comparing Facebook's performance to that of other social media platforms (or when looking at your overall digital marketing performance). Whatagraph has over 40 of the most popular integrations. As a result, this data analytics solution may be the only one you ever need.
The Facebook Page Audit Tool
Facebook Insight offers a goldmine of data. This is why Facebook is a powerful tool that no social media marketer will want to ignore. Studying Facebook insight doesn't only help you focus on the effectiveness of your social media marketing campaigns but also helps you improve your Facebook page while you get those details right.
Why should you study Facebook insight? This is because it brings a lot of data points that you can measure. From the engagement rate to likes, and demographics, understanding Facebook insights will help you discover:
It doesn't matter whether your Facebook business page is small or big. What matters most is the fact that you are paying attention to details. And it is only the right metrics that can help you understand this.
Time to Conduct Your Own Social Media Audit
If you are new to social media audits, it might seem challenging and intimidating to grapple with. However, the process is simple and hassle-free. Now that you already have access to the step-by-step procedure for conducting a social media audit, why not consider taking this step?
Of course, your social media audit as a beginner can take some time before you figure things out. If you can concentrate on the necessary elements, you'll have a higher return on investment in no distant time. Remember, conducting a social media audit will help you discover what you are doing right and what's wrong. Ultimately, you'll improve so that your target audience can resonate perfectly with your content.
The final result is usually a more refined social media presence fueled by excellent and engaging content.