Social Media Audit
Jul 08, 2020 ● 11 min read
In fact, let's assume that your brand or business is registered on LinkedIn, Facebook, Instagram, and Twitter, and you've been nurturing these profiles for years. If everything is working in the right way and you are getting good results, fine! If otherwise, there are methods to check whether things can be easily improved or not. Have you ever conducted an audit on your social media profiles?
Of course, you already know that several social media platforms have transformed into powerful business marketing tools. These platforms help to create brand awareness and promote your products. Also, they help to build your audience and increase sales.
From Facebook to Twitter, Pinterest, Instagram, and many more, these social media platforms are excellent tools to market your products and services, ultimately growing your business. Performing an audit of your social media profiles isn't as challenging as it sounds.
Honestly. As you already know, an audit is an excellent way of gaining a much deeper understanding of your activities. Apart from that, it also helps to update and develop your social media presence to align perfectly with your overall business marketing strategy.
What exactly is a social media audit? How do you conduct an audit on your social media accounts? How does your business make the most out of your social media marketing? What measures do you put in place to measure your social media ROI? These and more are some aspects of social media marketing we'll be covering in this lengthy piece.
What is a Social Media Audit?
Just like it is used in accounting, an audit is a process of going through everything to determine what is right and what is wrong. It's a series of steps to analyze the current happenings and your effort towards making improvements.
Simply put, a social media audit is a systematic process of evaluating your business's social media presence. With a social media audit, you, as a business owner, will want to take your time to evaluate all your social media channels regularly. If you cannot do that weekly, you can conduct an audit on a monthly or bi-monthly basis.
You shouldn't get put off with the use of the term "social media audit" because no one likes an audit except an auditor. You can compare an audit with spring cleaning. This is an opportunity for you to keep a particular strategy that's working or maybe redefine it, discard elements that aren't working and create a space for new and innovative social media marketing strategies. In summary, these are the three main factors to evaluate when it comes to social media audit:
What strategy is working and giving the best results?
What is that failing strategy that's not giving good returns on investment (ROI)?
What are the steps to take to achieve better results on those social media platforms?
You are likely going to require a dashboard tool to keep track of all your social media platforms and view their performance. Doing this without a dedicated reporting platform can be a time-consuming endeavor. This becomes even more difficult as your client list grows and your reporting requirements continue to expand along with the client base.
There is a famous Pareto principle that goes thus; 80% of your result is a true reflection of 20% of your actions. When you apply this rule to social media marketing, this 20% of actions could be represented with your customers, prospects, or you as a business owner.
How do we relate this to a social media audit?
When you conduct an effective social media audit, you'll discover those actions that primarily make up the 20% according to the Pareto principle. Hence, you'll be able to shift your focus in the right direction while also ensuring that you are not wasting your time and efforts on activities that won't generate the right results.
Conducting a regular audit of your social media profiles or account will help you find answers to the right questions. With these answers, you'll be able to determine the way forward and improve.

Some of these questions are:
What's the current state of your Pareto principle on those social media platforms?
Does your content perfectly aligns with the right audience, or it needs improvements?
Does your set out goals align perfectly with your core marketing strategy?
Do you have a collaborative team? Are you and your teams utilizing social media channels effectively?
How are people talking about your brand? What are people saying about your business?
Are you able to meet up with the key performance indicators (KPIs) of each social media channel?
You shouldn't only be focused on finding the appropriate channel, but you should be able to create a balance between the available channels. This will help you make the most of your social media marketing.
In the example above, I picked a small part of the comprehensive social media dashboard - Instagram. With this time of a report, you have the option to compare current performance metrics against previous time periods, across ALL of your social media channels.
When a social media audit is done correctly, you'll be able to uncover or discover even the smallest of the issues. This helps to determine what issue to fix and what needs refinement or improvement. Therefore, your efforts will make a significant impact on your overall social media campaign. The smaller social media marketing issues might include:
Improper use of hashtags;
Scheduling posts for the wrong time;
Creating ineffective content;
Poor engagement rates.
Once you can uncover these issues, you'll be able to devise strategies to improve them to meet your business goals.
Social Media Audit: Why You Need One Now
The impact of a social media audit on your overall social media marketing strategy cannot be overemphasized as it helps to increase your return on investment (ROI).
Many businesses that fail today do not place much significance on the right step to take when it comes to social media campaigns. Hence, they end up losing more than they should ordinarily in terms of their social media marketing strategies. Conducting a social media audit has a lot of valid and valuable reasons.

Some of these include:
Discovering opportunities that you might have missed if you do not conduct the social media audit.
Understanding the right ways to execute social media campaigns and see why it is failing. When you discover the strengths and weaknesses of your social media campaigns, you'll be able to follow the right measures to improve it. Presenting your brand or business in a positive image in front of your prospects and customers.
Analyzing the success and failure of your social media marketing strategies in terms of conversions and results. You'll also discover the factors responsible for the poor conversion rates.
Identifying your position with your competitors. So, you can begin to incorporate strategies that are ignoring.
Conducting a social media audit will provide you with insight and clarity that you wouldn't have discovered ordinarily. It helps to eliminate hurdles and challenges that might hinder the success of your social media marketing activities. Of course, it might require some effort, but these will be worthwhile in the end.
How Do You Conduct an Audit of Your Business Account on Social Media Channels?
If you want to conduct a productive social media audit, you must start with the appropriate tone. However, this doesn't simply mean that you'll be spending a huge amount of time conducting it. With adequate planning, executing a social media audit is possible in just 15 minutes.
You start by attending to the basics first before proceeding further to dig deeper into a more comprehensive audit. This solely depends on the goals you have set out to achieve with your social media marketing.

Here are the necessary steps to be included in a social media audit:
1. Begin by Analyzing your business profiles or pages on social media platforms.
How do you analyze your social media profiles?
List out the details of social media pages you operate as a brand or as an individual.
Evaluate and assess these channels to see if the content details resonate with your brand's message.
Check the consistency of the profile images with your brand or business.
Monitor your progress as a brand to determine if your goals align with your overall performance for 1-3 years.
2. Analyze your influencers and competitors
Evaluate the competitors that are getting positive results. Assess and study the kind of content they posts and their schedules.
Study the top influencers in your industry. Monitor their activities in terms of effectiveness in their social media management for other brands.
Observe the pattern of business marketing influencers and competitors use concerning imageries on their profiles. How is it helping or improving their branding efforts?
Check their trends in gaining followers. What does their current social media follower look like? How are they gaining more social media followers? What's their level of engagement on their profile pages?
Now that you have conducted the basis analysis, it's time to create a detailed action plan that will guide your overall improvements specifically to each of your profiles on various social media platforms. This same plan can also be further utilized in analyzing and reassessing your goals with online marketing.
How Do You Conduct a Facebook Social Media Audit?
If you have ever conducted Facebook marketing in the past, you should know that the success of your social media pages highly depends on understanding your numbers. Being successful in your online marketing activities on any social media platform is truly a game of numbers. You do not want to resort to shooting in the dark to hit your aims unless you would prefer to end up wasting your money, time, and efforts.
You do not have to assume that a Facebook social media audit is challenging or difficult. It only borders on doing your homework efficiently and focusing on the right metrics. With planning, conducting an audit of your Facebook page is possible in a few minutes.
How do you kick start this process? It requires a focus on the essential elements of your profile on Facebook. These elements make a great difference as they are even critical to your followers and Facebook itself.
Conducting a Facebook Audit: The Simple Process
Without creating a business profile that truly conveys your brand's message, your social media marketing will only amount to shooting your aims in the dark. The truth is that your followers and target audiences will only see your brand as being unserious about its presence on social media. Do you want your brand to portray that image of unseriousness? Definitely, No.
Filling out your business profiles on social media platforms is a task you shouldn't ignore. Although, there are several famous brands littered with incomplete profiles on social media platforms. This implies that you need to take care of your profile. This is one of the steps towards making the most of your social media marketing.
When you have a complete profile on your social media pages, it showcases your brand as a professional. Apart from that, your followers and target audiences will be able to understand your business while also connecting with your brand story.
In short, your business profiles should be taken care of to establish your personality and professionalism.
You might have created a Facebook page when you never thought of the importance of having a profile that stands out. Now that you are about to conduct a Facebook social media audit, you should pay attention to your profile. Give your profile the attention it deserves.
Assess and evaluate the type of content you post on your Facebook profile. Create a time to analyze these posts line after line. Ensure that you are attending to the essential details.
You should:
Have a Facebook page URL that features your brand name. For instance, facebook.com/brandname
Have a strong call to action on your Facebook page. However, this depends on the goals you've set out to achieve with your social media marketing.
Double and triple check the links pointing out to your brand's website and other social profiles.
Provide the most vital business information, such as location, hours of work, and so forth.
These details establish you as a professional, but it helps in the ranking of your social media page on search engines.
Keep in mind that running a local business with a physical location requires that you complete your profiles. This is because your target customers are already using Facebook as a tool to search for products and services.
You might think Facebook isn't Google, but you'd be surprised to hear that many people are already using Facebook to search for relevant businesses. Whenever anybody visits your profile, it should display the necessary details about your company and the products or services you offer. This will help them make the right decision. Or else, you'll lose your customers to another brand that's doing everything right.
For many present-day internet users, Facebook is their go-to platform whenever they search for brands relevant to their immediate requirements in terms of products and services. They follow these brands and research about them on Facebook before contacting them for their business requirements. So, update your Facebook business page right now. The more authentic it is, the more you appear as a professional to your prospects and customers.
Focus On Aesthetics
You might be nursing the thought that the look and feel of your Facebook business page aren't crucial. This might be true. However, the wrong imagery will deter you from attracting relevant followers. This is why your Facebook business page's aesthetics is an essential part of your social media audit.
To achieve an engaging, attractive, and aesthetically appealing Facebook page, you shouldn't improve the following:
A well-optimized business profile with an appropriate cover picture.
Professional and Facebook-friendly imagery.
Verification checkmark to establish that your business is real and authentic.
Drawing your target audiences' attention might sometimes be simple and straightforward, with a high-resolution image of your logo paired with a stunning cover photo.
Whether you an entrepreneur or a solopreneur, all that is required is a high-resolution picture displaying your face—nothing else. You can inject a breath of creativity into the cover photo by incorporating a tagline or something that can impress your audience.
As an alternative, you can simply create a high-quality minimalist looking logo or an animated cover photo, which you can always outsource to a freelancer if you don't have any prior animation experience. This can also draw the attention of your prospects and target audiences to your brand.
This doesn't have to be an unnecessarily complicated process. To achieve the right imagery on Facebook, creativity is needed. Keep in mind Facebook's requirements in terms of image sizes. And also, ensure that you are making use of high-resolution images to get to the right results.
Study Your Insights
Facebook insight offers a goldmine of data. This is why Facebook is a powerful tool that no social media marketer will want to ignore. Studying Facebook insight doesn't only help you focus on the effectiveness of your marketing campaigns but also help you improve your Facebook page while you get those details right.
Why should you study Facebook insight? This is because it brings a lot of data points that you can measure. From the engagement rate to likes, and demographics, understanding Facebook insights will help you discover:
Your audiences and their content preferences.
The rate of growth of your Facebook page in the past and the current growing trend.
The results of your Facebook marketing strategy and how to make improvements.
It doesn't matter whether your Facebook business page is small or big. What matters most is the fact that you are paying attention to details. And it is only the right metrics that can help you understand this.
Free Social Media Audit Template
As we've mentioned earlier, an audit seems like the work of a detective. And of course, the most crucial thing is to define how to keep your discoveries and findings. While there are many ways to keep these findings, the best way to keep track of all the details you'll uncover during your social media audit is through the use of a spreadsheet.
At Whatagraph, we have a social media report template and a pre-built social media dashboard for you to use. However, you can decide to create your own social media audit spreadsheet where you can keep the details. But with our reporting tool, it will be done in a few seconds.


For each business account on every social media channel, you'll want to keep the following records:
Account details:
The social handle, for instance, @bandname.
The bio for the account.
The mission statement for the account.
The URL linked to the account from the bio.
The hashtags appearing in your bio or your posts.
Checkmark for account verification.
Details on the pinned and most recent posts.
The link to your profile for instance facebook.com/brandname.
Performance details:
A total number of published posts.
Change in engagement rates.
Overall engagement rate, or clickthroughs, etc.
Top three engaged posts.
Campaign ROI.
Audience details:
Demographic information of the audience
Total number of followers
Change in followers
Goals:
Goals you've set out to achieve by your next social media audit.
Whether you met the goals that you set for the current audit.
There should also be a column for any relevant note about the account.
The Bottom Line
If you are new to social media audits, it might seem challenging and intimidating to grapple with. However, the process is simple and hassle-free. Now that you already have access to the step-by-step procedure to conduct a social media audit, why not consider taking this step?
Of course, your social media audit as a beginner can take some time before you figure things out. If you can concentrate on the necessary elements, you'll have a higher return on investment in no distant time. Remember, conducting a social media audit will help you discover what you are doing right and what's wrong. Ultimately, you'll improve so that your target audience can resonate perfectly with your content.
The final result is usually a more refined social media presence fueled by excellent and engaging content.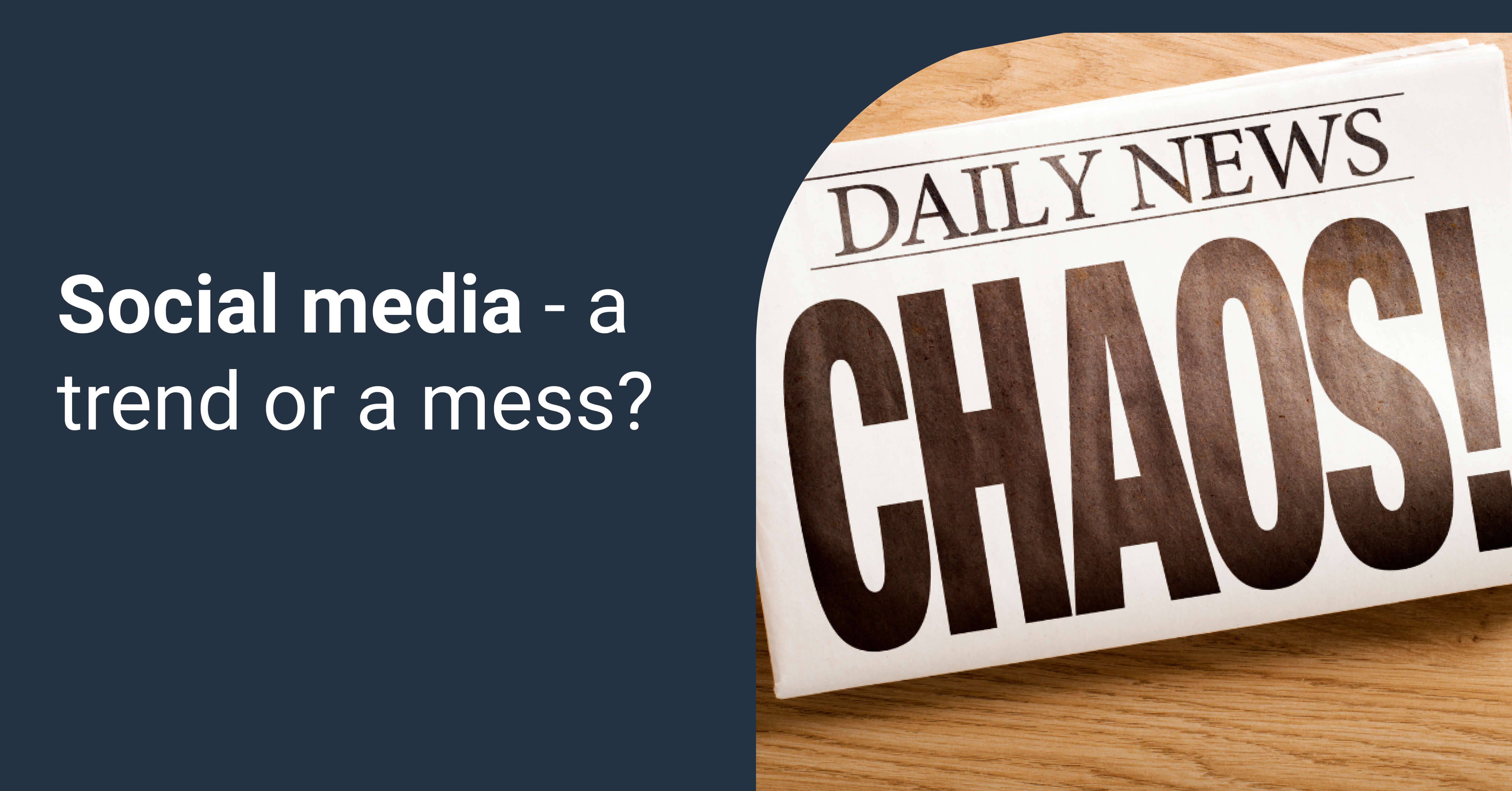 A few years ago, social media was like a cakewalk for marketers, but now the situation is quite different. There are many social media forums that are competing with each other and offer different variations and verticals. With so many social media platforms creates chaos, and marketers have become confused about choosing the right social media platform.
Read more...