#marketing
The Ultimate Guide to Facebook Ads Analytics
Facebook analytics is a powerful platform that provides valuable information about customers and their conversion path. It's about the segmentation of customers, using the social engagement data and Facebook pixel from a marketer's social media channels. However, there are certain things to understand about Facebook ad analytics before you can use this tool efficiently.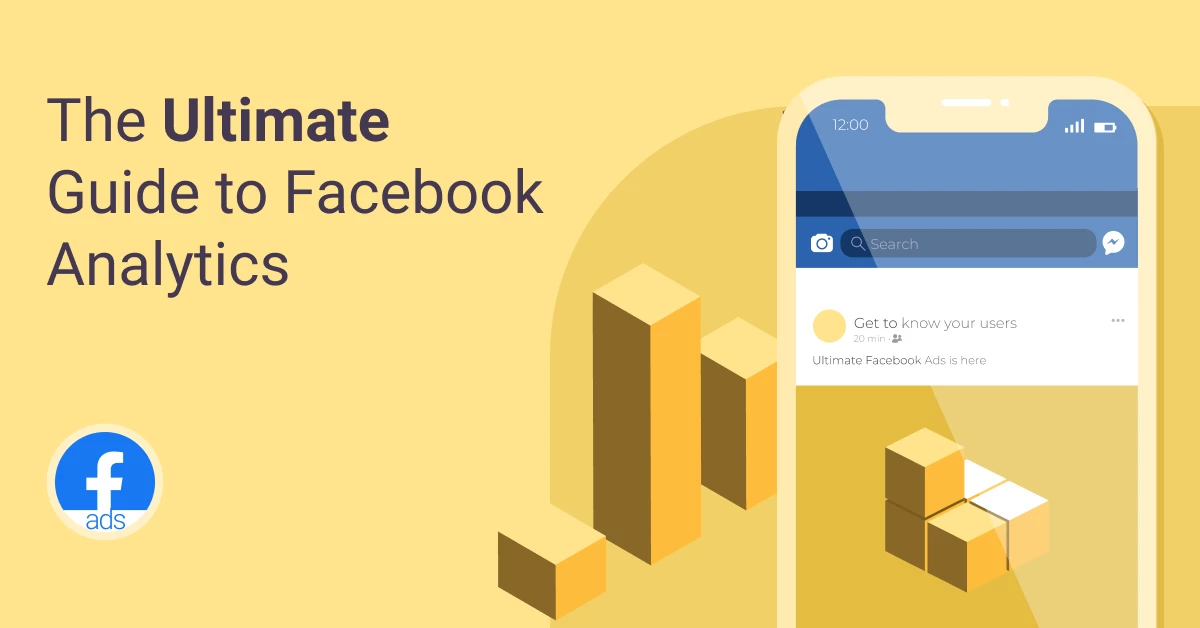 Reasons to Use Facebook Ad Analytics
Facebook has created this platform to help you understand your audience and every step your customers take on your website to reach the conversion goal like download, lead, purchase, etc.
The tool enables segmenting traffic, examining revenue drivers, looking at conversion funnels, and other valuable data. The best part is that it comes for free.
Facebook knows that it is the very first place where many businesses introduce their brand or service to new customers either through paid ads or organically. That's why they have created Facebook Analytics – to keep things that way. The free tool is useful for both marketers and users.
The data it presents can help marketers track how effective their ad campaigns are, thus making better decisions in the future. With the information provided by Facebook Analytics, you can publish your ads and ad campaigns with clear objectives, thus increasing your ROI.
The strongest reasons why you should use Facebook Analytics are:
To understand the journey of your customers through your website

To learn the time delay between repeat purchases or conversion path steps

To learn the behavior of cross-device conversions

To monitor social engagements to the desired conversion

To be aware of delayed conversions from display prospecting campaigns

To track the results from paid and organic marketing across multiple devices and sessions

To increase your ROI and prevent wasted ad spend
How to Use Facebook Analytics
Even though Facebook Analytics is a fantastic tool to use if you're into Facebook advertising, it can be a bit challenging to understand how it works and set it up.

So, let's start this ultimate guide to Facebook Analytics by explaining the setup.
How to Setup Facebook Analytics
To set up Facebook Analytics, you have to be familiar with Business Manager. Open your Business Manager, go to the Measure & Report Menu and choose Analytics.
Now, a list of your business pages and pixels will open. Ideally, you'd want to follow users across multiple channels, so avoid using only one page or pixel. Instead, look at the big picture by clicking the Create Private Group (CPG) in the top-right corner.

Arrange your options and click on Create Private Group.

The assets you require will only appear if you are the account owner of the appropriate pages and pixels. This is something that contractors and agencies should keep in mind.

The pixel owner has to share the pixel because it is a different asset within Business Manager instead of just allowing access to the ad account.
Here's how the account owner can share the pixel.
Open Business Manager and go to Business Settings. Find Data Sources, click on the drop-down arrow on the right, and choose Pixels.

Pick the appropriate pixel and share it with the person or agency that sets up Facebook Analytics.
You may want to check your access level if the assets you need don't appear when you create the event source group.
Generally, the setup is considered to be the hardest part of Facebook Analytics, so once you're done with it, it's time to use your dashboard.
How to Use Facebook Analytics Dashboard
Once you log into Facebook Analytics, you'll see a dashboard that presents basic data like Engagement, Growth, People, Monetization, and a sidebar with Daily Insights.
Here, you can create all kinds of reports, but we'll focus only on the most popular ones: Funnels, Revenue, and Customer Lifetime Value.
Creating a Funnel in Facebook Analytics
What's the purpose of setting up a funnel on Facebook Analytics? To monitor the user journey from the first click to the last one, which is achieving your conversion goal. It lets you see how long it take for conversions to appear.
Here's how to create a funnel. Go to the left menu and click the drop-down arrow next to Activity. Select Funnels, and click on Create Funnel on the right side of the screen (the green button.)
Here, you can see the checkout flow from Page Views (how users enter the funnel). After Page Views, you have Content View.
As you can see in the example above, the funnel conversion rate is 8%. You can always save a report to your dashboard by clicking the pin button in the top-right corner.
Creating a Revenue Report in Facebook Analytics
Pick the date range and choose the Revenue section in the left menu.
This report reveals how many people have made a purchase, as well as their age and gender.
Creating a Customer Lifetime Value Report
This is probably the most important report you can create in Facebook Analytics. It helps you understand your most loyal or valuable customers, thus helping you to create audiences similar to them for your future ad campaigns.
To create this report, go to the left menu and choose Lifetime Value. Next, choose either All Users or Paying Users. The example below is a report of Paying Users or users that made a purchase.
By looking at this report, you learn how much a customer is worth to you over several months. For example, if your average order value is $40, but your customer lifetime value is $150 over five months, you'll be willing to pay more CPA for the initial purchase.
This will help you see when you can spend more to obtain new customers, thus allowing you to scale ad spend as well as revenue.
Facebook Ads Dashboard and Reports
Now you don't have to exclusively rely on native platforms for analytics and reporting. Chances are, you may be better off using a 3rd party platform to help with aggregating performance metrics for you or your in-house team.
If you are exclusively using Facebook Ads, and no other marketing platform, the native analytics dashboard should suffice. However, once you start throwing in other tools into the mix, or begin working with a larger client base, you may start to notice some growing pains associated with the native platform.
Using 3rd party reporting and dashboard tools to monitor Facebook Ad campaign performance saves you time and offers tons of flexibility. You can build a dashboard yourself that only showcases vital data points without overburdening you or your client with vanity metrics.
In the example above, you can clearly see how a dashboard tool outclasses the native Facebook Ads analytics. It's simple to use and to understand, regardless of data literacy skills.
A proper dashboard tool will also give you the option to view the performance of individual ad campaigns and compare them against previous reporting periods. Switching between client dashboards is also incredibly easy and you can compare one platform and its ad metrics against another - in one place.
You may opt-in to use our pre-made Facebook Ad dashboard to help you aggregate vital performance metrics in one place. Monitor ad set metrics and budgets in one location, and in real-time.
Final Words
Knowing how to use Facebook ad Analytics tools will help you keep ahead of your competitors, differentiate your business on Facebook, and share content that your audience will love. As a result, you'll have a higher ROI.
We hope that our guide to Facebook Analytics will help you understand this tool better and learn how to set up and use it properly.
Published on Jan 24, 2020