#marketing
How to Use Instagram Analytics
Why do you have an Instagram account? Most likely it's to market your products or services. But why on Instagram? There are goodies there. Many marketers and influencers have realized Instagram is a powerful tool for their business success.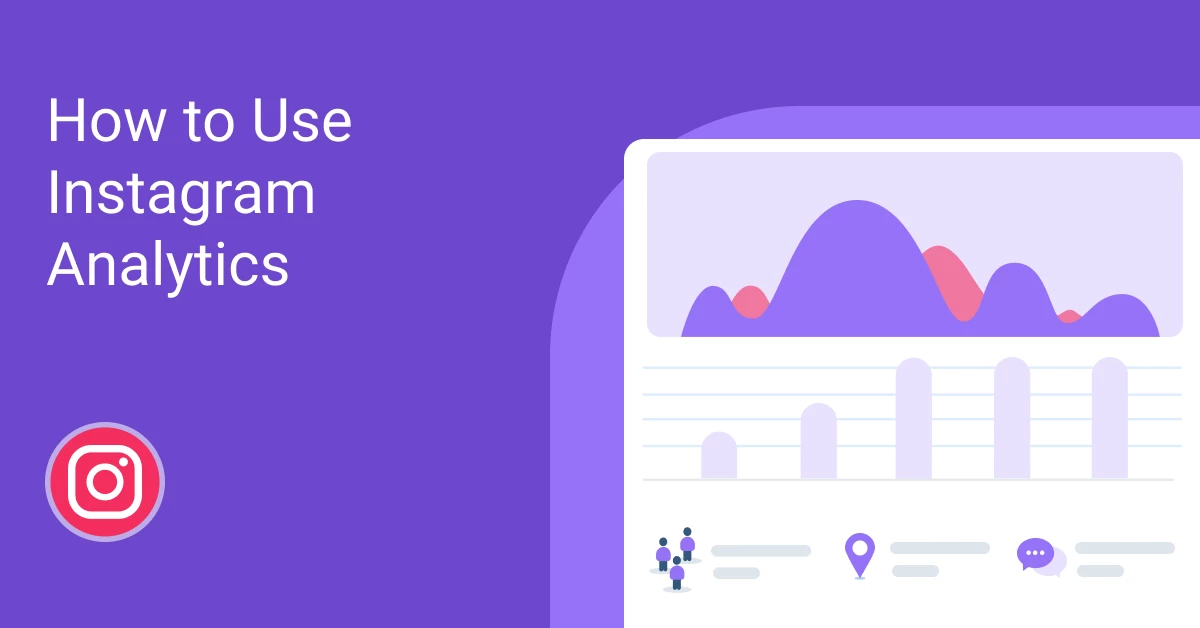 Table of Contents
As Instagram stats indicate, there are one billion active users every month on Instagram. So it's up to you to know how to tap your share of the market. Instagram analytics will be useful in this endeavor. They will help you understand if Instagram is performing as per your overall market strategy.
And, if not, you must separate the wheat from the chaff. This article explains various Instagram analytics and how to use them to know what's working for your business and what's not. Additionally, you learn the best Instagram analytics tools.
First things first: here are the things Instagram analytics helps you to do.
You target the right audience

Publish enough posts

Alert you with mentions that could lead to future business

Drive relevant audience to your website

Alert you on optimal hours or days for posting

Let you which of your comments or stories present opportunities for brand engagement
Now let's dive into the most useful Instagram analytics.
Audience Analytics
I'm sure you must have identified your target demographic of followers. It's upon you to confirm that those who are engaging your posts are who you expect. Instagram audience analytics are there to help you with this task.
To view audience data on Instagram, head to the Analytics section. Then, select the 'followers'' tab. You now can view the audience's demographic data by country, city, gender, age, hour and days active. To understand clearly, let's look at each subsection.
The country- This allows you to see the top five countries where your followers live.

The city- You will know where your followers precisely reside.

Gender- Here you see the distribution of men against women.

Age- It will be easy to know the age of your followers. Instagram classifies them using the ranges of 13-17, 18-24, 25-34, 35-44, 45-54, 55-64, 65+.

Hours active- Here, Instagram shows the average time followers are active on Instagram.

Days active- This part reveals the days of the week followers are on Instagram.
Use the above information to guide you in your content strategy. For instance, if you are targeting the millennials from the US, you must check the hours or days they are active. This will help you in posting at the right time.
Profile Analytics
Profile analytics are available on your profile page. Here you can see insights by checking on various metrics. You may have not scrutinized these metrics because you didn't know their importance. But now, here you learn.
Profile views: The number of profile visits per week

Impressions: The number of times a post is seen over a certain duration

Reach: Is the number of times a post is seen by unique users

Mentions

: Is the number of time your Instagram account handle has been mentioned on Instagram by other people

Website clicks: Shows the number of times visitors have accessed your website by clicking the link on your profile page
You can use profile analytics to create a winning strategy that helps you drive traffic to your website as well as convert followers into customers.
Posts Analytics
Examining and getting contented about your profile and audience analytics is not enough. There is still more. Your posts are another arrow to make shots. Get inside your individual posts and see how they are performing. Here is what to look for:
Impressions: This gives you the number of times the post was viewed. Additionally, you can see from where it was viewed— from hashtag, profile, etc

Reach: You can know the number of unique users who saw the post

Follows: You can know the number of new followers the post generated

Interactions: This metric tracks and records the actions taken directly from the post. You can see if your profile was visited, the website link on the profile page was clicked or the email button was used

Saves: This shows the number of times your post was saved by unique users to their personal folders

Comments: You can know the number of comments for the particular post
Use the posts analytics to know the posts that drive the most traffic and sales. Such are the posts that matter to your business and deserve more cash and time investment. Similar treatment should be given to stories on your Instagram account.
While you apply analytics Instagram, it's important not to forget your aim for every action. This will help you to deploy Instagram insights to your advantage. For a better analysis of your Instagram account, you might need additional tools. This is because the native Instagram app is limited in its Insights.
But while we recommend the analytical tools you can use to upgrade Instagram Analytics, we also consider your need for a better ROI. Therefore, here we outline the two best tools to use for Instagram reports.
Whatagraph
Whatagraph is a valuable digital marketing tool with Instagram analytics. It also supports many other social networks. The premium and the enterprise plans offer multi-marketing data and support email marketing, ads and posts.
This analytics tool will point to you where most sales are coming from as well as provide a multitude of data. It allows you to generate a visual report which you can share with others.
Iconosquare
Iconosquare is like an improved version of Instagram Insights. It offers standard metrics like followers stats, engagement rates, story data among others. It also offers scheduling tools and Instagram management.
FAQs:
Does Instagram have its own analytics?
Yes, but they are limited to posts and stories posted after you switch to a business profile. You can rely on additional tools to see analytics for all stories and posts on your Instagram account.
Where do I find Instagram analytics?
This is how to see Instagram analytics. Go to your profile and tap Insights. From there you can view insights on any post or story.
Published on Feb 03, 2020