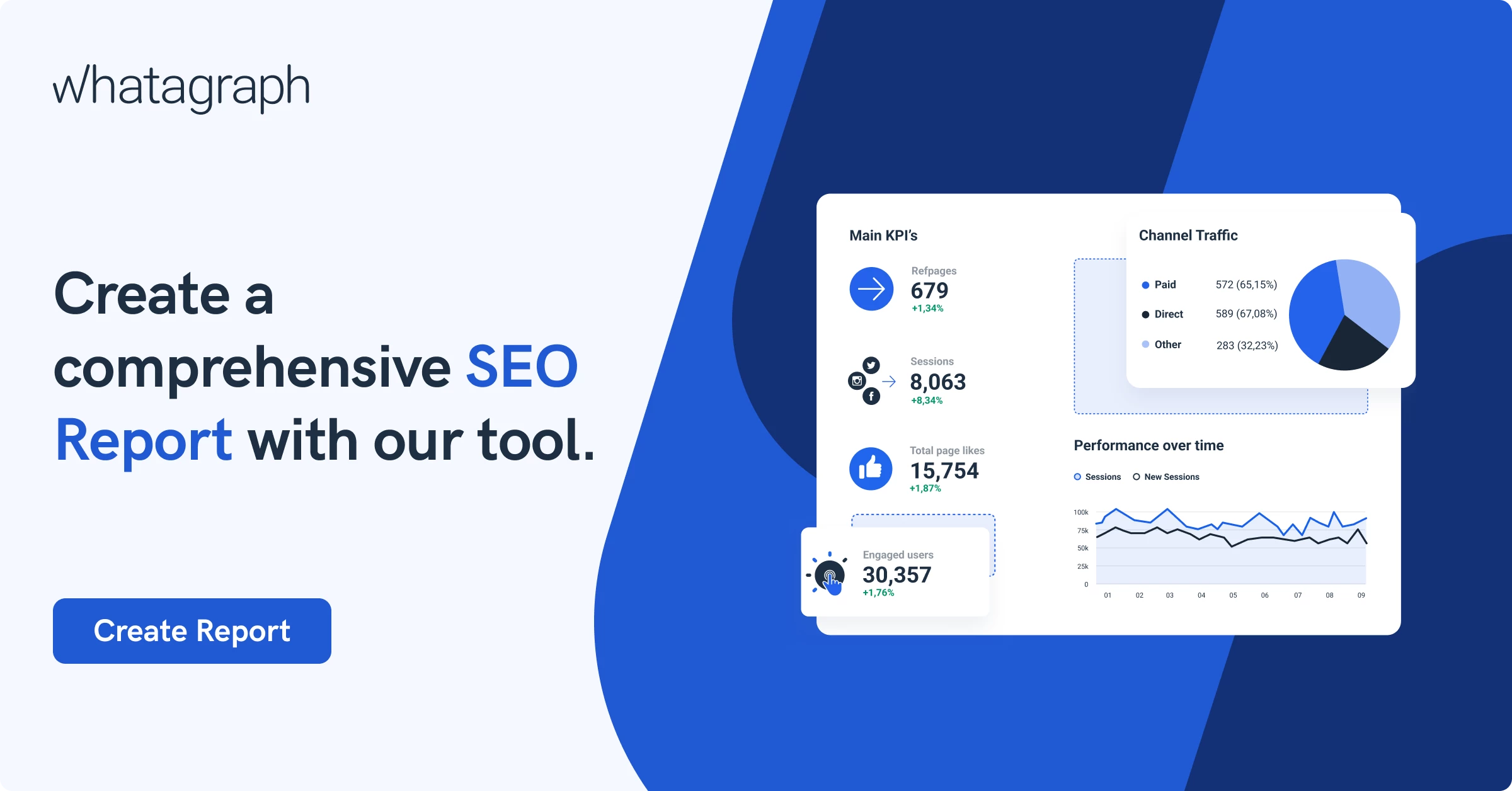 https://www.semrush.com/blog/seo-agency-advanced-tips-for-reporting-seo-to-clients/?ref=5265817820
It isn't a short-term process though it involves constant analysis and improvement to be in top searches on google and other search engines. To constantly make improvements in your SEO strategy, you must have a clear understanding of various SEO reporting tools and the results you are trying to achieve through it.
What Is SEO Reporting?
SEO reporting is an overview of the efforts you are putting in improving the ranking of your sites. SEO reporting consists of various sections such as organic traffic on your site, location your traffic is coming from, and how much from this traffic is converting into sales.
SEO reporting helps you to understand what is working and what needs more improvement. Through SEO reporting, you can work on nonperforming sections and devise a strategy accordingly. Reporting helps you to determine the return on investment on the amount you are spending on your marketing strategy. In short, it provides an overview of such sections that are important to understand to improve the ranking of your site.
Benefits of SEO Reporting
There is no doubt in the fact that SEO reporting is very important, and it offers numerous benefits along with improving the ranking of your site. Let's have a look at some of the benefits it offers
Easily track the progress of your SEO efforts
Understand website issues that need improvement
Monitor conversion rate
Monitor the number of leads and sales
Monitor social media sharing, backlinks, and views
Show your clients the efforts you are putting into their site
Best Practices for SEO Reporting
SEO reports can be a bit longer because there are so many metrics and key performance indicators that you can include in your report. But it's better to keep the SEO reporting short and concise and include the important points that are important for your client and your client is looking for. To make the SEO report straight forward, it's better to look at some important points for SEO reporting. Let's have a look at how we can create the best SEO report for you and your clients.
1. Know Your Objective
Clarity is the key to success, not only in reports but in everything in life. So in the case of SEO reporting, you need to be very clear with the purpose of the report and include the metrics which are important for your objective. For example, the objective of your report is to monitor the metric you would include is traffic generated through the website, Number of leads, and conversion rate. Knowing your objective is a very important element for forming the best SEO report.
2. Explain the Data
SEO reporting can go into the worst scenario if you don't explain the data to your clients. Because this can lead to the client making his assumptions and reaching a conclusion. Through this, all your efforts can go to waste so it's important to explain your data well and make sense out of it.
3. Offer Recommendations and Opportunities
As already mentioned, SEO isn't a one day game. It's a long term process that evolves various tactics and doesn't guarantee results. So you need to present the recommendations and opportunities to your clients that can turn the table and result in success.
4. Conclude and Put the Next Strategy
It's important that you finally draw a conclusion of all your efforts in SEO reporting and present the strategy to what to do next. Being clear about the goal and strategy is key to have success in Seo reporting
Top SEO Reporting Tools
SEO reporting plays a very important role in understanding the current position of your site and make major improvements to enhance the site ranking. Several SEO reporting tools offer various features to make the SEO reporting process very easy. Some of the features to look for in such SEO reporting tools are providing accurate data, integration with third-party, scalability, Customize reports and templates, and automation, etc. Let's have a look at some of the SEO reporting tools.
1. Whatagraph
It is a quality SEO reporting tool used for various agencies. It is a very user-friendly and cost-effective medium for small and mid-sized agencies.

Whatagraph is well-recognized software and provides integration with 30+ third-party data integration software varying from basic software like Google search console, keywords rankings to advanced software like email marketing, tracking software, etc. It is a very easy and reliable software with several advanced and customized features to make SEO reporting easy.
2. SE Rankings
It is the most cost-effective tool used for SEO reporting, with prices starting from $7 per month. However, for agencies looking over multiple websites, $39 per month plan is necessary. Setting it up is quite easy, and there are multiple screen tutorials available to help you out.
SE ranking offers several SEO related tools such as keyword suggestion tool, backlink explorer, Competitor SEO search, and lot more. SE rankings offer collaboration with zappier, which allows integration of more than 1000 applications and provide easy automation with different applications such as Salesforce, google apps, and Hub spot, etc. For small to mid-sized agencies, SE ranking is a very effective tool for SEO reporting.
3. SEM Rush
SEMrush is one of the most popular tools used for SEO reporting. It offers a variety of features at a price of $99 per month. It provides a full suite of tools that can be learned by any beginner or intermediate level. Its plan cover everything from social media analysis to monitoring the backlinking of your site. It is considered a one-stop-shop for many agencies with its innovative products and services.
SEMrush offers a variety of features such as Ad builder, social media analysis, along with easy integration with major software. The only downside is it's relatively expensive from other software and offers only one user login.
4. Google Data Studio
Google Data Studio is comparatively new in the market and is offering by Mountain View Mega group. It is quite technical software and requires time to set it up. It would be easy for the people who have experience handling Google Analytics account. It is completely for the people who are on the fence.
The major plus point of Google Data Studio is that it offers one-click integration with other Google accounts such as google analytics, Google Ad words, Google Search Console, and YouTube, etc. Along with google accounts, it also offers third-party integration with other software such as MySQL, Goggle cloud SQL, and PostgreSQL.
You can also easily customize reports with Google Data Studio and include only important key performance indicators to make reports short and concise for you and your clients.
5. Authority Labs
If you want a simple, easy, and straightforward SEO reporting tool for your agency, then the Authority lab is the best place for you. It offers very price starting from $49 per month for unlimited users with some limits on various features. To get excess to all features, such as white label reporting, you will have to upgrade to the plan of $99 per month.
Through Authority lab, you can easily track regional ranking data, get data of various keywords and their volume, track the keywords of competitors, and schedule automation SEO reports to your email account. However, it has some limitations of certain features such as monitoring backlinking, analytic data to have a full picture of SEO reporting for the clients.
Conclusion
There is no doubt in the fact that SEO reporting is very important to achieve a higher ranking on search engines and generate organic traffic on your client-side. Reporting helps in determining the efforts being put in SEO and devise a new strategy for nonperforming pages and keywords. Various reporting tools make it easy by offering various customizable options and automated features.