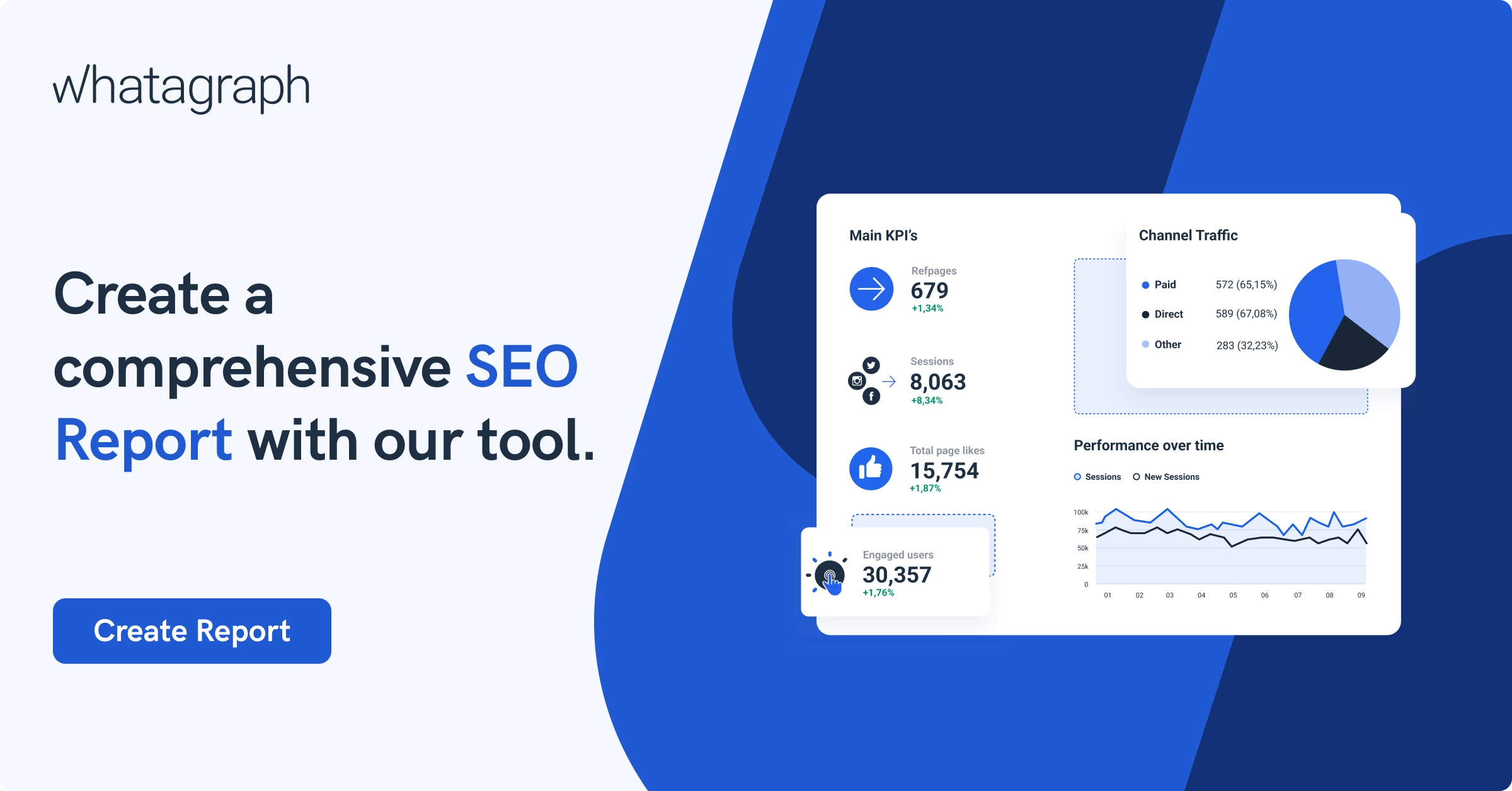 Table of Contents
What Should a Good SEO Report Include?
SEO reports should be clear, concise, and easy-to-understand to remind clients why they are investing in a particular SEO agency. But, knowing how to create the right report is not easy. A too-long report can make the client lose interest, while a too short one may not include everything the client expects, wondering what they are paying for.
A useful SEO report should convey:
Progress – what has the agency achieved for their site so far;
Insights – pointing to areas and problems that still need work;
Recommendations – recommendations for improvement and reaching the client's goals.
In other words, a good SEO report shows what has been done for the client's site, and why. It summarizes key data, explains fluctuations, and outlines actionable insights.
Agencies should combine a few tools - like Ahrefs, SEMrush, GSC - to ensure their report covers each SEO metric:
Google Analytics – for traffic, sales, and user reporting;
Google Search Console – keyword rankings and organic traffic;
SEO Intelligence Software – monitoring SEO metrics and backlinks;
SEO Reporting Tool - reporting all data clearly and fast.
Combining these four tools allows the agency to craft a useful SEO report for their clients.
When it comes to the type of information an SEO report should include, here is the most important one:
A Clear Objective
SEO agencies and consultants should determine the SEO goal they want to achieve and explain to their clients how it will affect their business overall. For instance, their goal may be generating more inbound links, getting more traffic, increasing overall Search Visibility, or increase rankings for certain keywords.
Agencies should include tangible objectives in their reports, such as "drive more traffic to your online shop," and explain the reason they've chosen that objective. If they only tell their clients they are going to focus on increasing their keyword rankings, the client would be wondering why that is important. With a clear objective, the agency will give the report direction, and the client will know what to expect.
A Hypothesis
Agencies should explain to their clients where their efforts will be focused on achieving their goals. When creating an SEO report, the agency should think about how to achieve the client's business goals, and what should happen so that the client's goals and expectations are met.
For instance, if the client's goal is to increase the organic search traffic to their website, the agency should focus on improving the rankings of their keywords. But, the client will still wonder how the agency will achieve that.
So, it's the agency's job to explain its plan of action. It should explain what it's planning to do, how to do it, and why. This will keep clients informed about what the agency is doing and how.
The Progress Achieved So Far
An SEO report should also include the agency's achievements so far, such as optimized pages, resolved issues with 404 pages, fixed missing descriptions, etc. Clients want to know that their investment is paying off, so agencies should tell them in detail how effective they are already, and remind them what they are paying them to do.
Observations
Here's the part when SEO reports present real, tangible data to clients. The observation portion shows the results of the agency's efforts.
Here, the client finds out what keywords have improved in terms of ranking, and how their Search Visibility has progressed since the previous report. It can also include information about the keywords that didn't improve, and explain how to tackle that problem. This part can help clients see how they are ranked in comparison to other competitors.
This part includes more detail about keyword rankings. It shows how well optimized a specific page is for a target keyword. This is important if the client has a list of keywords their page needs to rank for. Adding Page Optimization modules to the SEO report shows the improvements made to certain pages and their rankings, as well as the pages that need to be optimized.
Here, clients can see if more people are coming to their site and the progress the agency has made. They can see where is the increased traffic coming from – new backlink generation, higher keyword rankings, or other factors connected to the work the agency has done.
The report should outline the types of links the agency aspires to acquire, higher quality links or more links overall, and the effect they'll have on the backlink profile. It should tell clients what type of links is better for their business, and if they will earn them with the help of their strategy.
Conclusions
After explaining what the agency does, why, and how it's affecting their client so far, it's time to explain what is the next thing the client should expect. The agency should explain what is it that's working and whatnot, to make sure the client is prepared for the next SEO report. For example, the agency should point if they are planning to work on link building or optimizing pages for certain keywords.
The next thing is to review the report one last time before it gets sent to the client to make sure it tells the right story.
SEO agencies and consultants should ensure their report is properly illustrating what they are working on and that it is positively influencing their client's overall business. Another important thing is to check if the report is written in simple language so that the client can easily understand it.
For instance, the client may not be able to understand what it means to have increased overall search visibility. That's why the report should be written in a language that will explain what it is and why that is important. Agencies should view the report from a client's perspective to realize if the data presented is useful and meaningful to them.
Last but not least, scheduling the SEO report to auto-send every week or month can keep the clients up-to-date on everything that's happening. In this way, the agency will make sure everyone is getting the SEO report on time, including the members of their team.
A Final Note
The bottom line is, SEO reports exist to let clients know what the SEO agency is doing for their site and is it worth their money. A well-crafted report written in an easy-to-understand manner allows clients to track the performance of the SEO campaign and understand everything that's going on in the meantime. Clients expect a new SEO report every month, just like agencies expect them to pay after the work is done.