#marketing
Top 10 Essential Facebook Metrics
The metrics provide valuable insight into what works or not, and how to grow your audience. They are used to measure your progress towards your goals as they tell you where you are and what you need to do to improve.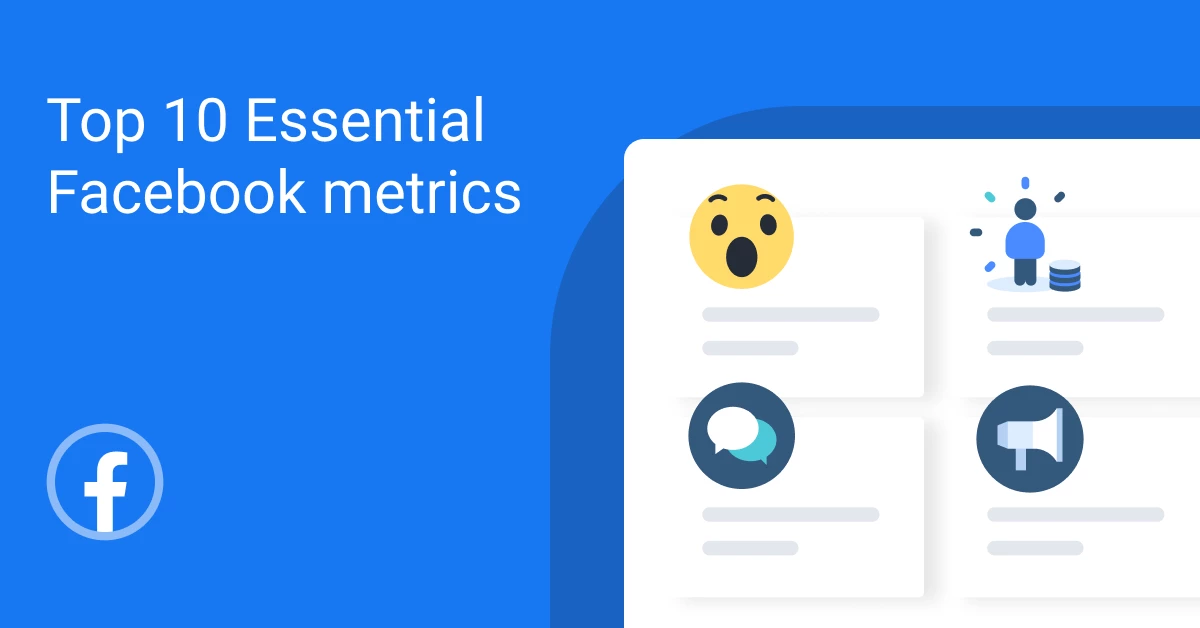 Therefore, Facebook metrics allow you to monitor, analyze and make well-informed decisions to run a successful campaign or grow your business online. However, a metric is only useful if you know which metric to use and why. Facebook has a good default set up of pre-made metrics; you can also customize them to what you want to see.
Additionally, you can add more or the better version of the same ones from some free or paid Facebook analytics tools once you understand their function and how they work.
Following are the ten most important key metrics you need to understand, but you have to decide what is important to you based on your specific goals.
1. Engagements
Engagement is an important metric that shows the number of people who interacted with your page. The interaction may include clicks, comments, reactions, or shares and provide you with the crucial data of how many people like the content you are posting.
Moreover, the higher the engagement, the more people like your posts as well as the more exposure it gives to your posts. The Facebook algorithm makes the posts with a higher engagement rate more visible to your audience in their news feed.
2. Reach
Reach shows you the number of people who saw your post; it only counts when an ad or post reaches a unique person. Reach will always be smaller than the number of impressions as an impression shows all the views, including multiple views from the same person.
Organic Reach only tells how many people from your contacts have seen your post, while Total Reach shows all the people who saw your posts including people not in your fan list who saw the post via a paid ad.
3. Impression
Impression metric tells you how many times a particular piece of content is shown, whenever your content is seen, it will be counted as an impression. It can include multiple views from the same user, unlike Reach, which only counts unique person views.
Something to consider - impression metrics can be segmented based on a particular post, page, or ad.
4. Frequency
Frequency is about the number of times a person from your audience has seen your ad. If there is more than twice frequency rate, but the conversion is not increasing, it means people have seen your ad twice but are not interested and you need to change something from your ad.
5. Video Average Watch Time
Video Average Watch time tells you the percentage of video watched. The metric not only shows you the average video watch time but also the Facebook algorithm suggests the videos with higher watch time to their users.
Furthermore, Thruplay lets you optimize and pay for your video based on the number of times your video was played for more than 15 minutes while the Cost Per Thruplay tells you the average cost for each played video.
6. CTR (Click-through Rate)
The CTR (click-through rate) metric measures how many times people clicked on your link. It helps you to know which links are clicked more and the difference compared to the links that did not do well. It provides you with information on the percentage of people who clicked your ad from all the people who saw it.
7. CPC (Cost per Click)
CPC shows the average cost for each click. You need not only a lower Cost per Click but also valuable clicks that convert. If people are not clicking and your cost per click is high, then you need to make your ad more aggressive and attract more people to your link.
At the same time, if people are clicking on your ad but are not converting, then you need to make a strategy to attract high-quality leads that turn into customers.
8. CPM (Cost per Mille/1,000 Impressions)
CPM tells you how much money you are paying per 1,000 impressions. Facebook wants people to create ads that are engaging and do not annoy and turn people away. For instance, if an ad is not attractive to the audience, they would not want to see it again. You need to create interesting ads that engage people and provide lower cost per 1000 for it to be successful.
9. CPA (Cost per Action)
Cost per action is also called cost per conversion, it is the cost paid after the action is taken by the audience instead of an impression.
10. Conversions Rate
Cost Per conversion shows you how much you are paying for a lead or sale and Conversion Rate shows the percentage of people who not only clicked your ad but also made the purchase.
If a lot of people are clicking your ad at a low cost but not converting, then it means the ad is doing its job to make people click. However, people are not interested in what the link has to offer. It is not convincing people to convert. You would want to see a higher conversion rate for the percentage of the page clicked depending on your specific need.
Facebook dashboard template
Creating performance reports with all the metrics your client needs to see can be a rather daunting task. The scope of this can grow exponentially as your client list expands or you start incorporating other digital marketing tools within your reports.
We have built a Facebook dashboard template for you to use - for free. You no longer have to worry about manually building Facebook analytic reports or dashboards. Integrate your Facebook business account with Whatagraph, and all of the metrics will be visualized in one, easy-to-read dashboard. Give it a try.
FAQ:

What Are the Most Important Facebook Metrics?
The most important Facebook metrics are the ones that you choose with careful planning and that aligned with the specific goals you have set up for your campaign or business.
How Do I Get Facebook Metrics?
First, you need to understand what you want to know from these metrics and then know the metrics that are aligned to your objectives and help you achieve your goal. Facebook provides a wide range of free metrics which you can access by clicking the insight from the top of your page. Moreover, you can also download them for more in-depth data.
Once you know the relevant metrics and how they work, you can also use other free or paid Facebook analytics tools and make it easier to monitor.
How Do I See My Total Impressions on Facebook?
To see the total impression, you need to go to your business page and click insight at the top. From there, you can click posts, then click on the Reach tab and select impressions from the drop-down menu. Here you can find your total impressions on Facebook.
Published on Jan 30, 2020