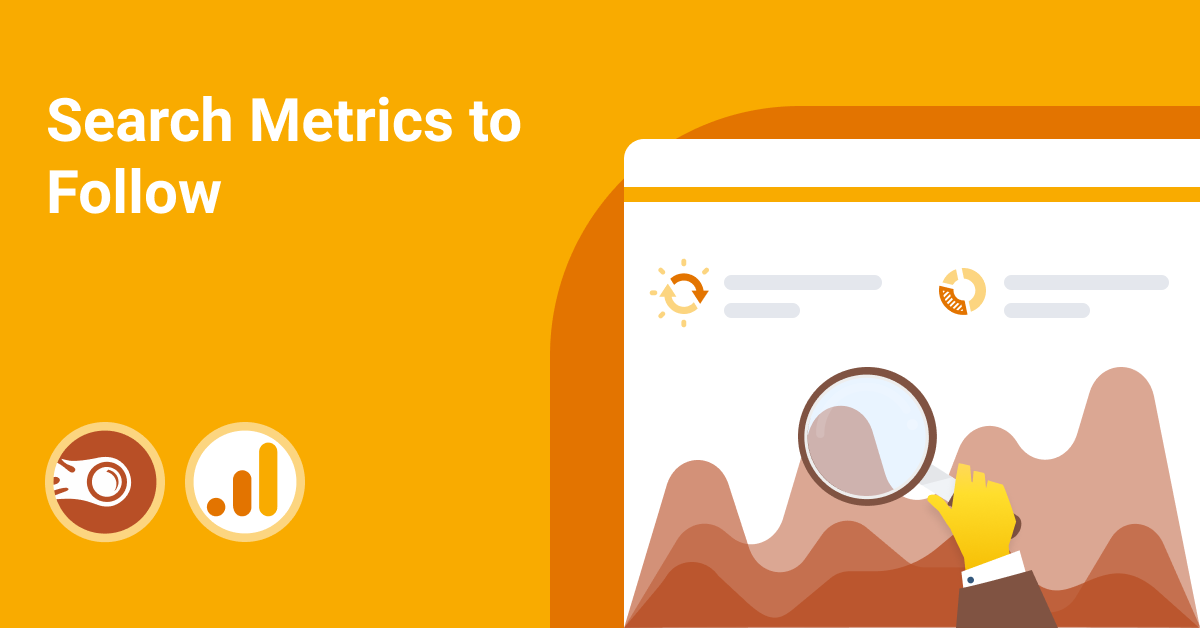 Search Metrics to Follow
Feb 11, 2020 ● 5 min read
Search engine optimization has become an important need for businesses to generate traffic on the website and improve rankings on different search engines. Having a strong SEO not only helps you to generate traffic on the website but also helps to improve the conversion rate.
As nothing in this world is constant, the search patterns of the audience constantly keep changing. So, to align with audience needs and search patterns, you constantly need to monitor certain SEO metrics and keep improving on it.
Table of Contents
Organic Traffic
The main purpose of SEO is to generate organic traffic on your site. It decreases your cost on paid google ads and helps to generate traffic on your site without paying money for it. That's the main essence of SEO to generate traffic on your site based on the keywords related to your niche.
So, it's very important to monitor the organic traffic on your site based on your SEO strategy.
To properly monitor your organic traffic, it's important to have a look at the landing pages of your site and the location of your audience. Landing pages will help you to determine which pages of your site are performing. You will also get to know about the poor performing pages of your site so you can spend on improving those pages.
Audience location will help you to understand which country your audience is coming from. You might find that you have a strong fan following from overseas countries so you can explore opportunities to expand your business to those specific countries. Also, you might find that traffic you are generating from countries that aren't profitable enough, so you shift your marketing strategy to something profitable. So considering the organic traffic as an SEO metric can really help you to grow.
Organic Bounce Rate
Bounce rate tells you how many visitors left the website after viewing only one page. This indicates that either visitors didn't find your products interesting or left site because of slow loading or another problem. The lower the bounce rate, the better it is.
To analyze the bounce rate, it's interesting that you analyze it through the landing page. This will help you to understand which landing page keeps the audience on-site and which one is likely to turn away the audience. So, you can work on improving the landing that doesn't match the audience requirement. You can check the organic bounce rate by installing a google analytics tag on your website.
Organic Conversion Rate
Generating organic traffic on your site isn't enough, the prime focus of making SEO and marketing strategy is to make sales and attain a higher conversion rate. Understand the organic conversion rate will help you to understand how well you are appealing to your audience at your site through search results. You might have to look at certain other aspects that impact your conversion rate.
Landing page
The first impression is the last is very popular dialogue. 80% of the audience is won or lost on the first page of the site. So, to attain a higher conversion rate it's important to carefully monitor your landing pages and identify the higher conversion landing pages.
Location
It's also very important to identify from which location most of the sales are coming in so you design your marketing strategy accordingly.
Device
In this technological world, most of the online purchases are done through mobile phones so it's also important to analyze the conversion rate through the device so you design your marketing strategy accordingly and never miss any sales.
Search Visibility Score
Search visibility score is the number of clicks that you receive against your organic search results based on the keywords you are targeting. The higher the visibility score, the better the chances you must be visible on the search engine and generate organic traffic on your website. While measuring SEO, search visibility score is a very important SEO metric.
Click-through rate (CTR)
Click through rate shows the average percentage of people click on your website link after seeing its search results. CTR shows the authenticity and trust of people on your website. If your website ranks on the 7th number and people click on it first leaving the first six sites. That shows people trust your website and increases the chances of your website to rank higher. You can check the click-through rate in the search analytics report in the Google search console.
Keyword Ranking in Google
Keywords are the main tools to improve the ranking of your website. Keywords research plays a very important role in forming your SEO strategy. You can do keyword research on various tools such as SEMrush, Google trends, etc. Once you know what keywords your website is based on, you can constantly add more keywords and capitalize on your existing strategy.
If your site ranks in the top 10 searches of google then you are on the right track and you should continue using those keywords on your site and content marketing. If your site doesn't rank in the top 10 searches then you should probably do more keyword research and put more relevant keywords on your site and content marketing strategy.
Top Exit Pages of Your Website
Exit pages are the pages where customers must make final purchase decisions so it's very important to spend a good time in understanding customer needs and organizing exit pages accordingly. Analyzing exit pages will help you to understand which pages are making more conversions and which ones are turning away the website traffic. By knowing this you can easily make strategies to convert poor-performing exit pages into winning ones.
Number of Backlinks
SEO is a complex process; it involves creating backlinks along with using effective keywords on your site and content marketing. While analyzing SEO, it's also important to consider the number of backlinks you have against your competitor. For example, you have 10 backlinks for your website, but your competitor has 100 backlinks then you stand very few chances to win against your competitor.
Indexed Page in Google Search Console
Nobody will find your website address if your page isn't indexed. Therefore, you need to pay close attention to the number of pages that are indexed on your site. Though the process to get your site pages indexed to take a long time. But you can submit the request by manually using the crawl>Fetch option in the google search console.
Conclusion
There is no doubt in the fact that SEO plays a very important role in generating traffic on your site. But SEO isn't a one-time process, it's a long-term process and requires constant improvement and changes to master's in it. Therefore, it's very important to analyze certain SEO metrics to know where your site is currently standing and what to do to further make improvements in it. Above mentioned SEO metrics can help you to understand your site's current position and you can design your SEO strategy based on your analysis.
Bots in your website's traffic: the good, the bad and how to identify and filter them out in your reports. Learn more about Google Analytics bot filtering features.
Read more...