Of course, there is an opportunity to export a few PDFs of reports from Google Analytics tools and close the chapter. But, here is the challenge...
How to analyze data, so the report is useful to your client? How to implement data visualization techniques so it would make sense to people? There are many free reporting tools to choose from and agency reporting tips to follow. We will discuss everything you need to know about web analytics reports and provide templates.
What is Web Analytics?
Web Analytics is the process of collecting and evaluating website data. This process could also be used as a tool to help improve website effectiveness. Web analytics help you analyze the source of organic & paid traffic to your web pages, your bounce rate, and overall marketing ROI.
Web analytics is not only useful for measuring traffic, but it is also a useful tool for conducting business and market research. For the optimization of your online presence and marketing efforts, it is necessary to be consistent in monitoring and measuring visitor data.
Tracking the user behavior of website visitors allows you to gain insight into how they interact with your site. You can learn how to make a website or hire a professional, but either way, you'd still need to do some tracking. Aside from that, you'll better understand how to improve communication on any eCommerce site with your target audiences. The following section will explain what web analytics is and how to create a web analytics dashboard.
Overview of Web Analytics Report and Dashboard
What is a web analytics dashboard?
A web analytics dashboard is a reporting interface that displays the data derived from monitoring website performance. This is usually done by tracking specific metrics or key performance indicators, such as online conversions, bounce rates, page views, session duration, referral traffic to your landing pages, and so forth.
A web analytics report is a process of evaluating the progress and overall performance of any website. It usually has historical data, collects raw data, and displays it in a digestible format.
What is the difference between a web analytics dashboard and a report?
A dashboard builder is a website analytics tool to help you build a dashboard that will showcase data and provide a real-time view of your web analytics metrics.
However, a web analytics report is generated to:
Assist with auditing and reviewing projects over a certain time frame;

Identify what has and hasn't worked in the past;

Use historical data to create optimized and data-driven strategies.
Interestingly, web analytics reports or dashboards can be used in a wide variety of contexts. These include eCommerce, email marketing, social media, UI/UX design, and SEO.
For instance, marketers will always want to ensure that the site generates a healthy inflow of search engine traffic for SEO. On the other hand, an eCommerce expert will also want to ensure that the website increases sales and that they avoid a high bounce rate.
5 Elements of A Professional Web Analytics Report
Sources of Incoming Traffic: This refers to the source or origin of your website traffic. For instance, people can visit your site through search engines or email links.
Page Views: Just as the name suggests, a page view means how website visitors view your pages and the number of pages the average individual visits before leaving your site. This metric takes into account the pattern of page views of a single user.
Average Time on Page: This refers to website users' average time on a single page. The longer a visitor stays on your website, the more of an indication it is that your website is filled with engaging and high-quality content.
Bounce Rate: This metric refers to the number of people who visit a page on your website and leave immediately without interacting further.
Device usage: No matter how your website is built, it should be responsive and look great on all devices. So this metric is particularly important as it gives a breakdown of what type of devices people use to browse your content.
Why Build a Web Analytics Dashboard or Report?
Marketers and agency owners don't just look at the design or copy of a website to see if it looks good. They create digital marketing campaigns for a website; conduct at least one paid search; run data from their marketing efforts; and, finally, track and evaluate data to create even better marketing campaigns in the future.
If you're still unsure whether you should create a website analytics dashboard or report, consider the following scenarios:
You work for a company that prioritizes visibility and insight into website performance;

You are in charge of the performance of a website that receives a large number of monthly visitors;

You are tasked with combining web analytics data with other sales and marketing data to better understand the performance of your website;

You are tasked with simplifying critical metrics monitoring without investigating or utilizing common tools such as Google Analytics;
How to Create a Web Analytics Visual Report?
First, you need to use a dedicated tool for creating reports - we suggest giving Whatagraph a try.
Despite the tool you choose to generate reports with, Whatagraph or Google Analytics, here is a checklist to keep in mind when doing so.
4 Web Analytics Report Templates
While creating reports from scratch makes sure you're being thorough, you can save plenty of time by using web analytics report templates. These come pre-filled with certain widgets and you can just connect your data sources to complete the report in a matter of minutes rather than hours.
Here are some of the most useful web analytics report templates to try out.
1. Web Traffic Report
A web reporter tool pulls information from any site online and provide easy access to objective traffic data. Connect your SEMrush, Google Search Console or Ahrefs accounts and see how many people land on your website. You can either track organic or paid traffic. The best thing about Whatagraph's reports is that you can easily compare these two metrics. This is necessary if you want to depict:
Which device performs better with which traffic (paid or from organic search);

What countries bring in which traffic (paid or organic) and where to double the focus;

How paid and organic traffic work and compliment each other.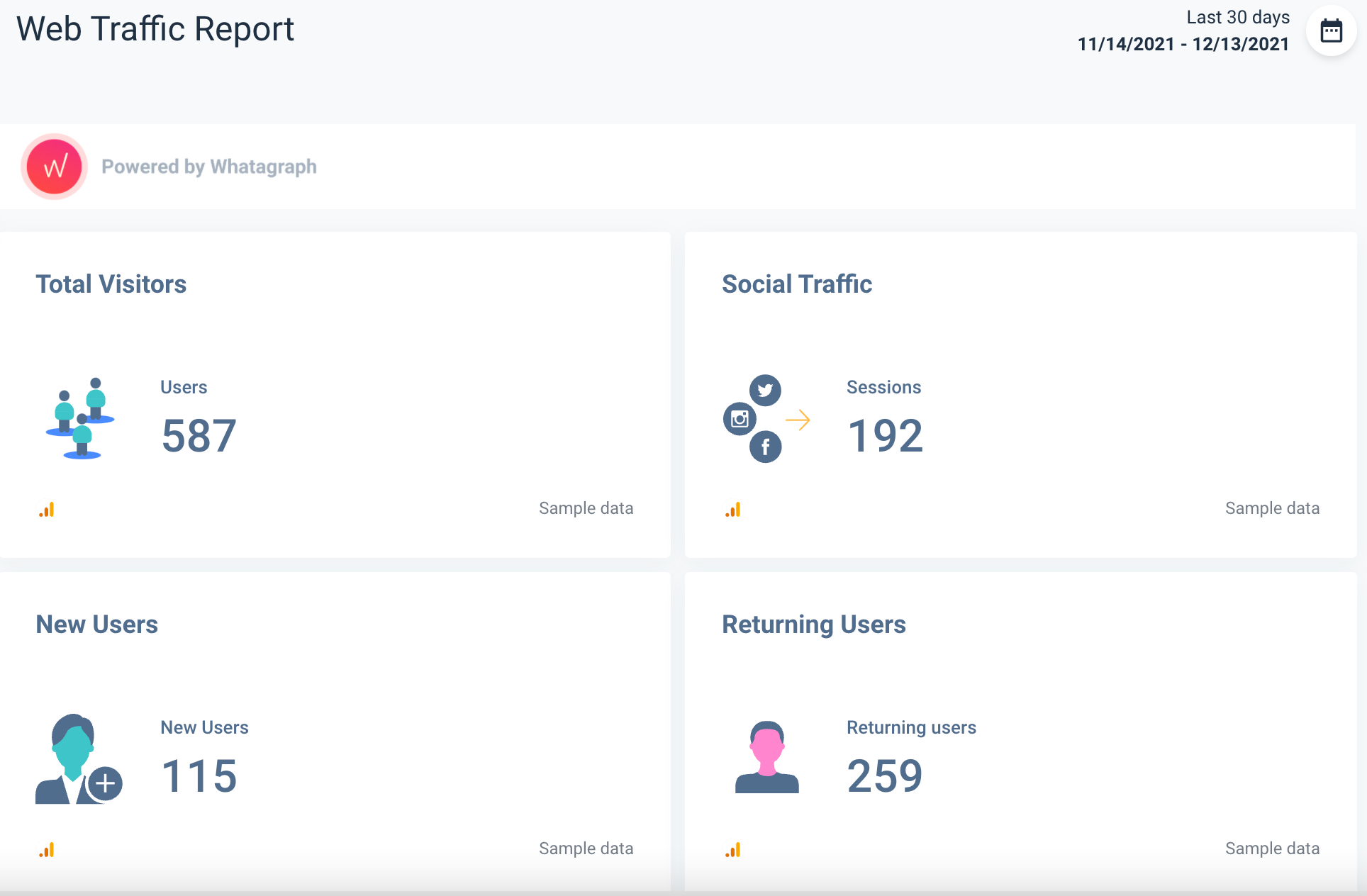 Moreso, there are other key metrics that you can track and evaluate, such as:
And many others.
2. SEO Overview Report
Probably the most comprehensive web analytics report template is the SEO overview report. This is what SEO specialists and marketers generate when they want to look at the overall website's SEO performance. This report shows: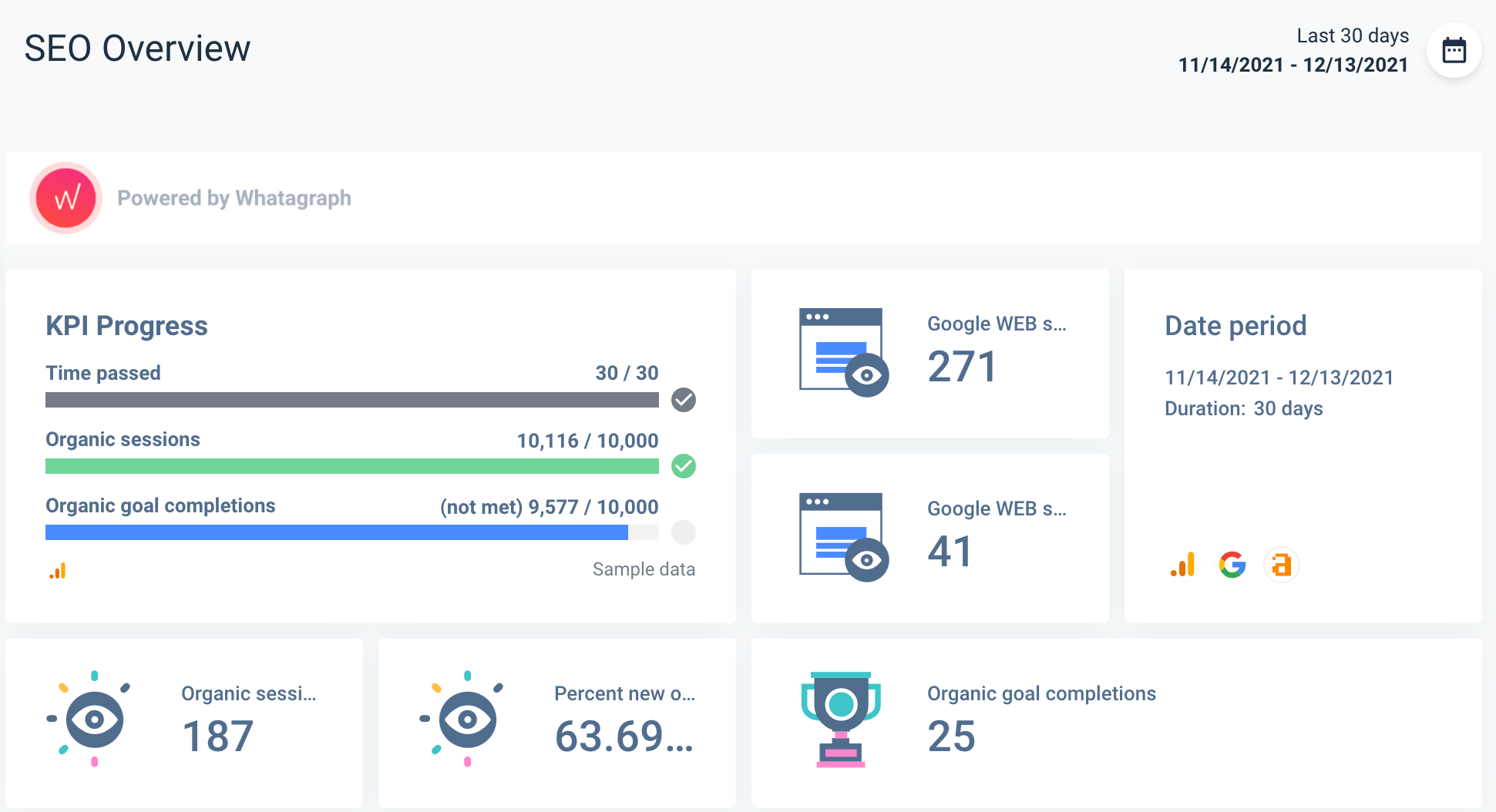 Some marketers connect their Google Analytics, Google Search Console, Ahrefs, or SEMrush accounts to pull data and generate reports about the website user experience. Here is an example of how connecting Google Analytics tool to Whatagraph acc lets you gain a deep insight into how users reach your page.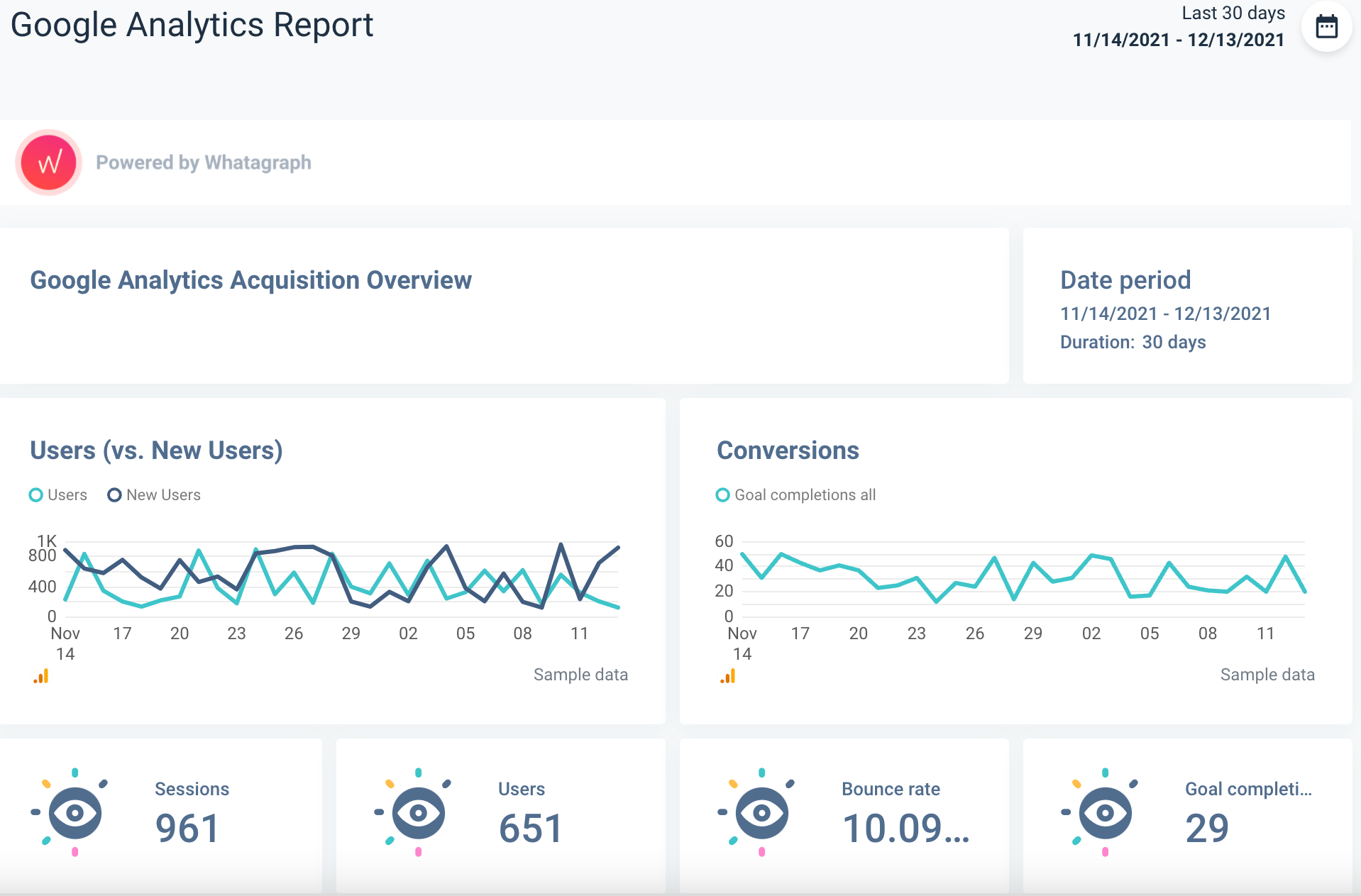 3. eCommerce Report
eCommerce report is a little bit more specific than the other two mentioned, as it focuses on the sales part and paid & organic advertising performance. You want to generate this report to get all the necessary data about:
Shopping cart data;

Best selling products;

Conversion rate;

Checkout process.
Connect Shopify (or BigCommerce, Woocommerce), Google Ads, social media channels, and/or Google Analytics accounts and other integrations and track the following KPIs and metrics;
Bounce rate;

Pages per session;

Goal conversions;

AOV;

CLV;

Total revenue.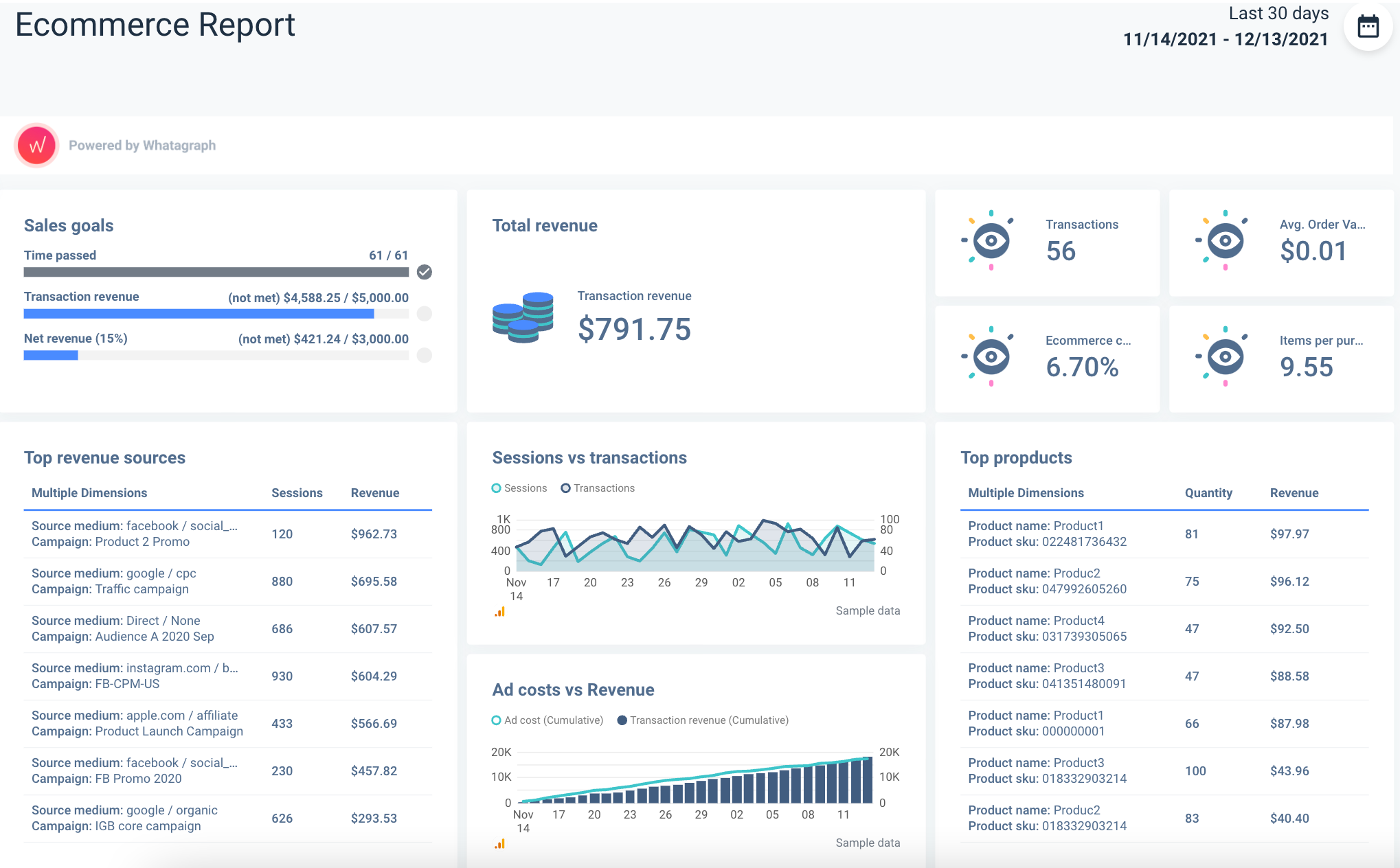 4. PPC Campaigns Report
The last report to always have handy is the PPC campaigns report. Use our reporting platform to get the best and the most detailed performance reports that are also visually appealing. Paid search and paid traffic will be easily displayed on one page, even though the data source is not one. Connect Google Ads, Microsoft Ads (aka Bing Ads), Facebook Ads, Linkedin Ads or any other preferred source, and track key PPC KPIs:
Conversion rate;

Clicks;

Impressions;

ROAS;

CPA;

Spent on Ads;

Overall campaign costs.
With this report, you'll have a significant advantage because you'll be able to easily optimize your PPC campaigns. There's also this aspect of budgeting to consider. Because PPC is all about spending money in the hopes of generating leads, sales, or impressions, you must ensure that you:
Don't overspend;

Spend enough money to acquire a single customer;

You've established your own benchmark, allowing you to identify the lowest CPA (cost per acquisition).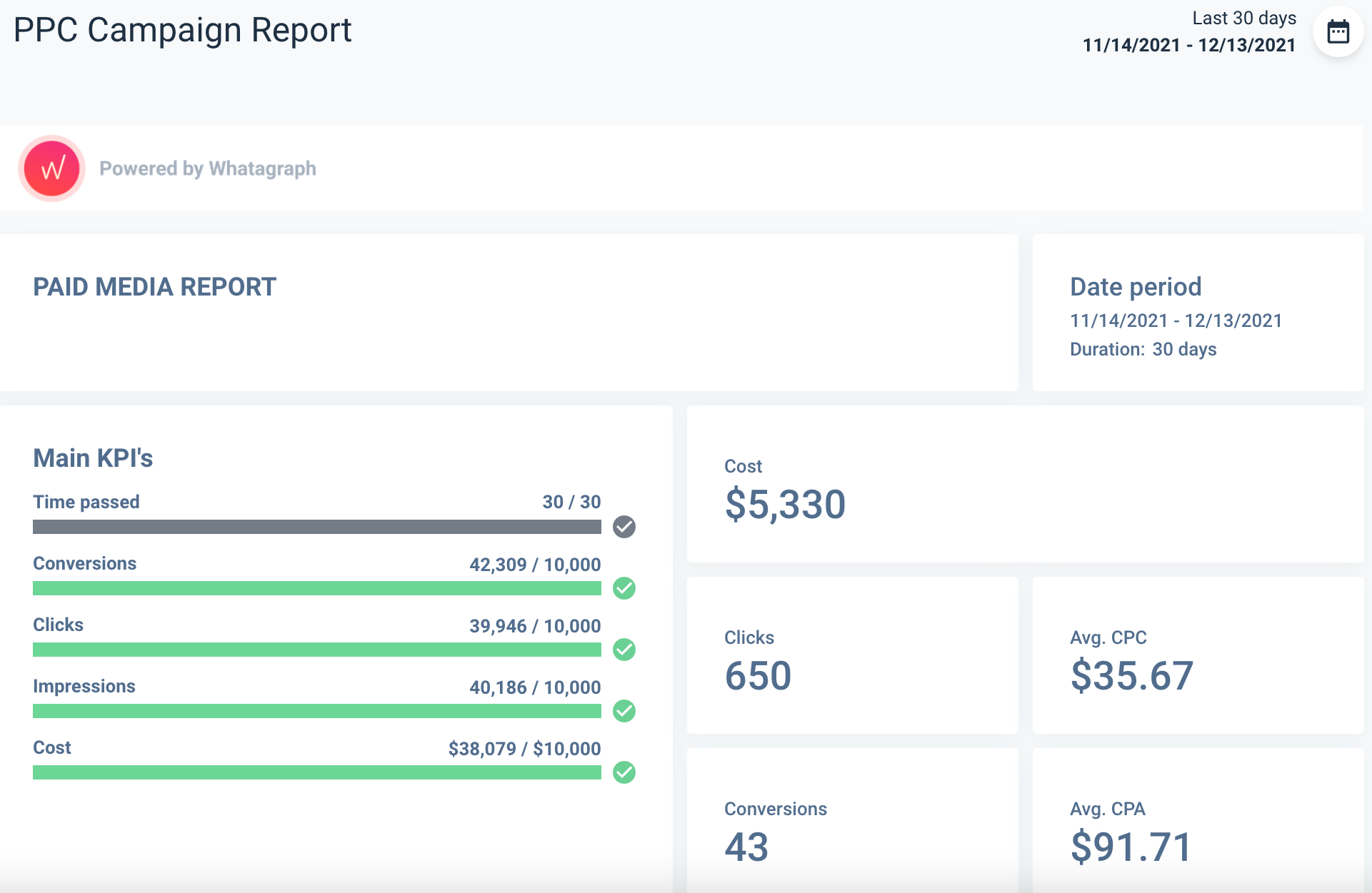 Bottom Line
Having these reports handy will save you lots of time and money. By using automated reporting you give yourself a chance to lead any strategy to success. Sign up now for a free 7-day trial and start generating custom reports providing you with the highest value.