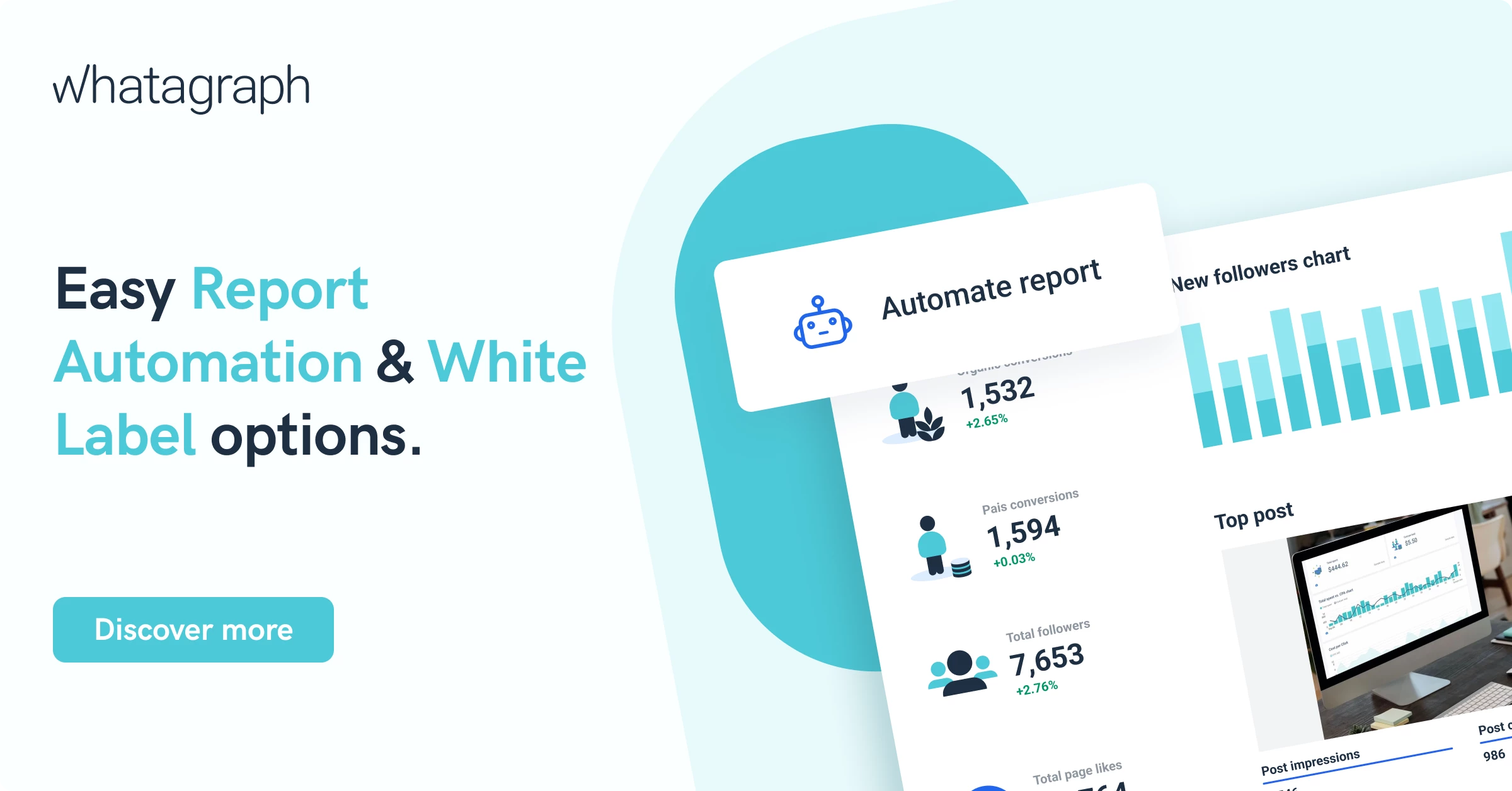 Thanks to modern dashboard reporting tools, you can analyze and visualize your data and extract actionable insights from it.
Before we reveal some of the best SaaS dashboard tools on the market, here's why they are important and what qualities make a good dashboard.
Table of Contents
Why Are Dashboard Reporting Tools Important?
These tools are very useful because they help you to analyze and organize your marketing data. They make the process of data analysis simpler by collecting and presenting all the necessary data in one location.
With dashboard tools, you can create a wonderful data visualization, combine them into valuable dashboard reports, and customize them however you want. They can help you stay on top of your business activities by monitoring critical problems, consolidating key performance indicators, and making the right decisions.
Qualities of a Good Dashboard
The qualities that make a good dashboard include:
Ability to take on a large number of data sources and grow with your business;

Ability to be customized according to your business' priorities;

Ability to be accessed from anywhere on your mobile (the on-the-go access feature).
Top 11 Dashboard Reporting Tools for Your Business
Here are some of the best dashboard software, their advantages, key features, as well as possible disadvantages:
1. Whatagraph
Whatagraph - a leading marketing cross-channel reporting tool that helps businesses to track, measure, and analyze channel marketing performance with clients and teams. Users can automatically pull data from all of their marketing channels, create visual, engaging reports, and share them easily.
Cross-platform reporting, Whatagraph's most popular feature, allows marketers to aggregate data from numerous sources into a single report. Because Whatagraph has over 40 vital integrations, it will be simple to pull data from any popular source. Do you want to see how Google Ads stack up against Instagram Ads? Do you want to see your PPC campaign and SEO ranking progress on the same page? Whatagraph allows you to do this and many other combinations.
Whatagraph's software includes customization so that its clients are not limited by the options it offers. What sets Whatagraph apart from other reporting solutions is its flexibility and responsiveness to the needs of any brand.
What Whatagraph offers:
Change the report or dashboard's color;

Fonts can be changed or added;

Depending on your requirements, you can add or remove data sources;

Play with the drag-and-drop tool to add the widgets you'll need;

Select the appropriate data visualization;

You can deliver the reports at any time-frequency you choose.
Whatagraph allows to track both real-time and historical data. Marketers can effortlessly monitor and compare the performance of several channels at the same time. Have you forgotten to send the report? They'll be delivered automatically at the frequencies you specify.
Whatagraph offers 24/7 professional customer service for anyone. No matter the size of your question or issue, contact Whatagraph any time!
What's special about this tool?
Professionally designed and visually appealing reports enable real-time progress monitoring whilst also providing the best-looking data analysis.
Whatagraph is wonderful because it cuts down on the number of tools you'll need to prepare for any meeting. In less than a minute, one software may generate a month's worth of reports. Not only does it feature all the necessary analytics, complete visualizations, and insights, but it also has a table of content and overviews of each source, as you can see in the image.
One big positive
You don't need to be a tech whiz to figure out how to use Whatagraph to make reports.
2. Metrics Watch
This email-based reporting tool gives you all the benefits of a dashboard tool from the comfort of your inbox. It uses the body of the email itself to display your data, letting you send professional marketing reports with graphs and charts without the need for PDF attachments or third-party links.
Metrics Watch connects with Google Analytics, Adwords, Search Console, Facebook, Instagram, and other popular marketing channels so that you can create comprehensive reports for your clients and colleagues
Building reports is easy with a codeless drag-and-drop editor. There are also ready-made templates available to help save you time.
You can automate reports to go out daily, weekly, or monthly to suit your needs.
Metrics Watch's top features - No need for PDF attachments or third-party links, receive reports direct to your inbox, codeless drag and drop widget editor, free white label options for all plans.
3. Datapine
This dashboard and business intelligence tool allow all employees in a company to easily create interactive, dynamic online dashboards. The initial creation process takes only a few clicks as there are more than 80 professional dashboard templates for different industries (manufacturing, healthcare, retail, logistics, etc.) and business functions (sales, IT, marketing, HR, etc.)
The dashboards from this software are extremely customizable and offer plenty of different features you can use, including chart zooms, time interval widgets, drill-throughs, and drill-downs.
You can share them in different ways, such as live dashboards via URL, automated Email reports, embedded dashboards, and a secure viewer area.
Datapine's top features – more than 80 professional dashboard templates, intuitive drag-and-drop user interface, multiple reporting options, interactive dashboard features, free POC dashboard, and optional data analysis services.
4.
ClickUp
Image source: clickup.com
ClickUp is an all-in-one project management and productivity tool that offers hundreds of customizable features, including a dashboard to give you a high-level view of your most important work. Create ClickUp Dashboards to easily monitor sprints, epics, high-level initiatives, resources, and so much more—in real-time.
With over 50+ widget variations, creating your ideal mission control center is easier than ever. Simply choose your widgets, such as custom charts, progress tracking, workload, and tables, and use its drag and drop feature to move your widgets into your dashboard and resize them to fit your preferences and business needs.
When you're ready to share your Dashboard, adjust the privacy and sharing setting to control who can view it and what permissions they have.
ClickUp's top features—Serves as a task manager and reporting tool with real-time data reporting. Its drag and drop functionality and fully customizable platform allow users to build their most effective and personalized dashboard display.
5. Klipfolio
This online dashboard tool lets you build several real-time dashboards with ease. You can use it to compare results with adjustable targets. Klipfolio supports Facebook, Google Analytics, Salesforce, HubSpot, and more than 90 other cloud applications.
Klipfolio's top features – different data sources can be gathered in one widget, easy setup, accessible on all devices, visualization, and customization of data according to your corporate image.
6. Geckoboard
This dashboard platform allows you to gather, visualize, and share valuable information within your company. You can use it to monitor valuable data in real-time from one location. Geckoboard dashboard displays the most important KPIs and allows you to share the information on TV screens.
Not only that it has over 80 integration options, but it also allows you to implement your data by linking the Geckoboard dashboard to a database API.
Thanks to the mobile app of the software, you can access the dashboard anytime, anywhere. However, it's only available for iPhone users, so this is a slight disadvantage.
Geckoboard's top features – a good overview, ability to show the dashboard under your domain name, ability to share read-only versions of the dashboard, and ability to convert raw data into simple and easy-to-understand visualizations.
7. Cyfe
This online dashboard tool brings together all marketing channels, sales, finances, social media, and web analytics. It's free if you use up to 5 different dashboards. You can share the dashboard with your team, clients, and everyone else. It mails data reports automatically in JPEG, PNG, CSV, and PDF formats.



Image source: cyfe.com
The Premium version of Cyfe allows adding as many dashboards, users, and widgets as you want. The only disadvantage of the tool is that it allows little variation in the panel design.
Cyfe's top features – 5 free dashboards, 60 popular built-in services, easy to use, archiving of data history.
8. GoodData
This Business Intelligence system provides PaaS designed mainly for enterprises. It combines data security and management which is crucial for self-service business intelligence.
Activities such as maintaining security and infrastructure are controlled by the IT department, while at the same time you can build dashboards and reports.
You can import the data from cloud-based sources and traditional databases to public data sources. GoodData dashboards are interactive and provide access to numerous tables and graphs.
This dashboard tool offers pre-built templates, so it's great if you are in the sales, marketing, or customer services branch.
GoodData's top features – offering a single tool for more users through an ETL process, strong encryption and security, sleek design and simple user interface, ability to easily integrate with other SaaS products.
9. SiSence
With this business intelligence platform, you can easily convert complex data into easy-to-understand insights. This tool gathers and manages data from several sources. There are numerous visualization options for the interactive online dashboard.
Thanks to the drag-and-drop interface, you can collect and store data from different sources into one place and then share it with your clients, partners, or colleagues. Implementing apps such as Google Analytics, AdWords, and SalesForce is easy by using the built-in connectors.
Image source: SiSence.com
SiSence's top features – easy-to-use interface, ability to turn analysis into visual reports with ease, ability to take snapshots of your data.
10. Tableau
This software allows data discovery and visualization. It allows you to easily visualize, analyze, and share data without needing IT intervention. The platform supports many data sources including Oracle, MS Excel, SalesForce, Google Analytics, MS SQL, etc.
The paid versions of Tableau offer easy-to-use, well-designed dashboards. The tool is perfect for companies that have clients with a few users and who have to provide solutions in numerous organizations, as well as for companies without the infrastructure to build their server installation.
Tableau's top features – easy to use, works well on mobile devices, and gives external teams, clients, and partners secure access to analytics.
11. Birst
This cloud-based platform allows end-users to access company information. You can use data from multiple sources to make analyses and reports with ease. The Birst is a completely cloud-based tool with an integrated ETL process.
The tool can easily integrate local department sources and enterprise-wide data sources. The two versions of Birst are the Discovery and the Enterprise edition. The Birst, however, doesn't provide complex analysis so it's not the best option for large organizations. It's most suitable for companies with up to 500 employees.
Birst's top features – almost no problems with the performance and scalability as it works entirely with HTML5, easy to use, and regular new releases.
Conclusion
Dashboard reporting tools help you to visualize, analyze, and organize your marketing data in a way that suits you best, thus helping you to make informed decisions for your business.
Even though we suggested several dashboard tools you can use, it's up to you to decide which of them is the very best for your needs. See what features and advantages each of them offers, and pick the right one for you.