#marketing
How to write a social media analytics report: a guide for agencies
Learning how to write an easy-to-read social media analytics report is an essential part of an effective marketing plan. Having all the information in one place helps you see how much you've accomplished and make result-based changes.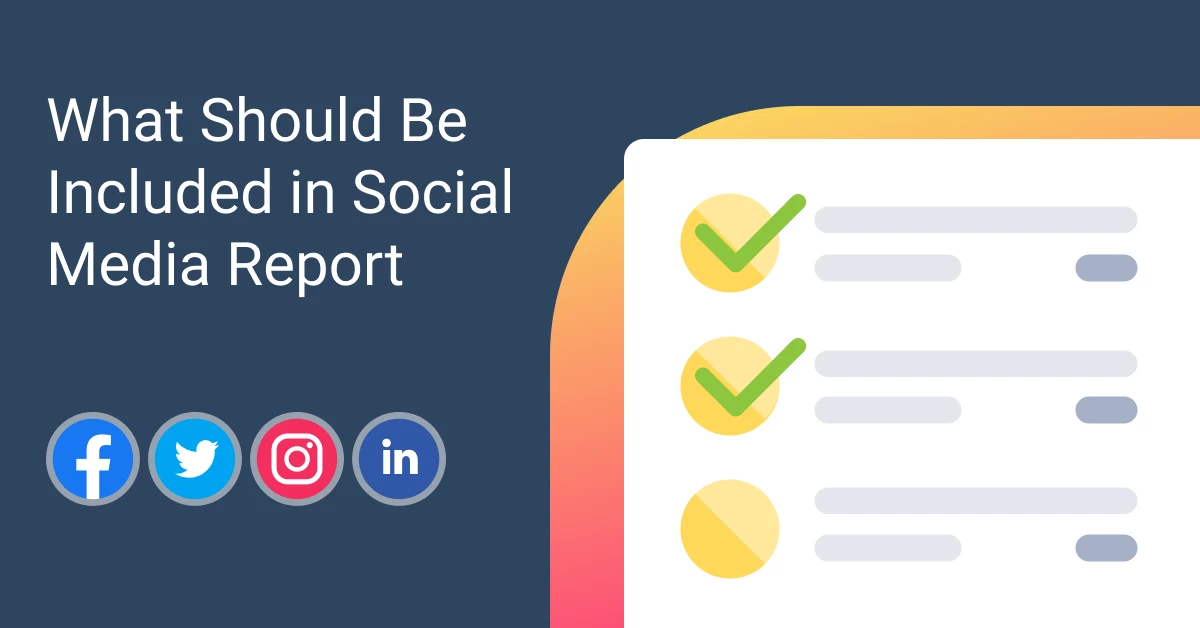 But writing a report manually consumes a lot of time, raising a question: is this really the best way to track your progress?

Indeed, it's been proven that it's the most concrete, data-driven way of showing what you've accomplished. So, how do you go about writing a social media report without spending too much time? What metrics should you include in it? How often should you check the results? In today's article, you'll learn how to write a report that actually pays off.
Here's why you need a social media analytics report for
If you're well familiar with social media marketing reporting, you know the pain: sometimes, the data is so large you feel discouraged from reading it. But, it doesn't mean you should skip writing data reports. Here's how a social media report helps you:
Creates a clear picture. Reporting gives a clear view of your social media strategy, including the work you've done or the work in progress. A report helps you continuously strive for better results, make conclusions or strategy adjustments, and improve productivity.
Shows the work you've done. If your manager doubts whether you're doing enough for the company, give them a social media overview to prove otherwise.
Keep your team informed. A social media report isn't just for you and your client – it's a tool that helps you keep the entire team updated. Share the report with your teammates, and you won't need to create a slide presentation or do extra explaining.


Keep in mind that your report must be well organized and visually appealing. Otherwise, it'll be just a burden to the eyes of your teammates.
How often do you need to write a social media report?
It doesn't matter whether you create reports manually or use software; you may need to write the report at the client's selected frequency. Your client may want to get weekly, monthly reports. In some cases, they'll request a yearly overview. Here are more details on each type of report depending on their frequency:
Weekly reports are written to keep your clients or the team updated on every issue weekly. Typically, weekly reports are used in startups or companies with a flexible

social media strategy

. These companies tend to make adjustments or switch things up more often, so a weekly report does come in handy.

Monthly reports and social media audits are at the most common frequency level. The report covers a large amount of data, so it can end up being quite big. Nevertheless, it's a great tool to keep your team updated.

Quarterly reports help to ensure you're making progress at every point of your social media strategy, and every avenue is put to the test. Quarterly reports increase your team's productivity and keep everyone updated.
A quick reminder before we move on: although report frequency is essential, make sure you're tracking growth, too. To do it, you can compare the previous report to your current one.
Begin writing the report
All social media reports differ from each other, depending on your goals and resources. To help you decide what metrics should you add to your report, we've prepared a couple of questions to ask yourself:
Who is my target audience?

Is there any specific information relevant in this context?

Are you reviewing a particular campaign or ongoing results?
Now, keep your answers in mind throughout the entire process of writing your report.
Start with the introduction: lay down your goals, tactics, and metrics. This way, your readers will get a general overview of what this report will be about.
Also, provide a brief performance summary. Include critical details, like the number of new followers or leads generated. In other words, be sure to mention the highlights of your campaign.
What data should you include in your report
Now's the time for the biggest part of your report – the performance data. This is optional, but you can add previous performance data to your report for comparison.
When deciding what metrics you should add to the report, consider your goals and objectives. Here are the most common numbers social media marketers track:
Number of posts

New followers (or number of unfollows)

Reach rate

Web traffic

Likes, comments, shares

Page or profile views

Clicks on post links

Clicks on the link in your bio

Video views

Story views

Top performing posts
It would help if you considered including overall data, such as the number of leads, conversions, the total revenue, or ad spend. Of course, feel free to add any further information if you think it's relevant to your campaign or strategy.
Where do you get these details from?
Here's how to gather the analytics on different social media platforms:
Instagram. To gather Instagram performance data, make sure you are using a business account. Also, you'll only be able to acquire this information using the application on a mobile device.
(Instagram analytics dashboard created using Whatagraph)
Open your profile and tap the Insights button. Alternatively, you can click the settings icon in the upper-right corner and select Insights. Instagram Insights can be split into three sections: content, activity, and audience. While you're in the Insights section, gather impressions and engagement rates. When you're here, you can siphon off the data and make your very own Instagram Insights report using a tool or a simple spreadsheet.
Facebook. To access Facebook Page Insights, first, open your Facebook Page. Then, navigate to the top menu and select Insights. If you can't find Insights in the menu, click More to bring it up: you'll be taken straight to your Overview. You'll be able to access the Overview anytime by clicking it in the left-hand menu.
(Facebook analytics dashboard created using Whatagraph)
Twitter. To create a Twitter Analytics report, start by logging in to your Twitter account at analytics.twitter.com. If you're using the mobile Twitter application, tap the analytics icon visible in your Tweets.
(Twitter analytics dashboard created using Whatagraph)
On desktops, click on an individual tweet to see its data. On mobiles, tap the Tweet to see the Tweet detail page, and then click View Tweet activity: here, you'll see all the necessary numbers.
These are just the three most common social media platforms. If you're also using Pinterest, LinkedIn, or other channels, make sure to acquire data from there, too.
Dashboard and reporting tools - like Whatagraph for example - can gather all of these critical social media marketing metrics automatically. If you decide to make a Whatagraph account, just connect your social media platforms with Whatagraph, and all of the latest analytics and insights will be included without any additional input. At this point, all you will have to do is drag-and-drop the metrics you wish to include within the report and you're all set.
How to present the data you've just gathered
Now that you've collected the necessary information, it's time to start working on your presentation. Reading a ton of data is already tricky, so here's your chance to make it easier. Your report should be visually appealing yet still cover relevant information. Here are a few general tips to make the data easier to understand:
Split data by channels. There's no need to pack all the data in one place. It will be more comprehensive to compile the traffic gotten from each channel separately.
Include the growth stat per channel. Compiled the statistics for lead generation growth and the following growth separately for different channels.
Add engagement statistics for each channel. Put the number of different engagements, including comments, likes, mentions separately for different channels.
Calculate revenue growth for each channel. Make sure you're not mixing conversions and ROI

numbers – separate and arrange these numbers accordingly.
You can present the information in many ways: for instance, a simple slide might do the trick. But, wouldn't it be great if there was someone (or something) that did all these things for you? Yes, the data gathering, the right metric picking, the visualizing.
Luckily, there is.
Whatagraph is software that builds social media performance reports for you. The tool gathers and visualizes the information. You can create the report from scratch or use pre-made templates and widgets. Either way, the tool allows you to compare metrics from different channels, all in a single sheet.
As a matter of fact, we even made a free social media dashboard template for you to use! It's highly customizable so you can adapt the template to the individual needs of your firm or your clients. Give it a try.
Published on Oct 19, 2020