Table of Contents
If there was a competition for the Ultimate Data Jungle, Facebook might be coming in the Top 3. While the social media platform is a galore of insights and analytics, making sense of which Facebook data REALLY matters can be a bit of a challenge.
But you don't really have a choice, do you? Unless you use a trendy reporting tool that makes you want to sing while reading the data.
After being a keen user of Facebook Page Insights for a few years now, I have some good news!
There's just a handful of Facebook analytics metrics that you need to keep an eye on to know how the Page is performing. Seriously.
3 questions I will be answering below are 'How visible are you?', 'How good is your content?' and 'How fast is your audience growing'?
After answering these questions with Facebook Insights data, you will have a fairly good understanding of your Page performance and understanding Facebook analytics will be a piece of cake.
Ready? Let's get to it.

So how visible are you on Facebook?
Being active on Facebook is one thing, but being seen on the News Feed is another one. One way to know how visible your posts to your audience are, is to look at your Fan Reach metric.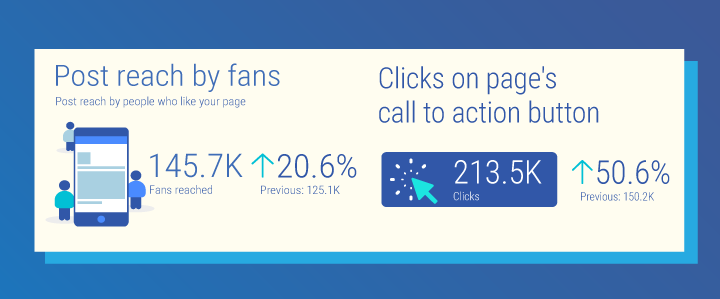 Post Reach by Fans metric shows how many of the people who like your Facebook Page have seen your content. It's a part of the Organic Reach metric, so comparing the two can help understand how appealing your content to your audience is.
While Organic Reach consists of Reach by Fans and Non-fans alike, comparing the numbers will tell you how much your content is being exposed to people who are not already the 'likers' of your Page.
If your Organic Reach = Fan Reach, it's time to get promoting your Page.
Where to find your Facebook Fan Reach numbers?
Facebook Insights does not give this information on their analytics dashboard, but you can find it when exporting data to a rather nasty Excel sheet.

The download button is located in the overview section on your Facebook Page Insights dashboard.
One more important metric to look at when considering Facebook visibility is Impressions.
Facebook Page and Post Impressions show how many people have been exposed to your social content.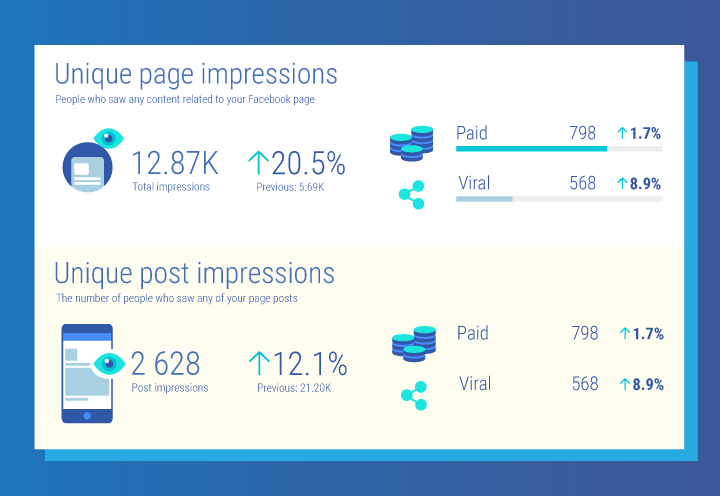 Furthermore, you can break that down into Paid, Viral and Organic Impressions.
Organic Impressions give the total number of people who were shown your Facebook content through unpaid distribution. This one includes your Page fans and other people who ended up directly on your Page.
Viral Impressions are part of Organic Impressions and show the number of people who were shown content as a result of a friend's actions. So when your BFF Gary likes, comments or reacts in any other way to a Facebook story, and you see it in your News Feed - congrats, you are part of the viral reach for a social media analytics team.
Paid Impressions simply show the number of people who saw your content as a result of Facebook ads and boosted posts.
Where to find your Impressions?
Impression data is located under the Reach tab on your Facebook Insights dashboard.
How good is your content?
So let's assume you are reaching people on Facebook. The next question to answer is whether your content is appealing enough to be engaged with.
One metric that has the answer is Interactions.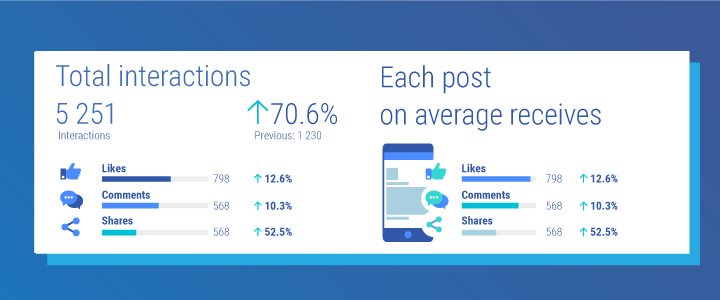 Interaction (aka Engagement) happens when a person engages with your post or Page by liking, commenting, sharing or reacting in any way to your content.
Where to find your Facebook Interactions data?
You will be able to find Total Post Interactions in the Facebook Insights Overview tab, while interactions for specific posts will be shown in the Posts tab.
It's also very beneficial to regularly look through your top-performing posts. Usually, you will notice patterns in your most popular posts. When that is identified, you only have to do more of it.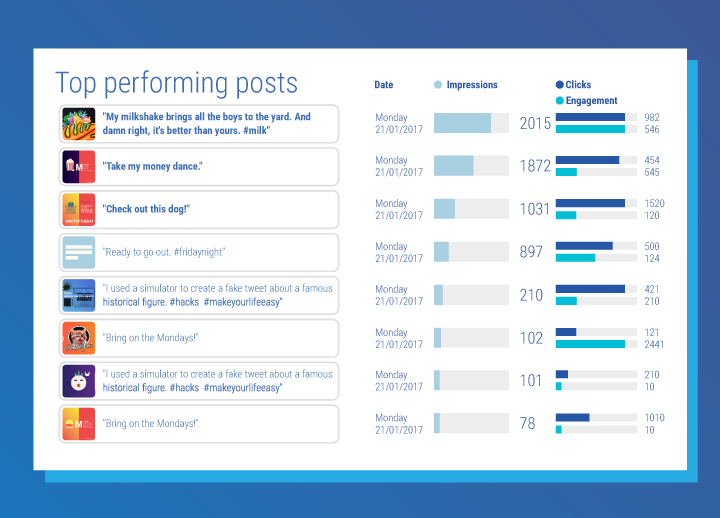 But if you want to measure engagement with your Facebook videos (you are posting videos to Facebook, aren't you?), you will need to head over to Videos tab.
I am usually interested in 2 metrics: how many people viewed the video content and what the average watching time was. If I can see organic vs paid engagement, plus the change over time - even better.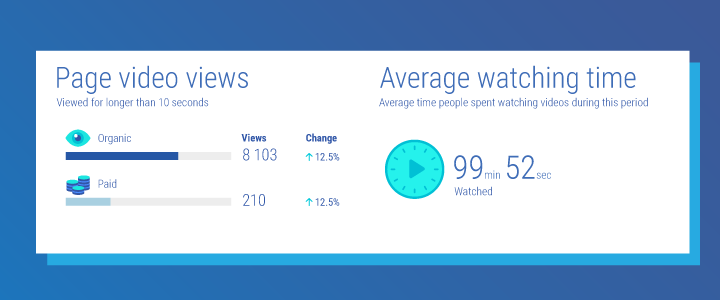 How fast are your followers growing?
Ever heard of the Facebook Marketing equation?
More followers = More Engagement = More Visibility
Facebook favors posts that show good engagement. The more engaging followers you have (assuming your Page content is good at getting people to comment and like it), the better your posts will perform and will be granted those precious impressions by the mighty algorithms.
Building your Facebook fan base is important, and luckily - it's easy to track and measure.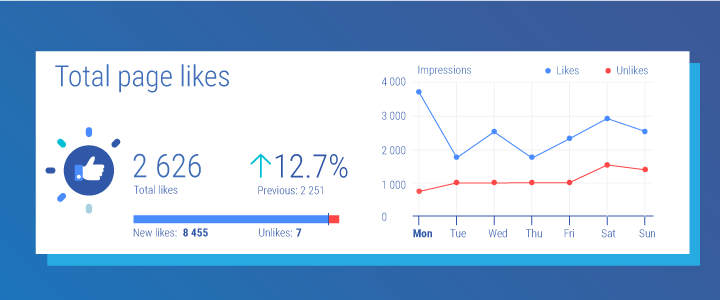 Page likes on its own can be somewhat of a vanity metric. So what helps get real value out of it? It's your follower growth rate, as well as the number of Unlikes.
Yes, negative feedback is as important as positive. When you check the number of unlikes day by day, it's not that hard to pinpoint content that might have upset people enough to press that, unlike button.
Where to find your Facebook likes?
Go to Facebook Page Insights, and head straight for the Likes tab.
But you can also go further than that. Facebook Insights is great at showing segmented data. It's easy to check how well your page resonates across different genders and age groups.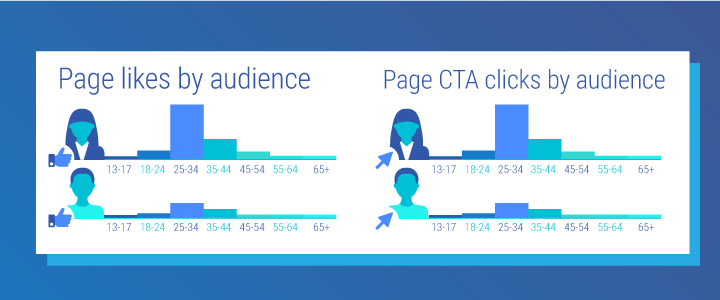 You can get this data by heading to the People tab in your Page Insights.
Bonus metric: what is the best time to strike?
Good timing for publishing content on Facebook is crucial. It will make it easier to reach your audience and get organic traffic, and topped up with Facebook Ads will make your data results go through the roof.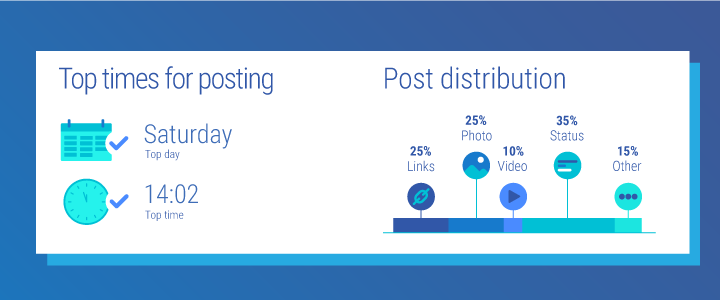 How to find your best time for posting?
Facebook Insights does not offer straightforward data for working this one out. You can get a sense of when your audience is most likely to be online by looking at Posts data.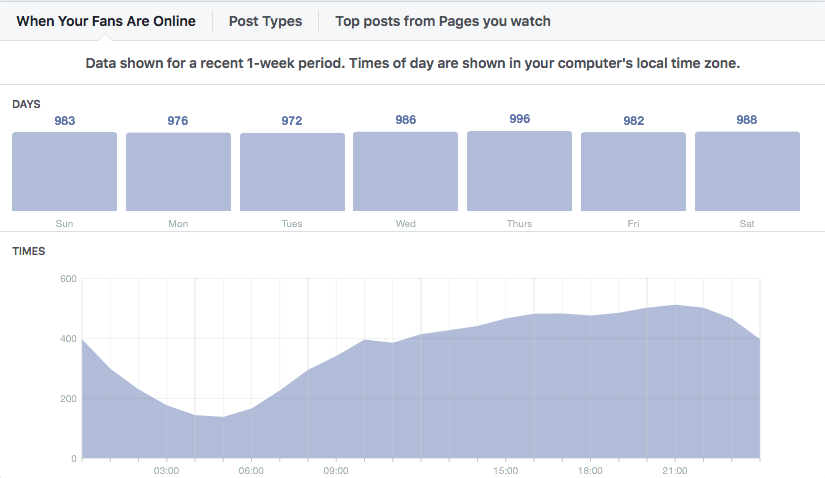 There are tools though that can show you optimal times for posting content on Facebook based on engagement rate.
What now?
What you can measure, you can improve. Now that you have key Facebook metrics explained, use it to your advantage.