Whether you work as an in-house marketing manager or within an agency, you probably have to report your work to someone. Unfortunately, just doing great work with your marketing strategy is not good enough unless you can convince others about the progress and value of your marketing campaigns.
For a long while, writing marketing reports was something considered tedious and time-consuming but thanks to modern tools and reporting systems, you can create marketing reports within minutes instead of hours.
Today, we'll show you how to write a marketing report, no matter what type of platform or marketing campaign you are working on.
What is a marketing report?
A marketing report is a document that shows the progress of an ongoing marketing campaign to interested parties - clients, managers, and leaders of different departments. A marketing report contains marketing KPIs and metrics that show the progress of your marketing efforts and how they affect the bottom line.
Depending on the person who is the intended audience for the report, marketing reports will have different levels of detail. However, all marketing reports have one thing in common - showing what was done, how it was done and what the results are.
There are plenty of reasons to create and send marketing reports to your clients or managers, but here are some of the most important ones:
Goal setting

Progress tracking

More efficient communication

Increased accountability

More transparency for the client on where their marketing budget is being spent
In the days of old, you'd send a marketing report using an Excel spreadsheet, a Powerpoint file, or something similar. Nowadays, you can send marketing reports using marketing reporting software such as Whatagraph.
What to include in a marketing report
Before you start doing the actual writing, you need to carefully consider whose eyes are going to be reading your report. Depending on the seniority of the person and their knowledge of marketing, the report will have a completely different structure and contents.
At the same time, consider the frequency at which your reports go out. The more frequently they go out, the more details you can cover. For example, a weekly report can cover a wider range of metrics compared to a high-level report you send out per month or let alone an annual marketing report.
With this in mind, here are the elements you want to include in your company's marketing report.
Goals
The overall marketing goals should be the first element to include in your marketing report. Whether it's to increase conversions, lower your cost per acquisition, or something else, you should report on how well your overall marketing department initiatives are contributing to reaching your client's goals.
Note that a goal is not the same as an individual KPI. For example, lowering ad spend would be a goal while your average CPC is a KPI. If you're wondering what type of goals to include in your specific report, using a marketing report template is a good idea.
Detailed analytics
Once goals are out of the way, you can include detailed analytics for a specific marketing channel. For example, for SEO/content marketing, you would include:
Organic traffic

Branded/non-branded traffic

Average keyword position

Keyword movements

Conversion rate from organic traffic

And many others
Choosing the metrics that matter is essential, so only list the marketing data that makes an impact on the overall goal. You can display this information in the forms of numbers, graphs, bar charts, or similar visualizations.
Website metrics
A client's website is the most important frontier for their marketing activities, so make sure to cover the most important website metrics and KPIs in your marketing report. Examples include:
Page views

Bounce rate

Conversion rate

Average time on page

Average session duration

Traffic sources

And others
Your typical Google Analytics report has all of these and more, so it's a good idea to link your Google Analytics account to your favorite marketing reporting tool to get this data automatically.
Conversions and sales data
Views, likes, and shares are great, but they don't pay the bills. A portion of your marketing report should be focused on the metrics that have an impact on the client's revenue. These are the metrics such as:
Cost per acquisition

The average revenue per user

Cost per click

Average deal size

Return on ad spend

The overall return on investment

And others, depending on the marketing channel that you're using
For company leaders, this is probably the most important portion of each report, so it's worth your time to make it accurate, actionable, and pretty.
Explanations of metrics, numbers, and marketing activities
We recently ran some research to find out what agency clients think about the reports they get. It turns out that many clients lack explanations of what the numbers in their reports mean. For example, you can include:
A comparison of what a metric means against industry benchmarks. A 5% conversion rate for a website may sound poor to a layman but in reality, it's an excellent result.

An explanation of what has been done in a specific channel. Let's say you drove 30% more organic traffic in a quarter - explain how this was achieved with your marketing process.

Explanation of the next steps. Whether the KPIs are looking good or bad, you can elaborate on them and explain what happens next.
Creating a marketing report: a step-by-step process
Now you have a good idea of what a report is and what you should include in it, so let's get started with creating one.
Determine the data sources
Depending on the type of campaigns you're running and the goals you have for your clients, you're going to use different platforms. For example, you could be using:
First, determine which of these you're using and then you can collect the data from the dashboards in these tools. Doing this manually will take a lot of time and work, so it's better to use a reporting tool like Whatagraph instead.
Collect the data and add it to the report
Let's say you need to report on a Facebook ad campaign that you ran, with several different ad sets, each with its own creatives and results. Copying these manually to your report can be time-consuming, especially if you have to repeat it weekly or even more often.
Instead, use a tool like Whatagraph. Connect your data sources once to your report and every time a new report is created, the data gets refreshed. You no longer need to spend hours digging through dashboards - just connect your platforms once and the data gets filled and updated automatically in the future.
Things get even more complicated if you do a cross channel analytics report, e.g. combining Google Ads with SEO performance data. Whatagraph lets you connect all of this in one place instead of going through different platforms. This makes it easy to create an advertising report and over a hundred other report examples.
Create the report design
Depending on the medium you want to use, you'll create a different design for your reports. You could create one in Powerpoint or Excel, but this is not the year 2002, so why bother? There are also tools like Google Data Studio (now Looker Studio), but they don't allow for a lot of creativity in your design.
Instead, use Whatagraph to create a beautiful report in minutes. You can grab a report template (we have 100+ of them) and your report gets filled out with stunning…
Bar charts

Graphs

Widgets

And much more
You don't have to bother with the details because the report templates have everything you need.
Once you start creating your report, you change all the details you want, such as the widgets, their placement, the colors of the design elements, the logos (yours and your client's), and much more. And for that fully custom feel, you can white-label the report and remove the Whatagraph branding.
Send out the report at your desired intervals
Some clients want to get the data from your marketing team weekly. Others want to see it on a monthly basis. You need to make sure that whatever this interval is, you send the reports out on time and with the most accurate marketing metrics.
No need to worry, as Whatagraph lets you schedule your reports. Once you connect the data sources, the data is updated in real-time. So, just set your intervals and each digital marketing report will be delivered on autopilot.
Types of marketing reports
Depending on the platforms, the marketing plan, and the stakeholders reading the report, there are different types of reports that you can create.
Web analytics report
This is a more general type of marketing report where you show the website performance, including website traffic, landing page performance, number of leads, organic search results, and more.
SEM report
Search engine optimization is huge for any online business and you can report on it with this type of report, with KPIs such as organic traffic, inbound leads, non-branded search traffic and more.
Social media marketing report
Whether you run Facebook ads, Instagram, or TikTok ads, a social media marketing report is a superb way to show a client what's happening with their ads or organic performance.
PPC report
PPC is a favorite for many marketers because of how accurate it is and how well you can predict the ROI. Being precise with your metrics (click-through rate or CTR, cost per click and others) is crucial for this type of report.
Here is an example from our PPC report template: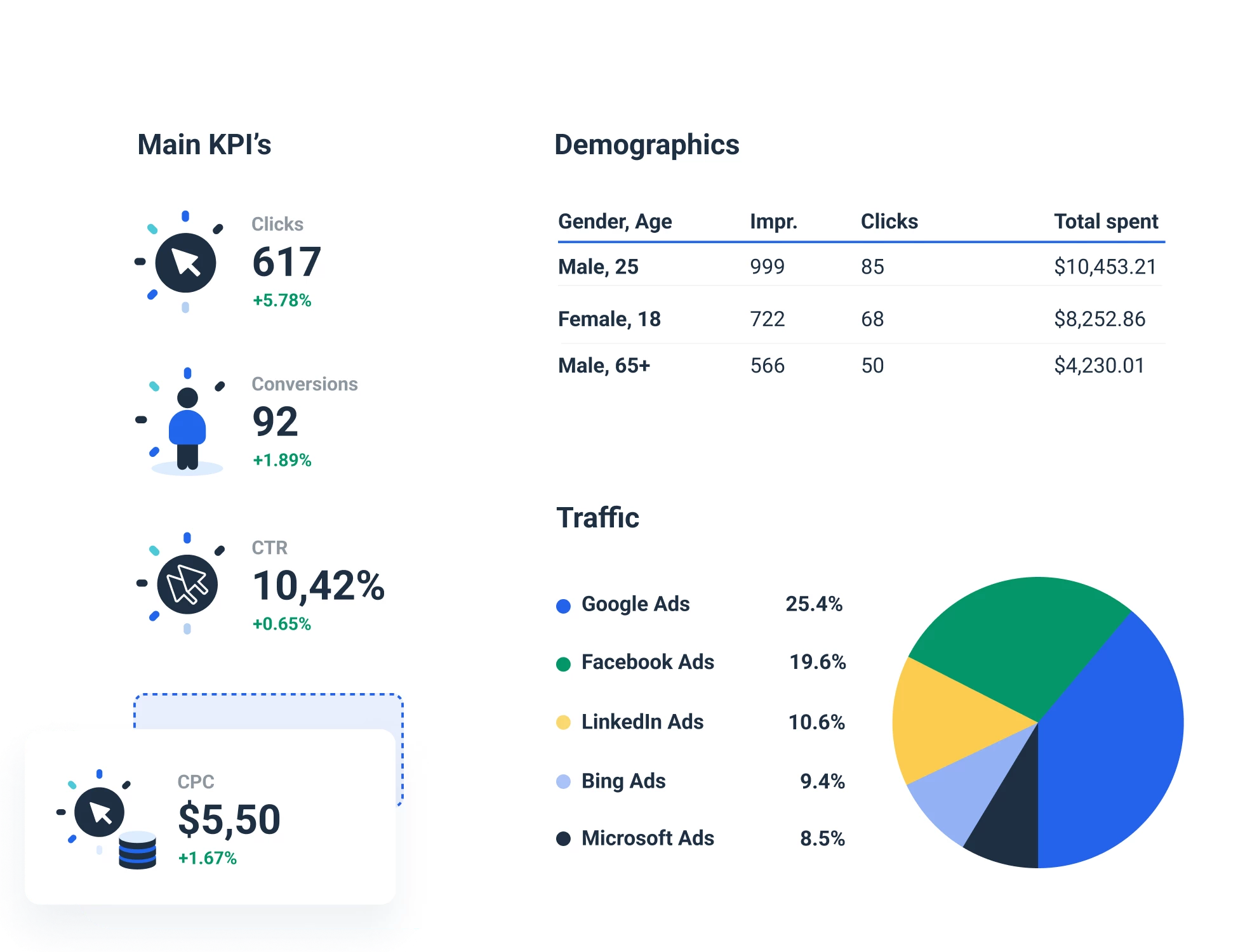 Cross-channel marketing report
If you want to report on different types of marketing, such as email marketing, SEM and others, you can do it in a single marketing analytics report. Just list the different platforms and key performance indicators and you're good to go.
Here's an example of a cross-channel analytics report template: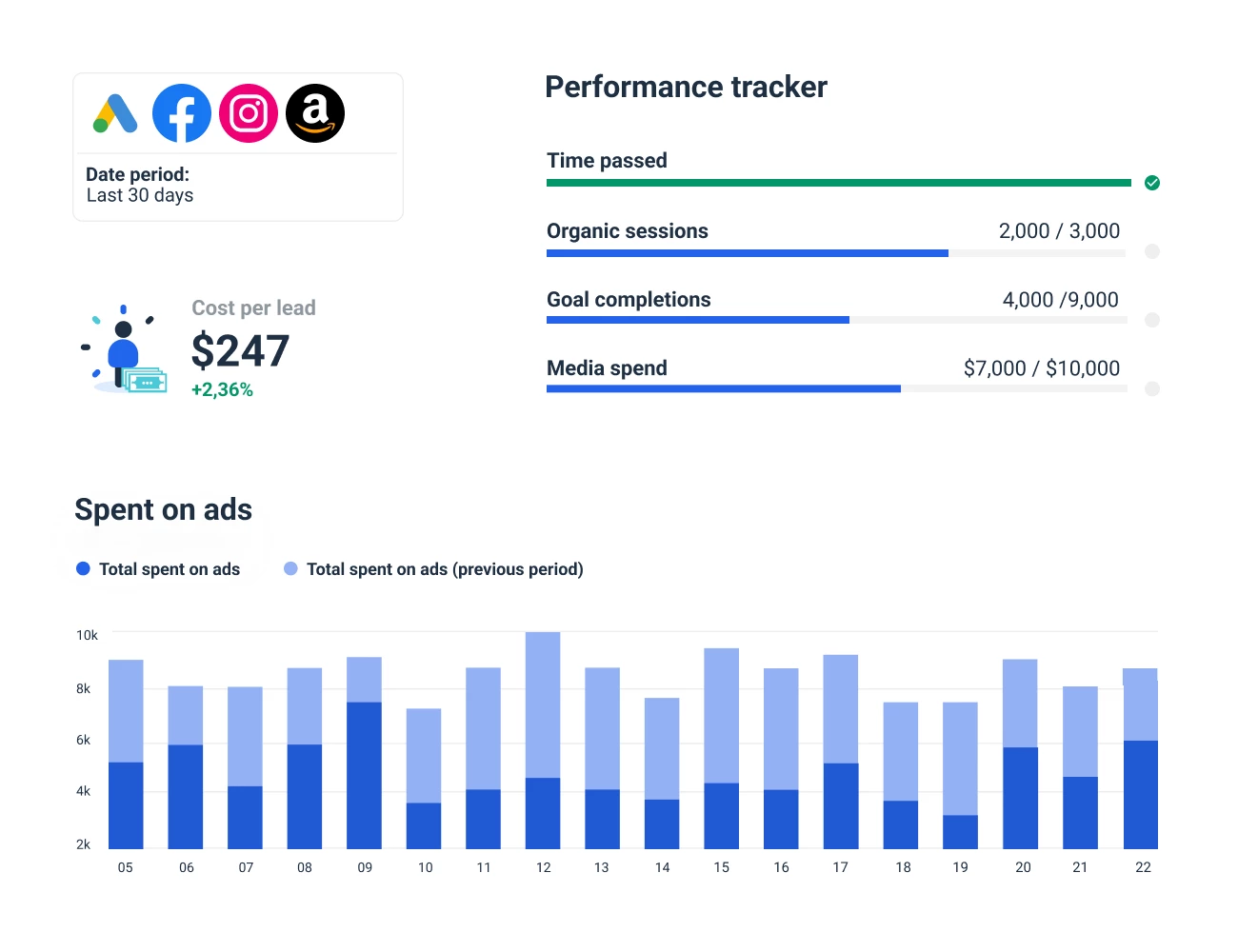 Conclusion
Writing a marketing report used to be a chore, but not anymore. It doesn't matter what you're reporting on or how many reports you need to send out, you can now do it in a matter of minutes.
Ready to create your first automated marketing report? Sign up for Whatagraph for free today and get ready to blow your client or manager away.
FAQs:
How often should I send marketing reports?
It depends on the client and their needs. The best approach is to ask your client or manager and find out the interval that best suits them. However, once per week is a decent cadence to aim for. Creating a monthly marketing report template is also a good idea if you want to save time, but with Whatagraph, creating reports every week takes only minutes.
What is the quickest way to create a marketing report?
By using a marketing reporting tool. Marketing performance is the easiest to report when plugging in data from various sources into one tool, rather than copying and pasting data on your own.