#marketing
7 Best Google Analytics Dashboards
A lot of marketers find the process of creating analytic dashboards confusing. Google has created a solution for Analytics experts to share prebuilt dashboard templates for other marketers to use.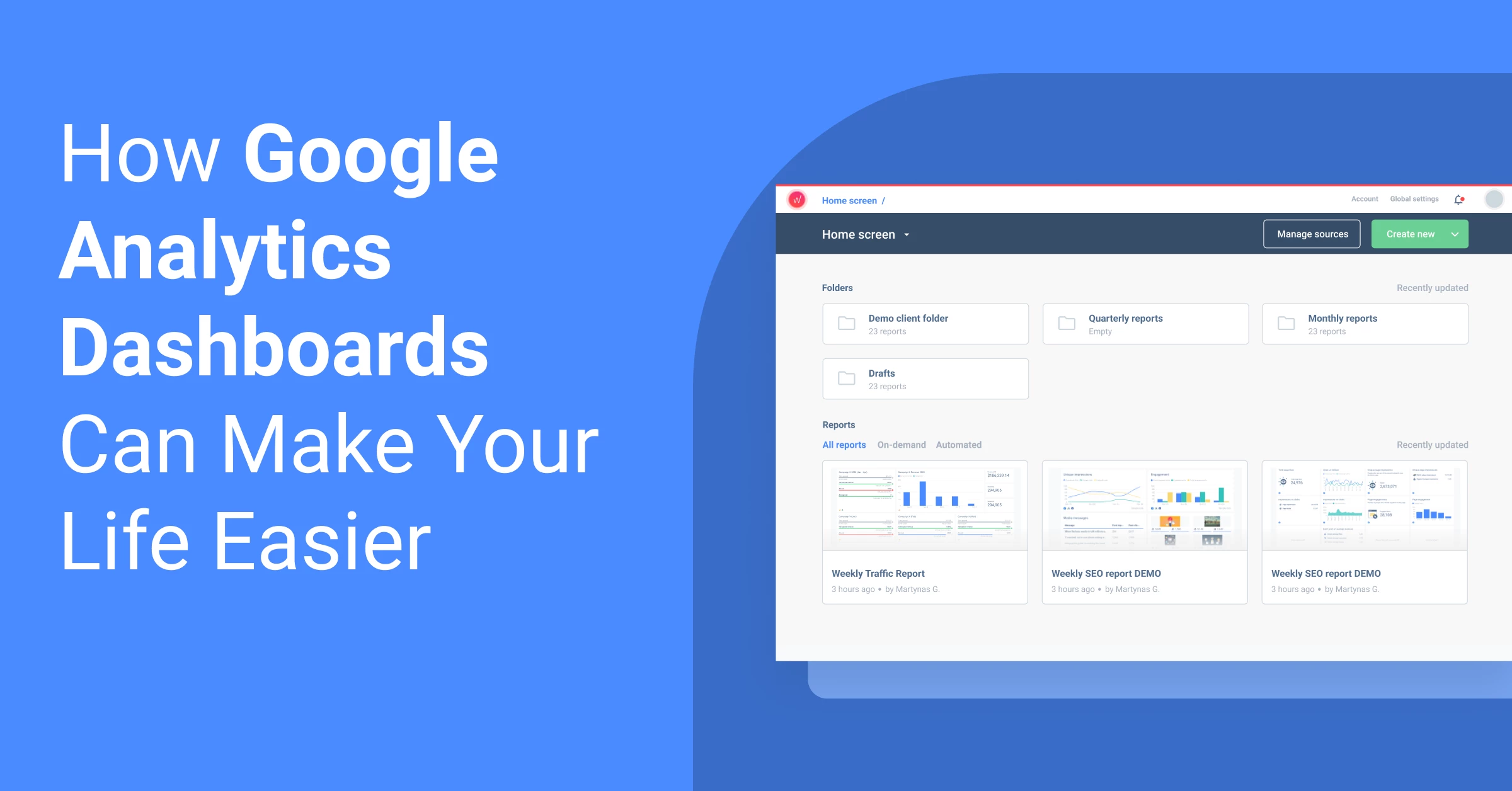 Table of Contents
What Is the Google Analytics Dashboard?
The GA dashboard is a UI for your enterprise's Web Analytics product. It is a free-to-use service that offers basic analytical tools and stat for search engine optimization and marketing purposes.
The Best Google Analytics Dashboards
1. Basic Dashboard
Cemal Buyukgokcesu created the basic dashboard.

This dashboard depicts the types of visitors browsing through your site. Focusing on sessions and bounce rates provides you with a good insight into which sources generate quality visitors.
Questions Answered By The Dashboard
Are mobile viewers staying on the website?
Where are visitors coming from?
Which website redirects the most traffic to your URL?
Which of the social media channels generate quality visitors?
2. Executive Dashboard
Avinash Kaushik created the executive dashboard.

The creator highlighted three forms of metrics you can track in Google Analytics- acquisition, behavior, as well as outcomes. The dashboard estimates all these three types, making it an ideal dashboard for executives who want to gain insight into the overall performance instead of tactical data.
Questions Answered By The Dashboard
What are the major origins of traffic?
What's the conversion rate like?
3. Digital Marketing Dashboard
Love Data proudly created it.

It provides you with salient stats on the forms of visitors that opt into your website. You can gain a good overview of the visitor's perspective for browsing your website.
Questions Answered By The Dashboard
What are user demographics checking into your site?
What mobile devices do your visitors love to use?
How long do they spend on the website?
How many users are returning for multiple sessions?
How many new users are you converting?


4. Content Marketing Dashboard
Vagelis Varfis proudly created it.

This dashboard examines the efficacy of your web content. It reveals which of the web pages is getting the most views, which are driving the best goal conversions, and which of them record the highest number of bounces (and require updating with CTA).
Questions Answered By The Dashboard
What are the most popular pages on your sites?
Which of the pages culminate into goal completions?
Which web pages are new visitors hitting first?
What are the locations of visitors?
What is the last set of pages visited by your users before they exit your website?
5. SEO Dashboard
Kevin Pike proudly created it.

You need to know the current pages generating you quality visits if you intend to prioritize your SEO activities. This dashboard walks you through the whole process-search query, page, and completion of a goal. It informs you of the exact organic search keywords that are driving quality traffic to your website.
Questions Answered By The Dashboard
Which of the landing pages are generating quality organic views?
Which search are keywords driving visitors to the website?
What pages are the most popular in organic search?
6. Social Media Dashboard
Justin Cutroni proudly created it.

The dashboard examines the on-site as well as off-site social activities. You can simply learn which of the social channels is generating quality traffic to your website-traffic with no bounces. It helps you learn whether they stick around to take some specific actions you have established once they access.
Questions Answered By The Dashboard
What proportion of the total visitors emanate from social networks?
Which of the social channels leads to users that complete goals?
Which social channels drive people that spend more time on your website?
Which mobile gadgets [roduce quality views from social?
7. eCommerce Dashboard
Blast Analytics and Marketing created it.

The dashboard focuses on customer acquisition for online stores or eCommerce. It looks at the purchasing habits of mobile views and several referral sources. You can know the touchpoints you need to offer products when you can examine product revenue by product.
Questions Answered By The Dashboard
Which mobile devices are users purchasing on?
Which referrals culminate in purchases?
What's the amount of products bought by visitors?
How can you maximize each visit for profitability?
Published on Mar 19, 2020